image not
available
anymore
Artist:
SKELETAL FAMILY
(@)
Title:
Sakura
Format:
CD
Label:
Gepek
Distributor:
Masterpiece Distribution
Rated:
The first album of the Skeletal Family reincarnation opens up with the convincing dissonant melodies of "Faithless whore" (where sometimes the guitar melody recall me some Black Flag tunes). With this new album titled SAKURA the band found, after their disband, a new life with three original member a new drummer and a new vocalist (Claire, ex Smack Dolly). The twelve tracks pay their dues to post punk but the new Skeletal Family musically aren't a direct emanation of the old band, as they fortunately present twelve new songs full of pathos and even if sometimes vocals don't sound perfect, they are spontaneous into their urge to communicate. Into the track list there's also space for two slow tracks, "Waiting" and the atmospheric "Alive again", which with its six minutes length gathers moments of tension with new wave romantic intuitions with piano, violin, and rock instruments. The album into its entirety sounds genuine and spontaneous and it doesn't matter if sometimes it sounds raw. Overproduction isn't what is in need here, we need passion, good tunes and sweat. Check also their version of Iggy Pop's "Nightclubbing", it sounds like a demo divertissement but it is interesting and it sounds fresh, mixing the sax, the guitar distorted 70s solos and the drunk rock'n'roll piano. Check also "Delirium" , a track that goth lovers will dig dancing, following its Arabian melodies.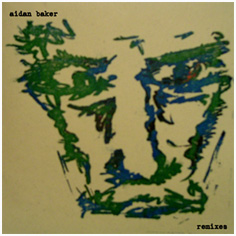 Artist:
AIDAN BAKER
(@)
Title:
remix
Format:
CD
Label:
Aidan Baker
(@)
Rated:
When Nomeansno were singing "oh no Bruno... too much is not enough!" they didn't know Aidan Baker yet, if action speaks louder than words: his discography speaks really loud!. This time differently from the project in which he's directly involved this canadian musician has put together an incredibly well assorted bunch of remixers to reinvent some of his songs. I really mean "well assorted", generally I happen to hear good remix-records with some good tracks, but hardly it happens I'm satisfied by the whole cd, this' one of this few excerptions to that. Baker's drony, dark and melodic music is a good substance to be moulded by the talented hands of any good musician, but while giving new shape to the sculpture many of the remixers have kept its original spirit untouched. Funny, every once in a while I've had the impression some of Aidan's original influences (Swans, Godflesh to name a couple of em) resurfaced from the bottom of the pool. From Andrea Marutti's ambiental loops of the opening track to Building Castles out of matchsticks' opus (definitely post-broaderickian), from the danceable new tissue of Naw to the desolation of Wilt's version of "breaking points" a-la-Codeine, the listening is really relaxing. Absolutely good.
Artist:
PAWEL GRABOWSKI
Title:
Arh
Format:
CD
Label:
Mystery Sea
Rated:
Polish artist Pawel Grabowski may still be defined a newcomer in the drone niche if we judge him by the number and dates of his realeases, but he's surely one of the best in terms of quality. This limited-to-100-copies cdr on Mystery Sea, featuring four untitled movements, is much in the same mood of his excellent vinyl on Drone Records; I haven't been able to check it out, but possibly there are some recurring sounds as well. As usual, Grabowski weaves some solemn, at times sombre soundscapes; though we surely couldn't call this dark ambient, I'm positive there are some restless nights behind his works. "Arh" is an excellent realease from start to end, with incredibly pure and mesmerizing drones, at times punctuated by field recordings, as the creaking door in track 3. Nothing new in terms of components, but just listen andyou'll see how Grabowski stands out from the rest.
image not
available
anymore
Artist:
CHAS SMITH
Title:
Descent
Format:
CD
Label:
Cold Blue
Rated:
Chas Smith has been responsible for some of the most acclaimed albums in the Cold Blue catalogue, using a variety of self-built steel sculptures which you can partially see portrayed in the layout of this latest album of his, recorded between 2003 and 2005. Here he bows stainless steel sheets and a variety of bizarre creatures named Guitarzilla or Pez Eater, but he also plays more traditional instruments like steel guitar, flutes and zither. There's also a hint of voice (courtesy of Oja Fin) in the third and shortest track, "False Clarity", but you surely won't be able to detect that. Indeed, Smith heavily processes all the recordings obtaining an ethereal, suspended form of ambient drone music with a monochromatic tinge, not unlike Organum's recent "Sanctus". Despite its title, we always stay in the celestial regions while listening: this is drone music with a skyward gaze. The bass-heavy noise of jet planes, skilfully blent in the lengthy "Endless Mardi Grass", is just about the only sound disturbing the otherwordly peace of these compositions.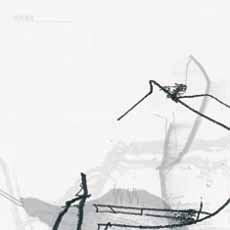 Artist:
DAVID CHIESA
Title:
Phonèmes
Format:
CD
Label:
Creative Sources
Rated:
I was not familiar with Chiesa's work, but in the same Creative Sources batch there's an improvised performance where he plays with Jean-Luc Guionnet (here offering his drawings for the layout), Eric La Casa and Emmanuel Petit, which I'll review anytime soon. "Phonèmes" features two improvised studio sessions recorded last november, where Chiesa explores the possibilities of double bass, his instrument of choice. I am always a bit skeptical when it comes to solo improvised recordings, but this French musician manages to pour both the free-flowing qualities of radical improv and a great sense of timing and discipline. "Phonèmes" is indeed an appropriate title, as Chiesa is apparently stripping the sound qualities of his instrument to their very physical components - from intense bowing to sparse thumps. It's obviously not an easy listening record, but there's an underlying, compressed strength to it that makes the experience a rewarding one.