image not
available
anymore
Artist:
MANU HOLTERBACH
Title:
Aare Am Marzilibad
Format:
3" MiniCD
Label:
Erewhon
Rated:
Manu Holterbach is a young French soundmaker who has mostly worked with his self-built instruments (you can listen to his "harmonic glasses" on the very good mcd "Verres Enharmoniques: un", recorded with Sophie Durand, on Cloud of Statics/Cloudmirror), both in solo and in collaboration. This 18-minute 3" cd on Erewhon, on the contrary, is a nice example of pure audio-documentary, so to speak. In 2003, Holterbach locked a microphone into a bottle and placed them somewhere in the Swiss river Aare, then just minimally equalized the result. What you hear for circa 14' is the high-pitched sound of running water (with quite a deafening effect if you play it very loud), the occasional knocking of small pebbles and occasional gurgles and outside noises and voices. It's voluntarily minimal and "as it is", but the quality recording offers a detailed spectrum which adds nuances to the listening experience. The last four minutes offer some variation, with lower sounds, possibly outside sounds filtered by the glass... quite deep and mysteryous. Too bad this last part roughly succeeds the very static first 14 minutes, and is soon cut abruptly. But I guess that was the point: no editing, no fadings, close to no post-production. An interesting ep for those into pure field recordings, and surely a nice one to add to, say, Tsunoda, Toy Bizarre, Small Cruel Party, Loren Chasse, etc.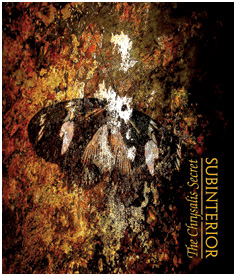 Artist:
SUBINTERIOR
Title:
The Chrysalis Secret
Format:
CD
Label:
AFE Records
Rated:
I have always liked Andrea Freschi's thoroughly obscure, but increasingly elegant approach to dark ambient, and it was obvious that his skills were improving more and more. While his first two self-released cdrs ("Outfall" and "Insomnie", recently re-released on a single disc by Silentes) were, in perspective, still a bit rough, "Obstacles", released by Japanese Deserted Factory, was already a major step forward, but the improvement shown in "The Chrysalis Secret" is no less dramatic. Freschi is now dealing with consistingly longer pieces (14:02, 11:33 and 18:30), but most of all there's an even stronger sense of flow (i.e. while having different nuances, the tracks perfectly work as a continuum) and really improved recording and mastering. As always, Subinterior's soundscapes are based on slowly expanding drones, heavily altered (and mostly factory-originated) field recordings, and shades of melancholic music (possibly coming from a guitar or a piano). Freschi's recent collaborative cd with New Risen Throne, released under the Konau monicker by Eibon, was a very good dark ambient work, but I admit I prefer his new solo release for its hypnotic flow, a perfect sonic equivalent of a pitch-black, starless night. Wonderful packaging as well.
image not
available
anymore
Artist:
IKE YARD
Title:
1980-82 Collected
Format:
CD
Label:
Acute Records
(@)
Distributor:
Caroline
Rated:
BUY from
Acute Records is a label which is making its best to bring back from the vault, interesting releases of late 70's and early 80's. After releasing some early stuff by Glenn Branca as well as The Prefects, Theoretical Girls, Metal Urban, Metal Boys, Doctor Mix & The Remix we arrive to the CD I'm going to review: Ike Yard's 1980-82 COLLECTED. Ike Yard was a band active in early 80's in NYC and they lasted only two yeas and a half. Their style developed passing though several musical styles (as reported by guitarist/keyboard player Michael Diekmann, into the exhaustive 28 pages booklet) taking its inspiration by krautrock bands such like NEU!, Can and Faust. Their sound was obsessive, experimental and had an ideal link with European bands of the same period of the likes of Joy Division and D.A.F. The first for their post punk attitude and the latter because their way of dealing with percussive sounds and loop structured tracks. 1980-82 COLLECTED contains every track officially released by the band into their Le Disque Du Crepuscule MLP "Night after night" (there's also and extra track coming from the same session: "The whistler") and into their first and last Factory album "A fact, a second" plus six unreleased tracks. One recorded live ("20" has been recorded at The Ukrainian National Home in NYC) and five coming from two 1982 studio sessions (the tracks are "Nocturne", "War=Strong", "We Are One", "Dancing + Slaving" and "Wolfen"). The sound of the band has created as a mixture of experimentation with rock instruments combined with mixing board/effects processors filtering. The sound of their first MLP was raw and inaccessible and their disturbing sounds were capable of creating a alienating atmosphere. On the Factory album the sound changes a little bit as rhythm became the main element and here you can find a similitude with the sound of the Mute period of D.A.F. Here the tracks are long suites with throbbing sounds and hypnotic vocals. On the extra tracks you can find another kind of sound that is different from the previous one but which contains the same anarchic attitude. Check out this CD, it's your chance to discover the sound of the past for the soundtrack of the future!
image not
available
anymore
Artist:
VIOLET TEARS
(@)
Title:
Cold Memories & Remains
Format:
CD
Label:
Fossil Dungeon
(@)
Distributor:
Masterpiece Distribution
Rated:
BUY from
COLD MEMORIES AND REMAINS is the first full length for the Italian band Violet Tears and it comes after a limited MCD released back in 2001. The nine tracks of the album show a mature band which presents a mixture of lushy guitars, slow rhythms and atmospheres similar to early 4AD bands (Dead Can Dance, Felt or Modern English) but deeply influenced by decadent goth iconography (see the photos representing erotic pictures of the twenties and some melodies that remember me The Cure of the "Faith" period). Eight out of nine tracks have English lyrics and the third track, "Polvere" represents an interesting experiment, because of the male vocals (which doesn't remind any particular goth singer... and this is good!) and because of the Italian lyrics. The whole album has a solid structure helped by the good quality of their female singer Carmen De Rosas but Violet Tears don't dare to experiment a little more as they are stuck into the mid tempos goth/dark ballads scheme. This could be a good thing for the lovers of the genre but it could stop an occasional listener by picking up the album.
image not
available
anymore
Artist:
VV.AA.
Title:
Play Word
Format:
7"
Label:
Onomatopee
Rated:
This 7" vinyl, coming in a fold-out cover and limited to 275 numbered copies, marks the debut of a new Dutch label devoted to "poetry, typography and sound art". Four soundmakers (all Dutch if I'm not mistaken) worked on poems by one of the label founders, Freek Lomme, with varied results. Machinefabriek offers a piece of hard rhythmic electronica with unintelligible filtered vocals. Jan van den Dobbelsteen probably bows and scratches his guitar strings while reading Lomme's poem (he's the only one to actually include that in his contribution); on the flipside, the other guitarnoiser involved, Erwin van Looveren, pours out a wall of feedback with some guitar scrabbling buried in the mix. Finally, Freiband (Frans de Waard) works as usual in the minimal/glitch/noise grey area with a composition for scorching frequencies and a crescendo of microscopic glitches and pulses. This is unfortunately the only piece which really stands out, while the others are ok but not brilliant (Machinefabriek) or nondescript (the two guitar-based ones). I honestly find this is an interesting attempt, but the link between poems and soundworks is not particularly strong or engaging (i.e. not knowing this was inspired by poems, it would be mistaken for one more experimental noise sampler).