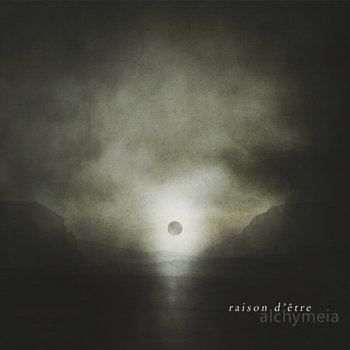 Artist:
Raison D'être
Title:
Alchymeia
Format:
CD
Label:
Cyclic Law
(@)
Rated:
This new release by this historical project is presented as based on "Carl Gustav Jung's notions of archetypes and the individuation process" but seems more based on traditional religious rites. The vocal samples are predominantly prayers in latin and the drones are immersed in a quiet atmosphere that let emerge every small concrète sample.
As "Nigredo" starts, the first thing that could be noticed is the impressive quality of the sound details as the religious atmosphere obtained with bells, concrete sounds and prayers in latin are depicted with both a sound patina and realism while the second part is based upon a droning crescendo and a martial atmosphere which surrounds the listener. "Albedo" is a track in three parts: the first one is quiet and suspended whose crescendo introduces a second part focused in a thick drone whose end is marked by the third part based on a child choir. The development by accumulation of "Citrinitas" build an audio spectrum in which the listener could drawn only to be taken towards a suspended end of the track. Whilst "Rubedo" starts as a meditative track centered on a resonances, it's suddenly twisted in a rarefied ambient track.
As someone could reasonably states that, at writing level, it's just another dark ambient release, he should also notice that the quality of audio detail and construction is so impressive to let gobsmacked. Recommended.
Artist: People Places & Things
Title: ACID03
Format: 12" vinyl + Download
Label: Art For Arts Sake Records

A track used in a recent Adidas ad narrated by Bez from Happy Mondays, "ACID03" revolves around a decidedly retro bit of 303 tweaking unashamedly routed in the world of the Hacienda and warehouse parties. That being said, the slow tempoed kick and more current-sounding long ghostly pad sounds are a slightly modern twist on it that give a real sense of atmosphere and prevent proceedings from getting truly novelty-ravey.

After the original mix fades away in a decidedly DJ-unfriendly manner, the Factory Floor remix keeps things in a pretty similar ballpark, changing the synth washes for something a bit more spacious and swapping basslines for something equally simple, feeling even more languid than the original, certainly closer to the chillout room than the mainroom in old school club terms.

It's a little bit uneventful in some ways, not quite demanding as much attention as it ought, slightly wallpaper-ish, but it's always good to hear a classic 303 tone or two. Everybody still needs them.
Artist:
Azalia Snail
Title:
Neon Resistance
Format:
CD + Download
Label:
Silber Records
Previously branding herself as lo-fi pop, established avantgardeist Azalia Snail steps up the production values on "Neon Resistance", a 12-track collection of perky, energetic guitar-pop songs that bears some comparison to acts like Sally Shapiro, Saint Etienne and Dubstar.

Opening track "Celeste" is seriously catchy, and followed up by the strangely feel-good, quite 90's-ish groove of "Field Rep". Each track has its own distinctive instrumental ideas, from the dubby piano stabs of "Made Out Of Honey" to the unexpected appropriation of samba rhythms and trumpet sounds into a semi-ballad for "Save This Place", but each is built around a strong bit of post-punk-pop songwriting and an obvious admiration for the 3-to-4-minute-long pop song. Pop songs often live or die by their choruses but there's no such problem here, with many hooks that would have passed the old grey whistle test.

The lo-fi aesthetic isn't completely left behind, as evidenced by some crunchy vocal touches and light-sounding, kick-thin drum recording, but instead it's now one tool in a broader sonic toolkit that also allows for polished and bright-sounding, reverb-washed guitar solos and backing vocals.

The vigorous energy of "Ode To Vega" is just crying out for some euphoric club mix to showcase the excellent pop work, while the slightly punkier performance in tracks like "Weekend Back" has shades of Amanda Palmer.

It's still too quirky to trouble the real musical mainstream but it's a fantastic alt-pop album that will hopefully reach a wide audience.
Artist:
Jochen Arbeit / Paolo Spaccamonti
Title:
CLN
Format:
CD & Vinyl
Label:
Boring Machines
Jochen Arbeit (member of Einstürzende Neubauten since 1997) and Paolo Spaccamonti have here created seven numbered pieces from the softer side of guitar-centric noise and drone atmospheres. Warm resonances, long sustains, measured use of distortion and deep rumbling, sometimes-tense bass notes combine to create a very filmic 31-minute album.

Longest piece IV, in the centre of the album, is particularly strong as the steady bass notes really up the tension. Track V, after a languid and bluesy opening, is also a strong example of slow build. Finale track VII is also worth noting, and a reasonable sampler track for the whole release, despite the almost absurdly abrupt ending which is a reminder that, averaging under 5 minutes per track, some of these soundscapes could have been explored and expanded rather further than they are.

The whole album was, says the press release, built out of one improvised session that yielded three hours of recordings. It's certainly not overbaked, nor does it sound like sweat and tears has been ploughed into its creation, but as the sound of two accomplished and confident musicians playing to their strengths, it's a very satisfying release.
Artist:
Gray Acres
Title:
Gray Acres
Format:
Download Only (MP3 + Lossless)
Label:
Sound In Silence
Brothers Andrew and Michael Tasselmyer (Hotel Neon, The Sound Of Rescue)'s debut album as a duo is a nearly-hour-long collection of guitar, synth and sometimes piano ambience, drone and soundscaping with a general feel of sedentary loveliness. It's one of those releases where it's hard to judge the temperature- technically it could be described as cold, but there's something about the lapping reverb that actually comes across as reassuringly warm.

Opener "Sightlines" is particularly pretty. Other pieces, like "Return To Self" with its occasional piano chord, are somewhat more melancholic but in a way that's arguably a little wishy-washy and as such a little forgettable. "Vestiges Of Form" is almost the definition of soft ambient drone, though none the worse for it and a very nice inducement to sleep, but certainly a little short of unique selling points.

A smart, smooth, relaxing but ultimately slightly forgettable bit of mellow ambient.