Artist:
BLEIBURG feat. MANMACHINE
(@)
Title:
History In Flames
Format:
2 x CD (double CD)
Label:
SkullLine
(@)
Distributor:
SkullLine
Rated:
This is a new DCD release set out and produced by the German underground mail order service SkullLine. It provides a mutual team work by both German projects musically based into dark and minimal Ritual Electronica, which takes here some influences out of different music styles. BLEIBURG is leaded by Stefan R. who's very active not only with his various music projects, under the "Dark Transmission" website he publishes also a small online zine. MANMACHINE is A. Schwarz, an experienced musician since 23 years based in various styles. So you don't have to wonder also to hear some classic Electro tunes ("Deep Down In My Heart" – provided with a "classic" inspired vocal performance) besides further styles like Powernoise ("99 Percent Noise", "About The Nights" or the very chaotic "Hekate Song"), slowly Ambient tunes and - oh wonder – an acoustic Neo-Folk tune ("Fall Apart", a cover version originally done by DEATH IN JUNE) only arranged with a guitar! Some vocals are included as well, but mostly they rather act here like a dramatic news reporter rambling down some lines. This can't be called a real singing. In all you got a DCD set focusing on dark, minimal programmings and sounds, where it at times wouldn't be wrong to fill in some more maturity. To lengthen this stuff on two CD's is also a bit too much, a limitation and concentration of the best tracks placed on one full-length would do better. Designed for genre fans only. Of course, also this item is a special limited and numbered release of about 45 pieces, packed in a carton box with a pin and a t-shirt.


Have you ever had difficulties of falling asleep? There's a moment when you are almost there where you start to lose consciousness and the sounds are dilated and they tend to become like a distant echo. Womba's EVIDENCE OF LETTA gave me the same sensation. Now let's do a step back. Who's Womba? Well, it is a personal project of Tikhon "Hee Haw" Kubov, a man know into the independent new alternative Russian music scene. Produced by Russian Association of Independent Genres, EVEDENCE OF LETTA is a particular CD presented in a cardboard folder with booklet. It contains 24 tracks of minimal cut ups where radio/tv/record samples are merged with treated voices, noises, etc. The sensation I had by listening to these tracks was also like listening sounds through a fly ears: everything seemed so overwhelming and confused and I didn't know where to rest. Is it a coincidence if there's a smashed fly on the cover?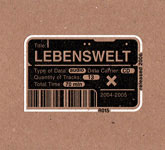 Artist:
LEBENSWELT
Title:
Lebenswelt
Format:
CD
Label:
R.A.I.G.
(@)
Rated:
Formed back in 1999 Lebenswelt is a Russian trio that released five cd-r and one tape since then but they distributed them only to their circle of acquaintance. Produced by R.A.I.G (Russian Association of Independent Genres) LEBENSWELT CD is their first official release and here Andrei Blokhin, Igor Mukhin, and Mamikon Vartapetyan decided to collect their 2004-2005 recordings. Inspired by the ambiguous works of German prophet poet and translator Stefan George (1868-1933) the CD contains 13 tracks that span from the dark ambient to the industrial/experimental genres. Most of the tracks have a back ground humming sound where the band built up their sound sculptures. Sometimes they beat some metal stuff and other times the track keep its ambient structure but alternating hisses to percussive sounds or synthetic bleeps. The ambience created by Lebenswelt has a good effect even on the occasional listener that is immediately absorbed by the magmatic sound.
image not
available
anymore
The Euphoria Of Disobedience" is the fifth OYC album after ten years from the previous "Equator" which was an unquestionable milestone in 90s ambient.TEOD features some radical changes in OYC sound - tablas and other ethnic sounds are replaced here by a post-glitch sound processing with the same overall dark and organic feel that is a trademark in all OYC releases. Dense dust clouds coat the second track called "In dreams, perhaphs" (featured in the soundtrack of Paul McGuigan's "Lucky Number Slevin" in which Andrew Hulme is also credited as editor / second unit director) where we hear treated guitar tones over a droney background. Things start to get darker in the third track called "Slither" with a stunning and sad synth melody. "Out Through The Skin" is one of the album's highlights and takes us into deeper emotional territories and harks back to that estatic stillness in Hulme's A Small Good Thing side-project. "Where she goes at night" is a spaghetti-western ambient nightmare and reminded me of the odd recurring tune in Arrabal's surrealistic masterpiece "Viva La Muerte". An amazing record that unfolds and grows in time, surely one of the best releases of the year. A follow-up is scheduled for release in late 2006 so stay tuned...
Geez, I don't really know how to review this one, because THE PURPLE PRO has different interpretation keys and taking them separately you could get the wrong idea of what this album contains/means. Max Turner worked with Marcus Rossknecht as Meteorites as well with Puppetmastaz and for his solo project he seems to impersonate a sort of comics character. His lyrics sound like a sort of ride into craziness. An example? Here it is: "Fear of a purple pro, fear of the purple planet. Tell the united nations of an ultra-violet mandate, to rid the world of blues like a big ass rap mandrill spittin til I sink, ah!" Musically hip hop has a big influence on the project (Max mostly rap his lyrics) and also the tracks sound like twisted hip hop tunes but also a sort of funky electro flavor comes up on tracks like "Disco of the dead". Probably most of you would be destabilized by this album just like I was, but I think that we should take it as a whole because if you consider only the music probably you won't understand what a deranged blues guitar is doing here and there. Try it if you are in the mood of checking something really particular!