Artist:
MachineSoldier
(@)
Title:
Unit One
Format:
CD
Label:
Idle Works
(@)
Rated:
A new release for the Danish Idle Works label, after the strong debut of the Synthpop act FAKE THE ENVY. With MACHINESOLDIER they present also a different musically direction, this project shares the harder EBM-related side. Consisting of Jonas Gudjonsson, this Danish solo project concentrates musically on the ideas of veteran acts like NITZER EBB or FRONT 242 – of course transmitted and played with the technology of today. Some Danish country mates like GODHEADS come to my mind for a comparison – you just have to delete their guitar onslaught. Some other references to PARANOID or BIONIC (have only released one full-length CD on the long defunct German Off Beat label...) are sure allowed and thinkable. Almost each of the presented 8 tracks here can offer hard pounding bass lines, a solid kick and snare work combined with deep male shouted vocals. Dancefloor-action is programmed with the fast-paced track "MachineSoldier", "Hacker" and "Perfect Order", while "Holy" surprises with a guest vocal performance by Kristian Kroll of FAKE THE ENVY for the slower intro part, while this track turns then with a tempo change into a marvellous EBM smasher of the finest kind – the best piece here! This band tries hard to renew the old style of EBM with modern elements without falling into cliches – it is a massive and accurate output and I'm sure we haven't heard for the last time of this promising act. Keep it on and punish your machine!
Artist:
VV.AA.
Title:
Soundwave Assassins Vol. 3
Format:
CD
Label:
Dungeon-Recordings/Backscatter
(@)
Distributor:
DSBP
Rated:
Already the third compilation of this series which predecessors were mostly created for DJ's, press people and promoters to introduce or to give a deeper insight into the musically activities of the Salt Lake City area. Dungeon-Recordings and Backscatter again collaborated for this release, which will - thanks to the musically content – make a special mark into the history books of Electro/Industrial music. Lets have a look to the featured names – SYMBIONT, LITTLE SAP DUNGEON, LEXINCRYPT, ROSES & EXILE and 23EXSTACY – all this bands have lately quit their business or are in hiatus. The best is yet to come – all of them presenting unreleased stuff, outtakes or their very last recordings. Besides the above mentioned some more well-sounding names are featured here like DIVERJE, PCP, ASSEPTIC ROOM and BOUNDLESS. Of course also these acts present never heard before mixes, tracks and fit therefore well with the intention of this compilation. I can't find enough praising words of thanks to the both conductors, Kevin J. Cazier and XoN, to open the archives for the greedy ears of the fans hunting for unreleased stuff. After an instrumental intro tune the things start here with the Spanish act ASSEPTIC ROOM, which is signed to the DSBP label. You'll got a Dark Electro and danceable tune "Faith Without You" in a remix provided by the Argentinian act SUICIDE SOLUTIONS, also an up and coming new act to follow immediately. Follows then Justin Cameron aka LEXINCRYPT who provides with "Purjuress (Face Two)" and "Aftermath (Gutter Slut Mix by L.S.D.)" two unreleased versions of tracks placed on his debut album era "My Sepulture" back in 2003. Tasteful Dark Electro with that special thrilling effect – as usual from this act and I hope that Justin will decide one fine day to continue with his project. Dungeon Recordings' very own LITTLE SAP DUNGEON have to my surprise still a track in stock taken from their "Silent Entities" recording session. "Nightfall's Prey" is a typical piece of this act, maybe a bit lesser scary produced than the other tracks placed on "Silent Entities" – this might be an explanation, why this track got removed lastly. DIVERJE are also present and provide us their track "I Walk Alone" originally available on the last studio album "The Distortion Chamber", a collaboration effort between Tommy T. Rapisardi together with the already mentioned Justin Cameron. This track got remixed by the BLC Productions-recording artist THE PAIN MACHINERY from Sweden, turning this piece into a pulsating Powernoise assault. It is lesser danceable, but filled instead with crunchy rhythm patterns of the hardest kind – as usually provided by this act. PERCEPTION CLEANSE PERCEPTION is musically maybe one of the most diverse acts around and Kevin J. Cazier shows us his dedication to the works of GODFLESH by providing a cover on the track "Blind", originally designed for a tribute compilation, which never came to realization. We then have here two new tracks by 23 EXTACY aka Chris Alvarado providing that typical and chaotic Punk-inspired Crossover-Industrial with harsh and destroying guitar performances. Kevin J. Cazier has lately left this project, so also this act is in hiatus. And also ROSES AND EXILE's – Chris Alvarado's solo effort - existence is questionable and we have to see what the future brings. Comes the last ever recorded and sorely missed SYMBIONT track "Five Of Cups", which is a rather slow Dark Electro piece with the strong and remarkable melodic input this act is known for. So finally XoN's solo effort BOUNDLESS sets the last two pieces on this comp both designed for the BOUNDLESS debut release "Perpetual" back in 2003 – to me still one of the most underrated DSBP releases at all. You shouldn't expect another track of the quality of "Sordid Trouper" or "Unconscious", but both pieces "Infinitus Assuage" and "Repression" nevertheless do well and fit with that album stuff. A lot of valuable stuff to discover as usual on this comp series – let's hope and keep the fingers crossed that this collection of unreleased stuff doesn't mark the very last chapter of these quality and promising acts. Check our website here to discover several reviews and interviews with these acts – LITTLE SAP DUNGEON, DIVERJE, SYMBIONT, ASSEPTIC ROOM, PCP, THE PAIN MACHINERY, LEXINCRYPT – they are all here. Keep the machines warm and start your comeback – we need you back on track!
image not
available
anymore
Artist:
ALEXANDER TUCKER
Title:
Furrowed Brow
Format:
CD
Label:
ATP records
(@)
Rated:
I'm glad my ears are still working after all of this good and bad records, I mean I was listening to Alexander Tucker and I was repeating to myself it remind me of Jackie O'Motherfucker and later I've found he has came out on Tom Greenwood's U-Sound Archives label. "Furrowed Brow" differently from The Drones (the previous release on ATP) is more wrapped up in a folk dimension, I'd add weird folk, just not as freaky or out of time as Jackie O'. Acoustic guitar driven ballad with some acid arrangements of banjo, distorted guitars, harmonica, harmonium, piano and many other traditional instruments as you would expect from such a release. Mr. Tucker has an incredible writing skill just try his acid-folk gems I think they could blow away you mind of your elder freak brother as did with mine. There's a confidential, stoned mood diluted in this cocktail and it enriches this release, I also think it's quite easy to getting the right listening mood since it's kinda immediate. American folk? Not just that anyhow, infact some tracks gave me the idea this guy liked some old Pink Floyd psych-ballads when he was young. I've read somebody thrown in Papa M to identify it but I think apart for those I mentioned before you could compare it to the last Current 93 or to some sort of Oldham on acid. Definitely catchy.
image not
available
anymore
Artist:
ATTRITION
(@)
Title:
Something Stirs - The Beginning 1981-1983
Format:
CD
Label:
2 Gods
(@)
Distributor:
Voice Print
Rated:
BUY from
There was a time, soon after the punk period, when bands wanted to dare and to make their music different. Something that no one already did or thought to do. Maybe only hippies on drugs experimented something similar but the result wasn't filtered by the will to do something different, it was the result of altered states. Nothing against it but on late 70s and early 80s bands like Cabaret Voltaire, Throbbing Gristle, Coil and many others created something different. Something that mixed with the "Do It Yourself" culture created a totally new thing: tape labels. If you lived that period for sure you read about the early Third Mind releases or the early Bain Total tape compilations (it was the time when Philippe Fichot was releasing interesting tape compilations along with the first works of his own project, Die Form). Compilations that gathered many bands that released only few things in limited editions (they were limited because it was difficult to release something and it was hard to distribute them. Fanzines, ads and word by mouth was really important back then, when there was no internet) as well the early works of bands that later become well known. Bands like Attrition, Coil, Portion Control, Test Dept, etc. SOMETHING STIRS – THE BEGINNING 1981-1983 is a collection of recordings that Attrition released for compilations. Martin Bowes, member of the band since day one, saved from dust the old 4 tracks tapes and borrowed a Portastudio (I think it was made by Tascam) by a friend and then transferred the recordings on a PC just to clean the sound. The CD contains seven tracks coming from vinyl or tape compilations, one from the Alu/Attrition split tape as well as four previously unreleased tracks: "Tones in black", recorded in 1982 and three other tracks ("Domus", "Hologram" and "Alter ego") recorded live in Coventry in March 1981. On those three you can also hear the one and only drummer the bad ever had. If you know "Shrinkwrap", the most famous track of the Attrition early period, well, try to forget about it, because songs like "Something stirs", "Pain", "Birthrite" or "Onslaught" don't sound anything like that. They are mostly sound experiments with tape noises, bass guitar and a drum machine with the vocals of Julia Waller that spread her impetuosity with a style that remembered me early Siouxsie. Melody was an option and the bands main aim I think it was the construction of a new way of channelling their feelings. Attrition succeeded doing so...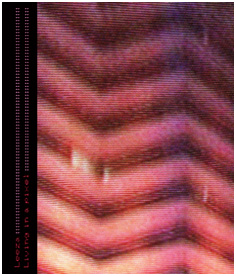 Artist:
Leeza
Title:
Living in a Pixel
Format:
CD
Label:
Afe Records
(@)
Rated:
Milan's Luca Di Mattei Aka Leeza is out on the Afe label with the new "Living on a Pixel". Slightly out-of-fashion laptop-based IDM but extremely well executed. Leeza's trademark are the keen and intricate synthlines almost recalling the ones on Bola's Soup (my all-time favourite in IDM) but there are more Autechrish ("Amber"-era) tracks like "Dav_Home" or "Phonetic Boot" that show a good display of more schizoid rhythms and breaks. "LOAP" is a record that would fit perfectly in the Skam back catalogue. A more recent reference point would be the rosters of the Toytronic and Merck labels. A well-crafted record not to be missed by IDM diehards and nostalgics.