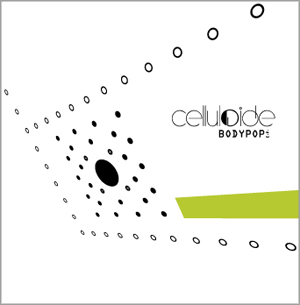 Artist:
CELLULOIDE
(@)
Title:
Bodypop
Format:
MCD (Mini CD)
Label:
Boredom Product
(@)
Rated:
BODYPOP is the new release by Celluloide, a French trio that started their activity on early 2000s. After several E.P.s and a couple of albums, they decided to move a step forward into their style and the result is represented by the five new songs of this MCD (there's also a sixth song, a remix of "I am fine" reworked by Ciëlo). If the vocal style hasn't changed that much (Darkleti use her detached style of singing since day one) the music has taken some influences from a certain techno electro dance (see Vitalic or Miss Kittin) but always having a song structure without being distracted by the acid attitude of some dance scenes. In this way tracks like the opening "People like me", "Audio therapy" or the following "I am fine" show a danceable attitude really catchy where the analog sounds are free to create interesting layers of melody. Even if the vocal style isn't always functional for the immediate enjoyment, after a couple of listening the band sound succeed into breaking the barriers of preconceptions showing all its potential.
Artist:
Absolute Body Control
(@)
Title:
"Lost/Found"
Format:
CD
Label:
Tarantulla Productions
(@)
Rated:
It is not very often that one release can define an entire era of its genre. With that said the forty-four tracks of this two CD digi-pak do exactly that. They not only define the early roots of the many musics of Dirk Ivens and his prolific shadow Eric Van Wonterghem, but they define the minimal electronic pop glory days of the early 80's. A musically creative time marked by the new romantic movement in London and of course the Belgian electronic music scene. Certainly as interesting as anything that came out of Britain at that time, this music remained under the radar because the tracks were somewhat difficult to obtain. Often appearing on various artists' vinyl LPs and sold out limited edition singles, they were scarce. That rareness has no doubt contributed to their monetary value through the years, but it really is their intrinsic value that makes this collection so special. Long over due, someone needed to document the beginnings of what many of us consider to be one of the great electronic music stories of our time.
The music consists of simple yet effective analogue electronic arrangements combined with the anthemic vocals of Dirk Ivens. Hypnotically reaching out in what often seems to have the duality of naïve English flash card phrases and the sophistication of a direct and worldly savvy artist, Iven's vocals will you to trust him as authoritative. Songs like "Do You Feel Me Inside" or "Melting Away" are so strong they create an emotional response that is as powerful now as it was in the early 80's. Seeds of what would later become the industrial music stylings of The Klinik and later Dive sprout up here and there, but never really over take the sparse landscape that is Absolute Body Control. Marked by the minimal if not anti-tech approach, the aptly named "Lost/Found" is an often a dark and sonic experience that reeks of authenticity unlike the corporate versions of this genre at that time. A dream collection of minimal electronic synth-pop for whoever can get their hands on a copy "Lost/Found" will not be forgotten.

image not
available
anymore
Unicorn is the new solo project of former Man Is The Bastard/Bastard Noise member W. T. Nelson, and here and there you'll probably recognize some of the scorching electronic machinery of the aforementioned projects - but as a whole, "Playing With Light" is a stunning collection of largely melodic drones and melancholic minimalism. The carillon-like melody of the eponymous track, the guitar tones and sparse bleeps of "Far Away; Close ToYou", and the repetitive clusters of "Spots" are all trance-inducing in their apparent simplicity, and "The Sea" is a peaceful fragment that could easily last much more without tiring. "Clay and Fire" and, especially, "Maho Kyoto" (with those peculiar oscillator screeches) opt for more sullen and cloudy ambiences, but perfectly merge with the rest. What's magic in "Playing With Light", apart from the high quality of every single track, is indeed its cohesiveness and sense of flow. At times it sounds like the missing link between Labradford's melodic minimalism and heavier noise electronics. The enhanced cd also includes three Quicktime-format videos by filmaker Stephanie Miller, each of whom has a Unicorn track as its soundtrack. "Bob Lawrence: Clay and Fire" surely empowers with its visuals the whole feel of the track, with Lawrence's tale of self-realization through handicraft pot-making, and "The Sea" is a perfect counterpart to the music with its blurred images. I've only found the "Playing With Light" video dissatisfactory, since the sparse stills just didn't match that perfect tune for me. With that being said, the video part is a welcome add. Do check out this awesome disc and everything else Unicorn has put out.
image not
available
anymore
Artist:
ARCANE ART
Title:
Nightly Terrors
Format:
CD
Label:
Trinity Records
Rated:
I generally try not to review cds that I think are really bad, but there are times when duty calls and you can't avoid it. Well, out of the Penitent-related batch on Trinity Records, this cd by Arcane Art (Karsten Hamre and Ciprian Pastragus) is surely the worst one. It opens with "Amore Morte", a mix of triumphant drumming and keyboards patterns, which unfortunately gets swamped in a repetitive tune (that is, repetitive in a boring way), and, most of all, clearly betrays one of the main defects of this cd, i.e. an annoyingly flat production and mixing. There are genres which could even benefit from lo-fi recordings, but symphonic dark ambient is definitely NOT one of those - and "Nightly Terrors" sounds like a barely acceptable demo. But besides that, there's also a lack of ideas and taste, as in the basic synth swoosh of "Interlude" or the equally primitive programming of "Sell Your Soul" and the abrupt cut of "Morbid Ana". Let's say that Penitent's cd wasn't exactly memorable or sparkling with new ideas, but it worked alright; Arcane Art, on the contrary, is truly below average.
image not
available
anymore
Artist:
PLAN E
Title:
Bassonova
Format:
CD
Label:
My Kingdom Music
(@)
Distributor:
Masterpiece Distribution
Rated:
After a couple of years from the previous "Best Kept Secret" Jani Lehtosaari and friends created the fourth chapter of their adventure under the Plan E moniker. Producing their songs using everything but electric guitars (only bass guitars are used along the other instruments) the band creates another masterpiece of powerful sadness that doesn't sound nihilist. Have you in mind the effect of the tracks of the third Nick Cave album titled "Your funeral my trial"? Tracks like "The carny" where the crawling effect created by the gypsy atmospheres were splitting the hearts in two? Plan E did the same with "Remember the future" but using a rock structure. 70s rock meet new wave atmospheres with a metal approach a la Type O Negative. The ten tracks will entertain you exploring the deepest corner of you soul. This is passionate music!