image not
available
anymore
Another new output of the German SkullLine Mail order service, this release was done by one half of the project TT, which lately brought out a first CD "Opfer:Einheit". The already presented musical elements are also listenable on this new output "Kunzt!-Gaz?", maybe with a stronger dedication to harsh minimal and rhythmically Powernoise efforts. This well done release takes already known elements like pregnant German voice samples and combines them with pounding Electro-like bass line and of course the tormenting distorted drum patterns. "Terrorgefahr" features this element well, it is dedicated to some bombing attacks against trail stations of Berlin. Another heart-felting piece has to be named with "Terror Pakt" featuring the news content of the tragic happening of the terror attack in Beslan. "Hell-Sound" sounds like a cliché and reminds a bit on some OBZÖN GESCHÖPF works. "Warum" and "Lebensberechtigung" continue the more EBM than Powernoise style in a decent way, but then this release turns more and more into the Powernoise/Powerelectronics genre. Still very rhythmically arranged, TRITON 83 offer with the best pieces here, "Seelenfresser" or "Bestie Mensch" a perfect alternative to some known acts like NOISUF-X, XOTOX, FABRIKC or CONTROL-SYSTEM. The dark but still hefty tune "Ozonhole" gets my favorite vote here by offering some well done layers and well set in voice samples. Although not providing anything really new, this mysterious does well in this minimal harsh EBM/Powernoise style. And as usually, also this release is strictly limited to 100 pieces. Also a special edition of only 20 pieces packaged in a special steel box is in preparation. Act up soon and get it!
Artist:
NOYCE™
(@)
Title:
Coma
Format:
CD
Label:
In-D Records
(@)
Distributor:
Soulfood
Rated:
Only after the first listening I went to my CD collection to have a look and a listen of their past works. Why the fuck wasn't I impressed with their last EP "White Hypnotized Noise" at all? What has changed in this almost 7 years, that this German act is now able to write and produce a top-notch Synth-/Futurepop-inspired full-length album? It may has something to do with musically maturity and experience through the years, because "Coma" stands for one of the releases this genre has to offer. Diversity and a good taste in the arrangements are well included on all tracks here, catchy and danceable Futurepop pieces like "Karmacoma" or "Headland" are presented in a united kind with ballad-like themes ("Wachcoma") or darker pieces like "Year 03". Especially the included orchestral-like string sounds to the end of this track can add a bombastic feeling. The lyrics are presented in both English and German language (the content of "Mensch" hits the content of the famous German Pop/Rock star H. Grönemeyer!!!) without providing banal verses, also the globally theme on the not only clinical meant coma of humanity is well chosen. NOYCE hit the nail with this modern and up-to-date produced album and should be soon get heard in all alternative and relevant clubs. It also works well at your home entertainment, so congrats to the new label In-D Records. I think they couldn't start with a better release like this!
image not
available
anymore
Artist:
RASPUTEEN
Title:
Gegen Die Wand
Format:
CD
Label:
Invasion Wreck Chords
(@)
Rated:
After changing the project name from Rasputin to Rasputeen, the unknown man behind that moniker released finally a new album (the second) for Invasion Wreck Chords, titled GEGEN DIE WAND. Produced by Philipp Muench (Synapscape) the new album contains 19 tracks of which 12 new, as the remaining ones have been released on the "2 hemden & 2 hosen" 7" ("Schaufensterpuppe") and on "Pmünch" 3" CD ("Kontamination", "Tunnelblick", "Konsum", "Schleudergang", "Supermarkt" and "Neue menschen"). As for the first release you can track down so many influences that is amazing to see how well Rasputeen mixed them together. After the initial warning (an industrial version of the sound of an alarm) of "Epidemie", get ready for the industrial dance of "Paradies" or "Konsument" (this one remembered me the early Pankow), the retro electro distorsions of "Drei detektive", "Monotonie", "Komm' kack' die wand an!" (a pop industrial version of Pyrolator?), "Plastikboogie" or "Baustelle bielefeld" the minimal industrialism of "Maedchen und pferde" or the tracks coming from "Pmünch". Rasputeen took the sounds of old German electronic bands and blended it with industrial new wave adding a touch of the characteristic Ant Zen sound. If you loved the first album "Das leberwurstbrot", you'll die for this one!
Artist:
DiN20
Title:
iNDEX02
Format:
CD
Label:
DiN artists
(@)
Rated:
Don't get me wrong -- I am a fan of mid-'90s-era ambient Electronica: Banco de Gaia, Electric Skychurch, William Orbit, 777, et al. (and anyone who has heard the eerie "Mountain of Needles" from David Byrne and Brian Eno's seminal masterwork My Life in the Bush of Ghosts will know what I mean). Yet the tracks that make up this semi-continuous comilpation by DiN20 don't leave enough of an impression that they're helping to move things forward.

DiN is the musical identity of Electronica maven Ian Boddy, who collaborates with various fellow sonic artistes Subsonic Experience, Reuter, dbkaos, Robert Rich, ARC and Wöstheinrich. DiN20 is simply the 20th release in his catalog (and "iNDEX02" the second compliation), really a sort of retrospective, compiling two tracks from each of the DiNs 11 through 19. There are thumbnail-sized pictures of the amazing artwork that accompanied those original releases of Boddy & Co.'s songs; an insert booklet of these covers at CD-size would have been a real bonus for this comp. The best cuts are fifth up, "The Mystic," with its phasery, alien danger, the sixth, "Edge of Nowhere," and twelfth, chasm-yawning "Tuning Out."

All the tracks are well-executed, well-sequenced and well-produced, and at nearly 78 minutes this CD is a great chill-out listen. But here's the downside: it is compromised by the fact that (a) these songs could have been recorded and produced 10 years ago, and (b) most of them wind up sounding as though they were.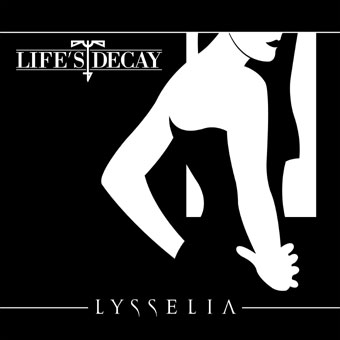 Artist:
LIFE'S DECAY
(@)
Title:
Lysselia
Format:
CD
Label:
Abstraktsens
Rated:
Formed by Lyktwasst and Alea, Life's Decay are a duo hailing from Paris who already released two CD and a MCD since 2003. LYSSELIA is their newest CD and it's their third album which contains 12 new songs. Life's Decay produce a sort of minimal electro goth influenced by martial and neo classical atmospheres. Most of the tracks present a main theme based on drums, strings and the female vocals of Alea (as far as I understood she joined the project since the previous album "Anleva") . Most of the lyrics are in French so I can't tell what they are about but the atmospheres suggest a sort of post war ambience (try to think about a German band survived to WWII and projected toward the future). There are also tracks like "Sphere" that dismiss the pop vein given by Alea's voice just to head their horses toward industrial experimentalism that recalled me someway a mixture of Laibach and Death In June. Gathering new classical tunes, electro sounds, strings and militaristic rhythm sections, Life's Decay created a convincing blend of decadent/melancholic accessible electro goth music that will please many dark hearts...