Artist:
NATE WOOLEY
Title:
Wrong Shape to Be a Story Teller
Format:
CD
Label:
Creative Sources
Rated:
Recorded live in New York in 2004, this solo trumpet cd by Wooley shares the same pros and cons of Thieke's. The theory of sounds the performer squeezes out of his instrument ranges from an initial theremin-sounding frequency to full-on noise to almost lowercase reductions, and an adventurous ear will find many sparkles of creativity and discipline throughout the work. My problem was that the several fragments, assembled in one 51+-minute track, are just not always strong enough to keep my attention focused. It's part of the game I guess, but I wonder if some more editing would have done this good.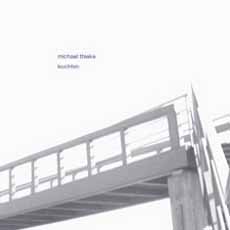 Artist:
MICHAEL THIEKE
Title:
Leuchten
Format:
CD
Label:
Creative Sources
Rated:
How most Creative Sources artists manage to get such a crisp sound quality by recording directly without overdubs is still a mystery to me. "Nicht existent", the opening track of Thieke's cd, recorded in Berlin in 2002, is a fascinating piece of rolling and dripping sounds - actually sounding like water passing through and dripping from a pipe. The rest of the cd is far more abrasive and hostile, with hardcore experiments of breathing through a muted instrument (by the way, it's an alto clarinet) or small pebble-like microsounds ("Jene randfiguren"). An interesting but unavoidably less involving experience for the listener, and a bit repetitive on the long run.
image not
available
anymore
Cool!! According to the good remarks I've wrote in the review of three way split cd on Thisco, here it is, Sci-fi industries which features Luis van Seixas (one of the founders of the portuguese label). Believe it or not this "picciotto" knows how to do it and the result is delicious: rhythmic electronica with heart-striking melodies. I'm sorry to repeat myself again but here we have another guy who's probably grown breathing air and Warp and it enlightened his brain enough to give us a juicy fruit like "The air cutter". Pulsing electronic music with a foot in the nineties, comparison could be misleading but it gave me the same beautiful impression of Black Dog, somewhere else it was like giving a listen to Two Lone Swordsman at their top (damn what a band they were!!!). I've happened to listen bands that were good but a blatant replica, for Portugal sake, Sci-fi industries is not a clone but a sort of re-edition, since you hear this' not old fashioned music but just something loyal to its root but at the same time the songs express a strong personality (like the english debut of Passarani). Electronic lover from the old school will love this for sure.
Artist:
Liquid Divine
Title:
Interface
Format:
CD
Label:
Nilaihah Records
(@)
Rated:
BUY from
HERE
Interface, the debut release from eastern German duo Liquid Divine, is easy to like--at first. The media kit nails their influences: Haujobb, Front Line Assembly, Recoil, Kraftwerk, and Tear Garden all describe their pedigree very well. The lyrics, all in English, are actually a strong suit for once, coming from the Continent. In fact, the tracks that seem to work best contain odd passages spoken in a low, gutteral drawl, like some post-apocalyptic Romeo whispering to his teenage date. Check out this line describing a sunset: "How fucking wonderful it is to watch that big ball of fire melt into the ocean...!" At last, someone who REALLY knows how to get romantic in a song.

At the middle of the disc, the promising pace ebbs. The trip-hoppy track number 8, "9 to 5", finally rescues my wandering attention from total distraction with more of that cool crypto-poetic speak. After that, however, the rest of the CD becomes filler, losing my attention for good. About four songs pruned from here and there (including that meritless and patronizing 9/11 soundbite at the end of the last track) would do some justice.
Artist:
Sasha
Title:
FundacionNYC
Format:
CD
Label:
Global Underground
Rated:
This is the mix CD behind superstar DJ Sasha's bi-coastal U.S. jaunt this summer, featuring his new all-digital custom mixer, the Maven. Sasha's own design, the Maven stores his tracks all ready for playback, at which point he cuts, loops, splices and drops partial elements from each one into the live mix in real time howsoever he chooses--so as to create a uniquely and spontaneously remixed track, each and every time. Assuming the device was used in this recording (the presskit's language was awfully slippery about it), Sasha indeed turns in some eerie and interesting treatments to his chosen tracks.

And what an eclectic clutch of tracks it is: what starts out at a rather sleepy pace (mellow electro- and deep-house cuts by Adam Johnson, Swayzak, Beanfield) gives way to so-called "forgotten classics" such as an electro-reworking of Depeche Mode's "Behind the Wheel." Then a strange and wonderful thing happens. The CD's lively electro-housey midsection segues into a 6/8 time signature--at the most crucial point in a DJ's set when he most needs to keep his listeners on the dancefloor. Because, right around the corner from the bumpin' house, we're suddenly loping along to Freaky Chakra's "Blacklight Fantasy," sitting (as it were) zen-like on a giant day-glo mushroom. Unbelievable! Did Sasha's tough New York City crowd actually go for that? Let's hope so, because in my book, this plus the last two tracks, Goldfrapp's pounding, pretty-hateful "Strict Machine" and M83's oddly menacing "Don't Save Us From the Flames" make an unbeatable closing triad. Anyone who saw him spin this year, please tell me how his gig was. (Yeah, yeah, granted, I have no excuse for missing it when I had the chance.)