Artist:
ALESSANDRO FOGAR
Title:
Surface Studies # 1 - # 2
Format:
CD
Label:
AFE Records
Rated:
A visual artist, composer and multimedia/software designer, Alessandro Fogar has previously released works on labels like S'Agita and AUA, and here presents two lengthy works in the ongoing series "focused on the study of surfaces". "Sand" and "Streams" are both based on field recordings (from a small island near his native Grado and from river Torre respectively) and digital synthesis/manipulation tecniques, plus a filtered melodica on the former track. Water, sand, pebbles are, as expected, the main sounds, both kept recognizable and manipulated via (my guess) reverses, time-stretching, eq, etc. Both tracks, the second one in particular, are very quiet and fairly repetitive, but in a positive sense. I've used a lot of water-based field recordings myself and I think I've had a similar input: rather than looking for any dramatic development, which would probably even sound jarring, one is tempted to let everything - literally! - flow, and focus on microscopic details. Fogar writes he's inspired, among other, by Bernhard Günther and John Duncan, but also, and I think it shows beneath the surface (whoops), by Morton Feldman.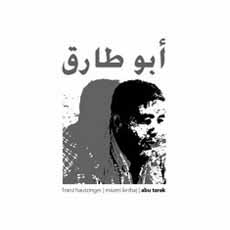 Artist:
FRANZ HAUTZINGER/MAZEN KERBAJ
Title:
Abu Tarek
Format:
CD
Label:
Creative Sources
Rated:
"Abu Tarek" was recorded in August 2003 in Lebanon; "no cuts no overdubbing" states the laconic liner notes: not a surprise since it's the Creative Sources standard, but still one wonders where these sounds could possibly come from. Both Hautzinger and Kerbaj play trumpet, but, except for the elegiac sparkles of "Hermel", no conventional trumpet playing is to be recognized here (again, nothing new for the Lisbon label). Water running through rusty pipes, green logs burning, natural gas emissions, bat signals... everything comes to mind but a "regular" trumpet. While obviously harsh and confrontational, this improvised session has many beautiful moments, thanks to the variety of inventions of the two performers, really melting into each other's sound. A bumpy path, but also one that the listener will want to walk several times.
It took a while until also Dependent's new signing from Germany, ROTERSAND, are able to offer their debut recording for this label but now it is out and the time to wait on this was worth it. Surprisingly hard and with a strong EBM influence do ROTERSAND their very best to give you a recommended debut. Maybe the cliche-loaded title could set some confusions, this "Exterminate Annihilate Destroy" is only aggressive to enter the dancefloors of all dark clubs. Especially the "Reclubbed" version of the title track doesn't take any prisoners and can totally convince with it's strong bass kick and the impressive main sequence. It's impossible to sit still by this track! The "Album Edit" of this track doesn't give too much new influences on the contrary to the "Renoised" version in collaboration with CONFIG.SYS. Here we can hear some decent Powernoise-like efforts, not bad, but the Reclubbed Version is unbeatable. Add to this two exclusive B-sides with "Last Ship (Rearranged)" and "Caustic Greed" on which this bands shows a wider musically background by including here and there some guitar sounds. The vocals are another outstanding part in the music of ROTERSAND, they are unlike too much other contemporaries without distortion, clear but really EBM-like. Especially on "Caustic Greed" I get the impression that J.-L. de Meyer (FRONT 242) would stand behind the micro to give his voice. Anyway, this single-CD is also a part of the legendary Dependent Club Invasion (DCI) Vol. 2, but also and of course released alone. A nice and promising appetizer for the soon to be released new full length album "Welcome to Goodbye".
image not
available
anymore
Artist:
BACHI DA PIETRA
(@)
Title:
Tornare nella terra
Format:
CD
Label:
Wallace
(@)
Distributor:
Audioglobe
Rated:
A wonder duo here...Batman and Robin?...nee...Bruno Dorella from Ovo/Ronin/Bar la Muerte fame and Giambeppe Succi from Madrigali Magri. Madrigali were a sort of depressed-blues/desertic-skeletal-rock combo both melodic and dissonant (if you wonna give a try I suggest "Negarville"), for all of you who can read italian language there's a nice surprise since Giambeppe definitely knows how to write lirycs. Bachi da Pietra could be the final "d-evolution" of Giambeppe Succi solo performances as Madrigali Magri with Bruno playing a minimal drumset and giving the most of the songs an extra "weight" with his death-blues-Swans alike way of drumming. This two guys have received a lot of attention by the italian alternative magazines and you can bet they deserved it: good recording, ghostly ballads, visceral songwriting, deserted landscapes...this release speaks in terms of "mud and blood". You can compare them to Nick Cave "depressed-Birthday Party-era" meets Songs Ohia's "Ghost Tropic" meets Faust'o (a.k.a. Fausto Rossi) gone bad (as if he could have been even worse) meets the the devil himself. The recording is ok and titles like "Verme" (Warm), "Primavera di sangue" (Spring of blood), "Prostituisciti" (Prostitute yourself) can give you an hint of "the air you're gonna breath" while listening these "murder ballads". This' the soundtrack of a car break-down in the middle of the nowhere therefore take it or leave it. Anyhow if you never heard anything with Giambeppe I think you'd better start from Madrigali Magri...if you're a fan instead: just go for it!.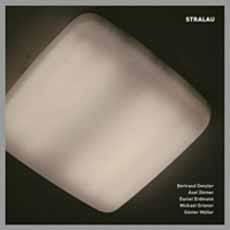 Artist:
DENZLER/DÖRNER/ERDMANN/GRIENER/MÜLLER
Title:
Stralau
Format:
CD
Label:
Creative Sources
Rated:
Recorded in 2003 at Stralau 68 (Berlin), this 54-minute single-track cd is a remarkable recording of an improvised session by Bertrand Denzler (tenor saxophone), Axel Dörner (trumpet, computer), Daniel Erdmann (baritone and soprano saxophones), Michael Griener (drums) and Günter Müller (ipod, md, selected percussions, electronics). As austere as the cover photos, "Stralau" gradually shifts from the initial low-end blows to more frantic passages of screeching reeds and metallic percussions, then settles, in the second half, to a nebula of crackling electronics. I guess no major editing has occurred, so let's say this was a particularly tight and inspired performance, where all musicians did know how to self-distribute their own spaces. As with many recordings of Müller's, the electronic element adds a sort of spiderweb cohesiveness even to the most rarefied moments.