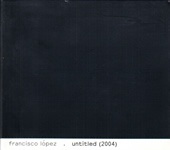 Artist:
FRANCISCO LÓPEZ
Title:
Untitled (2004)
Format:
CD
Label:
MoSo
Rated:
Along with many lengthy one-track untitled pieces, Spanish absolute soundscape master Francisco López sometimes releases titled-by-year works collecting shorter pieces and collaborations; in the last few months, MoSo has published this, and Anoema the (2005) one. Both feature López at his best, so I'll try to save as many raving remarks as possible. "Untitled (2004)" features nine tracks, most of them based on raw field recordings or sound material offered by the likes of Z'ev, Dimitris Kariofillis (Ilios), Nicolas Rousseau,etc., and none of them is less than very good. The masterpiece is probably the 20-minute "Untitled # 163 (for Pierre Schaeffer)", a powerful and unsettling acousmatic composition with (possibly) train sounds and mechanical rhythms, somehow similar to his recent cd on Unsounds; but also the menacing accumulation of hisses and reverberating drones of # 165 and the sense of unbearable pressure conveyed by # 159 (using field recordings from Singapore airport) could easily be ranked among López's best. The oddest piece is the last one, which uses as a raw sound matter the post-hc/math metal music of Swiss band Knut (the track was also released on their recent cd "Alter", featuring more interpretations by Tietchens, Ambarchi, Broadrick, Harris, etc.). It's not the first time that Francisco uses metal-related sounds (think of his double-kicks-based release on Alien8), but it's the first time, I think, that he keeps sounds so recognizable. I find the moments of chaos quite captivating, while I can't say the same for the repeated mid-tempo chug. But after all, while I easily headbang on insect and water sounds, I've never been a huge fan of Knut's geometric mosh-core. Having said that, it could be an interesting path to follow for López - and the cd as a whole is obviously brilliant.
image not
available
anymore
Artist:
MIRKO UHLIG
Title:
VIVMMI
Format:
CD
Label:
Ex Ovo
Rated:
Aalfang Mit Pferdekopf's main man Mirko Uhlig here debuts both as a solo artist and as a label owner with the Ex Ovo project, which is now planning an interesting drone-related compilation. I'm not sure if AMP will continue or not (probably yes). "VIVMMI", released in a limited edition of 65 copies with hand-painted cardboard sleeves, is a nice piece featuring 5 movements or sub-sections. As expected from Uhlig, it is a crystaline drone-based piece, but it is consistently more peaceful and subdued than AMP's often epic, or intimidating, material. Lots of natural field recordings, like tweeting birds or a creaking door, have been merged into the mix, or used to mark the passage from one movement to the other, while the drones are kept at a low volume, sounding like echoes of ancient melodies. Odd found sounds and quiet guitar strummings pop up here and there, but always floating in a sort of autumnal haze. Let's say that if AMP were close to Mirror, Uhilg's solo experiments have often reminded me of Darrent Tate's intimistic and vaguely psychedelic solo works. Good job.
image not
available
anymore
SoovaNeer (aka Erika Simmons) is a proactive multi-talented beautiful black woman who is an entrepreneur who knows what she wants and knows how to get it. This Birmingham, Alabama native is the creator and producer of her own urban reality weekly television show & entertainment company called "KingdomCame", written two religious books, and directed recording artists music videos, including her own. Her debut cd release "In The Master's Hands" comes across between secular r&b and contemporary christian r&b with heavy synthesizers and a drum machine fully used with the sound of an 80's feel. SoovaNeer offers an excellent product for the older crowd who grew up listening to good music from the 80's. Her songs indeed is about empowerment; one's need to take control of his/her life to avoid any negative situations that will lead to the state of sadness & depression. The songs on disc touches different subjects what everyone face in their everyday life; from troubled relationships, betrayals in friendships, being weak by falling in love, and cornered by the society that harrass and ridicule us. The first track "Mommy Don't Wanna Play" talks about a guy who's a player and be scheming and trying to hit on a woman with his lies and boring lame lines. The next track "That's What You Git" is a catchy song that will play in your head over and over and over again with a sense of humour about a woman dissing a guy she used to go with and he begs her back, but still gets decline. Other favorites includes the self-titled "In The Master's Hands", a contemporary christian r&b with a funk feel". The single "Good Stuff" is another catchy track with only a retro 80's beat while SoovaNeer showing off her deep feminine octave vocals. The second single "Love Chose Me" have that beautiful Anita Baker emotional feeling; and the third single "Danger" is a powerful club r&b pop music fitting for the black and white audience. SoovaNeer have a strong deep beautiful sensuous voice reminiscent of Anita Baker, Grace Jones, Tina Turner, Nina Simone, Chaka Kahn, Toni Braxton, Lisa Fischer, Gladys Knight, and the late great Phyllis Hyman who committed suicide back in 1995. A spell binding release with beauty, emotion, and passion, and direct without cutting corners. If you like r&b from the 80's, this is a must have. SoovaNeer brings back that old school electronic synth flava and lyrics with real meaning.
Artist:
BLEIBURG feat. MANMACHINE
(@)
Title:
History In Flames
Format:
2 x CD (double CD)
Label:
SkullLine
(@)
Distributor:
SkullLine
Rated:
This is a new DCD release set out and produced by the German underground mail order service SkullLine. It provides a mutual team work by both German projects musically based into dark and minimal Ritual Electronica, which takes here some influences out of different music styles. BLEIBURG is leaded by Stefan R. who's very active not only with his various music projects, under the "Dark Transmission" website he publishes also a small online zine. MANMACHINE is A. Schwarz, an experienced musician since 23 years based in various styles. So you don't have to wonder also to hear some classic Electro tunes ("Deep Down In My Heart" – provided with a "classic" inspired vocal performance) besides further styles like Powernoise ("99 Percent Noise", "About The Nights" or the very chaotic "Hekate Song"), slowly Ambient tunes and - oh wonder – an acoustic Neo-Folk tune ("Fall Apart", a cover version originally done by DEATH IN JUNE) only arranged with a guitar! Some vocals are included as well, but mostly they rather act here like a dramatic news reporter rambling down some lines. This can't be called a real singing. In all you got a DCD set focusing on dark, minimal programmings and sounds, where it at times wouldn't be wrong to fill in some more maturity. To lengthen this stuff on two CD's is also a bit too much, a limitation and concentration of the best tracks placed on one full-length would do better. Designed for genre fans only. Of course, also this item is a special limited and numbered release of about 45 pieces, packed in a carton box with a pin and a t-shirt.


Have you ever had difficulties of falling asleep? There's a moment when you are almost there where you start to lose consciousness and the sounds are dilated and they tend to become like a distant echo. Womba's EVIDENCE OF LETTA gave me the same sensation. Now let's do a step back. Who's Womba? Well, it is a personal project of Tikhon "Hee Haw" Kubov, a man know into the independent new alternative Russian music scene. Produced by Russian Association of Independent Genres, EVEDENCE OF LETTA is a particular CD presented in a cardboard folder with booklet. It contains 24 tracks of minimal cut ups where radio/tv/record samples are merged with treated voices, noises, etc. The sensation I had by listening to these tracks was also like listening sounds through a fly ears: everything seemed so overwhelming and confused and I didn't know where to rest. Is it a coincidence if there's a smashed fly on the cover?