image not
available
anymore
Artist:
RASPUTEEN
Title:
Gegen Die Wand
Format:
CD
Label:
Invasion Wreck Chords
(@)
Rated:
After changing the project name from Rasputin to Rasputeen, the unknown man behind that moniker released finally a new album (the second) for Invasion Wreck Chords, titled GEGEN DIE WAND. Produced by Philipp Muench (Synapscape) the new album contains 19 tracks of which 12 new, as the remaining ones have been released on the "2 hemden & 2 hosen" 7" ("Schaufensterpuppe") and on "Pmünch" 3" CD ("Kontamination", "Tunnelblick", "Konsum", "Schleudergang", "Supermarkt" and "Neue menschen"). As for the first release you can track down so many influences that is amazing to see how well Rasputeen mixed them together. After the initial warning (an industrial version of the sound of an alarm) of "Epidemie", get ready for the industrial dance of "Paradies" or "Konsument" (this one remembered me the early Pankow), the retro electro distorsions of "Drei detektive", "Monotonie", "Komm' kack' die wand an!" (a pop industrial version of Pyrolator?), "Plastikboogie" or "Baustelle bielefeld" the minimal industrialism of "Maedchen und pferde" or the tracks coming from "Pmünch". Rasputeen took the sounds of old German electronic bands and blended it with industrial new wave adding a touch of the characteristic Ant Zen sound. If you loved the first album "Das leberwurstbrot", you'll die for this one!
Artist:
DiN20
Title:
iNDEX02
Format:
CD
Label:
DiN artists
(@)
Rated:
Don't get me wrong -- I am a fan of mid-'90s-era ambient Electronica: Banco de Gaia, Electric Skychurch, William Orbit, 777, et al. (and anyone who has heard the eerie "Mountain of Needles" from David Byrne and Brian Eno's seminal masterwork My Life in the Bush of Ghosts will know what I mean). Yet the tracks that make up this semi-continuous comilpation by DiN20 don't leave enough of an impression that they're helping to move things forward.

DiN is the musical identity of Electronica maven Ian Boddy, who collaborates with various fellow sonic artistes Subsonic Experience, Reuter, dbkaos, Robert Rich, ARC and Wöstheinrich. DiN20 is simply the 20th release in his catalog (and "iNDEX02" the second compliation), really a sort of retrospective, compiling two tracks from each of the DiNs 11 through 19. There are thumbnail-sized pictures of the amazing artwork that accompanied those original releases of Boddy & Co.'s songs; an insert booklet of these covers at CD-size would have been a real bonus for this comp. The best cuts are fifth up, "The Mystic," with its phasery, alien danger, the sixth, "Edge of Nowhere," and twelfth, chasm-yawning "Tuning Out."

All the tracks are well-executed, well-sequenced and well-produced, and at nearly 78 minutes this CD is a great chill-out listen. But here's the downside: it is compromised by the fact that (a) these songs could have been recorded and produced 10 years ago, and (b) most of them wind up sounding as though they were.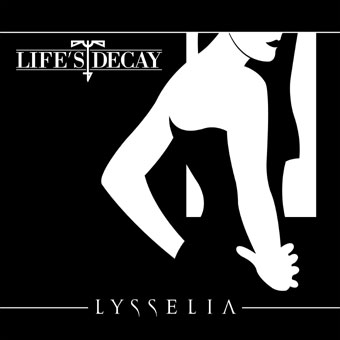 Artist:
LIFE'S DECAY
(@)
Title:
Lysselia
Format:
CD
Label:
Abstraktsens
Rated:
Formed by Lyktwasst and Alea, Life's Decay are a duo hailing from Paris who already released two CD and a MCD since 2003. LYSSELIA is their newest CD and it's their third album which contains 12 new songs. Life's Decay produce a sort of minimal electro goth influenced by martial and neo classical atmospheres. Most of the tracks present a main theme based on drums, strings and the female vocals of Alea (as far as I understood she joined the project since the previous album "Anleva") . Most of the lyrics are in French so I can't tell what they are about but the atmospheres suggest a sort of post war ambience (try to think about a German band survived to WWII and projected toward the future). There are also tracks like "Sphere" that dismiss the pop vein given by Alea's voice just to head their horses toward industrial experimentalism that recalled me someway a mixture of Laibach and Death In June. Gathering new classical tunes, electro sounds, strings and militaristic rhythm sections, Life's Decay created a convincing blend of decadent/melancholic accessible electro goth music that will please many dark hearts...
Artist:
Karsten Hamre
(@)
Title:
Broken Whispers
Format:
CD
Label:
Flood the Earth Records
(@)
Distributor:
Masterpiece Distribution
Rated:
BUY from
or BUY from
Broken Whispers is one of the latest of the manifold projects of Norwegian-born Dark Ambient craftsman Karsten Hamre. This is a disc that is made up of slow and low minimalist electronics, sounding like equal parts Laibach and Gas, with many other influences solidly backing it up. "Abandoned Glory," the opener, contains what may be a Hammond organ loop trilling in the background -- a cool component to have. Subtle symphonic rumblings in track three, "The Black Waves," are a nice touch as well. Things really start to click, however, with tracks four and five, "Enshrouded Lands" and "An Ominous Serenade," the most Gas-like of the bunch. Track six, "Dioxide Universal" whirs along just as slowly and ominously as its predecessor, although unfortunately there is an audible skipping sound about midway through the piece (and it wasn't my server, my hard drive, or my imagination). But it's the closer, "When Darkness Falls," that works the best because of its pacing, chord choices and the variety of sounds heard in the background; it tells the most captivating story. The CD insert artwork is nice, too -- all done by K. H. himself, and recalls the old Elijah's Mantle album covers.
image not
available
anymore
Artist:
THE SHIPWRECK BAG SHOW
(@)
Title:
s/t
Format:
3" MiniCD
Label:
Wallace
(@)
Rated:
A fresh 3"mcd for the endless saga of collaboration relating Xabier Iriondo who's co-pilot this time is Roberto Bertacchini from Starfuckers/Sinistri fame. For everybody out there who's never heard Bertacchini's drumming I recommend to give a pay attention to the unique and incredible work of his original band and to describe it I can only say it sounds like the language coming from the mouth of someone who stutters. On this short collection of tracks Bertacchini's crippled rhythms cross and get crossed by some post krautesque assault a la Iriondo. The global listening could be resumed in: Faust or Can wrecking into a free/contemporary pool. More bluesy than Sinistri and probably closer to Polvere. I almost certainly should say this' a record that's mostly fan oriented and I presume I'm a fan somehow, since I think this mature drummer has his own style in full blossoming. This little slab of plastic contains odd music nervously duelling to leave silence here and there and to put every beat/noise in the place where it belongs. Has it been a victorious battle? Did this electro acoustic experience (cause that's what it is most of the times) went well? I'd say yes in most of the episodes and also thanks to the hand of Xabier in the production of the recording.