Before I received the new full-length album of one of Germany's Synth-/Futurepop-based leaders I could already read some first comments complaining that the new SEABOUND stuff wouldn't be catchy and danceable enough in comparison to previous works of this act. Now, after listening several times to this new album, I must say, that the overall concept behind this album may doesn't allow to sing about "sunshine-and-cutie-chicks" and to produce stuff which melodic content can grab attention. Professor of psychology, Frank M. Spinath here dissects lyrically in several parts his vision of betrayal and deception of the human mind – for me obviously, that all the "fun" is left out. Like on almost all works I've discovered so far from him, I really think, that his knowledge or wisdom he extracts with his music goes deeper, than what he may can read or has learned from his textbooks. If it depends on a simple autumn depression ("October Song", damned – an extendet version of this fine tune is required!!!) or up to breeding hate ("Traitor") doesn't play a role – his efforts here seem to be a cure for him, also from personal experiences. Therefore it fits that the music produced by Martin Vorbrodt mostly doesn't follow already known paths, I would qualify this new output being a subtle mixture between Synth-/Futurepop with Dark Electro, while not sliding into crude EBM attitudes. The arrangements are – as usual – fine and detailed worked out, some pieces really offer a spacey feeling thanks to rich included layer sounds ("Sapphire"). I agree with the included info sheet that with this release the acceptance and the success of SEABOUND internationally will grow - also the fact that Eskil Simonsson of the Swedish act COVENANT has produced two tracks is another proof of this. This is one of the fine Dependent releases, which made this label that sought-after - not too commercial-oriented and with the right sense for quality and rich art. Go out, and try hard to get the limited DCD edition featuring extra remix works by COVENANT, ROTERSAND and O. Wollschläger.
Long awaited 2nd release out of the successful last STROMKERN full-length release "Light It Up", and also the needed sales item to offer a new release on the mutual world with FRONT LINE ASSEMBLAGE. No doubt also, that "Reminders" was chosen to be pointed out f "Light It Up", it is indeed the most catchiest track from this album. The "ear-worm" qualities this track has to offer brings this piece to the already existing hall of fame of STROMKERN's greatest tracks like "Re-Aligned", "Night Riders" or "Hesitate". So you'll got a cool Extendet Version, a Trans Siberian Remix work done by no one else than Rhys Fulber (FLA), a great, because completely electronic-based remix work by ECHO VIRUS and also a valuable Impeachment 7" Mix by the legendary US-act OUT OUT. Two unreleased special b-sides are available as well, a dark and with additional bass and guitar sounds constructed piano-driven tune called "The City" and with "Feed The Machine" another quality track featuring Ned's vocals, which could it easy make it on a full-length album. Although the acoustic component in the music arrangements of STROMKERN have generally grown, I'm still astonished by the excellent compositional efforts by this US act. This is by far the very best SiCD of Dependents DCI Vol. 3 collection, without competition to the other two partner releases.
This review covers a coming debut full-length release out in February 2K7. Behind ONETWO are hiding two well-known musicians, which can look back on a successful as well as pioneering work back to the 80ties with their represented projects. While it isn't clear, who's ONE and who's TWO, we have on the main vocals Claudia Brücken, the female main voice of the German Bombast-Synthpop combo PROPAGANDA ("Dr. Mabuse", P-Machinery"). The music machinery of ONETWO is leaded by Paul Humphreys, one half of the legendary ORCHESTRAL MANOEUVRES IN THE DARK, short OMD ("Maid Of Orleans", "So In Love"), whose mutual way with his partner Andrew McClusky ended in 1988 with the release of their last single "Dreaming" and a "Best of OMD" collection. McClusky later has released alone under the OMD moniker only one more album "Sugar Tax" in 1991. The question was and is: where have you been, Paul? Claudia meanwhile has tried to re-animate PROPAGANDA, but without success. She also has done some guest vocal appearances (ACT) and did record a solo album. So you might expect to get a combination of both outstanding talents presented musically and lyrically. Indeed, but this album offers more than this, both are working already for some time on mutual stuff and their long-time experience can be heard in every track, verse, chorus, part and note. This is high-quality Synthpop/Electropop, which should appeal all fans of the genre. Pleasing detailed arrangements unite with Claudia's marvelous vocal performances ranging between energetic ("Have A Cigar") and sweet emotionally ("Heaven", which other title could this dreamy piece get???). Not to forget Paul, who's doing a fine job on front of the micro at "I Don't Blame You", which proves that he can offer more than only some background vocals. A strong favorite for a possible SiCD co-release has to be named with "Cloud 9", which is by the way co-written by a totally unknown artist/composer named Martin L. Gore (DEPECHE MODE), who also has contributed the acoustic guitar sounds to this Synthpop pearl. One other piece "Kein Anschluß", the only one featuring German lyrics, reminds strong on some KRAFTWERK tunes ("Showroom Dummies") in the kind of arrangement. There are for sure several other pearls worth to check out, the divided opening track "The Theory Of Everything" or my personal favorite "A Vision In The Sky" which ends this outstanding release. A lot of productions out of this genre have to look on this as reference – maybe THE release of the coming year for the Synth/Electro-Pop genre!!!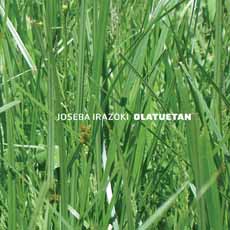 Artist:
JOSEBA IRAZOKI
Title:
Olatuetan
Format:
CD
Label:
Creative Sources
Rated:
A 7-track, 44-minute work from this Basque musician, who I understand plays a veriety of instruments and also writes more song-oriented material. Here Irazoki plays "lap steel, nylon strings, electric guitar and banjo", and dedicates the work to late masters like Derek Bailey and Robbie Basho. In "Olatuetan" there's probably more of the former's abstract bruitisme than the latter's ecstatic cascades, though the Takoma style surfaces in the quieter, or more structured moments ("Behin bashorekin olatuetan"). While predictably not as stellar as his inspirators, Irazoki surely knows how to grasp his audience: to mention only the most remarkable pieces, "Belin olatuetan" is an inspiring start made of tiny swerves, pauses and repeats dotting clusters of sparse notes; "Bertze behin olatuetan" is a cubist-like performance for sharp, disjointed sounds and whispers; and both final pieces, the bow-driven "Betirako olatuetan" and the fingerpicking-driven "Bertze behin bashorekin olatuetan", successfully match a more recognizable playing with feedback noise. A concise but often surprising work.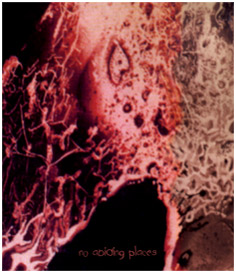 Artist:
VV. AA.
Title:
No Abiding Places
Format:
CD
Label:
AFE Records
Rated:
After a long working, the "No Abiding Places" sampler finally sees the light, which could easily give way to a mediocre pun, since this is pure, unadulterated dark ambient. The disc features Non Ethos, Moan, True Colour of Blood, Ornament, Bestia Centauri, Amon, Etere-o, Canaan, Subterrean Source, Bad Sector, AAL and Subinterior. Most of them have one or more releases in the AFE catalogue, and are featured here with unreleased or rare recordings. Far from being the usual sample, this collection has a HUGE work behind, both in terms of selection (even usually "brighter" artists like AAL or True Colour of Blood are particularly obscure) and mastering - Andrea "Afeman" Marutti has skilfully blent each full track with selected fragment from all featured artists, so that the cd sounds like one enormous monolith. This could serve both as a deepening of the AFE roster, and an introduction to dark ambient - fans of dark drones will surely rejoice in their catacombs.