image not
available
anymore
Artist:
AALFANG MIT PFERDEKOPF
Title:
Ich habe nur noch 12 seepferdchen in meinem tempel
Format:
CD
Label:
Einzeleinheit
Rated:
In reviewing Aalfang's previous cdr release, "Mezethakla Mukabalatt", I pointed out how the project was really intriguing but still a bit unrefined in its blend of acid folk guitars, drones and concrete music. Well, while fully maintaining their formula, Mirko Uhlig and friends (five additional musicians, this time - no info on who plays what) have improved a lot in this new work. Current 93's "Earth covers earth" could be a suitable reference for the folkish movements of suites like "Jaja ungarinyin und nun zur leiche am ufer" and "Träumereien in den innereien eines toten sperlings", but most of all Nurse With Wound's surrealistic tecniques seem to be a huge influence for Aalfag. This time, pitch-bent and backward voices, manipulated instruments and ambient drones (and a few annoying stabs of noise) are mixed with great skill and sense of composition - pure organized madness, with the typical flavour of bad trip psychedelia which is so typical of good old Kraut music. I'm now pretty curious of hearing the band's collaborative 3" with Emerge (just released by Verato) and the upcoming cdr on Mystery Sea.
Artist:
REMAIN SILENT
(@)
Title:
Dislocation
Format:
CD
Label:
Axesscode
(@)
Rated:
Okay, get-hard-be-strong Electro artists, keep your fingers away from your equipment and give your attention to this new and second release by this French project, because THIS stuff will teach you a lesson. This 76 minutes long conceptual release can be easily seen as a textbook about how to produce complex and innovative soundtrack music stylistically designed for a never released Science Fiction movie. This is the impression I had by listening through this album. Also a feast for the eyes is the excellent artwork which shows diverse industrial landscapes and machine impressions. Musically this album offers a wide range of diverse styles almost based on Dark Electro structures while integrating elements taken out of Industrial, Electronica, Ambient up to Powernoise. It is an instrumental album filled with uncountable FX samples, atmospheric layers and a depressive mood. The programming abilities are a next outstanding point, I have found here some references to FLA, SKINNY PUPPY or NUMB and it is not too far away from this handicap. Think about FLA's track "Infra Red Combat" on the first half of this track and you maybe get an idea how this release will be. 12 tracks are here, and all have the name "Dislocation", no any other name. My favorites can be found with the tracks # 2, # 4 for the Dark Electro style with a light Powernoise touch, while # 7 and # 9 feature some guitars and break beats as well in this two overall very danceable efforts. This release is created as a whole floating unit, that means, the are no empty spaces in between the tracks. Please make sure to check this band out, it is a kind of demonstration and you won't regret it. Get this sci-fi odyssey!!!
My latest encounter with Merzbow was the quite surprising and -ahem- rocking "Sha-Mo 3000" on the Brazilian label Essence Music. "Dust of Dreams" is a more predictable laptop noise+beats release, but a pretty good listen nonetheless. Packed in the usual eye-catching dadaist collage by Akita himself, the cd starts with the digital cracklings of "1339", soon turning into a typical synth throb mangled by bursts of distortion. The lengthy (37+ minutes) title track is more harsh frequencies with a rhythmic background (which must be a looped ethnic percussion) - a basic structure, but giving a nice psychedelic effect. The samples eventually fades out giving way to a piercing high-end drill, then more loops and a ping-pong distortion overlap, with an intense crescendo. The second half of the track is a more frantic Merzbeat thing, with a theory of fast paced loops. And a fat beat (a "techno" one so to speak) is also present in "0716", which is the shortest and weakest track of the three. Being no Merzbow aficionado, I'm not able to compare this to the rest of his discography, though I suspect this is not one of his quintessential works. But the title track alone, in its pompous, almost baroque approach to harsh noise, makes this surely worth a ride.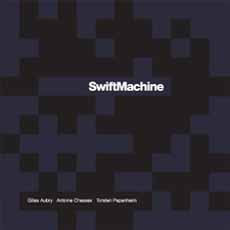 Artist:
AUBRY/CHESSEX/PAPENHEIM
Title:
SwiftMachine
Format:
CD
Label:
Creative Sources
Rated:
Eight tracks for 39 minutes of intense improvised playing, recorded in Berlin in 2003, by Gilles Aubry (computer, editing and mixing), Antoine Chessex (sax) and Torsten Papenheim (guitar). This has the sort of trademark sound you'd expect from a Creative Sources release, with barely recognizable sounds from instruments-played-as-objects, but also a more distinct electronic feel. I wonder if the computer also sampled and filtered the other instruments - probably not, but anyway the interplay of the three performers is quite remarkable, and the whole set sounds powerfully cohesive. Listen to track 2, for example, with (computer-generated?) white noise and the frantic blowing of breath through the sax, which eventually seem to mimic each other; but all the cd is filled with a boiling and constantly distressed set of abstract, yet brutally physical sounds. The structured disorder of the SwiftMachine trio makes this a very engaging listen throughout.
image not
available
anymore
First off, since this' not the first release on Thisco I happen to review, let me tell I think this label is doing a really god job (and that's not just my opinion), the quality of their releases is often good and I'm into that idea of the 3-way split series, they assembled a god number of interesting cds. This time it's not extremely experimental electronic music but it's bread for those who have been "electronic-aficionados" for a long time. The first one of the lot is Mikroben Krieg, you know it has to go deep starting from the skeletal titles, and you won't be disappointed, above all the tracks in the middle of this split cd (consider the artists have n alternate-random order inside the tracklist). Rhythmically this artist make me think of the coldest beat created by Photek (not that super-structured) but it has also that rhythmical skill of many releases on Planet Mu, the melodies are obscure and have that north european feeling, good. Shhh... has a strong rhytmhical framework as Mikroben, but the beat is more eighty-fashioned, the songs are less "into your guts" if compared to the previous musician and the atmosphere is that of some old anthems on Warp: imagine the darkest L.F.O. tracks, maybe a bit of the early Black Dog and U-ziq, his remix of Sciencia's "At the gate" is boombastic. Sciencia still works a lot on the beat and is not that far from that Warp influence you hear in Shhh... even if it's even more into the best works of Warp's golden age. I found there's something of the early Autechre (Anvil Vapre-era) even if Sciencia is not that "ambiental" and less fragmented than the english godfathers. Danceable electronic music with a "late at night-rave" feeling.