Artist:
Azalia Snail
Title:
Neon Resistance
Format:
CD + Download
Label:
Silber Records
Previously branding herself as lo-fi pop, established avantgardeist Azalia Snail steps up the production values on "Neon Resistance", a 12-track collection of perky, energetic guitar-pop songs that bears some comparison to acts like Sally Shapiro, Saint Etienne and Dubstar.

Opening track "Celeste" is seriously catchy, and followed up by the strangely feel-good, quite 90's-ish groove of "Field Rep". Each track has its own distinctive instrumental ideas, from the dubby piano stabs of "Made Out Of Honey" to the unexpected appropriation of samba rhythms and trumpet sounds into a semi-ballad for "Save This Place", but each is built around a strong bit of post-punk-pop songwriting and an obvious admiration for the 3-to-4-minute-long pop song. Pop songs often live or die by their choruses but there's no such problem here, with many hooks that would have passed the old grey whistle test.

The lo-fi aesthetic isn't completely left behind, as evidenced by some crunchy vocal touches and light-sounding, kick-thin drum recording, but instead it's now one tool in a broader sonic toolkit that also allows for polished and bright-sounding, reverb-washed guitar solos and backing vocals.

The vigorous energy of "Ode To Vega" is just crying out for some euphoric club mix to showcase the excellent pop work, while the slightly punkier performance in tracks like "Weekend Back" has shades of Amanda Palmer.

It's still too quirky to trouble the real musical mainstream but it's a fantastic alt-pop album that will hopefully reach a wide audience.
Artist:
Jochen Arbeit / Paolo Spaccamonti
Title:
CLN
Format:
CD & Vinyl
Label:
Boring Machines
Jochen Arbeit (member of Einstürzende Neubauten since 1997) and Paolo Spaccamonti have here created seven numbered pieces from the softer side of guitar-centric noise and drone atmospheres. Warm resonances, long sustains, measured use of distortion and deep rumbling, sometimes-tense bass notes combine to create a very filmic 31-minute album.

Longest piece IV, in the centre of the album, is particularly strong as the steady bass notes really up the tension. Track V, after a languid and bluesy opening, is also a strong example of slow build. Finale track VII is also worth noting, and a reasonable sampler track for the whole release, despite the almost absurdly abrupt ending which is a reminder that, averaging under 5 minutes per track, some of these soundscapes could have been explored and expanded rather further than they are.

The whole album was, says the press release, built out of one improvised session that yielded three hours of recordings. It's certainly not overbaked, nor does it sound like sweat and tears has been ploughed into its creation, but as the sound of two accomplished and confident musicians playing to their strengths, it's a very satisfying release.
Artist:
Gray Acres
Title:
Gray Acres
Format:
Download Only (MP3 + Lossless)
Label:
Sound In Silence
Brothers Andrew and Michael Tasselmyer (Hotel Neon, The Sound Of Rescue)'s debut album as a duo is a nearly-hour-long collection of guitar, synth and sometimes piano ambience, drone and soundscaping with a general feel of sedentary loveliness. It's one of those releases where it's hard to judge the temperature- technically it could be described as cold, but there's something about the lapping reverb that actually comes across as reassuringly warm.

Opener "Sightlines" is particularly pretty. Other pieces, like "Return To Self" with its occasional piano chord, are somewhat more melancholic but in a way that's arguably a little wishy-washy and as such a little forgettable. "Vestiges Of Form" is almost the definition of soft ambient drone, though none the worse for it and a very nice inducement to sleep, but certainly a little short of unique selling points.

A smart, smooth, relaxing but ultimately slightly forgettable bit of mellow ambient.
Artist:
Yair Etziony
Title:
Deliverance
Format:
Download Only (MP3 + Lossless)
Label:
False Industries
Yair Etziony's sixth album is an array of drama-laden electronic soundscaping full of dark symphonic chords, echoey rumbles and percussive hits, subbass groans and slow synthetic washes abound. Sounds familiar to the darkest of minimal techno production are repurposed into these sometimes-arhythmic arrangements that seem purpose-built to create a sense of dread.

After the full-on overture of "Justice", "Am aller Ecke" is a more hollow affair that aims for the lower end of the register, before "Gesundbrunnen Ghosts" with its bottle-like melodic noises initially offers something a little more lightweight before distempered scratching sounds bring back the sense of fear.

The second half is more rhythmic. "Unterwelt" introduces a steady pulsing element that reconnects to Etziony's techno roots and gives a different flavour of tension, while "Unheimlich"'s connection to techno is exhibited through the rasping bass synth note that ebbs and pans aggressively during the slow and ominous arrival of hard-to-place workmanlike hit sounds. By the time a TB-303-esque acid note arrives halfway through we realise we've wondered back into super-slow techno almost without noticing. Final track "Deliverance", rather than being the culmination of what's preceded it, tilts things in a different direction, focussing on a calm organic pattern of natural hand drumming over which the electronic weirdness is sprinkled more sparingly.

In a good way, it's as though this album is the score to a sinister and immersive horror game- always tense and disquieting, but never sudden enough to really distract. The gradual progression from ambience into rhythm throughout the 40 minute span is well handled and forms a very interesting journey that plays things a touch safe at times but is still very engaging.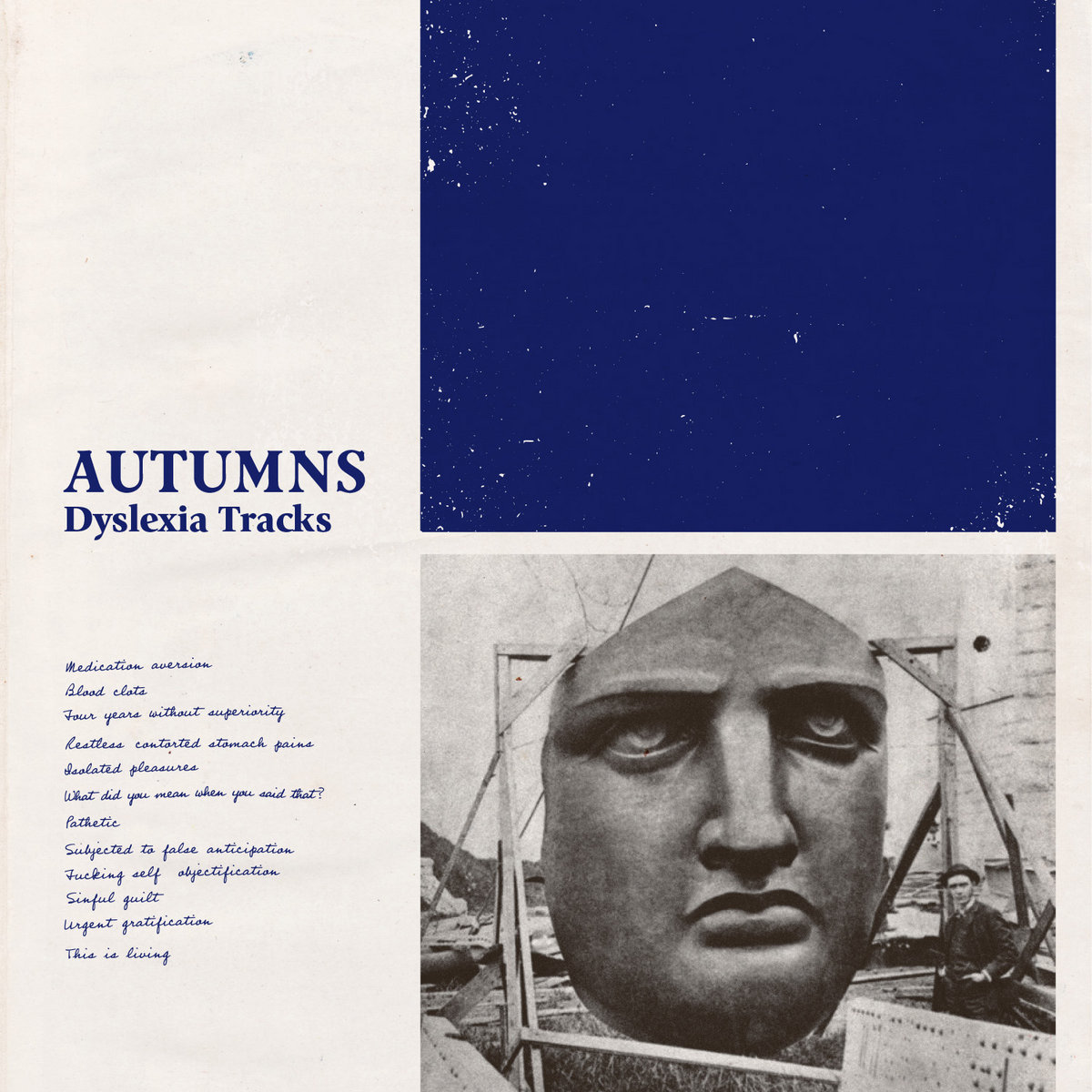 Unlikely elements somehow meld together on the aptly titled, "Dyslexia Tracks" a five-track EP which is noisy, squelchy, inelegant and erratic, yet also structured, rhythmic and somehow danceable; ideal for a younger Molly Ringwald and her breakfast club. Autumns is Derry, Northern Ireland's Christian Donaghey who brings 60's-era psych rock guitar twangs, indecipherable reverb-drenched vocals and tense synth undulations more at home on retro video game soundtracks. Opening track, "Self Consumed" has fist pumping dance beats ideal for an 80's synth rock Billy Idol song on a triple espresso and mean synth lines best suited for a tense first-gen Nintendo game where you square-off against a particularly nasty level master. The following "Headache Tablet" still immerse in continuous undulations of the video game motif with subtle, yet still danceable beat changes as our lead character fights through a horde of baddies. The title, "You're A Right Useless Cunt" was probably coined at an Irish pub just before a fight over the last pitcher of Guinness while an early New Order song plays on the PA and a 60's-era Godzilla film on the telly. Nice, layered electro beats, random laser beam squelches and reverb leaden monster vocals phrase brief yet indecipherable comments. Both "City Secrets" and "Distorted Thinking" have electro progressions and vigorous retro style drum machine rhythms, but this time set to some twangy and echoey guitar music at home on an old Batman TV show if the hero was somehow drugged and disoriented. In addition to early Billy Idol and New Order, Dyslexia Tracks brings to mind minimal techno great, Patrick Pulsinger, electro's, Adult and 'Add N to X', with a middle finger aimed at most techno/electro conventions which is probably the point. Dyslexia Tracks are fun to listen to and Donaghey is not afraid to get unconventional if not erratic and layer elements most would feel have no business being together in the first place. Somehow, it works.