Artist:
Proc Fiskal
Title:
Insula
Format:
CD & Vinyl
Label:
Hyperdub
Edinburgh-based producer Joe Powers has an energetic take on grime, blending up crisp fast-cut beats, 8-bit sounds, glitchy scratches and ripped-up short MC samples, and longer field recordings and TV and radio samples onto beats mostly well above 140bpm. Then that's played against soft synth pads and lightweight key melodies that bring the musicality for a series of exercises in contrast.

"Kontinuance" is a prime example of the dual-tempo approach, the manic sample cutting and complex broken-up beat playing nicely against the gentle synth patterns. The kung-fu-meets-8-bit-gaming tones of "Vaudeville" are another strong arrangement. When allowed to breathe in some of the mellower parts, the synths do sound a little weedy at times, though sometimes that plays in the track's favour, an example being "A Like Ye", a twisted love song constructed from lo-fi samples..

There's also a more playful side, with tracks like "2L" and the squidgy-sounding "Dish Washing" coming in quite bouncy, almost jazzy in parts, with shades of old Wagon Christ flavours. Besides some slightly cheeky recordings of Joe's phone conversations, the longer TV and radio samples seem to be frequently sourced from documentaries and there's a tendency towards aggressive Scottish accents, often requiring Parental Advisory stickers.

The Peter Hyams movie "2010" is one of my guilty pleasures so any album that starts with a fairly whopping sample from it will always bias me towards it, I should disclose that while I'm here.

It's a strong package of electronica-meets-grime with some unique flavours, many of them making for very good listening, but maybe with not enough standout tracks to make you want frequent repeat plays.
After describing Chloé Raunet's second C.A.R. album "Pinned" as "a blend of supremely confident post-punk swagger with electronica twiddles, steady-walking house beats and just a dash of synthwave", Ransom Note Records have followed it up three months later with a 7-track remix collection giving some of the most prominent songs on the album over 50 minutes' worth of reworkings into deep house and the softer sides of techno, that largely keep the song structures intact and adopt a very classic and always welcome classic extended house mix layout.

Generally I'd say that some remix albums work and others don't- but this definitely has to go into the former, "it works" category. Raunet's gentle, slightly husky and not-trying-too-hard vocal work really suits some long deep electronica workouts, and despite the repetition- over twenty minutes of this release is remixes of "This City"- you can listen to it from beginning to end as a coherent house album. It's one of those that's perfect for while-you're-working, or for long drives, but has individual tracks that are properly DJ friendly and will fit well in the middle of relatively leisurely sets.

There are two distinct sections- the first four tracks are generally fairly consistent and uniform house numbers. Michael Mayer's take on "This City" is a perfect fusion of pop and house piano with steady motorway-friendly progressive house beats and opens the collection on a definite high. Marcus Wargull's take on "Cholera" is in a similar vein but with somewhat less energy, before Bawrut's take on "Daughters" adopts a slightly muddier synth bassline and a slightly more tribal flavour in line with the more chanted-rather-than-sung song content.

Jonny Rock's nine-minute remodel of "Strange Ways" is quite rumbly as well, drifting towards a more synthwave-y sound that allows the vocal to shine through more than others do, and the restrained, held-back use of the bell-like three-note melody has a good impact; DJ's beware on the last minute of this mix though, which is sparse and acapella when you might be expecting beat-match-friendly beats.

The second part, the final 3 tracks, mixes things up a bit and adds the variety needed to keep you engaged. Timothy Clerkin's take on "This City" is another highlight, channeling some classic breakbeat samples, acid squelches and rave stabs into something bright and energetic that manages to rework some nostalgic sounds without wandering into cheesy territory, although it's the one track where you do find yourself wishing more of the vocal could've been worked in in less buried, vocoded ways.

Lokier's version of "Cholera" has a more industrial, attitude-laden groove that's closer to the sound of the unremixed album, before Man Power's version of (again) "This City" ends on a high with a bright, lightweight bit of synthpoppy production with synth guitar stabs that takes things into almost Goldfrapp-y territory.

Whilst the original album certainly wasn't bad, given the choice I'd rather listen to this remix album, especially when looking for something that isn't demanding my full attention. There's not a single duff or flat remix in here, which is rare, so full marks for this one.
Artist:
Didi Kern & Philipp Quehenberger
Title:
Linz
Format:
12" vinyl + Download
Label:
Shameless
"Linz" is a live concert recording from early 2017 from a duo who've been performing together for 15 years- though from the extremely prog rock stylings and noodlings, you might think this had dropped straight out of the late 1970's. Were it not for the sharp digital edge on some of the keyboard sounds, you could believe it had fallen through time.

Didi Kern's virtuoso drumming is the main focus here, across two fourteen-minute-ish long pieces full of tempo shifts and complex pattern changes. Substantial parts of it are like drum solo show-off material, so much so that as an ex-drummer myself it's almost tiring to listen to it, but Kern isn't ashamed to drop into steadier 4/4 rock grooves every now and again.

Meanwhile Philipp Quehenberger plays synths, organ-style noises in dark arrangements of long drones and complex opinion-dividing chords and discords, with occasional twists into Rick Wakeman-esque arpeggios and flourishes that tend to run in strong parallel with the drums, jointly frenetic at times, more subdued- but never excessively so- at others, but with neither performer ever really taking a true lead or solo for more than a few seconds at a time.

You can tell it's a live recording- not because it sounds poor, but the sonic quality is unmistakable, especially in the drumming which seems to have been recorded with a relatively small number of microphones, is a touch muddy, and whether intentionally or not, is further to the forefront than the keyboards which is a bit unusual. You also get the occasional audience member screaming "yeah!" or whistling at the rockier bits.

Fans of Yes and similar indulgent prog rock music will appreciate this as something new but decidedly in the old style.
Artist:
VV.AA.
Title:
Wave Earplug No. 2
Format:
12" vinyl + Download
Label:
4mg Records
A ten-track collection of pan-European synthwave music, the second volume of "Wave Earplug" is a worthy sampler of a variety of dark-edged alt-synthpop you may not have already encountered. For the most part it's a variety of artists revelling in old-school analogue synths and some quite lo-fi and industrial production values, as though the 90's and beyond had never happened, but it's none the worse for it. Tightly-constructed under-four-minute pop songs of vocoded vocals and bright melodies over simple proto-techno grooves pervade.

Strong tracks include Staatseinde's driving and squelchy "Repa" (particularly the surprisingly operatic finale), the heavier-kicked rumbles of ImiAFan's "Sekundenzeiger" and the early-Depeche-Mode-like "Moonlighting" from Arsenic Of Jabir. Noisebrigade's "X-Rays" wraps things up with a nicely dark twist.

A couple of tracks, like Machinepop's "Integrated Circuit", perhaps have too much of a homegrown bedroom demo feel to their production.

It's well curated in that there's a lot of consistency- save for the vocals it would be easy to believe that most if not all of these tracks had been produced from one source- but it's perhaps lacking in real standout highlights that would make you reach for this compilation for frequent repeats. For wave fans though, this is a healthy dose of new material and could well open your door to some new artists worth further inspection.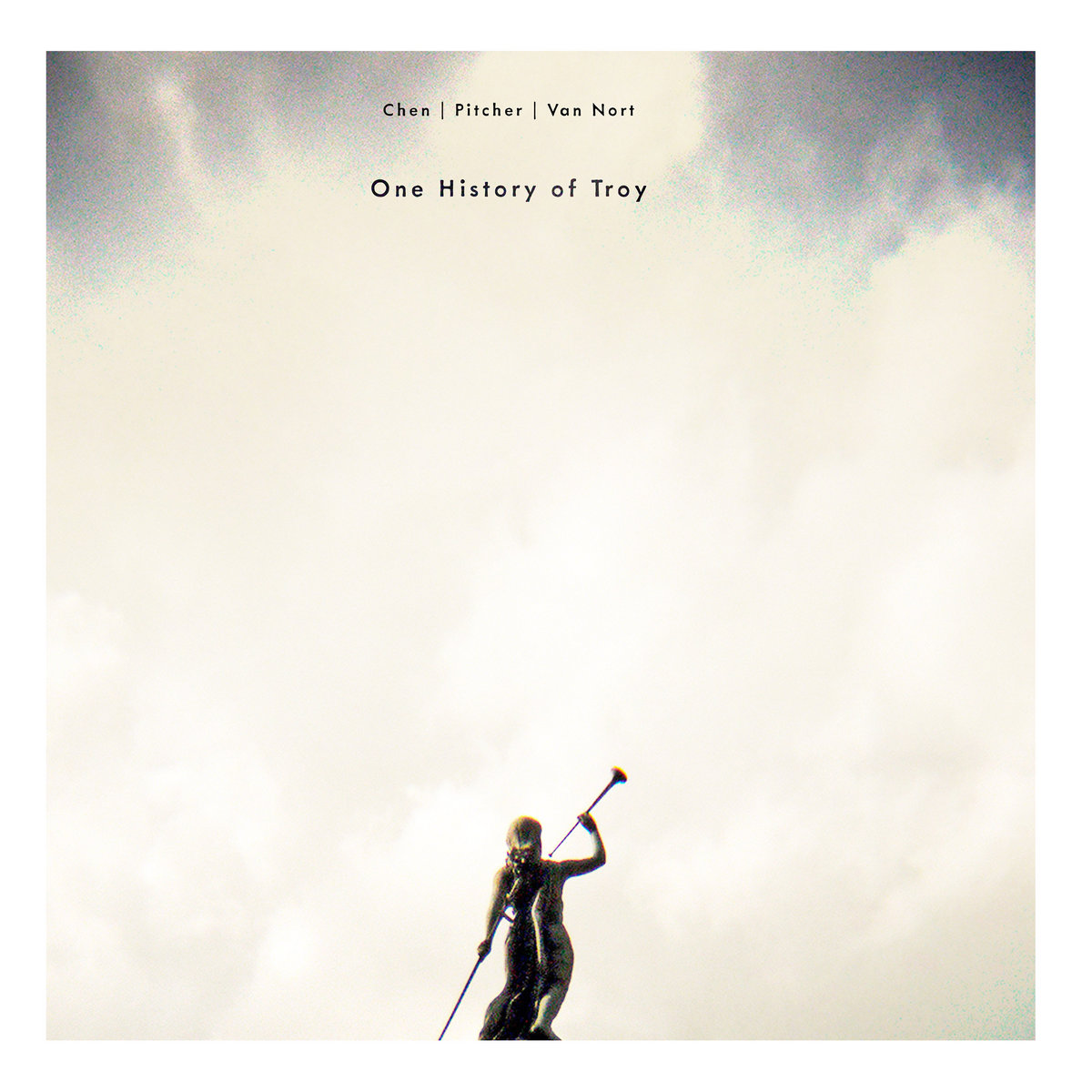 Artist:
Chen I Pitcher I Van Nort
(@)
Title:
One History of Troy
Format:
LP
Label:
Attenuation Circuit
(@)
Rated:
This release is based on a compromise between composition and improvisation made by Jonathan Chen on violin and viola, Jefferson Pitcher on guitar, clarinet and field recordings and Doug Van Nort on GREIS which is a custom patch made in Max/MSP to process live sound input. This kind of open form i.e., a written composition with large margins for improvisation, could be a little hard to follow but lets to the performers the musical space to disorient the listener.
The first track "Sailing I Open Water I Land" is obtained by a rhythmic first part, a second part based mostly on field recordings and a quiet third part based on guitar notes. Strings are the main element of "Moving I Stone" with both guitar and violin while the electronic element is of tie and underline the parts. The voices of the field recordings that open "Residue I European Bells" introduces droning elements which are juxtaposed in a meditative way to let the listener enjoy the subtle tone's nuance. "The Hudson" oscillates between quiet parts and more lyrical ones. "Northern White Pine" uses silence to focus on various small noises generated by the instruments. "Chefchaouen Province I American Town" closes this release with a sort of long crescendo where all players has his moment of focus until they begin to juxtapose their line to close this release fading each other.
A relatively short but dense release based on a subtle interplay which requires a certain listener's commitment to be fully appreciated. Fans of EAI will enjoy this release but the others should be aware of its content.