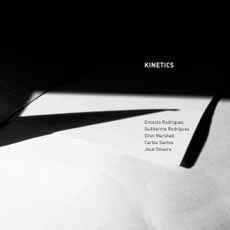 Artist:
RODRIGUES/RODRIGUES/MARSHALL/SANTOS/OLIVEIRA
Title:
Kinetics
Format:
CD
Label:
Creative Sources
Rated:
Besides being responsible for the hyper-prolific label Creative Sources, Lisbon improviser Ernesto Rodrigues sometimes pops up in its catalogue with recordings of his own. Here he plays violin and viola together with Guilherme Rodrigues (cello, pocket trumpet), Oren Marshall (tuba), José Oliveira (percussion) and Carlos Santos (electronics, and author of the particularly beautiful layout). Let's say that these 8 untitled tracks, recorded in Lisbon in 2004, are some of the best collective albums in the CS catalogue, in my humble opinion, "Kinetics" being a perfect title for such an animated performance. I will just mention the first track, with its tight interplay of jerks and overlaps, breath overflowing and deep rumblings; or the second one, with whispered vocals, soft noises and electronic hisses; or the chaos running amok in track four. Very nice record throughout.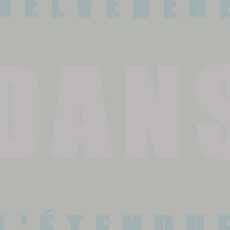 Artist:
CHIESA/GUIONNET/PETIT/LA CASA
Title:
Belvedere
Format:
CD
Label:
Creative Sources
Rated:
"Belvedere" is one of those site-specific improvised records that you tend to expect from soundmakers like Guionnet or La Casa, but it's surely quite different from the Afflux project. Recorded in 2003 in Villa Adriana, home of the late René Quinon, to whom the disc is dedicated, it features Guionnet at alto saxophone, Petit at guitar, David Chiesa at double bass and La Casa at microphones and mixing desk. The latter's "sound catching" activity was particularly important, as various mics were placed both inside and outside the house, to transform it, to quote Guionnet's liner notes, into "a sort of abstract and tentacle-like belvedere plunged into the acoustic space of the place". The performance is portrayed in this single 71-minute track. What does it sound like? Guionnet utters some painful high-end squeals throughout, while both the guitar and the double-bass opt for more minimal and sparse gestures, or subdued drones, and outdoor bird recordings are merged into the whole. I have listened to this record a few times with the highest possible attention, and I honestly find it very irritating. Sometimes in a constructive sense, sometimes not. It is often mysterious and even intimidating, but also has dead weight moments when it just sounds dull and repetitive. It is obviously a matter of subjective perception [duh!], but I think that 71 minutes of this are just too much; what is puzzling and mesmerizing in the first minutes gets boring when repeated for half an hour or so. At the same time, many passages are excellent. After several listenings, this still leaves me confused and dissatisfied.
image not
available
anymore
SCHLAGSTROM - Krrrbrrrtztzkrrr 01 is a double compilation that celebrates one of the best industrial music festival that take place in Berlin. This year was the third time that the festival took place and Rustblade Records decided to set up a 25 tracks double CD featuring contributions from ALL bands that have performed at the festival since its beginning. The tracks you can find here are previously unreleased or special versions and if you love labels such as Hands, Ant Zen or Rustblade this compilation has some gem to dig. Also on the extra section of the second CD you can also find a 5 minutes video with some visual excerpt taken from the festival. Read the tracklist and check if your wish for industrial noise can be fulfilled.
Disc 1 :-
01. Polarlicht - Destroyed India
02. Bahntier - Fractal Desire
03. F.Y.D - Scapegoat
04. Alec Empire - Overdose ( Remix )
05. Punch Inc - Counterstroke
06. Chrysalide - Wake Up
07. Monolith - Dukkha
08. Mezire - Penal Colony
09. DetuneX - Brown Powder
10. Sandblasting - The Butchers ( Extended Remix )
11. IO - Disorder
12. Acrylik - No Evolution
13. Mono No Aware - Yume No Ato

Disc 2 :-
01. Sonic Area - Cruelle
02. Asche vs Morgenstern - Something Evil
03. Synascape - Folded Sheets Of Silver
04. Marita Schreck - Tango Dynamic
05. CX2 - Neuss Heisst Lärm
06. Dive - Reported ( Live )
07. Zelle 40 - Dumb ( Remix by Lacasa Del Cid )
08. Sonar - Backwards
09. ZX81 - R2-02 ( The Revenge )
10. Dr. Nexus - Academical Disease
11. Klangstabil - Super2
12. The Implicator Order - The Fall Of Jachin And Boaz
image not
available
anymore
Artist:
BALLISTIC
Title:
Ballistic Vs. Reality
Format:
CD
Label:
Kold Finger
(@)
Distributor:
Masterpiece Distribution
Rated:
BALLISTIC Vs. REALITY is the debut full length album by Ballistic, an Italian band coming from Emilia region. Formed by experienced musicians (Robotomy, who played guitar and keyboard for Hardcore-Noise bands founded Ballistic after meeting techno-progressive pro-DJ Vyger and The Question, masked wrestler, poet and already vocalist into harsh-industrial bands) Ballistic successfully merge techno solutions and rhythms with e.b.m. and industrial music. The eleven tracks of BALLISTIC Vs. REALITY convince immediately with their catchy approach because they are upbeat songs with dance floor attitude and powerful e.b.m. sounds. Being focused on melody and rhythm the band is ready to make you dance until you faint on the floor. Also The Question voice convince as it is able to give energy to the tracks without being too much filtered: it is aggressive but without being obsessive with that certain hysteria characteristic of some industrial e.b.m. acts. Try them and go to see them if they are in your town...
image not
available
anymore
Artist:
ROLLERBALL
(@)
Title:
s/t
Format:
CD
Label:
Wallace
(@)
Rated:
After several full-length, some 7"es and many tours, Rollerball are back in town with a new self-titled cd on Wallace. Let's cut it short by saying I've just this and another record titled "Behind the barber" but I must admit I love them, honestly I think they're one of the most underrated bands of the last decade. This digi-pack features another extravagant and delicious cocktail of heterogeneous influences with which this band from Portland creates little gems. Acid folk, poppy-psychedelia, free sketches drew with an incredible intensity and "phatos" is what makes the difference in most of their songs. The singing is top notch as always, above all those of Mae Starr (the vocalist in most of the tracks). Funny, depressed, dreamy, melancholic and if it was an "all you can eat" I'd comment "the banquet is damn tasty and rich". The production is rough here and there, but really good (I can't say if a more refined mix and post-production would have improved the release or not) but it's hard to find the Achilles' heal of this collection of songs. Freaky extravaganza with a "pop-stimmung" and for what it worths, I've played it in the car and my girlfriend was not even complaining as she usually do. Some may think to a more organized and "songwritten" answer to Jackie O' Motherfucker or Alexander Tucker but this music is less country-folk and deals more with varied influence than with the root of American tradition. Recommended.