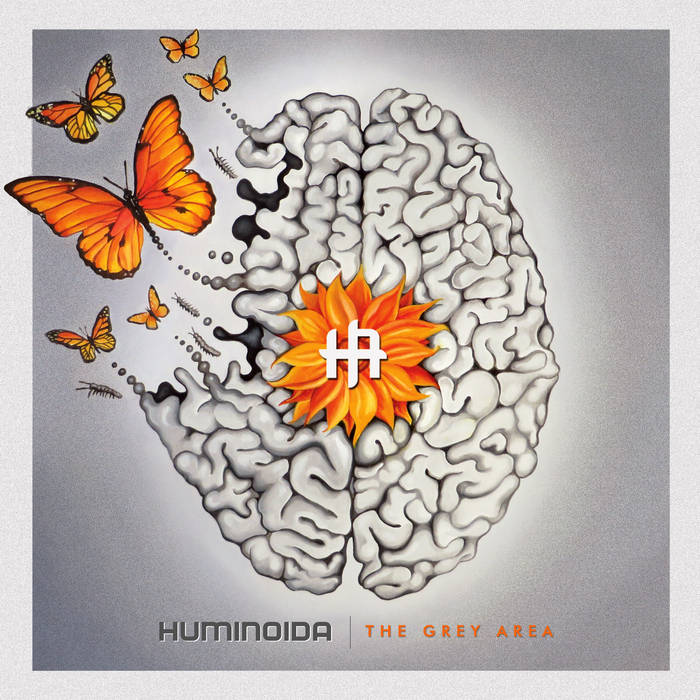 Artist:
Huminoida
Title:
The Grey Area
Format:
CD
Label:
Out Of Range Records
Rated:
Arriving four years after the previous release titled "Intoxicating Spring", "The Grey Area" is the newest album by Finnish synth electronic project Huminoida. Containing nine new tracks, the album is focused on the dark synthpop side of Kimmo Karjalainen and if "Intoxicating Spring" contained also some powerful upbeat tracks, this one doesn't as most of them are mid-tempo songs where Kimmo's vocals are upfront and the synths are creating the right ambience for his lyrics. Released on CD, vinyl plus CD and digital, "The Grey Area" is a very personal album where music is an outlet for Kimmo's feelings and thoughts. As stated on the presentation leaflet, the last years have been difficult for Kimmo and these songs are just reflecting that. I received the CD to review and it is housed into a beautiful package which is including a 7" twelve pages booklet with all the lyrics and some photos. As represented by the cover, Huminoida is transforming ideas into something else and ideally these songs are the butterflies flying away from his brain, just to be able to show their beautiful colors to people and, hopefully, live longer than a butterfly. Lyrics, like the ones of the opening track "Thoughts Like Insects", are setting the theme of the whole album, where Kimmo is writing down all his bitter experiences: "The little things I've loved in life are now in decline / Many values I've admired are being despised / And the things made just for fun are denounced unproductive - and that's a big no-no!". In balance from 80's/90's synthpop and new wave, "The Grey Area" is a nice collection of songs and for sure it's worth your attention. You can check it here https://huminoida.bandcamp.com/album/the-grey-area-2 and you can make you tempt by the gorgeous orange vinyl edition.
Artist:
Bad Stream
Title:
Bad Stream
Format:
CD & Vinyl
Label:
Antime
Though he describes his work as equal parts rock and electronica, Martin Steer's debut album as Bad Stream is closer to the latter than the former. With expansive synthetic but cinematic atmospheres, dark Rob Dougan-esque vocals, dramatic breakbeat drumming patterns, the guitar work is just one element in a very richly textured album with an extremely high production value. This is the sound of a very accomplished producer- less surprising when you find out that Steer is or was a member of Frittenbude.

Some tracks are more driven, with pulsing patterns that underpin tracks like "Already Dark" and one of the rockiest tracks "Megafauna", while others such as the opener "Transition" have a grumblier and less urgent tone to them. "Nervous Love" pushes that contrast within itself, playing a steady confident walking-techno beat in the 'verses' against angry relentless drum crashes and louder guitar work in the sort-of-chorus.

I've very enamoured with this album, which is certainly going to get repeat plays above and beyond the reviewing process, but if I was scrabbling to find criticisms, I might suggest that consistency is its downfall. Across 71 minutes there's a lot of epic mood atmospherics that hit mostly one particular pitch, and for that kind of running time, you could possibly find the sheer epicness of it tiring and wish for a little bit more variation. That's not to say there is none- the almost house-piano elements in "Black Weed" being a great example, the long spoken-word samples in "Transition II" a less distinctive one- but it does appear that Steer has stayed somewhat in his comfort zone at times, which is a shame as the production touches are so deft that you do wonder if he could have been more ambitious in his scope.

As well as having a definite appeal to fans of the accessible-rock-music-with-electronica that seems to come out of Germany in satisfying quantities, this release is an absolute most for fans of UNKLE that I've already mentioned, but also Hybrid, M83, Ulrich Schnauss and beyond.
Artist:
μ-Ziq
Title:
Challenge Me Foolish
Format:
2 x 12" vinyl
Label:
Planet Mu
I revisit µ-ZIQ's 1999 album "Royal Astronomy" every once in a while. His most major label release (on Virgin) it has an elegant quality to it that stood it above its peers when electronica had just passed a commercial and creative peak and felt like it was beginning to wane, here was an electronica album with smoothness, depth and an organic quality.

So I was excited to find that "Challenge Me Foolish" is a collection of leftovers from that period of µ-ZIQ's career- an extra bonus hour of unearthed unreleased material with the same blend of glitched-up post-bigbeat irreverence and sample frenzy mixed with jazzy synth instrumental parts.

And sure enough, sonically it has a lot in common with "Royal Astronomy", and you can easily believe that tracks like "Inclement" would've been included on that album if there had simply been enough space. Pieces like "Perhaps" and the poppy, named-after-a-biscuit-company "Peek Freans" are quirky, quite Wagon Christ-like instrumental numbers with a bit of playful experimentation that maybe even seemed a little too daft for the finished work. "Ceiling" is a fantastically frantic bit of glitchy jungle that probably only got left off the album for being too hard.

Some tracks, like "Undone", do feel a bit less polished by comparison, as though the decision that they hadn't quite made the grade was made before the track was truly finished off- but there's certainly nothing wrong with them, no rough edges, just maybe a lack of decorative tweaking that truly album-ready tracks often get. "Perfame", with its baroque melody, has some surprisingly weak-sounding synth strings that have a slight feel of 'unfinished demo' about them, but they're certainly not poor.

For anyone who enjoyed "Royal Astronomy" or any of that late 90's blossom of interesting electronica that Planet Mu were right at the centre of, this is a bonus hour you'll definitely enjoy.
Artist:
Adern X
Title:
Summer Twilight Autumn Dawn
Format:
CD
Label:
Xevor
"Summer Twilight Autumn Dawn" is the latest album by sound artist Adern X. Released on a limited edition of 50 CDrs and digitally, the album contains a 40' long composition. Originally composed for a radio broadcast in 2013, the track is soundwise based on three main parts: some loops, some field recordings and layered samples. While the original track was a performance based on the use of a cd player, an iPod and a reel to reel tape recorder, this version has been edited digitally to have a brighter sound and to be able to express better the meaning behind the track. Yeah, but what's the meaning? Let's read directly the words of Andrea: "The score was written after being aware of the sense of a loss at the end of summer; it's a matter of time: time fading, time coming. Memory is juxtaposed to expectation as the acceptance of time is brought by change.While reworking the audio spectrum and editing the track, I became aware of how memory is essentially an aesthetical rewriting of facts and editing is the grammar of it. So, if history is a description then memory is an interpretation". Listening to the piece you can hear some recurring parts: the field recordings with kids playing, noisy low frequencies, orchestral loops, etc. This is giving the idea of the time passing and the cycle of things and the second time you listen to them, is never as the one before (also because the layers are overlapping in a different pattern every time).
Artist:
Baptist
Title:
Love Is
Format:
Download Only (MP3 + Lossless)
Label:
Basserk
This new single on the Basserk label is an unusual step towards the pop charts. With slow, grandiose pop-ballad sounds, bold piano and lush pads over a simple slow-and-steady electronic beat, this is a radio-friendly production whose only real twist is the pitched-down vocal. It hints at a big euphoric chorus that never arrives, and that's probably the only ingredient it's missing from being an unusual piece of chart fodder, given the right publicity.

With an original mix, a radio edit that's marginally shorter but essentially the same, and an instrumental mix, a big-name remix might have also provided the tipping point into the mainstream as well.

Otherwise, a strong bit of luxury-thickness melancholic pop.