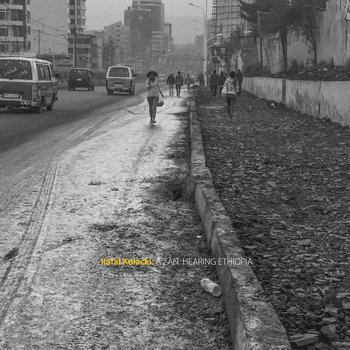 Artist:
Rafał Kołacki
(@)
Title:
Ā'zan. Hearing Ethiopia
Format:
CD
Label:
Zoharum
(@)
Distributor:
Alchembria
Rated:
As its previous "Hijra. Noise from the Jungle", this new release by this Polish artist is a set of field recordings; they were made in Addis Abeba and this city was chosen as there are many different languages and different forms of religious activity. So, there's again a cultural and political concept in this recording: the possibility of coexistence of different cultures in the same place.
As the first seconds of "'zan" are heard, the listener is immediately placed in Ethiopia, and there's an audio feeling of a postcard, as there's the sound of the environment, more precisely bird's singing, along with the recording of a song from the radio or tv. As the release develops, it's clear how there's any interest in documenting the musical scene of the place but to capture the sound of everyday life. While there are anyway tracks like "'gar" devoted to the music of this place, it's mostly, if not entirely, singing as if they were recorded from a religious rite. Instead, as in "R... 's", music emerges as a phenomenon as just another sound i.e., a clacson, and where is completely absent, as in "Ab", there's a perceptible evocation in the recordings. So, as the of voice of "Faras" end his chant, and the release, there's a sense of a journey's end.
Absolutely impressive in his ability to capture the soul of a place, it's completely different from the typical release of field recording more concerned with the precise audio details; so it's absolutely necessary.
Four-piece Langham Research Centre's "Tape Works vol. 1" is an unashamed revelling in the classic sounds of 60's and 70's electronic experimental music. Analogue oscillating bleeps, tape stops, short detached vocal snippets and groans, classic everyday found sounds like creaking doors and old-fashioned telephone noises run through vari-speed effects and playful percussive sounds abound across 11 fairly quirky, but not actually out-and-out comic, audio fiddlings. They rightly credit the inspiration of Delia Derbyshire and Daphne Oram in an album that sounds like it could've been dusted down from a BBC vault unopened since 1971, instead of being a recent set of composition. Many of the tracks even have that soft cassette hiss underpinning them for extra authenticity.

A track title like "LOL" seems anachronistic then, on perhaps the weirdest piece were monkey laughter is looped and layered into something very tripped out. "Sink Speeds" and "Executive Balls" stand out as notably different sonically due to the much heavier use of old documentary narration and car adverts with rough cutting which results in something much more akin to the raw collation of 80's Negativland releases.

Several of the tracks are much more conventional in their layout though, with "Roadside Picnic", despite its title, an example of an interesting take on putting spontaneous metal and percussive noises through a mangler to create something dynamic and awkward that you just can't help but want to follow. The prosaically-named creaky sound of "Doors", wobble-heavy "Nudge" and longest piece "Quaser Melodics" delve into deeper, sparser territory, with some of the atmospheres allowed to breathe a little further and more consistently.

There's a definite sense that it was fun to take it seriously when evolving this release. But for the haircuts even the artwork wants in on the retro feel that's very well realised here. If you've played your old Radiophonic Workshop LP's to death then here's a sound-alike you'll definitely appreciate.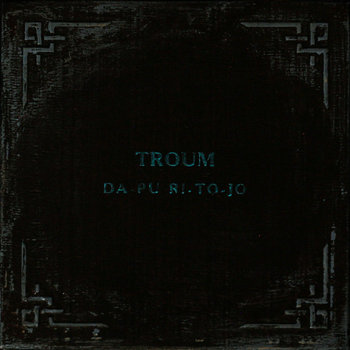 Artist:
Troum
(@)
Title:
Da-Pu-Ri-To-Jo
Format:
CD
Label:
Black Mara
(@)
Rated:
This new release by Troum is a a collection of 7" vinyl release, from 2004 to 2016, and it's introduced by a short script by the band where the overall concept is that this release could work as a description of the project. Their music could be roughly described as dark ambient but this release shows how they are able to wander across all variations of the genre.
While "Aerugo" is an open space ambient track, "Aetas Vetus" closes the listener into a noisy and oppressive territory. As "Agnus Dei" has certain level of solemnity, "Betonwolke" rework this musical elements towards almost post-industrial shores. The heavy and atmospheric basses of "Das Air" are balanced by the uncomfortable drones of "Gruoen". The long and filtered musical lines of "Nargis" and "Saiws" are as dark in the first one as bright in the second. As
"Segeler" is a crescendo of quiet drones, "Un / Mahts" is an almost monolithic mass of noises but with a movement. The last two track are from a digital only release and are the newest tracks: "Victoria" and "Unreleased Theme For River Endscene" reveals an idea of dark ambient where the drone is just a background for certain musical element to emerge.
As a release from a band classified as dark ambient, or post-industrial, this release reveals a band who search a musical way to express their ideas rather than repeat a formula on every track. Recommended.
Artist:
Jean-Luc Gionnet & Daichi Yoshikawa
Title:
Intervivos
Format:
LP
Label:
Empty Editions
"Intervivos" is a collaboration, bordering on a collision, between Gionnet's impulsive alto saxophone improvisations and Yoshikawa's instant feedback, resampling, sustained and electronic reprocessing.

It's a fierce and raw-edged affair in which high screeching tones and dischords are stretched, mangled and tortured. Long notes end in abrupt flurries of playing interspersed with silences and subtle drone sections built to throw the intentional awkwardness of the arrangements into sharp relief. Impulsive light percussive sounds are sprinkled lightly around to offer a form of counterpoint to the impossibly long sax breaths, sometimes looping and retriggering into an imitation of rhythm.

Across four pieces that are numbered not named, and across 44 minutes, there are plenty of truly nails-down-a-blackboard moments- but it's not entirely relentless. The latter sections of piece 1 develop a form of slowly evolving suspense where a sudden change of base note feels like real drama. In piece 4 there are sections that are sparser and feel like more traditional avantgarde jazz (accepting that contradiction in terms), deeper and strangely warmer notes- twelve minutes in being a dynamic highlight.

For the most part though this is a seriously challenging wall of noise to befuddle and overwhelm you. Wallow in it and get transported to very strange mental places indeed, or listen to it without concentrating and think "to be honest that just hurts my ears".
Artist:
MCVX
(@)
Title:
Voyagers
Format:
Download Only (MP3 + Lossless)
Label:
KrysaliSound
(@)
Rated:
It's pretty weird the first language for a set of human sentences included in the messages to the universe in one of the two golden phonographs, that are supposedly wandering in the universe through Voyager 1 and Voyager 2 like a bottle in the ocean by the inhabitants of this planet, was Sumerian. Believers of the theory of Ancient Astronauts could think it was a pretty ironic choice and maybe some of them could argue that this mission is a possible NASA hoax. Whether these space missions are real or not (this is not the space to discuss this thread), the simple idea that there's something surfing the deep space to testify that something's happening down here on "the third planet of the star Sun" (a quote of the sentence in Oriya language of these human greetings, attached to a set of images and music, selected by a commission led by Carl Sagan in the late 70ies) is a romantic source of inspiration for many earthlings, including the one of Carlo Monti - another Carl like Sagan...-, a young Italian guitarist, who moved into the territories of experimental and ambient music after years in the ones of prog-rock. Given that it's just his debut, this student of Music Information Science at the University of Milan explores a theme on the nose of many musicians, but he made it in a somehow original way. He also included some samples taken from the NASA Voyager Golden Record (no need to sign a waiver, as it's a Creative Common), but the most interesting aspect is the emotional framework that he evoked over this stream of clues and traces of human civilization. The graceful elongations of piano chords in the initial "Faded", the seemingly chaotic radio signals of "Perpetual Angels", the hyper-effected synth brasses and the vitreous consonances of "Oceanless", the meditative halo of "A Prayer" and the distant fluctuation in the infinite evoked by the boundless digressions by the final "On The Share" match the atavistic feeling in between astonishment and anxiety of those inhabitants of this planet, who didn't forget to be part of something bigger than the deceptive fences of private property yet. Available in digital format as free download according to NASA samples copyright.