Artist:
MANDROID
Title:
Futurefunk
Format:
12"
Label:
Dominance Electricity
(@)
Rated:
Coming from England, Mandroid is the project of Adrian D. Rataj. Memberof the Defcon 5 crew in Leeds, he's best known for his previous releases on Breakin Records that is run by Ed DMX (DMX Krew) and on the USA-based label FBI Recordings. After two albums and six 12" E.P.s, Mandroid has landed for the second time on Dominance Electricity (the first time has been for the compilation "Global Surveyor Phase 2") with a seven tracks E.P. that will satisfy your analog electro funky needs. King of the vocoder, Mandroid influences span from John Carpenter (do you remember the atmospheres of the Halloween soundtrack?) to Kraftwerk passing through Herbie Hancock, Thomas Dolby and obscure '80s synth heroes. The tunes are upbeat tracks with a dancey flavor and bleeping analog sounds with a certain dark catchy atmosphere. The main title is a short electro instrumental track that closes the 12" but before that you will for sure be delighted by the opening "Jupitor" or the intriguing atmospheres of the following "Population overdrive". Check also the beautiful cover where I think is pictured a robot version of Adrian surrounded by robot whores...
P.s. The release is available also as a promo CDr and as digital download.
There's not one black woman in the world who can sing like Sade. Not ever! Sade (born Helen Folasade Adu) and her band (aka Sweetback) made their way in the music scene in 1984. Sade has sold over millions of records internationally worldwide. She is all about being herself and once said in an interview that she doesn't consider herself a role model. Her songs talks about love, life, sadness, pain, and everything in general. These promo video collections match-up to the songs to provide the audience a storytelling sequence. The directors of Sade videos have put alot of energy to shoot and polish the films with sophistication, the beautiful background tapestry, scenery, and images. Sade and her band look marvelous on film. They may not have played a part of being in the new wave/new romantic scene in the 80's, but their good looks and fashionable clothes definitely is suitable to fit their personality and music. Sade and her band's music is indeed for multi-racial, multi-culture. Not pop, r&b, jazz, and so on. There are 14 retro 80's and early 90's classy videos by this silky smooth angelic Nigerian and British female singer. Video includes "Your Love Is King", "Hang On To Your Love", "Never As Good As The First Time", "Paradise", "Turn My Back", which was shot in sin city Las Vegas, "No Ordinary Love" and "Cherish The Day" ended up in video rotation on VH1, "Sweetest Taboo" and "Is It A Crime" both are sequels. And who can ever forget that catchy jazzy tune "Smooth Operator" that is directed by Julian Temple who also directed Depeche Mode "See You" and David Bowie "Day In-Day Out". "Smooth Operator" ended up in video rotation on MTV back in the 80's. The video on dvd is an extended version that was never shown. The extended version is violent that shows a scene Sade's manager tries to choke her by the neck on the fire escape stairway. The police and detectives arrives on the scene and the manager leaves Sade to make his escape and by leaping on top to another building. The manager and the police detectives start having shootouts. The manager does get shot in the chest. As he clench on to his chest, he falls off the building as Sade watch in horror.

The dvd also includes a bonus video "By Your Side" from Sade's 2000 cd release "Lovers Rock", a discography, biography, and lyrics to all the songs. Sade and her band videos are enjoyable to watch. And each of them have a seriousness feel.

Video Tracklistings In Order:

1. Your Love Is King
2. Smooth Operator
3. Hang On To Your Love
4. Never As Good As The First Time
5. Sweetest Taboo
6. Is It A Crime
7. Paradise
8. Nothing Can Come Between Us
9. Turn My Back
10. Love Is Stronger Than Pride
11. No Ordinary Love
12. Cherish The Day
13. Kiss Of Life
14. Feel No Pain
Bonus Video: By Your Side



image not
available
anymore
Our favourite french wonder duo is back and this' is the follow up to their last album titled Capoeira. For those who never had the chance to taste this french special: it's math/post-rock well cooked a la Don Caballero, Storm and Stress (but if I say many of those duos like Lightning Bolt or Hella are heavily in debt with those masterminds and I dare you to deny that!). Chevreuil remind me a lot of a less overflowing version of Damon Che + Ian Williams during their "What burns.../American Don" final chapter. Despite the fact Steve Albini sits behind the mixing desk and the recording sounds damn high-quality, everybody is telling me this pair is a killing machine live and by some means that's intelligible also from their outputs. I think even if their production is probably relatively reliable to recognize their full potential these guys sound much better than many other post-Krimsonians around at the moment be it for the simple fact their music has "warmth". As I've already said this' an interesting mini and Capoeira is really listenable but I think these guys has the quality to make the difference, in the meanwhile bow down in front of this good compromise between technical skill and fantasy.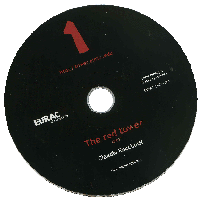 Artist:
CLAUDIO ROCCHETTI
(@)
Title:
red tower
Format:
CD
Label:
Eur.ac
Rated:
Rocchetti is more active than ever, therefore drony/electracustical/experimental junkies out there stay tuned since there's a whole bunch of releases involving this italian musician residing in Berlin. While lately he's been around basically with 3/4 Had Been Eliminated (Hapna) and by himself I've heard some new Pocket Progressive (formerly on Creative Sources) release is on the way sooner or later and at the same time he's to going to be out together with the mighty Maurizio Bianchi on a split release... "how long can this punk get?". Lately he's striking in the north of Italy and is selling this new (?) somehow enigmatic release on Eur.ac research, I've written enigmatic since there's no layout coming with the cd but a couple of infos on the cd and it comes in a trasparent plastic box (by the way Eur.ac should be a gallery/ artistic cafè). Differently from his former recordings on Bar La Muerte and Wallace this new output is much more ambientally-electro-acoustically oriented, so what's the difference beside the diluted and constant drone pulsing underneath?...the electro-acoustical side of this work is probably softer then ever before and Rocchetti concentrates this long track much more on resistance and on time-length than he's ever done in his previous materials. This interesting and well developed piece reminds a lot of some Asmus Tietchens, John Waterman, Francisco Lopez above all when they contemplate "stillness". This long track grows slowly building tension in a subtle way and after twenty minutes it disappears in the same way as it came, leaving thus space to silence and to emptiness where some noises are barely perceptible from far away. Some "strong" electro-acoustic noises break the calm right when you don't expect it to happen, but they don't revolutionize the heavy ambiental scenario of this work. You may think that's the ordinary release by someone playing this genre, but I think Rocchetti is slowly developing his own language and since I've recently seen him live I can say it without shame.

image not
available
anymore
Artist:
MARK LANE
(@)
Title:
Anti-Tech Testament 1981-1985
Format:
2 x CD (double CD)
Label:
Editions Mark Lane
(@)
Rated:
BUY from
As anticipated on my "Inner most folds" review, Mark Lane has released for his 25th music anniversary a double CD set that contains tracks of his 1981-1985 period. THE ANTI-TECH TESTAMENT 1981-1985 contains 24 tracks coming from his early releases. Just to go a little deeply on the tracklist you can find 3 out of 6 tracks coming from "Misselijkheid ist niet intellectualistisch" a 6 song 7" EP, 1 out of 3 from "Love is so aggravating", a 3 song 7" vinyl EP, 1 out of 2 from "The reflection" a 2 song 9" opaque blue flexi-disc, 5 out of 5 from "Who's really listening?", a 5 song 12" mini-LP, 1 out of 1 from "Pleasure heist", a 1 song 7"vinyl picture-disc. The remaining 13 tracks are rare ones and some of them found already place on "Kill joy", a 17 song CD-R album released by Spider-Disc Int. on year 2000 and on "Who's really listening?+", a 12 song CD released by MetaWave Classix/Germany on year 2001, at the same period of the "Creepy a la weepy" MCD. Listening to the CDs I realized that Mark was sons of his times as the early songs sound like cold wave experiments that had a lot to share with the likes of Cabaret Voltaire, Fad Gadget and Bauhaus and a lot of other bands that grew with the sounds of Bowie, Roxy Music and punk in their ears and that lived on their flesh the new sounds and ideas of the post punk movement. Even if coming from the U.S., Mark had a lot of contacts in Europe where he released a bunch of his records and where he shared some gigs with Klinik. By listening to THE ANTI-TECH TESTAMENT 1981-1985 it's difficult for me to explain what you can find inside because I like it so much: I can hear so many influences that have been re-processed that I can't name other bands without underlining that Mark succeeded into giving his own print on all the tracks. Some of them are synth based rough melodic songs while some others like "Il pluet a Bruxelles" sound like little post punk gems and if the minimal approach of"3rd party" can catch your attention, the hypnotic "Tsar" will be able to stick its almost theatrical vocal lines into your memory. The pity is that the double set contains only less than 90 minutes of music, while it could contain all the whole first releases which aren't that easy to find. I hope that Mark will reissue all his stuff but without waiting other 25 years! Wait for an interview to Mark Lane on Chain D.L.K. anytime soon...