Artist:
VV.AA.
Title:
The Virus Has Spread / A Tribute to Atari Teenage Riot
Format:
CD
Label:
D-Trash records
(@)
Rated:
Carl Crack, Nic Endo, Hanin Elias and Alec Empire, better known as the German DIY-spirited multi-national multi-gender band Atari Teenage Riot, have pretty much created the genre most commonly referred to as digital hardcore, and, although labeling their niche genre can still turn out to be increasingly difficult and unpopular, their legacy of ultra-politicized heavily-distorted electronic/d'n'b punk/HC carries on throughout the decades. Proof of this is that six years after ATR's end, the genre is still alive and kicking (literally!) and 16 bands converged in 2007 to put this tribute CD together under the one label that probably best represents the movement, the genre and the attitude itself: Canadian D-Trash records. Rabbit Junk, Howard Roark, Zymotic, Unitus, Ctrler, Hansel, 64 Revolt, Nocore, DHC Meinhof, The Secret Life of Teenage Girls, Phallus Uber Alles, Evestus, Hercklekot, Cyanotic, The Phoeron and of course Schizoid crowd the line-up of "The Virus Has Spread" and will hopefully contribute to the wide-spreading of the ATR virus of knowledge and anger. I applaud the tribute and the spirit behind it. ATR were so ahead of time with their anthems that hopefully people will start listening to ATR's lyrics sometimes soon and start fighting back already... The time to fight has been right for a while!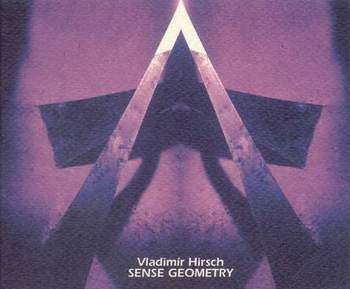 Artist:
VLADIMIR HIRSCH
(@)
Title:
Sense Geometry
Format:
CD
Label:
Ars Benevola Mater
(@)
Distributor:
Masterpiece Distribution
Rated:
Active also with Aghia Trias, Zygote and Skrol, Czech composer Vladimir Hirsch presents a new mix of a previous work titled SENSE GEOMETRY which had been originally recorded between 1998 and 1999. The composition of the ten tracks is based on fictive, geometric symbolism of certain mechanisms of the human psyche. Vladimir calls this musical form of mathematical theory "fractal musical geometry". We already know that music and mathematic are deeply linked as music is a way of disposing sounds into a space dominate by time. Also the music score is divided using mathematic fraction (4/4, 3/4, etc.). Musically the tracks are tense orchestral suites where the rhythm has an important role as along with piano and strings industrial noises are used to improve the tension created. It's also useful to notice that the whole CD is based on percussion. The piano, where used, the metallic samples, the drum and the different sound sources are creating a sort of marching soundtrack which ideally paint geometric sound forms. It's nice to notice, also, that Vladimir didn't forget to use also melody even if this isn't his main purpose. If you love disturbing atmospheres, modern classical music and also neo classical industrial sounds, this is a good release. P.s. Try it also if you don't know any of this genres but you love old horror movies soundtracks!
image not
available
anymore
Artist:
DO MAKE SAY THINK
(@)
Title:
You, You're A History In Rust
Format:
CD
Label:
Constellation
(@)
Distributor:
Wide
Rated:
BUY from
Since Constellation issued their self-released debut album in 1998, Do Make Say Think have made one critically-acclaimed album after another. "You, You're A History in Rust" is the fifth record and a brilliant extension of the band's unique sonic narrative. And as the fans know, DMST's approach to musical deconstruction is never academic, forced, or played merely for effect; it is always a matter of weaving the captured elements together with the mixing desk played like a master instrument. With this record the band continues its simultaneous explorations into the worlds of post-rock, jazz, electronica; there are dark corners and bright splashes, textural murmurs and bright melodies. Adding in saxophone, trumpet and violin to the guitar, bass and drums, DMST doesn't use vocals to bring emotion into the music and multiple layers of instruments create the mood. The best moments? "A tender History in rust" with his light, folky feel with whistles and whispers and "Executioner Blues" that doesn't need vocals because its narrative is well-explained by an assemblage of guitars, strings and jazzy drums that ebb and flow before building to a cacophonous crescendo. Highly recommended!
Artist:
Saemskin
Title:
A Simile For Murder
Format:
CD
The artist is called Saemskin so is the label/recording studio that produced this and put this out. I guess there aren't that many names left in the world. But don't get confused. According to this album, this is a one-man band of some sort of industrial music, as many are in this genre. The music is somewhat repetitive and slightly dancy beats are incorporated to the atmospheric keys. The vocals are spoken for the most part, none are actually sung. The whole CD presentation is sufficient enough but the music simply sounds cheap. Perhaps Saemskin used cheap music softwares to create this brand of music? This isn't my cup of tea.
3-1 already released a 12" for Basserk (they were the label's first release) and they are helping people knowing the genre that they call pistol pop. The main track "Take a picture" sounds balanced between Devo and B-52 and it is really a great tune, energetic and electro punk. "Sweat is dripping" has an electro robotic kind of punk attitude and it closes the first side already giving you the sensation that you spent your money in a good way. Side B contains three tracks. "In the bassment" is less electro thanks to its guitar samples and it sounds a little more "dancey indie rock". "In the morning" sounds like the hangover song of an electro punk guy. Fun and particular at the same time. The closing "Boyband" is an electronic punk anthem with distorted drums. Following my tastes I have to say that I preferred the first side of the E.P. but generally the whole record is worth your attention. Ideally, there's another track that is part of this record, it is titled "Living in the dark" and you can download it for free at the basserk.com website. If you look at the record rear cover it was listed as the third track of side A and it fits really well that place, because is more electro respect the three tracks that are on the B side. A pity we have it only as an mp3 file. If you don't have a turntable no more, check iTunes and download it...