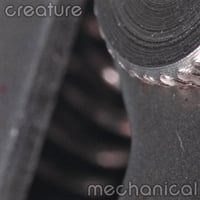 Artist:
CREATURE
Title:
Mechanical
Format:
CD
Label:
Haunted House Records
(@)
Rated:
BUY from
MECHANICAL is the first full length release by Stephen Haunts. It follows different E.P.s released for his own label Haunted House Records. His releases are mostly available through digital stores but he also print a small quantity of CDs to satisfy the people that still loves to deal with a real object and not only with files hidden into the corners of a overloaded folder. Music isn't only a question of files to upload into a mp3's player. Anyway... MECHANICAL bring to the lovers of electronic music sixteen tracks of music influenced by bands such as Nine Inch Nails, Boards of Canada, and Hybrid. Stephen took exams with the Trinity College of Music in London but his will to explore new sound solutions made him tweak old electronic toys by rewiring the insides to create new sounds. His music is always driven by rhythm but he likes to create dark atmospheres and ambient pads. The result is evocative and sometimes cinematic (check "Daisy cutter" for example). The tracks have good sounds and create a really working atmosphere but sometimes, in my opinion, they create the same kind of ambience because of the constant use of synth pads. A good change about this point is the vocal line on "Nox", the only track with vocals.
image not
available
anymore
Artist:
GLAUKOM SYNOD
(@)
Title:
Uczulony
Format:
CD
Label:
Hydra
Rated:
Musically I already talked about this album on my previous review that you can find here http://www.chaindlk.com/reviews/index.php?id=3203. This new edition sees the demo which Gabriel sent me on November of the last year released by the Hydra label. The tracklist has slightly changed only because of the tracks order but basically the album is the same. The sound maybe has been equalized a bit but the sound insanity of the samples patchwork created by Glaukom Synod is there and ready to smash your ears with its blend of grind industrial.
Artist:
Sophie Zeyl
Title:
Two Ways Of Running
Format:
CD
Label:
I-Rain
(@)
Rated:
Sophie Zeyl is the third signing on I-Rain label. Her first debut "Two Ways Of Running" is absolutely genuine at its best. A cross between indie pop and electronic. The album is well indeed radio friendly and could stir up a fan base. Rich guitar layers with synth and electronic melodies. A mellow laidback and mid-tempo type of album that will help you and guide you away from your troubles and worries. You can even dance to some of the tracks. Indeed pure and innocent with emotional feelings involve. Lush vocals that's angelic with warmth and compassion. Sophie gets help from ex-Xymox members Anka Wolbert and Pieter Nooten with producing. Outstanding tracks includes "You Could Have Run Away", "I Am Not Like That", "Two Apples", "Move Me", and "Words Are Easy". A nice album to listen to from start to finish then repeat it over again.
Artist:
Janet Robbins
(@)
Title:
Carrying the Bag of Hearts, Interpreting the Birth of Stars Vol. II
Format:
CD EP
Label:
self-released
Rated:
I have to admit that this one fell through the floorboards. Somehow the CD got trapped under my "over and done with" pile, and I just recently realized I hadn't even given it a listen. Well, beat me bloody with rubber hammers, maybe there's a reason. I remember vaguely in the past seeing the cover and glancing at the title- "Carrying the Bag of Hearts... . " and I guess it just seemed a little new-agey for me. But hey, I once put out an album that got lumped into the new age category myself, so turnabout is fair play. The opening track- "Prisons in Democracy" certainly doesn't sound like what you might expect of typical new age music. There's a strong underlying industrial percussion that gives Robbins' electronic mélange a fairly forceful impetus right from the get-go. Interesting that a reedy oboe-like sound and wordless gossamer space voices float above the mechanical underpinnings. There's enough interplay of sonic elements on this track to keep most fans of electronic music happy. I was reminded a bit of Soma, Suzanne Ciani, Steve Roach, maybe even Robert Rich at his more adventurous. I think on a first listen, most people would probably be impressed with the music's cinematic film-score quality. I was anxious to hear where Janet was going to take it from there.

After the first track finally petered out (with a little reprise of the percussion elements and the space oboe), the next one began with Blade Runner-like soundscape, and I thought- man, this could end up really being a keeper. I second-guessed that one when the track really did turn new agey with twinkling synth sequences, real "Hearts of Space" kind of stuff. Now I come to realize there's only 3 tracks on this disc, only a little over 25 minutes of music and it's already more than half over. Damn! And I had such hope... The final cut didn't do a whole lo to impress me, still in that wandering melody new age sort of mode. I think Janet Robbins has a lot of talent, but she needs to kick it up a notch or three. This recording is supposed to be Vol. II; maybe it would have been a better idea to combine it with Vol. I., at least buyers might be getting their money's worth. More huge cinematic space ambience, less new age doodling would be my advice. Take me on a trip to the outer regions, cause I've been to Sedona, and there isn't anything there but rocks.

Artist:
James D. Stark
(@)
Title:
Music of the Night
Format:
CD
Label:
self-released
Distributor:
CD Baby, Music Non-Stop (UK)
Rated:
It's been a good long time since I've been here at the reviewer's desk, and with two European trips and a pile of other things going on in my life, I admit I've been slacking. But- there's a whole stack of stuff awaiting my listening pleasure (or, in some cases, displeasure) and I'm going to try and get to EACH AND EVERY ONE OF THEM, just as quickly as I am able.

That being said, for the first selection I've chosen James D. Stark's "Music of the Night CD. From first glance, the cover of the CD portrays a rather brooding-looking goth lad, and on the initial spin, that's very much on target with Mr. Stark's music. The comparison here to "Black Celebration-era Depeche Mode is inevitable. I've heard dozens of synthpop outfits attempt to emulate "the Mode", and although some do a credible job with vocals or music (sometimes even both), few have had the ability to capture their pensive romantic gothiness that made them such a big deal with the dressed in black crowd. Mr. Stark steps out of the shadows and delivers what few "goth" bands seem to be able to do- create a cohesive album of tragically romantic, atmospheric music that takes you back to angst of the mid-80's without being pathetically pretentious.

Once you get past the opening line of the first track ("Come with me into my fantasies, dream with me, take my hand into wonderland, where our love is free... "), which does seem a little pathetically pretentious, things get a whole lot better thereafter. Stark has the knack for writing songs that are more than just clever hooks, and since the album is filled with so many of them, it makes up for some of the deficits. One of those deficits is the slender quality of his voice, which gives the songs a slighter presentation than they deserve, in spite of some very good mulitracked backing harmonies. Perhaps a veteran producer could be of assistance here, but the overall effort is still commendable. Even with Stark's self-production, the results are eminently listenable. His arrangements are outstanding for the material- the analogue synth tonalities employed are a perfect match for this pensive exercise in love forlorn. Vintage Gary Numan comes to mind in some aspects of the musicality. My only other gripe in the production is that it sounds too homogenous, like many projects of today that employ popular computer digital home production techniques, so there's nothing that really jumps out at you. This is a major reason why "Music of the Night" is a good album, and not a GREAT album. In the right producer's hands, this might have been a great album. One song on the album, "Hell", easily the most powerful track on the disc, should be a blow-away. I'd like to hear a remix of this one where key elements are pushed to the max. Put that track on the soundtrack of the next "Underworld" movie (or something like it) and J D Stark will really find his business picking up.

The easiest criticism to level is that Stark sounds too much like Depeche Mode at their most angst-ridden. But as I see it, Depeche Mode haven't put out any good new material in years, and maybe it's time someone stepped up to fill the void. It's difficult to make good achingly romantic dark music these days. Stark handles the task with panache. If you're a fan of this genre, you'd be foolish to pass this one up without a listen. Available at CD Baby in the U.S., Music Non-Stop in the UK and through the artist's website.