image not
available
anymore
Artist:
Arcana
(@)
Title:
Le Serpent Rouge
Format:
CD
Label:
Erebus Odora and Projekt
(@)
Rated:
Arcana are one of the most known acts in the dark ambient scene of today. They often create atmosphere and fantasy beyond the world as we know it.

"Le Serpent Rouge" is released by the self owned label Erbus Odora and American label Projekt. On Projekt the band fit like a glove in that label.

Arcana have had a reputation about being a bit boring and monotone but "Le Serpent Rouge" is a step in a new direction for the band. That's why it is such a pleasure to review this release.
Still, the band could mix it up a little bit more but this is a very cool step in the right direction.

The music is very much inspired by Dead Can Dance. A blend of dark ambient and folk music.

"Le Serpent Rouge" is a magical musical experience. At least sometimes!

image not
available
anymore
Artist:
Za Frūmi
Title:
Shrak ishi za migul - chapter 3
Format:
CD
Label:
Waerloga Records
(@)
Rated:
This album is very impressive!

Simon Kölle (Musterion, Abnocto) and Simon Heath (Atrium Carceri, Abnocto) are the masterminds behind Za Frûmi.

This is Za Frûmi´s fifth release on Waerloga Records and the third in the "Za Frûmi saga". The band has two brilliant branches. One consisting of atmospheric, dark ambient, fantasy inspired instrumental music called "Za Frûmi Legends"
And the other is the "Za Frûmi saga" which deals with orcs. It's music with dialogue in black speech but on "Shrak ishi Za migul" also the language of dark elves.

In the 20 pages big booklet of "Shrak ishi Za migul" (Gathering in the mist) one can read up on the story and everything said on the CD is translated to English in there.

It's not only dialogue but also extremely good atmospheric fantasy music too!
The music sounds like some of the best soundtrack composers out there. Always with their own sound and stile. I stunned actually by this album. Normally I hate dialogue and I don't care much about radio theatre but here it's more like seeing a film in a new cool way. The film that plays is one of the darkest and most magical in the history of filmmaking. But hey! Wait. I have to remind myself this is no soundtrack to an existing film. But still they have had over 20 actors involved in creating the album.

This album I thought was made for Tolkien nerds but I was so wrong thinking that.
The mix, the master and the SOUNDS are so incredible I find no other word than magnificent!

The fact also that the two members have one solo project each which are some of the best in their genres make me believe the two Simons could make possible any music genre great. I cannot wait for them releasing another collaboration called Abnocto. According to the bands myspace site they recorded that project 60 meters under the ground!
The two Simons are crazy but that's what so good!

The combination of electric and acoustic instruments gets under your skin and whisks you in to a split tempo, split personality of rough and smooth, wet and dry, sugar and salt anomalies of what one might witness when, well running outside, through the trees, in dark corridors of a haunted castle, walk among ruins, fight great battles, hide in the dark and sneak into a human inn. Great tunes!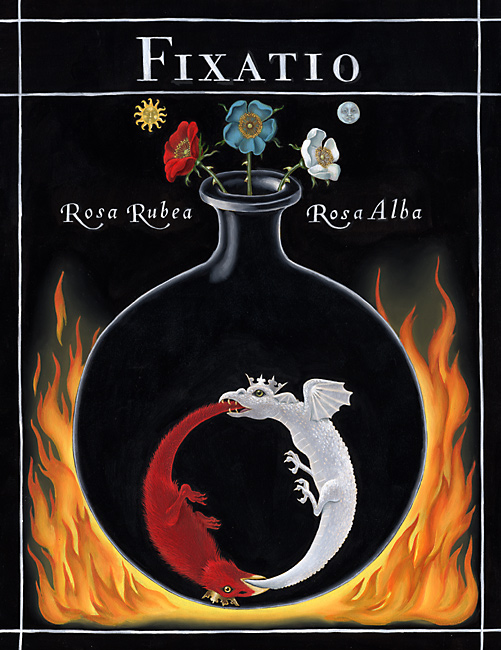 Artist:
OSSASERPIA
Title:
Music For Solve et Coagula
Format:
CD
Label:
HORUS CyclicDaemon
(@)
Rated:
The artwork for this album must be one of the most ambitious ones I ever seen.
It's not a booklet, it's a book (printed on Gmund Kaschmir cream 170g)! Hard-bound in A5 designed by Madeline von Foerster, known for her artwork she made to The Red King and Mirabilis.
Special limited edition consists of 500 hand-numbered copies
in hand-made box covered with rustish top-notch embossed Quilt 120g paper.

The album is composed by Vladimir Igoshin (Ossaserpia) and it is dark industrial, dark ambient with traces of classical music. The classical music influences are not obvious but very strong and strange. The music is often drone-like but not ever boring (like so many other bad ambient acts).

The inspirations for the album are theories by Robert Fludd (Robertus Fluctibus)
and Rosicrucian theories of the monochord.

I'm under the impression that "Music for Solve et Coagula" is one of the finest albums to date in the industrial ambient genre!
By the first track, Ossaserpia have not shown all their cards. The CD grows on you and when the 12th and last song plays you things have evolved. In the last song the classical influences are stronger than before and it really works!

I have to be honest and say that it's not an easy task to follow two wonderful masterpieces in Musterion "The Black Lodge" and K.Meizter´s "Traveling Light". During the first song I thought Ossaserpia failed but the more I heard of the CD the more I realized how wrong my first impression was!
The album could maybe be an alternative soundtrack for the great film "Stalker" (Andrei Tarkovsky, 1979). It would work well in horror, sci-fi films. So, if you like the feelings of space, magic and horror you should check out this release.

Horus is starting to stand out as they release experimental dark music. I think that Horus still need maybe 3-4 great releases more before be counted as one the leading labels but hell this is a great period for Horus right now!

Upcoming releases on Horus are: Silence & Strength, 4TH Sign of the apocalypse and Musterion!
2006 and 2007 seem to be the years of Horus CyclicDaemon of Czech Republic!

New and second release for this German Experimental duo, again published in limited editions (100 pieces) by the German special mail order service SkullLine. TT continue with their musically concept to install rhythmically, extremely distorted drum patterns with minimal synth textures, strange and shattered vocal interpretations ("Psycho") and some noisy sample work. This stuff should appeal fans of the Electro/Industrial genre, but more the supporters of Minimal, Experimental and Powernoise music. The difference to their debut can maybe found in the fact that they have reduced the term Electro in their sound a bit to a rather minimal outcome. Both straight, but still distorted pieces "Kampfkrampf", "Geigerzähler" and the speedy "Stress" got my vote for the most accessible tracks, while not all pieces here feature the 4/4-on-the-floor formula. This stuff isn't designed for the fainthearted, the whole 14 tracks with 66 minutes playing time need some attention and good nerves of the listener. Another fine but soon hard-to-get item of the SkullLine mail order. Check it out.


image not
available
anymore
Artist:
Charlett Schwarz
Title:
Behind a Face
Format:
CD
Label:
Sonorium
(@)
Distributor:
Icare Media
Rated:
The band name may assumes a one-female-leaded act, well, it is female-leaded but with additional musicians filled act providing here their debut on the German Sonorium label. CHARLETT BLACK consists of the female songwriter and singer Veyna Muhr with the additional musicians Alex (guitars), Marc (piano, keyboards, bass) and Lestaria (violin, also a band member of ADVERSUS). The provided music ranges from smooth and rather electronic-driven tracks like "Beside Myself" to infantile Goth-Rock pieces ("Männer Haben Angst Vor Mir"). It almost drives high and falls everything with the provided vocals of the charismatic Veyna Muhr. Besides the very own compositional signature, she also is capable to create very different moods and emotional depth. It doesn't need to appeal everyone's taste, also for the lyrics, but it fits with the diversity this album has to offer. Being the highlights I would definitively mention the piano-driven ballad "Black Hole" and the already named "Beside Myself", while the track "Ricochet" proves with some tempo changes the musically abilities. A well-done Goth/Wave-Rock album which provides a not expected maturity for a debut.