image not
available
anymore
Artist:
CHAOS AS SHELTER
Title:
Dawn Syndrome
Format:
CD
Label:
Topheth Prophet
Rated:
Recorded in 2001 but released only last year (but then, I'm reviewing it with a delay of many months... time is thee enemy indeed!), Israeli ambient maestro Chaos as Shelter's "Dawn Syndrome" is a much more varied and eventually satisfactory album than the last I heard from him, i.e. the shortwave-based "Dead Air Broadcasts", which I found a bit dry after a while. "Before the Dawn" starts the album with (Tibetan?) bells sounds which are then treated and looped in a hypnotic drone. The use of many acoustic sources, as in the following "Awakening", is actually a winning point of the record, adding the warmth of a live performance (or ritual - listen to the throat singing of "Kam Jorra" as well) to CAS's ambiences; but the best and most original pieces are yet to come. "Borders" mixes a rambling voice from a found home-recorded vinyl with metallic clanging and rumbles, while the masterpiece of the disc, "Now comes the prisoner", merges more percussive loops with water sounds, a menacing accordeon and Helena Dorsht's intense vocals. I'd venture to think she sings a Sephardi traditional, possibly from 15th/16th century Spain, but the whole atmosphere is so bleak that it reminded me of Nico's pits of despair in "The Marble Index". Truly downcast and oppressive, Chaos as Shelter's music is surely a far cry from the plastic, preset dark ambient of many projects around.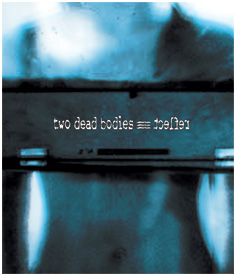 Artist:
TWO DEAD BODIES
Title:
Reflect
Format:
CD
Label:
AFE Records/Bar La Muerte
Rated:
The Two Dead Bodies of this surprising release belong to Milanese musicians Luca Mauri and Andrea Reali, both active in two excellent bands named I/O (experimental improv/jazz/funk, with an eponymous cd on Ebria, see archive) and Kokoro Mayikibo (indie/white funksters, who have released their debut album in the meantime). Mauri plays guitar in the former and drums in the latter, while Reali is a remarkable vocalist for both. TDB were born as an improvised session which took place in 2005; then, Mauri, also active as a solo electronic soundmaker (hey! Now that I think of it, the review of his DIY cdr as 00 was one of my very first reviews for ChainDLK, then in its printed heydays... ages ago!), mixed and cut-up the recordings on his pc with a sort of Macero-like taste for layering and a great final result, matching the warmth of a live recording and the tricks of a skillful reconstruction. "Reflect" is also the first non-electronic record in the AFE catalogue, but if you consider this has been co-released by Bruno Dorella (OvO, Ronin, etc.)'s Bar La Muerte you can start guessing what this sounds like. Its roots are indeed in the noise-rock/no-wave cauldron: the first track, later reprised and brutalised in the fourth one, starts with a basic noise-punk blast delivered with garage intensity, but right from the second piece, based on hypnotic drum loops and sludgy guitar feedbacks, the great mixing job transfigures that initial violence in a much more subtle and oblique approach. Track 3 indulges in jazzy guitar lines and sparse cymbals, and it's possibly the closest one to the sound of I/O and their forefathers Starfuckers/Sinistri. The music becomes less noisy and dense, but the two never let the tension go. The most refined and arguably best piece is the last one, where Mauri's minimal guitar plucking and Reali's mantra-like vocals are matched with electronic drones and a train-like rhythm of looped charleston kicks. The whole record is extremely enjoyable and coherent, despite mixing so many different inputs and influences, from free jazz to Liars or Eyehategod, and given the results I truly hope this won't remain a one-off project.
image not
available
anymore
Artist:
GLAUKOM SYNOD
(@)
Title:
Uczulony
Format:
CD
Rated:
UCZULONY is the third Glaukom Synod demo CD. Behind this moniker you'll find a French guy coming from France/Lambres Lez Douai called Gabriel S. As far as I can listen Gabriel's musical passions are grind metal and industrial music because his tracks are built upon samples of these kind of music. Grown up using Fast Tracker, Gabriel started to develop his personal style made of fast variations of sound/samples and tons of violent distorted "assaults". Luckily for me his tracks are varied and aren't based on the effect violent sound could produce, so along with tracks based on grind samples you'll find also e.b.m. loops and industrial noise to help making the blend more efficient. Even if sometimes tracks don't sound homogeneous because of the sudden sample change, this same thing make Glaukom Synod sound interesting and somewhat unique and when you'll get used to his music you'll start to appreciate his cut ups. Gabriel music isn't sounding professional but with a good production in my opinion we could have good surprises.
Artist:
VV.AA.
Title:
Decennium Sturm
Format:
CD
Label:
Sturm
(@)
Distributor:
COP International
Rated:
Another label compilation for the Latvian Sturm label, created and released to celebrate their already 10th anniversary. Unbelievable, that this Sturm collective has already worked hard that long time almost without any knowledge and attention from some western audiences. And this compilation has something special to offer – NO track titles are included here. The bands of this label all give here new and unreleased stuff to the listeners, but there's no track name. ANOCODAINE made the start here and already this track turns after an unspectacular melodic intro into a pounding Electro instrumental piece. KNAUZERS UN ZEME offer a military marching piece with several noisy samples featuring bombing and firing airplanes and war noises and vocals pending between dark and distorted. ROSEWATER offer the best work here, a hard straight-forward moving Dark Electro pearl with harsh Powernoise-inspired rhythm patterns and rough distorted vocals – their enjoying and successful formula, but this piece I would qualify as their most straightest track so far. Almost in a same vein hits the project LIVING NIGHTMARE, which I haven't discovered before, no matter also for the Metal-like guitar riff included here. With LS TUR, STROPS, BARODARHO and KAUNA TRAIPS the music here turns more and more into the martial and experimental noisy kind this label has so much to offer. Also MARCHWITZA give a rather chaotic piece, but I'm sure that I have heard it before on their full-length "Have A Hard Day". Also an untitled act offers a track tending more into a slower Ambient-like tune, and more in silent style this CD turns off. Check also out that video file done by CYBERPUNK to conclude this valuable compilation. Interesting concept, but very unusual, too. Worth to start some investment.

Track list

1/ ANOCODAINE
2/ KNAUZERS un ZEME
3/ ROSEWATER
4/ LIVING NIGHTMARE
5/ LS TUR
6/ STROPS
7/ MARCHWITZA
8/ BARODARHO
9/ RADIO KAPUT / 3OT
10/ KAUNA TRAIPS
11/ UNTITLED BAND, 1921 vs RUDENS LAPAS
12/ GAS OF LATVIA
13/ CYBER PUNK (video)


Artist:
DANZ POETA
(@)
Title:
Pray For Rain
Format:
CD
Label:
self-released
Distributor:
CDBaby
Rated:
Indianapolis brings out the debut of Jamie Vitro, who stands behind this solo project. It's a musically combination of classic and melancholic Synthpop themes with danceable Futurepop tunes – Jamie names ASSEMBLAGE 23, MESH or COVENANT to his influences – and this fits globally. He also could already open a gig for the famous RAZED IN BLACK and also this experience has formed him towards a more electronic-driven sound. Unbelievable, that he was a guitar player for some Goth-inspired local bands before – but this only shows his musically talent. So this release features 10 tracks of well worked out Synth-/Futurepop music which has all smooth and catchy attitudes to offer. It isn't the newest sound and machinery in use for sure, but it's damned effective arranged. These tracks wont let a fan of the mentioned genres unimpressed, favorites featuring the most melodic content can be named with the opener "Mortal Coil" and "Breath Of Time" on the danceable side – and of course the strong "Dante In His Fire", a beautiful and slowly arranged ballad. Another winning point of this act are the well included vocals – of course they are genre-like deep male and crystal-clear recorded. Also impressive are the kind of lyrics providing a romantic up to poetic background – and so drifting a bit away from the usual "fighting-for-a-better-world" monotony. DANZ POETA prove with this self-released album, that real talent wont be undiscovered. This is a strong – maybe a bit more thoughtful alternative to some above mentioned famous acts of this genre. Available via CDBaby.