Artist:
Wet Cookies
(@)
Title:
Earthling
Format:
CD
Label:
Collision
(@)
Distributor:
Groove Attack
Rated:
[NOTE: I only put this CD in the experimental category because there is no category for jazz here. Not my choice, you have to pick something, and this isn't synthpop, techno or industrial.]
My first experience with this CD was popping it into the car CD player while I was tooling down the highway, not having the slightest clue what I was in for. Shortly after a few seconds of atmospheric opening, a groove started to take form, and a horn that recalled Miles Davis circa "Bitches Brew" blew coolly over a Herbie Hancock stew of 70's style funk complete with horn section, electric piano and guitar. My first reaction was, "what the-???... Then I got sucked in. This was pretty sweet stuff! Okay, cool NuJazz, but what is this CD doing HERE at Chain D.L.K., home of dark or at least grey area music? I didn't know, and for a good amount of time, I didn't care. There are touches of Weather Report in the music, so it came as no great surprise to me that trumpeter Daniel Nosig spent some time working with Joe Zawinal. In fact, most of the other guys in the band (Jurgen Mitterlehner- sax; Michael Steindl – flute, Flip Phillip – vibes; Thomas Uhegbu – piano, rhodes, moog; Gustavo Dantas – guitar; Roman Weihs – E-bass; Herfried Knapp – double bass; Alee Telfa- percussion; Bjorn Klein – drums, band leader) seem to have impressive past credits. Same goes for producer/ additional synthesist Axel Hirn, who did a good job production-wise on this disc, with a few reservations.

So I'm all set for a smooth groove funk-fest, when the next track. "Weirdoz of Bop" comes along and knocks me for a loop. Thomas Uhegbu is a madman on the keyboard showcasing a frantic bop style that takes it two steps beyond. This is incredible! Some of the wildest piano playing I've heard this side of Powell or Monk at their maddest, but the structure stays intact. Amazing! An ensemble piece follows with a solid medium tempo upbeat groove laid down by the rhythm section, segueing into a 70's jazz-funkathon that lets Flip take off a bit on the vibes while the horn section provides some solid tight riffing. Everybody gets to stretch out a bit on this one, and now you just know these cats are bad. Dissolving perfectly into the slow tune, "Lucky We Were", it's time for a change of pace. Nice ambience, but somewhat compositionally aimless as it meanders over smooth changes that sound pretty but lack direction. The next track, "You Somehow", could be at home on any acid jazz compilation. Just the right tempo and styling, a completely integrated smooth groove. Some things on this album don't exactly work, like the next track- "Slut Machine", where punch-drunk horns moan over a pseudo-industrial beat with old-school moog farts interspersed. Not my cup of java. The next couple of tracks run smooth to acid jazz, good music for cocktails in an upscale bar. The "dub" versions of the previous "Lucky We Were" and "You Somehow" I thought were unnecessary and didn't really add anything, The strangest piece on this CD is the last one- title track "Earthling". A bit of experimental piano and synth atmospherics that goes on for nine minutes. I'm a little confused by this. Although it's closer to the kind of music I usually find myself reviewing, it seems out of place on this album. Since drummer Bjorn is the leader of this outfit, I find it odd that he let this one pass. I can only imagine producer Axel Hirn is somewhat responsible for this. Considering the music set the tome for the whole CD, this is too much, too little too late to wander into avant-garde territory. The band itself is really great. These are high-caliber players who definitely have a future working together. (I'd love to hear them live.) But a few rough spots keep this from getting an over-the-top rating. Still, Wet Cookies are absolutely worth checking out. Visit the website, groove on a sample song, and you may just get hooked.

image not
available
anymore
Artist:
BLACK ENGINE
(@)
Title:
ku klux klowns
Format:
CD
Label:
Wallace
(@)
Rated:
Some newjacks with an new release looking for an hot spot or just to get your attention? He, he, you're in the wrong lane, given that the moniker hides Zu together with Eraldo Bernocchi, the odd pair should immediately put forward we're in front of an all star band. Due to the tracklist I've been mislead by the first approach, infact I was afraid the Zu element was a bit too overpowering, it took me more than a few listening to arrive at the core of the project. Thought the weight of Zu is considerable, the whole record pays an heavy tribute to forerunners like Painkiller and God, at last that was just one of the common elements Bernocchi and the romans had buried in their DNA. Ku Klux Klowns starts sailing in the uneasy waters of jazz-core but ends sinking in the midst of the post-industrial/post-metal ocean mixing fast machine-gun rides and slow bone crushing anthems that could have been featured in "Anatomy of addiction", just try "A Wolf Day" and let me know if I'm wrong. As I've wrote, "to pay" a tribute is not a matter of creating a sterile copycat of those now defunct demigods, the Black Engine is running and while showing the influences is still working in an independent way. The funny thing is how Bernocchi's touch is light and non intrusive so that I'd like to see what could has happen if his personality would have been more overwhelming. If you're into Zu, Ruins, God or the glorious Painkiller here's something you won't regret.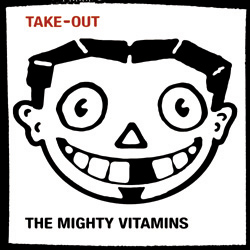 Artist:
THE MIGHTY VITAMINS
Title:
Take-Out
Format:
CD
Label:
Public Eyesore
(@)
Rated:
Never heard anything on Public Eyesore? If the answer is negative take for granted their catalogue is really heterogeneous and is well portrayed by the adjective "weird". If "weirdness" was a religion I can't say if Mighty Vitamins could be "popes" but sure they'll be very important people down there at the Vatican. This improvisational/structureless music with its roots in some american legend like Captain Beefheart (Trout Mask Replika era) and Zappa, but obviously even if following Einstein "Nothing is created, nothing is destroyed, all is transformed": you can bet they evolved the original idea of their inspirators. Even if here and there they explode in those characteristic free-jazzy detonations, the quintessence of "Take-Out" is "bluesy" (that's why I think they're so close to the "Captain"), the fact is many times they "remove" where other bands "add" (honour to Miles Davis for having been a mastermind of this philosophy). Sometimes the whole release is much closer to electro-acoustic music than to "improvisational" works, but that has to do with the prudent playing of the musicians. I guess Mighty Vitamins listened numerous releases coming out of the sixties/early seventies since there's a strong psychedelic/oniric atmosphere in their music and that in some way it brings them close to AMM (take a song like "Nakatani" and tell me if Eddie Prevost is or is not the father of a whole generation of unconventional musicians). This release sounds "old" in a positive way but at the same time is incredibly personal, let's say Mighty Vitamins represent for free-electroacoustic-impro music what Jackie O' Motherfucker represent for no-psych-folk.


image not
available
anymore
Artist:
ALEXANDER ROBOTNICK
Title:
My La(te)st Album
Format:
CD
Label:
Hot Elephant Music
Distributor:
Audioglobe
Rated:
Four years after his latest studio album Maurizio Dami a.k.a. Alexander Robotnick is back with a brand new CD. MY LA(TE)ST ALBUM. In the meantime he did two compilations with unreleased tracks ("Rare Robotnick's" and "Krypta 1982") and a new project (Italcimenti) with Lapo Lombardi a.k.a. Ludus Pinsky. The new album sees Robotnick sound changed a bit because of the experiences he did during these years. He did many dj sets (there's also a compilation of his selections, titled "The Disco Tech of... Alexander Robotnick", released by Yellow Productions) and listened to many records. In this way a particular thing happened: Maurizio had been influenced by the people he influenced. This sort of karmic cycle made him produce an album of dance electro tunes that sound fresh and classic at the same time. It's also true that sometimes some tracks sound a little bit at the service of the dance floor but Maurizio never lose the point. Tracks like the opening "Disco sick", "We love the music", "I'm getting lost in my brain" are influenced by electro, techno and a little bit of acid but on "Don't get in it" (a mid tempo electro atmospheric and mysterious tune) I found his classic dark touch. He cleaned off his old analogue gear and made his best to create a personal blend of 27 years of career. If you are into Italo disco you'll like "In a positive mood". Are you into old school techno? "Dublin-Florence-Siena" is for you: there are sounds for each of your electronic needs. Try it...
image not
available
anymore
I've to admit that I haven't paid attention on all the previous musically efforts of the turnip-nose MORTIIS. His musically direction to produce Industrial/Goth-Rock and his past of being active in the Death-Metal genre (EMPEROR) have never been my cup of tea. But for this new 16-track CD he has invited several international renowned acts out of different music styles to keep his musically output interesting and diverse. "Some Kind Of Heroin" is a remix companion to his last studio album "The Grudge". The album and especially the two Si-CD releases "The Grudge" and "Decadent And Desperate" could enter the Top 50 of the UK Single Charts – surely a non-expected success. Especially the chosen Electro/Industrial front offers some international renowned names and offers quality stuff – IMPLANT and Sebastian R. Komor with his wife Renee aka ZOMBIE GIRL can be named to the currently rising acts. Also featured are FUNKER VOGT (new CD called "Aviator" out now...), VELVET ACID CHRIST (...Bryan has just ended his recordings on his long expected side-project TOXIC COMA...), Italy's XP8 (... who are returning the favor to MORTIIS for receiving a remix out on BLC Productions "Interbreeding IX: Kuru"...) – while the best remix work is offered by the rather undiscovered Italian act MENTAL SIEGE on the track "The Grudge". This piece features the intense Industrial/Goth abilities of MORTIIS, but it doesn't forget to include the own identity of this Italian act – well done, and I hope to hear more from them on some own stuff soon. Also the remix work of the UK-based GOTHMINISTER surprises with a not expected amount of Electro elements, while the remix works of THE KOVENANT, PIG or GIRLS UNDER GLAS are tending more into the typically MORTIIS kind. I also like to mention the last track here, which is a remix by IN THE NURSERY (Yes, you read it right...), an "Extraction Mix" on the track "The Worst in Me". With 16 tracks and more than 70 minutes playing time this new edition of MORTIIS is a must for the fans, as well as the right marketing strategy to offer a new release to the currently happening European tour. Thanks to the given diversity this release will satisfy also the tastes of the Electro/Industrial and Metal/Crossover genres.