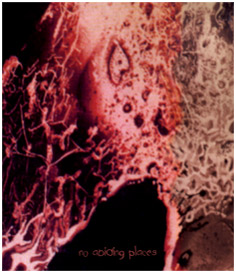 Artist:
VV. AA.
Title:
No Abiding Places
Format:
CD
Label:
AFE Records
Rated:
After a long working, the "No Abiding Places" sampler finally sees the light, which could easily give way to a mediocre pun, since this is pure, unadulterated dark ambient. The disc features Non Ethos, Moan, True Colour of Blood, Ornament, Bestia Centauri, Amon, Etere-o, Canaan, Subterrean Source, Bad Sector, AAL and Subinterior. Most of them have one or more releases in the AFE catalogue, and are featured here with unreleased or rare recordings. Far from being the usual sample, this collection has a HUGE work behind, both in terms of selection (even usually "brighter" artists like AAL or True Colour of Blood are particularly obscure) and mastering - Andrea "Afeman" Marutti has skilfully blent each full track with selected fragment from all featured artists, so that the cd sounds like one enormous monolith. This could serve both as a deepening of the AFE roster, and an introduction to dark ambient - fans of dark drones will surely rejoice in their catacombs.
image not
available
anymore
Artist:
Muslimgauze
Title:
Hafax Al Assad + Ingaza
Format:
CD
Label:
Staalplaat
Rated:
The Dutch experimental record label Staalplaat keeps carrying out Muslimgauze's plan to spread the message about the conflict in the Middle East by putting out carefully packaged music by the defunct British artist.Although the string of previously unreleased work seems to have come to an end for now, Staalplaat and Muslimauze are not reseting in peace... "Hafax Al Assad" and "Ingaza" are two CDs that were originally released in 1999 as part of the 9 CD set "Box Of Silk And Dogs". These two CDs now come available separately packaged in beautiful triangular gatefold sleeve. They are accompanied (at least when sent to the press) by a letter from Lebanese artist Tarek Atoui (soon to release a Mort Aux Vaches CD) which outlines a frustrated but thoughtful Palestinian point of view that Bryn Jones would most likely share. Musically the former (with the darker cover, shown in the picture) contains more up-tempo material while the latter seems to contain slightly more mid-tempo material. If you read this far you probably know Muslimgauze and I can take for granted that you know what his music is about and sounds like. Should you never have heard his music yet, you can start with one of these or with pretty much any which one of his dozens of releases, preferably with a pre-1999 one. You will hear harsh non-looped live performed saturated mostly strictly percussive music with Middle Eastern voices and recordings.
Artist:
DISMANTLED
Title:
Thanks For Everything
Format:
CDS (CD Single)
Label:
Dependent
(@)
Distributor:
Alive!
Rated:
I should admit that this review stands a bit under the influence of a thread readable at the well-known Side-Line online forum, at which the artist and starter of this thread, Gary Zon himself, has asked the forum members to vote for him at an online resource – only to test, if there's still enough recognition and acceptance for his DISMANTLED project. Lately he has built up a more commercial-oriented side-project called AERODRONE, and the first reactions of the audience seem to be quite good. At first I do not understand why this thread hadn't got banned from the first posting on to the so-called "Plug Section" of this forum – because it is nothing else than a shameless self-plugging infiltrated with the sarcasm Gary Zon likes to spread with his last full-length CD "Standard Issue". Hard to believe that a well-known and highly anticipated act like DISMANTLED needs to ask for some votes. The Electro/Industrial scene and/or the music business generally isn't responsible to save and warm someone's ass. Out there are a lot of working – hard working – people leading a label with names like Dependent and Metropolis. These fine people have offered their attention and trust and have worked hard and a lot for DISMANTLED through the years. A lot of not-lesser talented acts out there would be proud and deserve the deals with which Mr. Zon likes to play his sarcastic games. Gary, try to remember why you got picked up and signed – right, it was that harder and darker sample-driven Electro/Industrial style. Labels like Dependent have seen and heard your talent, but to work with an artist to bring him out with a promising response needs at least three full-length albums in a nearly comparable style. Nothing against musically development - but what have you done album per album? Drastically changes now into pure, danceable, ordinary Futurepop – well, that isn't what people and what your labels could expect. And so we come to the term of this review, these 5 tracks provided on this SiCD, another part of the DCI, the Dependent Club Invasion Vol. 3. "Thanks For Everything" is a second single release taken out of the third DISMANTLED album "Standard Issue". It is one of the better songs and thanks to the still happened success this album could earn, this release somehow makes sense. So here's a new Club Version done by Krischan of ROTERSAND, which fills a bit the originally sparse included instrumentals – nice and effective work, as usual. Comes then a new Alternate Version created by Gary Zon himself – in comparison to the work of ROTERSAND it sounds like a – lets say it, first demo version. Two new tracks are created, on which "Spin" gets my vote for the best work here. Note, this is originally an AERODRONE track, but receives a special "Aerodrone to Dismantled Remix" with some cool vocoder effects on the vocals. At least we got another remix done by the US act CESIUM 137 offering some cool breakbeats asides the original. Globally this new output can't leave the gray area of deep averages – compared to earlier DISMANTLED works including the mentioned debut and also "Post-Nuclear" it sounds quite unimpressed. If there's really a small doze of seriousness behind that SL forum thread, Gary, you should indeed think to stop or to take a longer break for DISMANTLED. To fill the field with third-class Futurepop can't be the target a talented man likes to reach. Think about passion and dedication – and let commercial-oriented aspects out for AERODRONE.
"Straftanz vor – zurück!" It's STRAFTANZ time! Loud, very loud, like a command this words will blow out of the clubs right in your face. STRAFTANZ is a new mysterious project which hasn't left any hint, contact or website printed on this SiCD, which is a part of the successful Dependent Club Invasion, in short DCI, series, a 3 single-CD collection of some more successful acts signed to this label. STRAFTANZ is a newcomer and gives here a debut, which is musically based on a hard pounding beat, a hysterical male EBM shouter giving the "Straftanz" command in 5 "different" versions, some female "Bestrafung" voice samples, a well done synth layer and a noisy pad – that's it! Two of the 5 versions are remix works by REAPER and AGONOIZE – musically both acts following the given stuff here, but can offer luckily a bit of their own sounds and identity – both remix works hit the original! The other three versions are musically almost the same, they only difference can be separated through the vocals. The lyrical content features the mentioned names of more or less known clubs in the East, West and South of Germany. A bit sad, that there aren't enough clubs in the North to provide also from this area a special version. Finally there's a b-side called "Eintausendmal" on which the pounding beat starts slowly to get faster and faster, while this track globally reminds me on some EBM-clobber wannabe tunes, bah! I'm really wondering that the fine and successful Dependent label really likes to offer this low jackass-level only designed for pseudo-aggressive get-hard-be-strong-fanatics. The ugly word "Hellektro" comes to mind, but mostly bands categorized under this moniker have something more to offer. This stuff works well in the clubs, but ONLY in the clubs – in case you're drunken and/or stoned enough!
Artist:
SAMHAIN
(@)
Title:
Violent Identity
Format:
CD
Label:
Aliens Production
(@)
Distributor:
DSBP
Rated:
Already well-known in the Czech/Slovakian scene thanks to some hard-to-get recordings and thanks to some live performances and compilation appearances, this Slovakian trio brings finally out their official debut. While some of the band members have done through the years some remarkable collaborations with some better known Electro/EBM acts of the scene, like KIFOTH or LAST INFLUENCE OF BRAIN, they now joined together their forces and provide us here a full-length CD with more than 72 minutes playing time. Who already thought, that there can't be anything darker or more experimental-oriented out of Slovakia than their countrymen of DISHARMONY or the Czech solo artist ANHEDONIA, well – here comes a new fine proof. Walls of sounds, hard-to-realize worked out rhythm patterns, a dark, at times scary cinematic mood – this all fits with SAMHAIN. Who already has thought that MENTALLO & THE FIXER have provided in their early days ("Revelations 23" – era) a hard-to-grip complexity, has stopped to learn – SAMHAIN is here to teach you better! Mix to that M&TF reference some Powernoise/Ambient-infiltrated tunes, like offered from the French act REMAIN SILENT and you have a possible comparison, which almost fits. Although vocals – and when integrated, they're mostly dark, rough experimental-minded - are sparse filled in here, and besides the fact that several voice samples are included, there's enough music here which makes this "human factor" forgettable. It's hard to pick out favorites, the opener "Undefinable" follows pretty much the already mentioned M&TF style, while "Apparition" turns with some rotten layers and heavily distorted rhythms near to the Powernoise genre. It's one of this extremely valuable albums, which content is impossible to realize and to pick up only after 3 – 4 rotations. Give it more spins and make sure, that you can offer some time and attention, you will be rewarded with an album which never starts to bore. Doubleplusgood!