image not
available
anymore
Artist:
TOTAL PAIN KOLLAPZ
Title:
Hell is Not Heaven
Format:
CD
Label:
Hypervoxx Recordings
(@)
Distributor:
DSBP
Rated:
A new signing for the South-Florida based Hypervoxx Recordings label, a sub-division of Telegrammetry. TOTAL PAIN KOLLAPZ is a one-man project hailing from Sweden providing us a very "own" version of Dark Electro/Industrial music – but I miss any hint for a website, or simply a Myspace account. Described as being an "anger management project" Tony Pettersson is on work here, but at least mostly caged in his very own world. Somehow the terms of the intended label politic of Hypervoxx came to my mind, although I'm not sure if I have read those content on the Telegrammetry website or if it was a comment done by label chief B.A. LaRed via email. It was about that "Hypervoxx will not only focus on the linear and known Electro/Industrial formula, also more experimental and different styles of music will be presented". This project, although musically based in the above mentioned genres, tends to differ from the known formula. For TPK I can agree that this stuff is experimental-minded, although the used sounds are rather old-fashioned and lack of surprising moments – somehow I feel remembered to some very old SUICIDE COMMANDO recordings out of their early demo tape phase. It is rather unconventional how Tony likes to arrange his stuff, this counts especially for the synth textures. I have at least the impression that a lot of his tunes are trying to integrate the term improvisation – the textures at times don't follow the harmonic theory. This counts also for the sparse integrated rather whispered vocal performance mostly based on a repetitive "murder-death-suicide-motherfucker" content. Here and there the needed precision seems to be vanished on some tracks, although his stuff is rhythmically arranged. But which sense makes an "anger management project" if the tracks with the few exceptions "Where Are You", "U Can't Kill Me" and "Faithseeker" are hard accessible, uninteresting arranged and drown into repetitions? For me personally this rather causes anger! After the good releases of TAXIM and the highly anticipated MORDACIOUS I would tend to say, that this Swedish episode is a step back – mankind will survive it...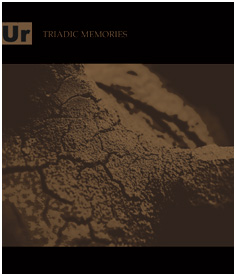 Artist:
UR
Title:
Triadic Memories
Format:
CD
Label:
Afe Records
Rated:
Named after the Italian esoteric group attended by Julius Evola, Ur are the best newcomers in the Italian industrial underground, as already promised by their self-released cdr (see archive). Formed by three performers with a HC- punk background (former and current members of Heartside, Permanent Scar, Burning Defeat, Onefineday, Downright and Kafka), they prefer live performances, so these recordings should reflect quite well what you can expect from a concert of theirs. The strong "played in real time" feel is surely one of the most interesting qualities of their recordings. "Triadic Memories" (a homage to Morton Feldman?) features three tracks ranging from 7' 28" to 20' 51", and opens with "Movement # 1", already featured - with a rougher mix - in their DIY cdr. The track is the most noisy and heavy of the lot, with theremin squeals, heavily delayed bass, metallic percussion and looped vocal samples, possibly the most refined characteristic of their sound. "Movement # 2" opts for more ambient, but surely not serene atmospheres: the disquieting spoken samples, drones and loops, and a bleak accordeon, all convey a sense of uneasiness and depression. The two main currents of Ur's sound (the noisy and the droning one) are well fused in the mammoth "Movement # 3", a psychedelic tour de force of theremin loops, pedal galore, accordeon, bells, and vocal mantras. Ur use their tool well, and know how to dose aggressive bursts and more expanded fragments; their sound could appeal to a wide range of industrial-ambient lovers (especially those into IRM, Non and Throbbing Gristle's soundtracks).
image not
available
anymore
Artist:
THIRDORGAN
Title:
Satanico Pandemonium
Format:
CD
Label:
Dead Sea Liner
Rated:
Thirdorgan is one of the greats of the current Japanese noise scene, but somehow I don't think he's been recognized as he deserves. Last time I heard from him was in the split 7" with Government Alpha (on Dada Drumming), but I've probably missed something along the way. Released on a cdr with simple photocopied sleeve, as usual with Dead Sea Liner, "Satanico Pandemonium" features five tracks, all titled "La Sexorcista",and opens with a looped sample from Romero's "Dawn of the Living Dead". Throughout, all sort of bizarre samples are minced and distorted, generally beyond recognition; for example, the longest track, # 3, begins with some disco music soon submerged by layers of noise. Yep, Thirdorgan's tools are distortion and feedback and low-end crunch (predominant in tracks # 4 and 5), but he also uses weird tecniques (is it tape manipulation or VST processing?) which make the cdr a quite varied and interesting one. Think of the musique concrete-cum-harsh noise of the best Merzbow and you'll get close to "Satanico Pandemonium".
image not
available
anymore
Artist:
TEXTURED BIRD TRANSMISSION
Title:
Purple Weighted Pellets of Despair
Format:
CD
Label:
Dead Sea Liner
Rated:
I don't know much about Textured Bird Transmission, except that he/she/they is/are probably from the UK and that this cdr marks the debut of the Dead Sea Liner label. "Purple Weighted Pellets of Despair" is a one-track, 29-minute cdr starting as a serene drone thing and gradually billowing to a powerful crescendo of distortion and feedback. Minimal means (it's probably a synth + pedals set), known formula, but nice results; a positive debut from both the project and the label.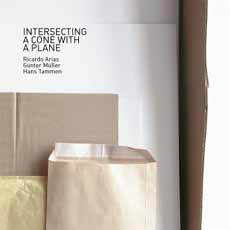 Artist:
RICARDO ARIAS/GÜNTER MÜLLER/HANS TAMMEN
Title:
Intersecting a Cone with a Plane
Format:
CD
Label:
Creative Sources
Rated:
With only a handful of peculiar and talented artists, it almost becomes embarassing to write reviews, since everything they do seems to be blessed with an uncommon degree of excellence. Günter Müller surely belongs to those chosen few, and every recording of his, be it solo, duo or ensemble, has both a costant quality and an individual mark; in the case of collective improvised performances, it's also stunning how his electronics, or drumming, merge with the other players while maintaining their own filigree. "Intersecting a Cone with a Plane" features Müller at his usual set of "assorted percussion, mds, ipod, electronics, processing", Arias at a mysterious "bass-balloon kit" and Hans Tammen at an equally puzzling "endangered guitar" - one of the few cases when I wish there was a live photo to understand what the hell they were playing... Anyway, the three tracks, recorded in New York in 2003, are an exhilarating texture of sharp and pointed sounds, crackling electronic particles and controlled feedback, and some lower rumbles - possibly the bass-balloon thing? While not overtly harsh, and full of subtle details, it sounds like a slo-mo recording of something boiling over, a free jazz record melting through fainted tapes and blown circuits.