image not
available
anymore
Artist:
VV.AA.
Title:
the Dielectric field recording all-stars
Format:
CD
Label:
Dielectric
Rated:
From what I've heard the assembling of this field-recordings collection took almost two years, but I'd say that it's has been worth the weight. The fact is that the Dielectric isn't putting out a real sampler but a collection of field-recorded tracks worked and assembled with some material he probably did himself in something that really interesting both for the process and for the final result. The fact he knows how to build up a sampler without making it sound to varied (in the negative sense of the term) uniformed what otherwise should have resulted as a disharmonic selection of soundscapes. For those not friendly with the genre, this release by some means could remind the very early Godspeed You Black Emperor's album with less musical part (even if when you have them, they're really intense) and more organized as a sonic diary or as the audio of an imaginary movie. Hi- and low-fidelity recordings of radios, people, pigs, police sirens, water, pendulum clocks, doors, steps, train stations, political demonstrations and only God knows what else. If you're not a fan of samplers like me you'll love the fact this one is so well assembled it results incredibly well blended, it's great since the listening turns into an audio journey/experience that's probably one of the most common and interesting use of fields recordings. Sure this' not a release for everyone but at the same time it fuses accessible moments with severe track where you probably have to be confidential with this kind of listening. I'm tented to say the whole sound of the cd brings closer to the American artist working with field recordings, but I know it may sound like a bullshit alas why have I had this impression?. While not all the artist featured on the sampler are from the US there's no post-industrial/heavy-avantgard intense in the most of the track they're still really intelligible even when revworked that's probably what I perceive in most of the Americans doing (brilliantly) this kind of tracks. Take the last things I've wrote as the impression of a complete incompetent music listener but it doesn't change the substance of what remains a good release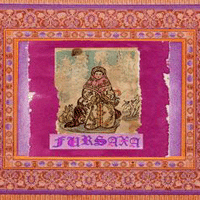 Artist:
FURSAXA
Title:
Alone in the dark wood
Format:
CD
Label:
All Tomorrow Parties
(@)
Rated:
Once I've read somewhere Jackie O' Motherfucker were a band "out of time", I think that definition fits really well with the music of Fursaxa. At last it's like she's (TAra Burke) coming out from a black hole linked with the middle age idea of choruses and this fact brings her really close to the never praised enough Dead Can Dance minus their gothic/new age factor. Is a contraddiction? No, since the music is really different and more vintage-psychedelia oriented if compared to the gothic masters, the similarity for me is just something that has to do with the superimposition of layers inherent to the female vocals (lie Lisa Gerald used/uses to do). Fursaxa has much more to share with the sixties/seventies, ergo most of the songs has that repetitive hypnotic riff that keeps going on forever with some simple addictions/subtractions to soften a drop that otherwise could break the stone (or simply your patience). That said, consider this recording is acid like one of those early Hoffmanns' experiments (as you can get from the front cover). This effort is incredibly inspired and elegant and I think it has a lot to do with the wise dosage of the elements above all the vocal choruses. I think if I had the chance to see her together with Jackie O' my hair would start growing again almost immediately and probably my dress would become similar to those daddy and mom used to wear back in the days. In this nostalgic culture it seems we're looking for something in the past, probably it's just the search for a release from the daily routine, sometimes it's pure musical/cultural "irredentism", but in this case there's simply an inspired journey backward looking for some fresh air.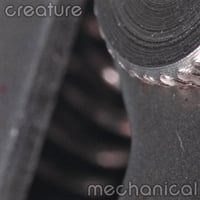 Artist:
CREATURE
Title:
Mechanical
Format:
CD
Label:
Haunted House Records
(@)
Rated:
BUY from
MECHANICAL is the first full length release by Stephen Haunts. It follows different E.P.s released for his own label Haunted House Records. His releases are mostly available through digital stores but he also print a small quantity of CDs to satisfy the people that still loves to deal with a real object and not only with files hidden into the corners of a overloaded folder. Music isn't only a question of files to upload into a mp3's player. Anyway... MECHANICAL bring to the lovers of electronic music sixteen tracks of music influenced by bands such as Nine Inch Nails, Boards of Canada, and Hybrid. Stephen took exams with the Trinity College of Music in London but his will to explore new sound solutions made him tweak old electronic toys by rewiring the insides to create new sounds. His music is always driven by rhythm but he likes to create dark atmospheres and ambient pads. The result is evocative and sometimes cinematic (check "Daisy cutter" for example). The tracks have good sounds and create a really working atmosphere but sometimes, in my opinion, they create the same kind of ambience because of the constant use of synth pads. A good change about this point is the vocal line on "Nox", the only track with vocals.
image not
available
anymore
Artist:
GLAUKOM SYNOD
(@)
Title:
Uczulony
Format:
CD
Label:
Hydra
Rated:
Musically I already talked about this album on my previous review that you can find here http://www.chaindlk.com/reviews/index.php?id=3203. This new edition sees the demo which Gabriel sent me on November of the last year released by the Hydra label. The tracklist has slightly changed only because of the tracks order but basically the album is the same. The sound maybe has been equalized a bit but the sound insanity of the samples patchwork created by Glaukom Synod is there and ready to smash your ears with its blend of grind industrial.
Artist:
Sophie Zeyl
Title:
Two Ways Of Running
Format:
CD
Label:
I-Rain
(@)
Rated:
Sophie Zeyl is the third signing on I-Rain label. Her first debut "Two Ways Of Running" is absolutely genuine at its best. A cross between indie pop and electronic. The album is well indeed radio friendly and could stir up a fan base. Rich guitar layers with synth and electronic melodies. A mellow laidback and mid-tempo type of album that will help you and guide you away from your troubles and worries. You can even dance to some of the tracks. Indeed pure and innocent with emotional feelings involve. Lush vocals that's angelic with warmth and compassion. Sophie gets help from ex-Xymox members Anka Wolbert and Pieter Nooten with producing. Outstanding tracks includes "You Could Have Run Away", "I Am Not Like That", "Two Apples", "Move Me", and "Words Are Easy". A nice album to listen to from start to finish then repeat it over again.