Artist:
TWZ
(@)
Title:
B-Sides 0
Format:
CD
Label:
Void Recordz/Deathproganda Records
(@)
Distributor:
Void Recordz
Rated:
The promising Swedish duo of TWZ returns here, this time in collaboration with the underground label Void Recordz hailing from Portugal, which musically program is dedicated to all forms of Experimental Electronics up to some real sick Powernoise efforts. Packaged in a cool DVD box, this edition features – like the title said already – a collection of some b-side tracks, which somehow do not fit with the typically sound of TWZ. That's also a matter of taste I think. It is still amazing how this act spins and produces their Dark Electro, I kindly prefer that they not focus on the newest Tekkno-inspired synth machinery. It is a purest analogue sound machinery and the band have a lot of ideas in the back to keep their arrangements interesting. Just check out some bass lines they produce ranging between purest simplicity up to thick complexity. There's a fine old-school blood floating in their veins, and this does of course not mean that they would produce minimal NEP-like music. I would take some PUPPYan, at times some KLINIK-like efforts as a possible reference, but please note and check out their own authentic kind. Best tracks here are "Purge" and "Terror Cell", a track I could also thankfully discover on the last Plutonium Distro "Showcase 2" compilation. Check back their website, where this up and coming act offers some more stuff, visit also the given references of Deathpropaganda Records as well as Void Recordz and place an order. While you read this review this Swedish should have already out another new album.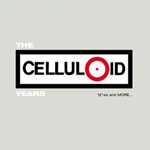 Artist:
VV.AA.
Title:
Celluloid Years
Format:
2 x CD (double CD)
Label:
Collision (Cause of Chapter 3)
(@)
Distributor:
Caroline
Rated:
1983 Herbie Hancock's "Future Shock" (and it's opening hit track "Rock It") was the first million selling album in the eighties to expose the sounds of the newly emerging rap music to the masses. If you look at some of the musicians involved, you'll find drummer Sly Dunbar, turntable-scratcher DJ GrandMixer D.S.T. (now DXT) and bassist Bill Laswell, the latter of which had been producing and releasing crossover albums for years on his label Celluloid records. This double CD release is a celebration of those years and of that label, a NY-based outlet that changed the face of music for years to come and contributed as much to the growth and sonic definition of the undeground rap movement that bloomed around 1979 (through its genre-defying crossover releases of those years) as it did to the evolution and quality of electronic music (check out Bill's massive discography online at www.silent-watcher.net/billlaswell, and you'll only be scratching the surface of how important this man's contribution to the genre has been through out the years, and still is).The sound of those days, defined by Linn drum machines, Yamaha DMX keyboards and early turntable scratching, represented the crib from which Fab Five Freddy (Change the Beat), Afrika Bambaataa (Zulu Nation movement guru) and the graffiti artist Futura 2000 were emerging from. All these artists, as well as Jalaluddin M. Nuriddin (one of the first of the Last Poets), The Clash, Sex Pistols' John Lydon, Manu Dibango, Jaco Pastorius, Jimi Hendrix, Herbie Hancock, Robert Musso (Material), Bernie Worrel (Talking Heads), Wunderwerke, Bernard Fowler (Peech Boys), Nicky Skopelitis (Material), Time Zone, Grandmixer D.ST, Deadline, D.ST, Lightning Rod, Shango, Tribe 2 - What I Like and Bill himself, were all brought together by the far-reaching hand and mind of Laswell and were mixed, re-mixed and re-arranged as to form duets you had never heard before anywhere else (Hendrix & Lightning Rod, Futura 2000 & The Clash), Grandmixer D.ST & Jalal etc). 21 tracks, among 12" releases, remixes, B-sides, dub versions and special remixes that will make you fly right back into the eighties and hover there for quite a while! Of historical importance!
Artist:
Sote (@)
Title:
Dastgaah
Format:
CD
Label:
Dielectric
Rated:
Sometimes categories become useless or even better some musicians make it inadequate. Sote's "dastagaah" sure can be filed under "ethnic electronica", but I'm not sure it really paints the proper image of what Iran original Akta Ebtekar plays. Together with the blend of this two different elements we should consider a top notch "deviation" factor. Honestly is one of the most bizarre record I've been listening during the last months, I don't even know if the mixture of iranian music and laptop elements fits perfectly in all of the tracks, but believe me, I hardly happened to hear something like that. If you're an electronic fanatics I'm sure you already know this guy's earlier mini cd was on Warp... tip of hat to him!. For a few seconds it also reminded me of some Black Dog middle-est influenced harmonies, but "Dastagaah" is located somewhere else, take the fifth track: how can you define that if not "Odd"?. A-rhythmical or at least forget you're Panjabi Mc indian beats, Sote effort is mystical and directed to your grey matter, if I knew much more Middle-est philosophy/religion I'd say that Sote stands to sufism as "ordinary" middle-est influenced music to orthodoxy. Not always easy to be digested but definitely unconventional and personal.
I think lot's of our readers know Afe for the xperimental-electronic-ambient-weird-odd-mistique roster but Leeza has not that much to share with the afore listed categories. If a cd can stick to a good definition, you can bet "Living in a pixel" fits perfectly with the "Intelligent Dance Music" classification. If you've ever been into the glory days of Warp and you think Autechre before becoming a "total defragmenting machine" and Afx before getting fond of Satie and bored by the whole world were great, I think you'd better give a listen to this. Passatism? Mere revivalism?...A friend of mine would answer: "who care unless it sounds good!?" and he's probably right. Leeza is perhaps a fan of that synth/keyboard sound that marked so deeply the tracks on the Artificial Intelligence samplers, while that's much more than an impression, rhythmically the song are quite simple but really straight to the point. Sometimes it was like listening to the "dearly missed" Black Dog but also to L.F.O. and in my book that's a good thing. Leeza is probably into building up good danceable tunes much more than trying to sound cool at any cost (listen to "Dav_home" or "Ermos" for exemple). An honest release that reminds when a "block party" was still a "rave" and not a "cheap" band on Mtv
Artist:
SKOIZ
(@)
Title:
Hologram
Format:
CD
Label:
Cortex Records
(@)
Rated:
This is the second work written by Skyoz, an ebm duo from Lyon.The band exists since 1995 and their electronic style is built up by using analog machines which create that typical atmosphere you can find in records such as VNV Nation's ones or other names lake this. In fact, in the year 2000 the duo played as a support act for VNV themselves... But the most interesting thing is that Skyoz, this year, played with Front 242 for their 25th anniversary! However, this album has to be listened to, most of all for the perfection which can be found in each composition. The most appealing song are Cold Colour and Distorted Dreams, catchy tunes with nice synths stuctures.I am not an ebm freak but when this kind of music is played with passion and control of the synthesizers I must admit it makes great impact! In cases like these it's not just a question of dancing (as it sometimes occurs with some ebm bands) but a nice occasion for listening to the choices of sounds as well.