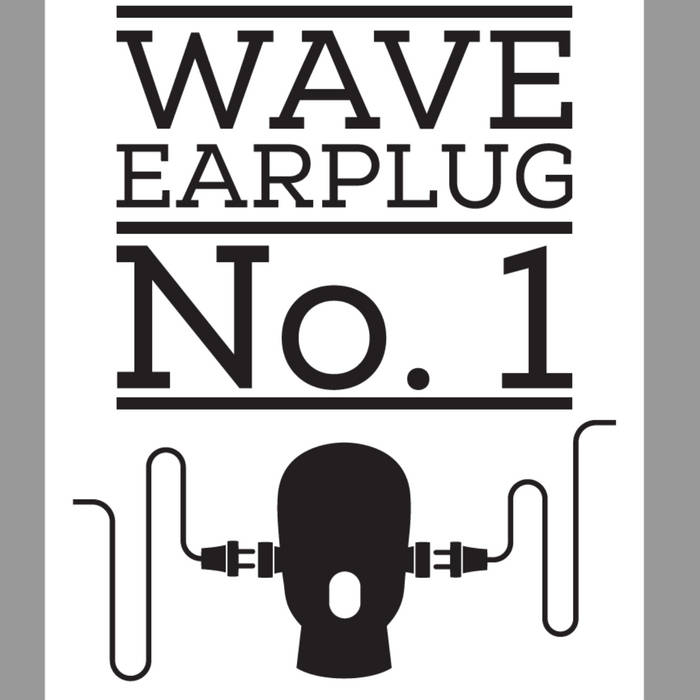 Artist:
VV.AA.
Title:
Wave Earplug n.1
Format:
LP
Label:
4 Mg Records
Rated:
After the compilation series Vinylized, 4Mg Records has launched a new series called Wave Earplug. With this one, Imrich Végh a.k.a. Imiafan, is collecting tracks of bands around the world. On the first volume we have nine tracks/bands whose tracks' sound is in balance between minimal synth and electro wave. All of them sound fresh and interesting and most of them are newcomers. What we have? Well, we have the following: Paralelo (Spain) with "Hasta La Muerte" bring in an electro goth tune, The Revolving Eyes (Belgium) with "Possession Analogique", a nice minimal synth instrumental, Imiafan (Slovakia) is here with "Na Druhú Stranu Ulice", a really dark sounding tune that will please the lovers of early Die Form, Venin Carmin (France) with "It's Gonna Be Wild", is sounding a little more pop but always catchy (I reviewed her album two years ago), Angaudlinn (Sweden) with "Rid!", are sounding really particular as they sing in Sweden, I think, and I appreciated the vocals' pathos and the analog rough sound, Exhausted Modern Featuring Zarkoff (Czech Republic / Croatia) with "Proximity" sound like The Hacker meets New Order, Trois Traffic (NL / USA) with "Cry Baby Cry" sound almost electro clash, Staatseinde (NL) with "Zyklus" are here with their "Neue-NiederlÄndische-Welle", as they describe themselves (probably influenced by 80s Neue Deutsche Welle and new wave) and Second Planet (Germany), with "Vorbei", brings here a melancholic cold wave tune. This is a really interesting compilation which is sold at a nice price. Check the whole tracklist here https://4mgrecords.bandcamp.com/album/wave-earplug-no-1
Artist:
The Last Days of Jesus
(@)
Title:
The Last Circus
Format:
CD
Label:
self-released
Rated:

The Last Days of Jesus is a band from Bratislava, Slovakia, and 'The Last Circus' is their sixth album. I've never heard any of their previous material, which shouldn't come as much of a surprise. If somebody asked me if I'd heard of The Last Days of Jesus I might have thought they were trying to lay some religion on me. Well fortunately, this band isn't one of those Christian rock acts, or we'd be done by now. According to Discogs, they're a Slovak Progressive Goth Rock band that started out in 1992 to combine the spirit of old school Batcave and Deathrock with new musical sounds and patterns. To me, they sound more like quirky new-wave with a slightly prog-art rock bent. Also according to Discogs (font of information they are), the band's record label ZIM-ZUM s. r. o. is the company of Mario Poór, the lead singer of this band, calling himself maryO the Joker on this album. I put the label as self-released as I could find neither website nor email for the label.

While not strictly "circus music," 'The Last Circus' does have a certain atmosphere of carnival lunacy about it, as exhibited in the weird opener of "Joker's Aid" with lyrics intended to knock 'em dead - "...I can conjure up some oxygen, Can't see your lover, Through the smog in your room and Streets covered in murder..." Kind of like Batman's Heath Ledger Joker. Hmmm... The obvious hit single from this album is the next song- "Hop-Hop," a fast shuffle that would have deserved an MTV video in the 80's, and might have rocketed this band to fleeting cult stardom. Great hook about running away really, really fast. The instrumentation of the band is fairly standard - guitar, bass, keyboard and drums, but these guys have working this since 1995 and are a well oiled machine. Throughout the sixteen songs on this album the band never lets up with their energy and enthusiasm and though some tracks are better than others, this is the kind of album that maintains a certain level of consistency and interest throughout. maryO is the consummate showman entertainer throughout with a distinctive melodramatic vocal style. There's a hint of darkness woven throughout and a smattering of madness as well. To some degree I'm reminded of the more sinister aspects of Oingo Boingo, and to a lesser degree, Wall of Voodoo. Some songs have a cabaret flavor, especially in tracks like "Swing the Clown," "Arthenice," and "Cabaret of Life". Along the way there are nods to 1930's and 1940's performers like Cab Calloway and Raymond Scott. In a more modern vein they sort of sound like Electric Six meets the Cramps at a funeral party for Bauhaus. One of my favorite tracks on the album is (She's happy because) "She Died" (at my wedding...) which are the only lyrics in the song. These guys are delicious mad fun throughout 'The Last Circus,' and if you don't like the picture of the juggling ringmaster in the novelty diamond-shaped die cut on the cover, you can switch the booklet around to show Siamese twin showgirls. Absolutely worth a listen or three.
Artist:
Lowenhertz
(@)
Title:
Echtzeit
Format:
CD
Label:
Echozone
(@)
Rated:
'Echtzeit' is the sophomore release from this German synthpop duo consisting of Alexander Pfahler (vocals) and Andreas Scherer (music), the followup to their 'Irgendwo In Deutschland' debut in 2014. Along the lines of (mid-period) Depech Mode, De/Vision and Wolfsheim, Pfahler divides the dozen songs evenly between German and English. It's pretty much all melancholic romantic in theme, and the synth arrangements while meticulously competent take no chances. Most of it is dance club friendly but not necessarily dance-floor compelling. The first two tracks (sung in German) sound nearly identical with mildly attention-getting hooks. Alex breaks out the English on track 4- "It's Too Late" sounding an awful lot like Dave Gahan on this track. To me it seems like when he's singing in English there's more vocal effort, and in German, he just breezes through the melodies. Maybe it's just my language perception, maybe not. Most of the songs are pretty good and melodic in a gentle sort of way, but there's nothing I would call outstanding. The most adventurous of the lot is "Winter Falls" with a little bit bolder synth play, but it's nothing you haven't heard before elsewhere. While most of the aforementioned synthpop bands have moved on from sounding strictly synthpop, Lowenhertz remain rooted in it. From what I understand the band has had a few singles climb the top 10 of the German Alternative Charts. Lowenhertz has a long way to go before they crack that nut in the U.S. alt charts though as the competition is fierce, promotional $$$ enormous, and tastes of U. S. audiences, well...that's something else again. A pleasant morsel for fans of smooth and dulcet synthpop, but not much more than that.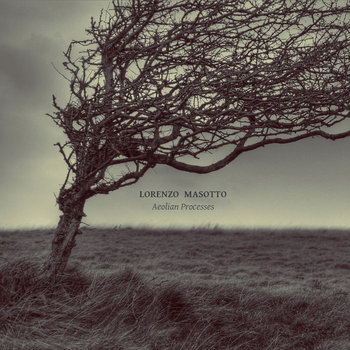 Artist:
Lorenzo Masotto
Title:
Aeolian Processes
Format:
CD
Label:
Dronarivm
(@)
Rated:
Lorenzo Masotto is a classically trained composer which, beyond being a member of a prog/post rock band called Le Maschere di Clara, writes music centered on piano. In the introduction to this release he states that he tries to make mimic music based on image and he want "to portray those images, using only the sound that a piano can paint". This approach clearly carries the listener to classify his music under the neo-classical genre whatever this may means.
The piano of "Arctic Summer" opens this release and introduces the listener into a sound field vaguely reminiscent of certain romanticism which is the key characteristic of what is called "modern classical" as we are in a pure melodic environment without any discernible dissonances and all track are based on the development of a single and clearly developed theme with the addition of simple effects for the expansion of the audial spectrum. This framework is repeated in almost all tracks even if in "Drone" there's some barely audible field recording and a sort of drum, in "My Great-Grandmother Lived In The Mountains" there the accompaniment of a synth or in "When The City Sleeps" there's a trace of kosmische musik in the looping synth in the background. As a matter of fact, they are more an ornament rather than an hybridization.
To evaluate this kind of release is a matter of perspective: if someone appreciate the novelty or the deviation from the canon, this is those kind of release that would be covered by dust but if instead he's searching the comforting sensation that a cantabile has in our musical culture, this release will firmly stand in the music player. Pick your choice.
Artist:
Christopher Chaplin
Title:
Deconstructed (Remix EP)
Format:
Download Only (MP3 + Lossless)
Label:
Fabrique Records
This is an EP of reworkings of tracks from Chaplin's debut solo album "Je Suis Le Ténébreux" released last year. For those who still think 'remix' only means dance music, this release should set you straight. Four guest artists take elements from Chaplin's work and build new environments out of it.

Jama Irmert's take on "Aelia Laelia" is a multi-stage piece full of dramatic shifts, with all sorts of elements flying in and out- choral notes, distorted guitars, drones and deep electronic bubbles. It's generally a little more abrasive than the material on Irmert's own debut "End Of Absence".

Tim Story brings his 'electronic chamber music' aesthetic to the title track from the album, creating something with a slow, slightly jazzy live feel of piano, drums and deep plucked bass, with retriggering electronic glitch-percussive noises and serious sounding radio-like vocal snippets sprinkled very liberally on top.

Peter Zirbs' take on "Lucius Agatho" consists of long guitar-esque drone tones, melded with a rapid tip-tapping of crisp electronic processing. It evolves smoothly and fairly quickly, fitting into a six minute slot but leaving the impression that it could have easily sustained twice as long.

The remix of "Aelia Laelia" is sadly missing from the promo so I can't comment on that, but from the first three tracks of the four track EP, it's a lovely little collaborative package that works well as a sampler both of Chaplin's and all the remixers' work.