image not
available
anymore
Artist:
VV.AA. / Luther Blissett
Title:
Whatever happened to Luther Blisset? 10 1/2 Years Later - Che Fine Ha Fatto Luther Blisset? 10 1/2 Anni Dopo
Format:
DVD
Distributor:
Near the Edge editions / Wot4 records
Rated:
This is a commemorative DVD to celebrate the 10 and a half years of Luther Blissett. For those who are unfamiliar with the name, Luther Blissett is a multiple identity, a multiple singularity, used by a number of artists worldwide as a signature and an identification. This "project" finds its roots in social themes, literature and philosophy, like Guy Debord's situationist thoughts and anarchic beliefs such as for example that without names people are free because if they cannot id you then they cannot jail you (or control you, for that matter). Pier Mario Ciani, a firm believer, avid archivist and a Luther Blissett himself, died during the making of this, which lead to the scattering of resources and information and to multiple versions of this being released in different ways, all in memory of Ciani. This release is also taking on a life of its own in the sense that the original maker(s) always invite(s) any recipient to create her own version of it by adding, removing, cutting, pasting and remixing the one they got. In other words its back to mail art 101, in fact it presents itself as a mail art project almost. This DVD comes with a little magazine that contains articles, pictures, excerpts all cut and pasted, and modified... The DVD itself contains interviews, archival material, situationist street-theater performances, post-industrial noise music with experimental b/w and negative video collages, excerpts from UK television with interviews with or about the British soccer player of the same name and collages of images intentionally un-synched to speech and radio interviews about who Luther Blissett might be.
A very interesting project that a lot of artists have come out of the woodwork for. The version I have features in some way, shape or form, Charlie Holmes (UK/I) and Vittore Baroni (I), who manage the "aleatory distribution" through their outlets Wot4 records and Near the Edge editions, respectively. In addition to them, some other participants are: Al Ackerman (US), Galeazzo Acquabassa (I), Reed Altemus (USA), Lucio Balducci (I), Keith Bates (UK), Lancillotto Bellini (I), John M. Bennet (USA), Blancdesign (JAP), Luther Blissett (I) [of course!], The Blisset of Jes Crew (I), Ad Breedveld (NL), Fabio Bruno (I), Bruno Capatti (I), Servio Cascavilla (I), Charistos (A), PierMario Ciani (I), Jooel S. Cohen (USA), R.F. Cote' (CAN), Florian Cramer (D), David Dellafiora (AUS), Mike Dickau (USA), Duccio Dogheria (I), Luciano Ghersi (I), Ferruccio Giromini (I), Gruppo Sinestetico (I), Vanessa Holt (UK), Styn Huwels (B), Edberhard Janke (D), G. X Jupitter-Larsen (USA), Kiyotei (USA), Little Shiva (USA), Ruggero Maggi (I), Monomarc (NL), Emilio Morandi (I), Neuendeproject (I), Juergen O. Olbrich (D), Marlon Vito Picasso (USA), Steve Random (USA), Alberto Rizzi (I), Claudio Romeo (I), Luigino Solamito (I), Carol Stetser (USA), Emanuele Storti (I), Rod Summers (NL), Suzie 2 (USA), Wu Ming/Giap! (I) and so on... Doesn't get more international than this, really!
Although this is a limited edition of I don't know how many copies, it also happens to be free! So if you are into mail art, experimental video/theater/collage art, anarchism, situationism, palgiarism, Luther Blissett-ism or if you are Luther Blissett yourself, try to secure a copy and keep it circulating afterwards by creating your own slightly altered version!
signed, Luther Blissett
Artist:
Ascanio Borga
(@)
Title:
Bad Ground
Format:
CD
Label:
self-released
Rated:
Italian mathematician and musician Ascanio Borga draws no line between harsh and subtle. His somber isolationist post-industrial experimental drone music plays with minimal light and maximal shadow in a way that allows for a deeper exploration of the dark-ambient soundscapes that his musical brush paints. He conquers and masters the ability to create and exploit space and does so with skillful taste. Sounds are few and far in between and only sometimes augmented by the coloration of an underlying background sound, your bad ground, possibly...
"Bad Ground" is a 47 minute long 2 piece suite sub-divided into a total of 8 separate movements, the distinction of which might not always be unquestionable, but aids in the development of an evolutionary thread of some sorts.
Unfortunately my choosy CD player disliked this CD-R release and I couldn't fully enjoy its entire duration, but before it became unbearably skippy, I actually got a glimpse of that random and seldom warpy light I mentioned earlier, a light that Borga might want to further pursue and chase to find an even more interesting dimension where he could possibly not draw a line between light and darkness, just as well as he doesn't between harsh and gentle. Definitely worthy of every dark-ambient-experimental-drone loving listener's attention.
Artist:
ERRATIC
Title:
The Invisible Landscape
Format:
CD
Label:
Mystery Sea
Rated:
Behind Erratic hides Belgian soundmaker Jan Robbe, who is also active with different projects - both solo and collective - I haven't checked out yet (UndaCova, Duncan Avoid, xE Phalanx), as a talented disegner and as the runner of the Entity netlabel. This ambient/drone project was born as "a personal quest to unify sound with thoughts and imaginary visual landscapes", and those mind visions must be some pretty scary ones judging from the results. Robbe carefully manipulated concrete recordings (there are a lot of insects in here for sure) and alien drones to weave these highly immersive soundscapes. Blurred images crawl in and out of the shadows, and the whole disc plunges you in a sort of underwater lucid dream. A possible reference could be Andrey Kiritchenko/Nihil Est Excellence's brilliant and undervalued "Vizmilieu", or López's "Azoic Zone". Wonderful subterrean drones.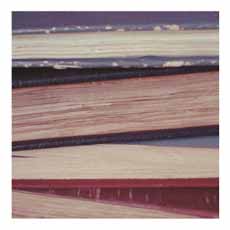 Artist:
NEIL DAVIDSON
Title:
Grain
Format:
CD
Label:
Creative Sources
Rated:
This is the second solo guitar cd in a row released by Creative Sources, and it really hasn't much in common with Irazoki's "Olatuetan", except for the sparse chord plucking of the third track, "Cast", which could betray a common passion for Derek Bailey. The rest is a minimal drone affair, an quite a loud one at that. Young Glasgow-based improviser Davidson probably uses e-bows or motors to play his instrument of choice, exploiting its resonance box to create these semi-static pieces which seem to spring directly from an unbearable tension of metal, wood and air. Dan Warburton has mentioned Phill Niblock and Oren Ambarchi as possible references; I would add David Maranha's equally impenetrable "Piano suspenso" to the list, and heartily recommend this cd to fans of heavyweight static sounds.
image not
available
anymore
Artist:
DOMENICO SCIAJNO/RALF WEHOWSKY
Title:
Gelbe Tupfen
Format:
CD
Label:
Bowindo
Rated:
German experimental soundmaker and Selektion label member Ralf Wehowsky (aka RLW) is widely known for his sound-recycling activity, which has lead to monumental collaborative projects like the 5-cd set "Tulpas", where a theory of international artists re-read his music. Something similar has occurred with the recent "I. K. K. - Purpur" cd on Sirr Records: Wehowsky created some recordings using his daughter Sonja's singing of a Christmas carol, "Kinderlein Kommet", which partially ended up in a 7" released by Meeuw Muzak and were later re-used to assemble further sonic material. This was later sent to various fellow artists who re-interpreted the piece. The same basis and working method was used by RLW for this collaboration with Italian bassist, electronic musician and software-developer Domenico Sciajno, responsible for the first half of the cd. Don't be fooled by the Christmas carol thing: though you can spot some particle of child singing in the two codas, all the rest is quite a difficult journey. Both Sciajno and RLW offer free-flowing pieces where digital clicks and disturbances, droning frequencies and sharp, ear-irritating crackles form a thick fog of vaguely disquieting electroacoustic music. Let's say that, roughly, the former offers a more shifting and sparse set of sounds, while the latter opts for deeper drones, nearly silent movements and, here and there, more recognizable acoustic sources (looped and manipulated vocals, possibly a creaking door...); but the two visions of theirs intersect very well, so that the listen doesn't suffer from any abrupt change. This is surely not an easy to digest experience: both artists merge the sense of change and indeterminateness of radical improvisation with the algid results of digital electronics, coming up with an obstinately solipsistic work, which eventually grows with every listen thanks to his very uncommunicative approach.