Artist:
Next Life
Title:
Electric Violence
Format:
CD
Label:
Cock Rock Disco
(@)
Rated:
BUY from
Not unlike predecessors Ec8or or Atari Teenage Riot, Next Life's 14-track opus of short, aggressive keyboard-crunch attacks represents a combinaton of the ultimate of artiness in Electronica plus all the mayhem of the video gaming realm. The songs from this young Oslo-based duo (Hai Nguyen Dinh and Tormod Christensen), spare and stripped down as Scandinavian furniture, are all starkly minimal keyboard instrumentals hitting out in every sonic direction, accompanied by Metal guitar. In fact, their record company's website description of them as "Gameboy Deathmetal" is probably the most apt. Sounds that imitate cheap chirping telephones (track 10, "Circle and Star") or a screechy old dial-up modem (track 13, "The Way Out") make it clear that these boys enjoy making monsters out of junk tech. Meter and rhythm change-ups in these mainly 2-1/2-minutes-or-less compositions move fast enough to make you nauseous, but nevertheless most have a (dare I say it) jazzy or symphonic melodic quality, with progressions you can follow. Pure, frenetic speed is set off by a couple of twin slow tracks of twinkly synth bells, "Under Water" and "Storm" (tracks 5 and 12), recalling "Star 6 & 7,8,9" from the first Orb album -- a possible nod to Ambient influence. The CD comes with a short series of live concert video clips, a nice little bonus. Their puerile brashness borders on dischord, but Next Life are earnestly not trying to be unlistenable; they have immense future potential and there is complexity and method to the madness. In this case, you can take their enthusiasm at face value and come out ahead.
Artist:
Press
(@)
Title:
The Fine Art of a White Label
Format:
CD EP
Label:
Lens Records
(@)
Rated:
The title concept of this latest EP by Press, a one-man Electronica act fronted by Robin Smith, is a clever self-parody of the CD release as a "white label" test pressing. Perhaps it is a bit too fitting, since most of these six instrumental tracks indeed sound like they're still in a beta-testing, un-vetted, embryonic stage. The music itself is enjoyable, with bombastic and moderately syncopated drum tracks that could serve to boost a DJ set somewhere in the middle of the mix, but by itself is altogether without distinction. Only the last two titles, "Still" and "1000 Tiny Feet," stir the blood to any significant degree.

It's more difficult than ever before to tell how electronic music is made, as sounds of familiar, once-recognizable keyboards and synths that you used to be able to name by ear are replaced by faceless, anonymous, PC-bound digital audio. You begin to wonder how lost we're going to feel after the PC finally takes over completely -- hopefully on future Press releases, Smith won't allow himself to succumb to this great Nothing.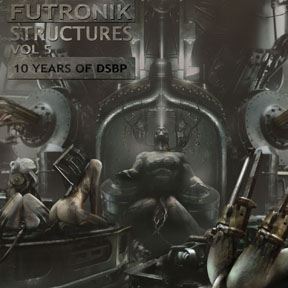 Like some other labels out of the international Electro/Industrial scene, also the NM-based DSBP label can look back on eventful 10 years and likes to celebrate this anniversary with a new compilation out of the legendary "Futronik Structures" series. To sum this event up exactly, we're already on the walk to the 11th year of existence of this label – this compilation therefore comes a bit late, but there are several plausible reasons for this. This 10 years have left several scars in the face of label chief Tommy T. Rapisardi – rhetorically spoken. 10 years of swimming with sharks, of getting screwed by so-called promoters, selfish bands, foreign labels and questionable distributors, of being the most tortured victim of a hazy governments' explanation regarding copyrights on art and music, of getting ignored by a wider audience, and at least of getting a victim of a consumer-"friendlier" technically evolution which favors the digital download procedure over the good old purchase of the physical product, the CD.
Let's point out for a moment the still rushing illegal downloads provided by piracy sites – does the support of hard working musicians and labels by the so-called music consumer (i.e. "FAN") seriously end when this means they've to move their fat asses away from a PC? How can anybody prefer to buy online some digital mp3 files instead of taking a walk to the next record shop, listen to some stuff, and then buy some CD's – the physical product, which still offers info, lyrics and cover art? People always look for the easiest way which offers the best comfort – some do call this degeneration...
The music business is currently in a strange situation generally and it is still unclear in which kind/style/format it will continue in the future. And before I fall more and more into a rant of the growing army of PC + soundcard musicians, the before ignored point of the illegal downloads and the massive signing of newcomer acts by labels which like to satisfy some distribution handicaps, I like to point out that all of this are valid reasons that CD sales have disappeared to nearly ZERO – an effect which hurts an underground label like DSBP the most of all. DSBP is – if you like it so – the underground of the underground. To survive day by day needs a huge amount of hard work – at least that Tommy and the DSBP have reached now more than 10 years, proves him right with some decisions. It sounds strange, but I like to compare Tommy's efforts a bit with the Spanish hero Don Quixote – both are fighting against windmills, as above mentioned. But for you as a valuable music consumer I can assure you that there's no need to avoid the rich filled DSBP label roster out of foggy reasons like a missing bar code or such nonsense. What counts is the music – and here you'll find the same top-notch quality like you would find it at your favorite label like Metropolis, Out Of Line, Dependent or Alfa Matrix. Several proofs for this can be heard here, on this compilation for instance.
This compilation opens with BIO-MECHANICAL DEGENERATION, the side-project of label chief Tommy T. (DIVERJE) and Vince Pujol of the French act E.S.R.. They like to offer a previously unreleased remix of "Hybridization", originally taken from their debut release "Exoskeleton", which can convince here with the E.S.R.-typically sci-fi-inspired synth textures and a nice manipulation on the vocals by using different vocoder effects. The duo of ENCODER follows and offers with "My Enigma 2.0" a decent new and unreleased track walking on a calmer path. Follows then the long missed Brazilian act Aghast View with an unreleased track entitled "Blue Stream" – a surprisingly catchy and coherent piece with high-end programming abilities very much in that style like they had offered on their now more than 3 years old last release "Drifter". TAU FACTOR is next with the PRE-EMPTIVE STRIKE 0.1 remix work on "Motionless", taken from the last release "Second Stage Ignition" – a good and modern sounding remix rather following the current hypes, but maybe the wrong pick if it comes to get an idea of TAU FACTOR's sound, which is more dedicated to the works of some 90ies classic acts like FLA or LEAETHER STRIP. Business as usual for the French madman Vince Pujol and his E.S.R. project – again a new and unreleased remix work, here on "Humanity Collapsing", which is originally available on his last and 4th studio album "Scars And Wounds". I still have to wash my ears regarding the fact that he likes to imply here and there the efforts of a real guitarist – and this track was one out of three on the last album which offered this – but that unique kind how Vince is able to deal and to mix this efforts, has satisfied the eternal nagger in me, this counts for the original as well as for this remix.
The duo of DERMA-TEK follows then and turns the music into the Harsh EBM genre - as expected – but this unreleased remix on "Payback" provided by the upcoming talent THE PANIC LIFT is a fucking great stomper which kicks ass! That DERMA-TEK, leaded by Joe Cains and Miranda St. Croix, is currently hard at work on the international break-through thanks to a license deal with the German NoiTekk label rather seems to awake one part of the above mentioned windmill-syndrome for the DSBP. Of course, this is a business thing and nobody can seriously blame the band for receiving this exposure and request – but we'll see who will suffer from this at least. Tommy T.'s project DIVERJE has surely become through the years a kind of flagship of the DSBP label - and not because it is Tommy's project in which he likes to invest some more efforts. He has spent efforts into various live gigs by opening for some global players and thanks to the outraging and intense stage action, DIVERJE could hit the better known acts. There seems to be currently a good call for DIVERJE and the now ready done new album "Stitched" shall prove this – let's hope for higher sales and countless live actions. The title track of the coming album "Stitched" is featured here in an unreleased remix version provided by the to me unknown act OBSCURE DESCENSION. Follows then an unreleased remix provided by R010R of the NOISE PROCESS track "Interruption", in its original version for sure one of the best tracks available on the NP album "Groundzer0" released in March 2K7. R010R is the solo effort of NP front man Michael Renfield and I had recently the honor to check out intense his upcoming work "Gradual Destabilization" – important to know, since this documents that Michael has worked without his NP partner Tim Garelick on this remix. As for this remix I still enjoy that "not-so-linear" drum programming (...seems to be a R010R trademark...) and the whistling noises well integrated in the mix, while I tend to nag against the manipulation of the almost robot-like vocals – some more "aggression" would sound better. We then reach the kingdom of BIOPSY. This side-project of the Brazilian AGHAST VIEW guys has received already in the early DSBP years a kind of cult status and this fucked-up cover version on DEPECHE MODE's "Barrel Of A Gun" is a showcase for their outstanding talent. DM-meets-SWAMP TERRORISTS-meets-Electro-Trash – it rawks!!! Fab And Denis, please return with both projects, AV and BIOPSY!!!
Dee Madden and his PENAL COLONY project is a relict out of the Coldwave scene and for some reasons a bit underrated as well. His track got remixed by the well-known Metropolis-recording artists SYSTEM SYN, who like to turn this piece into a catchy and danceable Futurepop track – decent done, a good well-known name providing this remix, but at least not very representative for the usual style of PENAL COLONY. ANDRACULOID returns here as well after a longer pause and that was about time. "Lifeless Eyes (Bloodshot Version)" is a completely new track and turns very near to a Dark Electro/Harsh EBM-related style, maybe one of the melodic works of this act so far. One of the highlights of this comp for sure, let's look curiously forward to the coming new album hopefully out in autumn. New Zealand's best known artist THE MERCY CAGE offer once again a remix on their successful track "Prozac, God And The Atomic Bomb" – good stuff as usual, but we're awaiting new compositions. TESTUBE represents the intelligent side of the DSBP roster and can be called a veteran act for this label – Jeff Danos has already contributed tracks under different monikers and collaborated with Tommy in the early years. The mixture of modern Electronica, Trance and IDM styles is always exciting to check out – let's hope for a new release soon. Sweden's Synthpop duo AUTO AUTO is present here as well by offering the TECHEN remix of their track "Dog" – I would like to hear them here with a different and unreleased composition, since this track is taken from the US- (DSBP-) edition of their past full-length album "Sounds Of A New Generator". The Spanish solo project ASSEPTIC ROOM offers a previously unreleased remix of "Gates Of Death" constructed by the Argentinean project ALIEN PROJECT – rhythm programming and used sounds are that typically integrated, I would recognize the AP signature while sleeping, ha! Finally you'll got the appearance of REIN[FORCED] providing with "Hiatus" one of the best works of their past full-length album – here in an unreleased remix done by the Metropolis-recording artist TERRORFAKT. Of course, they turn this track into the harsh rhythmically Powernoise genre and not too much still reminds on REIN[FORCED]. This CD ends with a short voice sample, from which I don't know if Mr. T. is included...:-P

Of course, this compilation is a must-have release for the DSBP addicts and a well-done introduction to the promising roster if you're a newbie. Through all the years the roster has grown to 28 + bands, so if it should have been a completely library, an expansion to 2 CD's would be required. At least too many bands out of the roster have meanwhile quitted all productions – names like SYMBIONT, LEXINCRYPT, BOUNDLESS, FREQUENCY CONSTRUCT or SYSTEM DER DINGE are sorely missed. That RUN LEVEL ZERO are not included to this compilation is to me a normal evolution, since they've nearly become a global player with a well balanced contract to the German Minuswelt label. Surprised I'm regarding the fact that TYPE001 is missed here, but the biggest surprise is the removal of the Swedish act SEVERE ILLUSION – is this a hint or a tendency after they've recently released a new EP via the Hungarian Advoxya Records? Well, let's see what the future in this stable discussion holds. Same counts somehow for the existence of the record label DSBP – to survive another 10 years, well, that would be the next goal to reach...

FUTRONIK STRUCTURES vol.5
------------------------------------------------------
1- BIO-MECHANICAL DEGENERATION -"hybridization"(remix)
2- ENCODER -"my enigma 2.0"
3- AGHAST VIEW -"blue stream"
4- TAU FACTOR -"motionless"(PRE-EMPTIVE STRIKE 0.1 remix)
5- ELECTRO SYNTHETIC REBELLION -"humanity collapsing"(remix)
6- DERMA-TEK -"payback"(THE PANIC LIFT remix)
7- DIVERJE -"stitched" (OBSCURE DESCENSION remix)
8- NOISE PROCESS VS. RO1OR -"interruption" (remix)
9- BIOPSY -"barrel of a gun" (DEPECHE MODE Cover)
10-PENAL COLONY -"the kids are behaviourly medicated"(SYSTEM SYN remix)
11-ANDRACULOID -"lifeless eyes"(bloodshot version) "
12-THE MERCY CAGE -"prozac, God, and the Atomic Bomb"(remix)
13-TESTUBE -"floor fodder"
14-AUTO-AUTO-"dog" (TECHEN remix)
15-ASSEPTIC ROOM -"gates of death" (ALIEN PRODUKT remix)
16-REIN[FORCED] -"hiatus" (TERRORFAKT Rein[terpretation])


image not
available
anymore
Artist:
RISE AND FALL OF A DECADE
Title:
Noisy But Empty / You Or Sidney
Format:
CD
Label:
Ars Musica Diffundere
(@)
Distributor:
Audioglobe
Rated:
Originally released on 1992 and 1995 by Hyperium the second and the third album of Rise And Fall Of A Decade now hit the shelves of the music stores again thanks to Ars Musica Diffundere, Black Rain's sub label. Unfortunately NOISY BUT EMPTY and YOU OR SIDNEY see the light just after the death of Pierre Francois Maurin-Malet, the singer and the writer of the trio. The releases reprint the old albums without adding extra tracks but they have new cover/booklet graphics which enrich the reading of all the lyrics included. Rise And Fall Of A Decade formed on late 80's in France and they have been a good example of how a new wave band could play a wide range of styles. On NOISY BUT EMPTY, for example, you can find acoustic ballads ("Children die in in silence"), romantic tracks with heavenly voices which duet with male vocals (see the opening "Suicided youth"), guitar driven new wave tunes ("Grandest illusion"), romantic piano little suites (the opening part of "Lost cause") or semi classical/folk extravaganza ("Cube like people" and the following "Girls of the ninetie's"). Also the following record YOU OR SIDNEY has similar sounds but there's an overall dark feeling (like the beautiful opening "One of these days" which recalled me the Cocteau Twins of "Head over heels" mixed with the pop sensibility of A Flock Of Seagulls) which make it sounds a little different respect the previous one. These two albums made me discover a band I missed during those years and who had quite a following in France and listening to their tunes I realize why. The only weak point of these reissues is that the sound sometimes is a little distorted (you can hear it mainly on crappy speakers and headphones because on my stereo it wasn't too bad), probably because of a wrong gain setting during the mastering.
Artist:
Dieselboy
(@)
Title:
The Human Resource
Format:
2 x CD (double CD)
Label:
System Recordings
(@)
Rated:
BUY from
While for some Drum & Bass may be an acquired taste, there's no denying the quality and craftsmanship of the selections in Dieselboy's collection of recent tracks, The Human Resource. In this 2-disc set, twelve of Human System-released prime cuts stand individually on the first CD, whereas on the second one these tracks -- along with many others -- are woven into a continuous mix. The artwork reflects a cool Frankensteinian, 19th-century-Eugenics theme of "Assembling the Monster," i.e. the mix of Disc Two.

The style is (you guessed it) fast and hard-hitting, as all good D&B should be, anthemic and yet with grit and edge. "Mass Hysteria," track 2 of Disc 1, contains a rather funny sampled pastiche of a TV preacher's histrionics ("Dogs and cats living together!!"). Track 9, "Barrier Break" by Kaos featuring Messinian, has a militantly Crunk intro and breakdown, an interesting and logical twist to the familiar Jungle stylings. The spoken intro to Disc 2, which sounds like it was cribbed from Mary Shelley's Frankenstein, is cheesy and a trifle embarassing, but other standout tracks from the first disc (Evol Intent & Fwon's "The Rapture" and DJ Fresh's "Wargames '03") carry the mix handily.

The Human Resource maintains a healthy ratio between media samples and guest vocals, a continuing trend in dance music. Disc 1 is somehow more remarkable as a whole, and may grow on you faster with repeated listenings all the way through, than if you were to encounter it at the dance club, but fuck it, it's all got plenty of voltage.