Artist:
PROJECTOJIL
(@)
Title:
1992/2007
Format:
2 x CD (double CD)
Rated:
Projectojil is the personal project of a Portuguese dj called Jill. I don't have any kind of information about him but this double CD-r compilation of his recordings contains good modern lounge music where Miami meets Lisbona. The 18 tracks of the compilation sound exotic, luxurious and funky and his version of Duran Duran's "Save a prayer" is a nice one where the original track is mixed with electro samples and it acquire a nice dancey ambient pitch. All the tracks are based on an easy listening approach but Jill make his music with taste and good intuitions. You can call it relaxing music for dance halls. P.s. Just a note: the tracks I preferred are the first eleven ones (the others have a certain ambient approach that is too soft for my tastes) but I can't say if they are the newest ones or not...
image not
available
anymore
Artist:
ICARUS
Title:
Sylt
Format:
CD
Label:
Rump Recordings
(@)
Rated:
Icarus is a duo formed by Ollie Bown and Sam Britton, two guys who met in 1995 into a pirate station. After experimenting a while they decided to focus their efforts into samples and breakbeats. Soon Hydrogen Dukebox noticed them and became their first label. Since then they released seven albums for different labels. Recently they signed for Rump Recordings and they decided to issue for them their first album since 2004. SYLT contains seven tracks born from the conjunction of field recordings and live performances which have been later edited in studio. Since the first track I realized that this album was going to be the most experimental release of the Rump catalog. The two tracks "First inf(e)raence" and "Second inf(e)raence" are to long suites (almost twenty minutes each) where rhythms, samples, percussive sounds and instruments (a treated sax, maybe) are on the wild. You have a perception of the track structure only when the percussive element increase and leaves the place for a drum machine (this is the case of the first one). Most of the tracks sound like i.d.m./concrete music where percussive sounds give you the sensation of being listening to rolling pebbles on metal sheet. The track I appreciated most is "Second inf(e)raence", where the chaotic structure wasn't totally casual and there was a certain rhythmical alternation where the initial piano part slowly left for a session of "crazy rhythms" and a jazzy drum set. This is i.d.m. experimental music!
image not
available
anymore
Artist:
ARNE WEINBERG
(@)
Title:
Parabolum
Format:
12"
Label:
Arne Winberg
(@)
Distributor:
Neuton
Rated:
Back on his own label, Arne Weinberg produces a new 12" that will be released at the end of September. This new 12" titled PARABOLUM contains three tracks, each one with a different style. The first track, the main title, is a convincing hypnotic techno dub track. The second one "Omega rising" has a lighter atmosphere, almost Latin, but with a certain Detroit pitch. The last one, "Microscopic", is the darkest of the lot, being more rarefied and minimal but without forgetting the beat. A good record that is making me wish to listen a full length by Arne, just to check his ability into dealing a whole track list.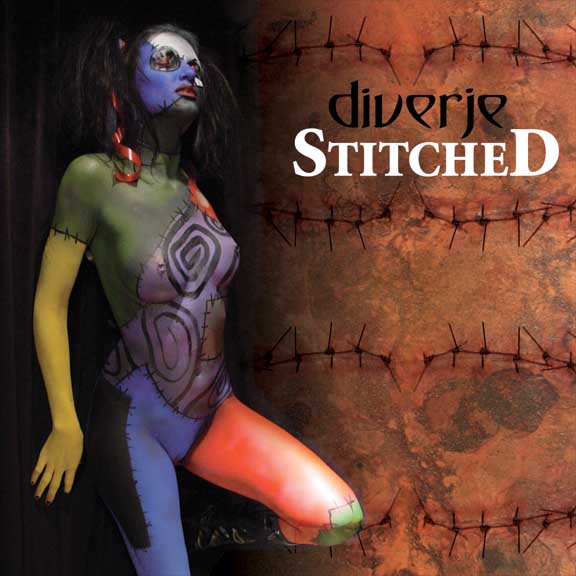 Artist:
Diverje
(@)
Title:
Stitched
Format:
CD
Label:
DSBP
(@)
Distributor:
Indietective
Rated:
Thanks to multiple gigs at all thinkable venues in AZ, NM and TX, the electronic-musician-collective DIVERJE, leaded by Tommy T. Rapisardi, has grown to a constant, if not the biggest and best-selling act of the DSBP label. Tommy has built a nice live line-up with 4 other band members which seem to stand dedicated to their "chief" – Tommy himself provides an energetic and extravagant vocal performance. So it was about time to return with a new full-length album two years after the predecessor "The Distortion Chamber", since the audience wants to hear new tracks. And somehow the uncountable live performances seem to have left impression especially on Tommy. Is it me, or does his voice sound this time much more aggressive and raging than ever recorded before? Musically I tend to say that the new DIVERJE-sound hasn't changed that much in comparison to "The Distortion Chamber". The reasons for this can be recognized thanks to the fact that Tommy's stable of integrated "guest" musicians especially for the main tracks hasn't changed. And why changing a fine working music collective?
At first there's to name Vince Pujol of the French Electro/Industrial act E.S.R.. He has contributed and helped out Tommy over the last 4 years with compositions, sounds, remix works, mixing and production – it is obviously that a lot of DIVERJE tracks offer Vince's authentic sci-fi-infiltrated textures. For this album he has provided his marvelous programming abilities on "Smell The Blood", which has to be seen as one out of two main tracks here, because this piece has received 2 additional remix works by the Infacted-recording artist PRE-EMPTIVE STRIKE 0.1 and the fine DSBP-recording act NOISE PROCESS. Vince has also provided the music for the track "Evil One" and "Run Like Hell", plus he shares the production with Tommy on "Help Me" and "Wrapped Around".
Next one to name is Josh Wood of the New Zealand-based artist THE MERCY CAGE. Josh also stands faithful at Tommy's side if it comes to integrate some guitar works to provide a rather Crossover/Cold-Wave-driven sound to DIVERJE. Besides the track "Tear It Down" he has contributed the music of the cover version available on "Stitched", "Come Back", originally offered by the J. Geils Band – can somebody imagine how it sounds with the tiger-like vocals of Tommy T.?
Ever faithful to Tommy through the years, this counts also for Xon of BOUNDLESS. Although he has slowed down his musically activities a bit through the past years thanks to his private family situation, he has always proven his abilities when the call of Tommy came in.
So asides this regulars, some new forces are joining in to offer their abilities too. That NOISE PROCESS would join the DIVERJE collective, isn't that surprising, also regarding the fact, that Michael Renfield's solo project R010R is in consideration to be one of the next releases. That they could provide besides the E.S.R.-track "Run Like Hell" one of the best tracks at all here, "Unleashed", featuring some fine catchy synth layer sounds, well, that's surprising. NOISE PROCESS develops to a constant and important trademark for the DSBP label, they also provide a remix work on "Smell The Blood".
But I tend to say that the appearance of the Argentinean project ALIEN PRODUKT to compose the title track is the biggest surprise at all. It proves that Tommy T. is able to watch over his own plate, because ALIEN PRODUKT is signed to BLC Productions. Also a second version, a remix of "Stitched" got created by this South-American act. Emileigh Rohn of the US-Coldwave artist CHIASM provides her well-tuned vocals and the lyrics on "Help Me", and the Synth-/Futurepop-act DIVIDER did the composition on the instrumental track "Ho For Sho" (sampling work by Tommy T.). Last but not least, another remix work provided by the Brazilian act DEAD JUMP accomplishes this album.
As usual for a DIVERJE album, you'll get a convincing and diverse sounding Electro/Industrial release, which should be able to appeal fans of the harder-minded EBM/Electro music. It doesn't fall into the flaw – and this has to be said – to explore already known paths of the Hellektro camp, but it is at least thanks to Tommy's vocal performance aggressive as hell.

image not
available
anymore
Artist:
AIN SOPH
Title:
Kshatriya
Format:
CD
Label:
HAURUCK! SPQR
(@)
Distributor:
Tesco Organisation
Rated:
Released back in 1988 and reissued in 1994 by Musica Maxima Magnetica, KSHATRIYA has been the first vinyl album from Ain Soph. After their tape trilogy and after "Ars regia" on Necrophile, the Roman combo (back then there were still Crucifige and Clau D.E.D.I. on the line up) decided to have a different approach regarding their way of making "magickal music". If the first three tapes were pure ritual music, with "Ars regia" and specially with KSHATRIYA, they passed from functional music to "spiritual" music. If on their first years Crucifige and THX were focused on magick and rituals, KSHATRIYA see them approaching the magical themes under a different point of view. Eliphas Levi made them switch their approach from men who experimented to warriors who want to focus their lives on pride and honor, trying to forge their spirit to deserve a high level into both the human and "divine" scale. For this reason their picked such a title: the Kshatriya were the warrior caste, for the early Vedic civilization, who were led by the divine light (you can read more about them following this link http://en.wikipedia.org/wiki/Kshatriya). Musically the five tracks of the album see the combo leaving their ritualistic humming, embracing a form of industrial paganism with "eucharistical" moments (see the amosphere of the final part of "Stella maris" as well as "Decimus gradus"). This album sees also the important help of Eliana on vocals. She created a sort of hypnotizing chant helping Ain Sopth into the creation of their most significant album of their new course. You can check again this piece of Italian industrial ritualistic history, thanks to this new Hauruck! SPQR reissue.