Artist:
DISMANTLED
(@)
Title:
Standard Issue
Format:
CD
Label:
Dependent
(@)
Distributor:
Alive!
Rated:
So here are my two cents on this release, although I think that mastermind Gary Zon will "not give a shit" on this. First of the facts: The third full length of Gary Zon's project DISMANTLED is finally out. Long awaited, it got delayed since August 2005, because Gary decided to do some gigs in between, also backed up with the success of the previous released EP "Breed To Death". What this EP already announced became finally truth, DISMANTLED moved again a massive step forward regarding composition and production, although it still has to be proven if his new direction is the right one. Musically Gary has more lighten up his stuff than ever before, now more turning his direction towards to a soft EBM/Electro sound. It still has ist quality trademarks but it is far now far away from the stuff he created on his self-titled debut 4 years before. Some do remember, it was that hefty very depressive output of a newcomer which received euphoric reactions all over world. Compared to this massive apocalyptic release which is still until today not heard a second time, his new sound is more minimal – maybe a bit concentrating on the composition itself. Sure, here are some pearls as well, the opener "Anthem" for sure, which takes you on trip of about more than 6 minutes. I also enjoyed the remarkable melodic input of "Get It Through" and "No Effect" is mostly the opposite of it by including more rough and alternative drum patterns and some noisy layers. "Breed To Death" of course has to be placed here on this album, luckily again in a renewed version. The title track comes only with Gary's fragile sounding voice and a smooth piano input, until my favorite takes place, "Attention" which spins perfect the right balance between dancefloor comparability and remarkable melodic content. What I wanna like to criticize (yeah Gary, again a term of this review on which can call me just another retarded elitist...): there are out in the international Electro/Industrial scene a lot of better singers than Gary actually is – therefore I find his efforts especially in rather minimal tracks like the title track courageous. Also his tendency to talk bad on things near to him through his statement "I made it so I could make fun of everything around me because I realized how STUPID everything was. I'm much better than all of it", is a kind on which I hope that it can be taken with the needed portion of humor. Everything here is almost done by Mr. Perfect..., uuhmm, Mr. "Two Words" – well, arrogance comes before the fall...
Artist:
THE PROCESS VOID
(@)
Title:
Arcane Matter
Format:
CD
Label:
self-released
Distributor:
Crash Frequency
Rated:
Here we have another act hailing out the unknown badlands of Australia, the solo project THE PROCESS VOID leaded by Alex J. Also this act is part of the Australian Crash Frequency (www.crashfrequency.com, thanks again and ROCK on, Karl!!!) and this community grows stronger and better, also with this release under their flag. Alex describes his music being influenced by classic Industrial acts, PUPPY, FLA, but guitar-driven stuff like KILLING JOKE, and I personally would like to add a portion TEST DEPT to this reference. The truth lays somewhere in between, musically THE PROCESS VOID combine minimal EBM/old school Industrial inspired bass lines with rough vocal screams (not really the fine kind of singing...), solid bass kick and snare drum patterns ("Retributions, "Seconds") and some synth layers ranging between melodious and atonal. Also some guitar noises can be heard here and there mostly placed in the background. This is in all a very rough and not fainthearted style of Independent/Underground music. The later placed tracks turn also more and more into a noise and trash experiment, the long running final piece called "Book Titles" for example ends into a total noise climax, that's why I took TEST DEPT to be a possible reference. The whole CD convinces through its experiental undertone and its aggressive kind generally, plus it doesn't sound like anything discovered before. This project is definitively on a good way and I'm looking forward to hear more from it. Check out this interesting but hard to pick up release through the given sources here.
Artist:
VV.AA.
Title:
American Gigolo II - Mixed Compiled By Abe Duque
Format:
CD
Label:
Gigolo
(@)
Distributor:
Audioglobe
Rated:
BUY from
After the first chapter of the American Gigolo series and after Tiga here it is volume two that contains twenty one tracks compiled, mixed and sometimes remixed by Abe Duque. Abe picked up tracks from the Gigolo catalogue spanning from #86 to #181 (only Jeff Mills'"Shifty disco" is older as it was included into Gigolo #2). He did a good work as he didn't present them "as they are" because, where needed, he pumped a bass, added a vocal, etc. In this way he created a massive dj set with a great impact by focusing the first half selection on electro techno (Foremost Poets, Crack We Rock, Abe Duque, Psychonauts, Freaks to name few). With Felix Da Housecat remix of P.Diddy's "Jack U" (the central section) the atmosphere changes from electro influenced tunes to pure acid/techno (with Terence Fixmer, Traxx & Deecoy, Jeff Mills and Richard Bartz). The effect created by this radical change is of a sudden lack of melody. The atmosphere changes again with David Carretta just to close with an 80's electro house track thanks to The Dominatrix. I found the first half of AMERICAN GIGOLO II really solid and intriguing but on the second half the acid took an hold all in a sudden and this ruined the tracklist that was running smoothly. This compilation is worth a listening and no one can stop you by listening to the two sections separately and digging the CD anyway...
image not
available
anymore
Artist:
PAUL BRADLEY/DAVID WELLS
Title:
Heart of Embra/Op. 5
Format:
3" MiniCD
Label:
Twenty Hertz
Rated:
UK dronemakers Bradley and Wells had already published each other on their respective label (Bradley's little gem "Immure", on Wells' sadly defunct Locus of Assemblage, also being my first exposure to his soundscapes), so it's only logical that they now carry out this collaboration/split project, both using and mixing each other's material. Oddly enough, Wells sounds a lot like Bradley and vice-versa, which made me wonder if I had got the track list right. Wells' "Op. 5" is a very austere and convincing piece of vaguely metallic drones, low-end tones and looped field recordings, while Bradley's "Heart of Embra" is based on similar elements, but in a more fragmentary and collage-like way, with field recordings soldering the various movements - much in the wake of Wells' contribution to the "Drone Works" series. I slightly prefer the first piece, which sounds more cohesive, but the second one has a nice cinematic quality, which also proves Bradley's dexterity at mixing. Fans of both artists take note - there is also a new full-length work by Wells in the pipeline.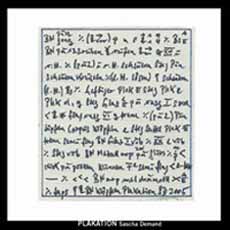 Artist:
SASCHA DEMAND
Title:
Plakation
Format:
CD
Label:
Creative Sources
Rated:
More solo electric guitar on Creative Sources, but quite unlike Pedro Chambel's album I have just reviewed. Rather than opting for the instrument-as-object performance, German Sascha Demand plays several short soliloquies - from sombre janglings to minor feedback effects, everything is based on limited set of sounds and gestures that are repeated with autistic precision. Here lie both the strength and the frailty of the album: it has a dark feel to it, with an underlying tension that never breaks out; but on the other hand, its fragmentary nature somehow limits its evocative effects, as one sketch is quickly replaced by another, which is distracting on the long run.