Artist:
ERRATIC
Title:
The Invisible Landscape
Format:
CD
Label:
Mystery Sea
Rated:
Behind Erratic hides Belgian soundmaker Jan Robbe, who is also active with different projects - both solo and collective - I haven't checked out yet (UndaCova, Duncan Avoid, xE Phalanx), as a talented disegner and as the runner of the Entity netlabel. This ambient/drone project was born as "a personal quest to unify sound with thoughts and imaginary visual landscapes", and those mind visions must be some pretty scary ones judging from the results. Robbe carefully manipulated concrete recordings (there are a lot of insects in here for sure) and alien drones to weave these highly immersive soundscapes. Blurred images crawl in and out of the shadows, and the whole disc plunges you in a sort of underwater lucid dream. A possible reference could be Andrey Kiritchenko/Nihil Est Excellence's brilliant and undervalued "Vizmilieu", or López's "Azoic Zone". Wonderful subterrean drones.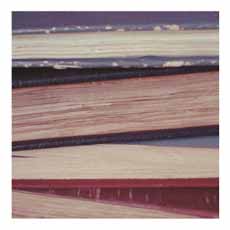 Artist:
NEIL DAVIDSON
Title:
Grain
Format:
CD
Label:
Creative Sources
Rated:
This is the second solo guitar cd in a row released by Creative Sources, and it really hasn't much in common with Irazoki's "Olatuetan", except for the sparse chord plucking of the third track, "Cast", which could betray a common passion for Derek Bailey. The rest is a minimal drone affair, an quite a loud one at that. Young Glasgow-based improviser Davidson probably uses e-bows or motors to play his instrument of choice, exploiting its resonance box to create these semi-static pieces which seem to spring directly from an unbearable tension of metal, wood and air. Dan Warburton has mentioned Phill Niblock and Oren Ambarchi as possible references; I would add David Maranha's equally impenetrable "Piano suspenso" to the list, and heartily recommend this cd to fans of heavyweight static sounds.
image not
available
anymore
Artist:
DOMENICO SCIAJNO/RALF WEHOWSKY
Title:
Gelbe Tupfen
Format:
CD
Label:
Bowindo
Rated:
German experimental soundmaker and Selektion label member Ralf Wehowsky (aka RLW) is widely known for his sound-recycling activity, which has lead to monumental collaborative projects like the 5-cd set "Tulpas", where a theory of international artists re-read his music. Something similar has occurred with the recent "I. K. K. - Purpur" cd on Sirr Records: Wehowsky created some recordings using his daughter Sonja's singing of a Christmas carol, "Kinderlein Kommet", which partially ended up in a 7" released by Meeuw Muzak and were later re-used to assemble further sonic material. This was later sent to various fellow artists who re-interpreted the piece. The same basis and working method was used by RLW for this collaboration with Italian bassist, electronic musician and software-developer Domenico Sciajno, responsible for the first half of the cd. Don't be fooled by the Christmas carol thing: though you can spot some particle of child singing in the two codas, all the rest is quite a difficult journey. Both Sciajno and RLW offer free-flowing pieces where digital clicks and disturbances, droning frequencies and sharp, ear-irritating crackles form a thick fog of vaguely disquieting electroacoustic music. Let's say that, roughly, the former offers a more shifting and sparse set of sounds, while the latter opts for deeper drones, nearly silent movements and, here and there, more recognizable acoustic sources (looped and manipulated vocals, possibly a creaking door...); but the two visions of theirs intersect very well, so that the listen doesn't suffer from any abrupt change. This is surely not an easy to digest experience: both artists merge the sense of change and indeterminateness of radical improvisation with the algid results of digital electronics, coming up with an obstinately solipsistic work, which eventually grows with every listen thanks to his very uncommunicative approach.
image not
available
anymore
Artist:
Torpedo Boyz
Title:
Headache Music
Format:
CD
Label:
Sounds from the Roof
(@)
Distributor:
Caroline
Rated:
Sounds From the Roof, the label run by the cool guys of Rooftop Promotions and Visions from the Roof licensing, is about to release (Feb 2007) a super groovy super cool all-live musicians dance record by the Berlin/Tokyo & Paris producers/DJs team Kentastic and Rollin Hard, who for the occasion have renamed themselves Torpedo Boyz. The funky grooves, the groovy bass lines, the fat beats, the funk guitars, the stabs, the flutes, the vibes and the vibes (that's not a type, if you catch my drift), make for your ideal soundtrack to movies like Ocean's Eleven/Twelve/Thirteen or Jackie Brown or stuff like that. Moving, huffing and puffing, getting down and dirty, dancefloor/movie music...
The 15 tracks of "Headache Music" feature a lot of collaborations (a 70 year old Bobby Hebb, composer of "Sunny", remixers Fort Knox Five and P.E.T. among others), foreign language vocals (Portuguese, Spanish, Japanese and French among English and possibly others) and interesting/funny lyrics. The album is definitely entertaining but it seems like it can't quite keep up with the momentum created by such strong opening tracks such as "Gimme A Bassline!", "Start Being Nicer" and "Are You Talking to Me???" (definitely the good stuff here!). Luckily the three ending bonus track pick it up back up.
As I mentioned the entire album is played live, which is unusual, admirable and awesome in my book (as electronically-inclined as I am, as I producer I still appreciate musicianship more than computers-only). Thanks to their affiliation with the label's sister licensing company, Torpedo Boyz have already made their way into a Northern European Cheerios TV commercial and a Puma fashion ad on MTV, and chances are we'll hear more placements in TV/film. Keep an ear out for this. Good music, good vibes, great musicianship, great production.
image not
available
anymore
Artist:
VV.AA
Title:
Wooden Octopus Skull - Experimental Musick pFestival 2006
Format:
CD
Label:
PsychForm records
(@)
Distributor:
Enterruption & the Electric Heavyland
Rated:
The Wooden Octopus Skull Experimental Musick pFestival took place in Seattle last September, lasted four days and featured 27 bands, mostly, as you might have guessed, into noise/experimental/drones etc. It was organized by PsychForm records and a local record store called Enterruption & the Electric Heavyland. Attendees were offered a 10x10" 32 pages b/w magazine with full color cover and a CD compilation enclosed to serve as festival program. The remaining of the copies is now being sold for only $10. The line up of the show is represented in the magazine with interviews/bios/photos while the CD features exclusive tracks by Wolf Eyes, Dead Machines, Double Leopards, Yellow Swans, Hive Mind, Cherry Point (all the bands performing on the stage of the last day). Since the festival, judging by this magazine, would seem to have been organized very well, I am not sure why the CD doesn't contain more of the artists featured on the bill. I am also not sure whether these tracks have been recorded live the closing day or if they are studio tracks (one would think so from the ending crowd noise track no.7). It goes without saying that this release has a pretty high intrinsic archival value attached to it and if you enjoy listening to (pretty much in that order) extreme harsh noise, subtle ambient drones, ethereal distorted feedbacks, improvised reverberated sounds, surreal sub-harmonic loops and harsh industrial power noise screaming this will probably be right up your alley! My hat goes off to this initiative, as it's definitely a great way to welcome festival goers and document an event for posterity!