image not
available
anymore
Artist:
THE PEOPLES REPUBLIC OF EUROPE
Title:
Lubrication
Format:
CD
Label:
New Darkness Recordings
(@)
Distributor:
Clear Spot
Rated:
Active since year 2000 The Peoples Republic Of Europe is a Dutch duo who started to experiment with dark ambient sounds. Losing the inspiration and finding new ideas thanks to the Ant Zen roster, they switched to industrial pounding sounds. LUBRICATION is their fourth release and I don't know why but I find ironic looking at a cover with machines parts with The Peoples Republic Of Europe written on it. I find a link with the slavery condition of Chinese workers and the wish of slavery of European politicians. Anyway, back to the music, the 13 tracks of this release find their inspiration into distorted scenarios a la P.A.L., proposing rhythmical explorations into industrial landscapes. Almost all the track are true to the pumping creed where you find similar sounds with rhythm variations, thing that for my tastes is pretty repetitive. On few tracks they embrace their original sound by creating tracks like "The myth of sisyphus" or "Laceration" where they have a more classic industrial ambient sound.
image not
available
anymore
Artist:
ANENZEPHALIA (@)
Title:
Ephemeral Dawn
Format:
CD
Label:
Tesco Organisation
(@)
Distributor:
Tesco Organisation
Rated:
If you are an industrial music lover is highly probable that you already own this release, because Anenzephalia's EPHEMERAL DAWN originally has been released twelve years ago always by Tesco (back then 750 copies in large fold-out poster sleeve has been printed). If you don't know this release or B. Moloch's approach to sound, well, first of all you should know that most of the eleven tracks of the album have been recorded live during the 1992÷1995 period on different locations (excepting the opening "Beneath the shroud", "Regime" and "Liebombast" which have been recorded at Kriszthell) and that Anenzephalia industrial sound is a mixture of growing subtle tension which seems produced by death factories. The vocals are buried under humming noises and there's always a feeling of incoming menace during the whole listening session. Moloch don't have the "in your face" approach, he let the sound rises slowly and it never explodes into random blasts, it is more like a constant sonic earthquake. On few tracks metal percussions or analog noises (note: sounds with high frequencies which don't produce the humming effect) have been used changing a little the sound proposed on the previous ones but the sensation remains the same, a feeling well expressed by the manifesto you can find into the booklet: " Here the dream dies! Dominated by obsession of power and lust, led by unwritten rules from clinical birth to clinical death. Ask the epithet of god! It still is deception. No ideology, no progess; NO THING. The world smothered in absurdity". A classic of the genre...
image not
available
anymore
Artist:
CANON BLUE
(@)
Title:
Colonies
Format:
CD
Label:
Rumraket
(@)
Rated:
Rumraket catalog/roster is expanding with a good act coming from U.S.A., called Canon Blue. This one man project is headed by Daniel James. He moved to England because of University matters and traveled back to U.S.A. landing in New Orleans in 2005. He left Louisiana returning to his native Virginia just before the flood tragedy. All these experiences were filling his soul with emotions and the right way to express them was through music. So, he build up a little studio into his bedroom and used his grandmother's upright piano and started to work to the songs you can find on COLONIES. Filled with ideas and particular melodic/pop intuitions, the album musically finds Daniel at his creative pitch containing tiny electronic/acoustic ballads as well as particular electro dancey folk songs like the opening "Treehouse" and "Pilguin pop". On these ones, relaxed piano/guitar moments meet rhythmic extravaganzas and orchestral arrangement: like Bjork without the minimal approach and with more ideas. Most of the tracks are inspired ballads where you can appreciate the vocal and melodic attitude of an American guy helped by Chris Taylor (of Grizzly Bear) for the mix and by Cristian Vogel (acclaimed solo artist, producer remixer, etc) at mastering. If you appreciated Mika but you need something more alternative, give to Canon Blue a listen.
Artist:
EXIT IN GREY
Title:
Nameless Droplet
Format:
CD
Label:
Mystery Sea
Rated:
We owe kudos to Mystery Sea's Daniel Crokaert (as well as to Stefan Knappe/Drone) for exposing to a wider public a series of remarkable Russian projects which would have remained less known otherwise; after Hum, comes this duo called Exit in Grey, and just recently MS has also released a cdr by Five Elements Music, a solo project of EiG's Sergey. "Nameless Droplet" is a 48'32" album divided into two lengthy parts, showing a similar structure/modus operandi. Not unlike other MS artists like Troum or Moljebka Pvlse, EiG's main characteristic is the use of melancholic (guitar-generated?) drones, blent with environmental recordings. Yes, as simple as that, and something which a million other projects do. So why checking this out? Well, EiG show a great taste precisely for the melodic parts, which is not that common after all. They hit the right sound, know how long it can last before getting boring, and also know how to patch a fragment with the next one without making it sound like a bad cut & paste - not an easy task, mind it. So the two parts are not only good in terms of the choice of sounds, but also for their compositive grace. My only quibble is the final mix, which is a bit muffled, too saturated in the low ends and a bit poor in the high frequencies - a clearer mix would have done wonders to the final result, which is remarkable anyway. Definitely a project to look out for.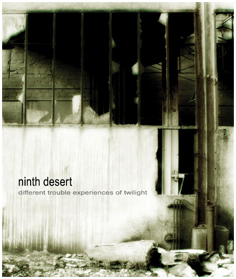 Artist:
NINTH DESERT
Title:
Different Trouble Experiences of Twilight
Format:
CD
Label:
AFE Records
Rated:
Recorded between 2005 and 2006, "Different Trouble Experiences of Twilight" sums up all of the best characteristics of Ninth Desert's sound. Most of what I've just written regarding the "Collision H" ep could be repeated about his first full-length, but this is also, predictably, more varied (with its 5 tracks clocking in at 54 minutes). And possibly darker, with more than a few blood chilling moments, though staying away from most dark ambient projects. The most diverse piece is surely "Somewhere Close to the Skin", with its mind-altering metal rattles, pounding percussion and pink-noise billowing. The rest of the disc offers more of Herry's fine layering of drones and circular frequencies, and the album title is perfect to describe its atmosphere. Take the sinister hum and slow metallic rumbling of the final track, "Red Mute": I wouldn't compare it with anything Lustmord- or CMI-related, but it is no light-hearted wallpaper ambience either. Think of Lull or BJ Nilsen's dark-edged minimalism and maybe you'll get the picture. Awesome stuff. The sound quality is also top-notch, thanks to Andrea Marutti's careful mastering: listen at medium-high volume and you'll notice the details...