image not
available
anymore
Artist:
ATTRITION
(@)
Title:
Something Stirs - The Beginning 1981-1983
Format:
CD
Label:
2 Gods
(@)
Distributor:
Voice Print
Rated:
BUY from
There was a time, soon after the punk period, when bands wanted to dare and to make their music different. Something that no one already did or thought to do. Maybe only hippies on drugs experimented something similar but the result wasn't filtered by the will to do something different, it was the result of altered states. Nothing against it but on late 70s and early 80s bands like Cabaret Voltaire, Throbbing Gristle, Coil and many others created something different. Something that mixed with the "Do It Yourself" culture created a totally new thing: tape labels. If you lived that period for sure you read about the early Third Mind releases or the early Bain Total tape compilations (it was the time when Philippe Fichot was releasing interesting tape compilations along with the first works of his own project, Die Form). Compilations that gathered many bands that released only few things in limited editions (they were limited because it was difficult to release something and it was hard to distribute them. Fanzines, ads and word by mouth was really important back then, when there was no internet) as well the early works of bands that later become well known. Bands like Attrition, Coil, Portion Control, Test Dept, etc. SOMETHING STIRS – THE BEGINNING 1981-1983 is a collection of recordings that Attrition released for compilations. Martin Bowes, member of the band since day one, saved from dust the old 4 tracks tapes and borrowed a Portastudio (I think it was made by Tascam) by a friend and then transferred the recordings on a PC just to clean the sound. The CD contains seven tracks coming from vinyl or tape compilations, one from the Alu/Attrition split tape as well as four previously unreleased tracks: "Tones in black", recorded in 1982 and three other tracks ("Domus", "Hologram" and "Alter ego") recorded live in Coventry in March 1981. On those three you can also hear the one and only drummer the bad ever had. If you know "Shrinkwrap", the most famous track of the Attrition early period, well, try to forget about it, because songs like "Something stirs", "Pain", "Birthrite" or "Onslaught" don't sound anything like that. They are mostly sound experiments with tape noises, bass guitar and a drum machine with the vocals of Julia Waller that spread her impetuosity with a style that remembered me early Siouxsie. Melody was an option and the bands main aim I think it was the construction of a new way of channelling their feelings. Attrition succeeded doing so...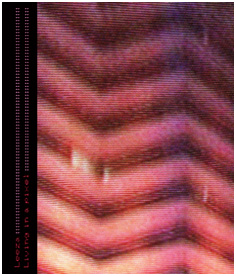 Artist:
Leeza
Title:
Living in a Pixel
Format:
CD
Label:
Afe Records
(@)
Rated:
Milan's Luca Di Mattei Aka Leeza is out on the Afe label with the new "Living on a Pixel". Slightly out-of-fashion laptop-based IDM but extremely well executed. Leeza's trademark are the keen and intricate synthlines almost recalling the ones on Bola's Soup (my all-time favourite in IDM) but there are more Autechrish ("Amber"-era) tracks like "Dav_Home" or "Phonetic Boot" that show a good display of more schizoid rhythms and breaks. "LOAP" is a record that would fit perfectly in the Skam back catalogue. A more recent reference point would be the rosters of the Toytronic and Merck labels. A well-crafted record not to be missed by IDM diehards and nostalgics.
Artist:
ARPANET (@)
Title:
Inertial Frame
Format:
CD
Label:
Record Makers
(@)
Rated:
Arpanet is back and I'm glad to have some new sounds from Drexcyia / Dopplereffekt laboratories. After the 2002 Record Makers release titled "Wireless internet" and after the last year "Quantum transposition" (released for Rephlex), Arpanet is back on Record Makers with a beautiful album. This time Gerald abandoned the sidereal voyages of the previous album to get back to the laboratory to try a new formula of gathering rhythm and sounds. If the previous one was sounding a little too ambient, INERTIAL FRAME takes inspiration from the experiences gathered with Dopplereffekt and the result are fourteen beautiful tracks based on minimal melodies, robotic rhythms (many parts are arpeggios) and vocals. Yes! You read it right! This time Arpanet created also some songs with vocals and all (check "Zero volume", "Twin paradox", "Event horizon" or "Gravitational lense", to name few). The album is just perfect and on the tracks you'll find traces of Detroit techno, ambient and Kraftwerk. Usually when I review I listen to the music and I start writing some ideas, well, this time I had difficulties writing while listening, because I got totally caught by the atmosphere of the instrumental tracks and by the melodies that were looping into my head. You know, when you start to follow a cyclic melody and you catch another one to follow, it's difficult to focus on words. I'm satisfied!
image not
available
anymore
Artist:
A CROWN OF LIGHT
Title:
The clearing
Format:
CD
Label:
Eibon
(@)
Rated:
As you can see we've some new releases on Eibon and that's probably the one I've enjoyed the most. This duo involving Brandon Elkins and Rober Hunter Osgood can be esily filed under industrial/dark ambient but in its strenght lies in its semplicity. The good production pushes every sound in your face when it has to alas that feeling to be sinking in a dark pool is to be taken for granted. This release begins with meachanical drones but it's not just based on that kind of sound (even if they're dominant in most of the tracks) and A Crown Of Light pierced most of their scary atmosphere with a good amount of "concete" sounds and/or field recordings. Sometimes the samples/field recordings can be barely listenable and fade in and out from a fog made out of reverb, but in many cases those cold concete sounds stand firmly in front of the listenrs reaching patiently the climax. A dark-ambient release like many others? I don't thin so and I think it's too bad thet's the impresion you get from the first half of the recording infact if you'll have the patience to let it play you'll discover that despite it's uniformity this cd is not has a couple o interesting surprises ("The sound of one millions lives ending" for example. Dark, heavy, uncompromissory but just muscolar, probably a bit too long but still intense.
The first approach was so and so and I don't know why but I was expecting some sort of "dark/prog metal record" but after a few second I've seen I was completely wrong. Neronoia is a joint venture that marries dark heroes Canaan and Colloquio a band I'm sorry to say I don't like that much. If compared to Canaan this project is more soft and listenable, it's strange 'cause do to the Italian language used by the singer I couldn't but think to some depressed/inspired famous singer projects from here above all to Fausto Rossi (Faust'o) and to early La Crus but take it with a grain of salt. Musically this dark, heavy new wave with a strong emphasis on bass dynamics but I could bet people into My Dying Bride, Moonspell or some Fields of Nephilim wouldn't dislike it 'cause the global effect is that minus loss of the rock guitars. Yes, I think you can hear the Caanan imprinting but as I already told you this is more melodic and melancholic. The lyrics follow in the same direction with this typical "dark days coming" feeling all over the place. If you're into dark music but you despise those plastic-fake keyboards sounds of mid eighties well, this well produced and quite refined.