image not
available
anymore
Artist:
The Secret Meeting
(@)
Title:
Ultrashiver
Format:
CD
Label:
Noiseplus Music
Rated:
The Secret Meeting is a long-distance collaboration project between kaRIN & Statik of Collide and Dean Garcia of Curve and, as one would expect, the result is nothing short of outstanding: no surprise if you consider the skills and the sum of experiences of these three individuals (who collaborated with Skinny Puppy, Tool, Prince, Cohen, Eurythmics, Jagger, O'Connor etc).
If you love Collide and Curve you must of course check this out (we know you'll love it), but for those of you who don't know the two bands, imagine an alternative electronic band that would probably do fine on mainstream radio but has more to offer than most of what mainstream radio plays. The quality of The Secret Meeting's music is above the ordinary and you'll hear that in the production and the arrangements. Darkwave at heart but reaching upwards towards more solar and ethereal electronica heights, "Ultrashiver" features ten tracks of beautiful songwriting completed by gorgeous ethereal female vocals. Echoes of Conjure One/Delerium, Lycia, Massive Attack, Recoil, Balligomingo, darkwave bands such as Black Tape for a Blue Girl, female-fronted rock bands like Evanescence or Lacuna Coil (but not nearly as guitar-heavy), the most electronic of Madonna's records, Nine Inch Nails, Blue Man Group (I could swear I recognized a sample). The list could go on and is by no means meant to be definitive. The sound of this particular band draws from so many different areas and yet is so consolidated and original that it is able to create an all new character and is definitely worthy of your time and attention. Check it out.
image not
available
anymore
Artist:
VV.AA.
Title:
Klangdynamische Bewegung Vol. 1
Format:
2 x CD (double CD)
Label:
Klangdynamik Records
(@)
Distributor:
Mono-Culture
Rated:
A new label in sight for the German Electro/Industrial scene and we like to welcome the Augsburg-based Klangdynamik Records. For the start of all business activities this label has decided to release a compilation featuring 17 tracks which is strictly limited to 444 exemplars – and it comes unique in kind and package I must say. While opening the jewel case I noticed to my surprise that there's included a hidden second 3" CD featuring 5 more appearances – congrats to this idea! The first tracks of the main full-length CD are musically dedicated to the Dark Electro/Industrial genre. FIX8:SED8 a.k.a. Sane is for sure the BEST unsigned artist out of Germany and he offers here a re-mastered version of "Minotaurus", a dark and layered piece taken from the self-released debut "Humanophobia" – intensive, mystic, creepy and maybe a bit PUPPYan-influenced – but a crown for every compilation world-wide!
NORDSCHLACHT is another German duo which fits musically well to the just mentioned FIX8:SED8 or OBJECT – another fine and layered Dark Electro piece of an uprising act, from which I hopefully soon get more to hear! WYNARDTAGE is for sure one of the better known acts from this compilation and could especially reach in the last year some euphoric reactions. Thumbs up to offer an unreleased remix done by LA MAGRA of "The Sin", originally available on the last album "Evil Mind", although this version shares a bit too much the SC-shuffle. Whenever WYNARDTAGE is available on a compilation, the second project ACYLUM, consisting of Pedro Engel (music) and Kai Arnold (Lyrics/vocals) isn't far away – so it is here, although I was hoping to get also from this project an unreleased work, "Your Pain" got often featured elsewhere.
Since this label is based in Augsburg, it also takes care on some artists out of their local area – DISCONTINUED PROCESS and ELECTROJUDAS offer instrumental works, while L'IMAGE in cooperation with NILS VAN GOGH pushes the musically field of this comp into the Synth- and Futurepop-genre. The Accession Records-recording artists HUMAN DECAY can as usually convince with some fine worked out textures and a rich complexity in their arrangements, the nice refrain of the track "Anti-Fate" featuring the female singer Isabella makes this track grow to one of the outstanding appearances here. HUMAN DECAY are also featured on the mentioned second 3" CD. ChristianIV E.MachinA offers a danceable Electro track, while DIE PERLEN offer a retro-inspired sound with some rusty bass lines and a female voice performance. Also HERTZINFARKT and the for sure known act NO COMMENT offer female vocals and danceable pieces, but nothing which can be called thrilling. FILE NOT FOUND, also a better known name, stands for sound design heavily inspired of some early 80ies sounds and the cold romantic touch out of those days, and "Mathematics" isn't an exception.
Finest Synthpop with some catchy synth layers reminding on some of the oldest DeVISION works you'll get from dAVOS, a trio which is recently signed to Hungry Moon Records. With the Bavarian-based COLLAPSE PROJECT leaded by Klaus Hörmann, the label Klangdynamik likes to present its first signed artist. Musically operating in the wide field of Dark Electro/Industrial music, Klaus offers with his track "World Of Lies" a straight, but still layered track from his upcoming debut "Your Own Way" – convincing, an act to follow! SHARON NEXT, remixed here by Per Anders Kurenbach/PREVETION OF DISHARMONY then searches for some musically relations to acts like PRIDE AND FALL or VNV NATION – satisfying for the moment, but nothing groundbreaking. Last piece here seems to be a classic recording from 2K2 by a project named SADISM UNBOUND which turns musically into a slow and creepy tune.
But not to forget to listen to the five tracks on the additional 3" CD. As above mentioned, HUMAN DECAY have received another free slot and are offering a non-lesser attractive piece of work featuring Jennifer Parkin of AYRIA providing the guest vocals. Also the French citizen ChristianIV E.MachinA got featured here with a second veteran EBM track, while the further three acts are rounding up the support of the local scene. ELEKTRIK MINDS are offering a danceable EBM tune with some robot-like vocals – and somehow this all reminds not only me on KRAFTWERK. NEON COIL are rather more based into the field of Minimal EBM, maybe also thanks to the fact, that this to me unknown project only uses hardware equipment. The highly appreciated SkullLine-recording artist SHIFT 69 offers again a convincing appearance with a veteran-EBM bass line and vocoderized vocals, this time in a collaboration with FILE NOT FOUND.
76 minutes with a quite satisfying and diverse content luckily and mostly without any hints on some Hellektro tunes – well, this compilation is a fine showcase for the featured artists here and a musically extremely valuable collection for the label. Let's hope the best, that the listeners will pay the needed attention. The first right decision with the signing of the solo project COLLAPSE PROJECT shows to me to the right direction – good luck and keep it on!

Tracklist:

01. fïx8:sëd8 - Minotaurus
02. Nordschlacht - Collapsing Centuries
03. Wynardtage - The Sin (La Magra Remix) *
04. Discontinued Process - Covert *
05. Acylum - Your Pain
06. Elektrojudas - Cosmos *
07. Niels van Gogh feat. L'image - My Own Religion (Single Version)
08. Human Decay feat. Isabella - Anti-Fate *
09. ChristianIV E.MachinA - le temps qui passe *
10. Die Perlen - Who Is To Blame?
11. Hertzinfarkt - Wir trauen uns was *
12. NoComment - Secrets *
13. File Not Found - Mathematics *
14. dAVOS - Illuminate (Version) *
15. Collapse Project - World Of Lies *
16. Sharon Next - Death Bow (Remixed by Prevetion Of Disharmony) *
17. Sadism Unbound - sc_03-874 *

3inch Bonus CDr
[only First Edition - limited to 222 copies]

01. Human Decay feat. Jennifer Parkin - Disbelieve (V01D Remix) *
02. Elektrik Minds - Lichtkraft *
03. ChristianIV E.MachinA - Car Crash *
04. Shift 69 - Audio Measurement (File Not Found Vox Edit) *
05. NeonCoil - Machine (Short) *

* previously unrelesead
image not
available
anymore
Artist:
Black Heaven
(@)
Title:
Kunstwerk
Format:
CD
Label:
Scanner / Dark Dimensions
(@)
Distributor:
Soulfood
Rated:
This is a new release by this German one-man project, which has been active and brought out some releases before through the German label Trisol. Now signed and published by Scanner of the Dark Dimensions label group, BLACK HEAVEN is leaded by Martin Schindler and with this album he likes to present us his very own view on Electro/Industrial music. The lyrics are completely in German and deal with a lot social-critically things, politics, globalism and, and, and. My deepest bow that at least somebody is able to address the things which have to be said in German without falling into embarrassment. This "Kunstwerk" (work of art) is lyrically one of the strongest releases in years. Musically Martin likes to present a subtle kind of Synth- and Futurepop, on some tunes pending near to Electro/Industrial, but the music generally doesn't live from some fantastic-sounding effects – it seems he knows well about the weave of his lyrics. Of course his voice sounds clear, natural and undistorted, however else you would be able to understand the rich lyrics when he'd insist to yell through some distortion effects? I tend to compare his voice in a same register to Tom Shear of A23, also musically there can be surely found some relations to the world-wide known Accession/Metropolis-recording artist. Although – and that's a good point as well – the music isn't afraid to integrate here and there some acoustic elements like guitar ("Schwarzes Loch", "Zentrum") or piano sounds ("Zweite Sonne"). Also a must: check out the marvelous ballad "Dieser Weg" - definitely the highlight here! 14 tracks are available here on "Schindler's list" (ha-ha), composed and arranged under the moniker "Kunstwerk" - Martin couldn't find any better name for this work, applause!
image not
available
anymore
Artist:
Cold Cluster / Gerstein
(@)
Title:
Bipolar / Wring The Wrist
Format:
CD
Label:
Purity
(@)
Rated:
Cold Cluster (former aka Kluster Cold) cd represents a style of new school synth-pop and other electronic genres. This is one of their best and finest up to date ever produced album recorded which pair with the Gerstein's tracks you can find after the Scenic Overlook cover of Cold Cluster's "Explanation". All eighteen tracks dominant skillfully with synthesizers and a drum machine. Very inspiring and brilliantly original grating and overwhelming at a longer length, it clocks at 68 minutes. So remarkably consistent from start to finish. As vocals concern, imagine the late great Ian Curtis doing synth-pop music. This is what Gerstein sounds like on his eight tracks. Tense and defining, but also with a intimate impression and passsionate feel. "Bipolar/Wring The Wrist" is definitely is a superb unique listening experience and will get you hook! It plunges into intelligence, fascination, and catchy melodies. A solid portrayal of the band's captivating music personality strong cuts from the cd including "Obsession", "Explanation", "She Never looked backwards", '"The End of The Summer, "Akaline Tears" plus Gerstein's "Tender" and "Love Alarm". Best record for the summer and fall with anticipation and the production with clean, rich and glossy. Very highly recommended.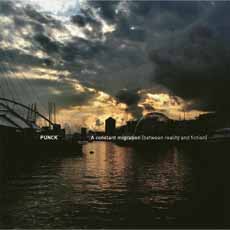 Artist:
PUNCK
Title:
A Constant Migration (Between Reality and Fiction)
Format:
CD
Label:
Creative Sources
Rated:
I truly feel awful for reviewing Punck's last year full length only now, also because it's been in constant rotation (...) in my stereo for all these months. Life problems and taking one's time eventually lead to these disasters... "A Constant Migration" is surely the best and most mature release of Adriano Zanni's as of yet - following the wake of his previous "Nowhere Campfire Tapes", but taking his soundscapes to a higher level (and that was a good album, mind it). I suppose that playing live sets has contributed to refine his tecniques and give a smoother, more organic feel to his compositions. As usual, Zanni uses "laptop, field recordings, found sound and sampling", and the result can be compared to the works of Seth Nehil, jgrznich, Dave Lloyd and mnortham. Highly refined concrete music where natural and electronic sounds are stretched and layered into drones, or scattered around as in an improvised session (which could explain why this has been released on Creative Sources). Zanni's audio-trip stands out from similar ones for the warmer, more emotional (existentialist, I wrote about his previous cd) approach to soundmaking, here leading to the breathtaking closure of "Hagakure [II, 105]", a powerful high-end drone streaked by bowed strings. This cd was mastered by Hue (Sparkle in Grey), which totally makes sense: take it as a comrade to "Un'estate senza pioggia", at least in terms of attitude.