image not
available
anymore
This is again a release which scratches with only a very few elements on our presented music styles. FUNKY MUSTARD is a quintet hailing out of Houston, TX, and they like to provide us here their second CD release. I must admit that I've never-ever heard of them and their label Moosepie before (...I always thought to find moose-related things only in Sweden...), and was surprised to get serviced by them. The musically scenario here reminds me on a sort of US/Mexican Western film production stuff. It's high-noon in a small village, sun is burning like hell and all people and animals around longing for cooler shadow places – it's Siesta. Somewhere the sound of a harmonica played by a lonesome cowboy disturbs the silence. This may gives you an idea of the music, it is totally acoustic and "live" arranged and recorded, guitars, real drums, bass, the mentioned harmonica, but also trumpets and a real violin performance provided by the female band member Kristen Jensen, and of course the lead vocals by band leader Larry D. White. Produced with the helping hand of Rock Romano (also helping out with some lead guitar performances on two tracks) and his Houston-based Redshack Recording Studio, this stuff will appeal the Country/Trucker audiences, while it isn't at all that straight produced, that it can animate the masses to do some Square dancing (uuhmmm...). Not at all my cup of tea, because I normally don't consume this stuff (... and therefore I avoid to "rate" it here...), also the given elements of a Goth-Rock/Industrial-Metal outcome are rather limited, but I respect the production and its kind.
Artist:
ORIGAMBIRO
Title:
cracked mirrors and stopped clocks
Format:
CD
Label:
Expanding
(@)
Rated:
With such a weird name I was expecting something ethnical or at least experimental and I was wrong, if you will have the chance to give a listen to this nice cd you'll find it yourself. Tom Hill is the man behind the moniker and "behind the machines", he plays a simple acoustic guitar in the majority of the tracks on this release. Ok I imagine somebody out there is complaining you've probably heard a million releases with acoustic guitar plus electronic but even if may sound boring I think beyond individual taste, and beside the originality issue you always have good and bad releases. "Cracked mirrors..." belongs to the first of the two aforementioned categories, Hill writes simple melancholic songs cast on simple non intrusive rhythmic. This acoustic guitar driven electronic-pop is enriched by an all english taste for melodies, and thought it may sound "weird" believe me Nick Drake would have been proud to see how his countrymen have evolved his "language". Can we say there's a spruce of ambient music to make the listening even more conformable? I think so, at last it's such an obvious (and joyful) marriage. This is the typical cd I can relax myself with without my girlfriend complaining in the back, it probably won't add anything to the good quality of this work but this' a good thing, alas: "approved by my girlfriend".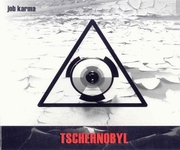 Artist:
JOB KARMA
(@)
Title:
Tschernobyl
Format:
CD
Label:
Ars Benevola Mater
(@)
Distributor:
Masterpiece Distribution
Rated:
Chernobyl disaster has been one of the sad moments of our modern times. Many people died and it is unknown how many have been intoxicated or how many have contracted cancer years after that "accident". After a visit to the city of Prypec and to the places near the nuclear power plant of Chernobyl, Andrej Jozwik wrote the notes you can find in the booklet of JOB KARMA's TSCHERNOBYL. Words heavy like stones which paired to the photos taken into those locations give a different meaning to the sounds produced by the duo. Musically the CD succeeds into creating the right ambience which is in balance from industrial to ambient. The synth pad layers, along with industrial percussions, create eight particular movements where the vocal samples are able to paint a disturbing sensation of despair thank also to the melancholic melodies produced or to the experimental patchwork, where synth waves are coupled to noises and samples coming from the tv news. A really good release...
Artist:
DWELLING
(@)
Title:
Ainda E Noite
Format:
CD
Label:
Equilibrium Music
(@)
Distributor:
Audioglobe
Rated:
Second full release by Dwelling, AINDA E NOITE presents, after four years from the previous album, eleven new tracks full of pathos, calmness and a bit of melancholy. Adding a new member on violin the Portuguese combo mix classic Mediterranean melodies with some jazz intuitions and also contemporary music on the beautiful closing "Opus DCXVI". The tracks are built around the interaction of two classical acoustic guitars which create a soft web of arpeggios helped by a bass guitar and violins. The solid melodic musical background sustain the vocal performances of Catarina Raposo, who sung both in English and in Portuguese language. Being an acoustic band who doesn't use samples or post production tricks, Dwelling, focus their efforts into presenting strong compositions which are able to create different kind of atmospheres. I'm not that much into Mediterranean melodies but I highly appreciated their being sound artisans. Just listen to the last minute of "Some love, please?" where we have a passage where the melody passes from a jazzy structure to a dark classical modern piece. I loved these atmospheres where the band is capable to leave on their back any influence just to create particular moments with dissonant melodies. Lyrically the album tells of the feminine feelings of solitude and they create an "evening" atmosphere where the curtains of a sleeping room filter the sunset's sunbeams. When the day starts to fade out there's no make up left and the intimacy of a room is ready to receive the stories of a life...
image not
available
anymore
Artist:
BRAIN LEISURE
(@)
Title:
Methods To Madness
Format:
CD
Label:
Electro Aggression Records / Vendetta-Music
(@)
Rated:
Second release after the GRANDCHAOS DCD remix marathon set for the new Electro Aggression Records label, a sub-division of the Denver-based label, store and mail order service Vendetta-Music. Responsible for the activities behind EAR is Nader "electrofreak" Moumneh, a relatively known supporter of the old-school EBM/Electro formula. And with BRAIN LEISURE aka Dominique Debert hailing out of France this label group could indeed pick up a fine veteran artist – this fact I tend to rate as a lucky chance.

This review here deals on this new limited DCD edition set, which features on disc 1 the new studio work "Methods To Madness" with a maximum playing time of more than 78 minutes (!!!), while on disc 2 you'll get among other goodies several remix works by global scene-players like :WUMPSCUT:, DISMANTLED or VELVET ACID CHRIST, to name the best known acts.

Also time for me to admit, that I've passed the first BRAIN LEISURE demo tape "No TV Sketches, Realities Of Fight" back in 1992 – the even bigger disaster is the fact that the BRAIN LEISURE debut CD "Mindfire", out 1994 on the long out of business Danish Hard Records label stands also still on my virtual "wanted" list, uuuhmmmm. I even can remember the days when Hard Records has signed a lot of newcomer acts around this time (CONTROLLED FUSION, THE M.A.S., SPHERE LAZZA or a to that time totally unknown act called DECODED FEEDBACK to name a few...), whose releases where hard to pick up in Germany "thanks" to some unsolved distro problems.

Nevertheless I've followed and recognized Dominique's past works. BRAIN LEISURE was one of the "Brain" projects in a collaboration of the French tape distributor FIRM, and luckily I still hold the debut tape of BRAIN DISTORTION "Schematiks" proudly in my hands – a harsh old-school EBM trio in which Dominique was responsible for the vocals. I should also mention the fact that I jumped to my CD/LP/tape collection after checking out the track list and the first listen of disc 1. It was about to have a look after some earlier BRAIN LEISURE works for a comparison. The compilation "French/Belgium Industries", out on the legendary Machinery Records, and "Blood & Computers 1" out on the French Paradise Movements are those nowadays hard-to-get items which are also mentioned in the release info sheet. I also would like to mention the marvelous appearance on Gothic Art's legendary series "Art & Dance Vol. 5" with the pounding piece "Construct/Destruct", for sure one of the highlight on a comp infiltrated with a kind of "best of..." internationally renowned scene-leaders (CAT RAPES DOG, DIE FORM, NUMB, PLACEBO EFFECT, and, and, and...). The reason why I felt the need to listen to the earlier recordings belongs on the fact, that at least both tracks "Behind The Mask" and "Atmosfear" (...which got also released on the Brazilian tape compilation "Underground Resistance 1", out on New Will Productions) were originally released on the mentioned "Blood & Computers 1" compilation.

But be sure that only the content of the lyrics is similar to the now 14 years old recordings – like expected BRAIN LEISURE have not only taken a long time-out since 1996 – they of course have grown and are presenting nowadays a complex and multi-layered sound programming, which intelligent arranged kind surprises when it comes to talk on old-school EBM/Electro/Industrial. And all the wankers hanging out the whole day in front of a PC to invade some original electrofreak forum topics have to bow and ask for apologies, because nobody has expected anything like this. "Actions are louder than words", well, Nader Moumneh has never found any wiser words. This old-school surprise isn't that kind of the expected short-haired old-school NEP-clone inspired kind of EBM – it rather falls under the authentic Dark Electro movement. BRAIN LEISURE have learned a lot - the days of foreground-recorded vocals or a musically fundament only consisting of ripping synth bass lines are over. Moody and atmospheric synth layer programmings often accomplished with several voice samples to reach a new dramatic perfection – these are the ingredients which lead the outcome of this act nowadays. Yes, Dominique has heard and inhaled X MARKS, PUPPY, LEAETHER STRIP and all that veteran-must-have-stuff which hasn't to be missed in a collection, but if I have to start possible comparisons, I'll name an intelligent arranged mixture out of EMPTY, early FORMA TADRE, HEAVY WATER FACTORY and of course FRONT LINE ASSEMBLY as possible references. You'll got integrated guitar sounds here as well ("Eaten Alive"), which is just another proof what an open-minded musician Dominique seriously is. I can't really decide, which track I tend to enjoy the most – a reason for sure is that this album sounds that coherent, matured and well worked-out from the first track "My Punishment" up to the last piano-driven ballad "I Am Two". A possible point of criticism for some people can be the fact, that the main CD doesn't offer a piece, which would also find completely acceptance of the Hellektro/Terrorbanana audience, "Methods To Madness" is rather more dedicated to listen, to sink in – and finally to learn from – a fact I can't find a flaw in at all.

Maybe that's a reason why there's a second CD offering the already mentioned remix works and so some alternative and at times more dancefloor-oriented stuff. Since I don't know the recordings of Dominique out of his "Mindfire" era, I adore mostly his own works by offering revamped versions of classic tracks like "Beyond The Limits", "Never Trust A Smile" or the best piece here, "Deadful Hate". The remixers are clever chosen, besides the three above mentioned scene-leaders, you got some up-and-coming old-school EBM troops like IC434, both Germany's TRIAL and TYSKE LUDDER, The French fellowmen of ESR and DEADCELL (aka Bruno of another French sensation, NEON CAGE EXPERIMENT), plus the always tasteful Swiss act BAK XIII. Add to this the two collaborations of the coming E.A.R. roster colleagues LAST INFLUENCE OF BRAIN and KIFOTH.

As mostly with remix works, only a very few can offer interesting aspects to the BRAIN LEISURE sound spectrum. VELVET ACID CHRIST are doing on the fine track "Resistance", what they can do the best – offering a moody and tasteful synth layer which has made this act so famous. BAK XIII finally concentrates on that element what has been missed so far by giving "Behind The Mask" a hard stomping bass kick. TRIAL, already grabbing attention with a great remix work on GRANDCHAOS, have nearly reached again their classic status – their always dark synth textures are a trademark. ESR finally has worked on "Eaten Alive", in the original version a typically FLA-inspired work with some guitars and D'n'B influences – for sure one of the most difficult tracks to work on. But Vincent once again proves his nice talent - the master of the bass line combined with the best sci-fi-inspired sound design hails out of France, so this contest is over. Almost all remixes can satisfy – with the one exception of :WUMPSCUT:, whose remix on "My Punishment" is rather an insult. I see the fact that a remix on BRAIN LEISURE takes thanks to the given multi-layered sound and complex arrangements some more time than a remix on a usual Electro track – also "My Punishment" isn't an exception. But compared to the glorious remix works which Dominique has created for Rudy in the past, I would have expected a bit more effort from Rudy's side- finally this remix can't stand the quality of this release and remains here because "business-related" things.

This been said, you'll now have to watch out for this release, which is a contender of the "best release in 2K7" contest so far. "Old school EBM is regaining ground". If some of you have ever had doubts in this, I like to recommend this release. Give it some rotations, let this massive and intelligent produced album grow on you, and you'll come to the right conclusion. A must-have release which currently leaves seldom my discman!