Artist:
HEDDY BOUBAKER
(@)
Title:
Lack Of Conversation
Format:
CD
Label:
Creative Sources
(@)
Rated:
Despite what suggested by the title, this cd features what conversationwise could be a spoken word performance and I would add that's a really passionate one. Heddy Boubaker fits perfectly in the mold of Creative Sources releases that should be considered under a performative perspective much more than "music" canonically speaking. The audio work he did on for the recording of saxophone, cans and of his body (he listed them as his main instruments on this one) is good, therefore beside having a good use of pan-potting you can ear the sound definition is strong and clear. As many other performers he exploited his mouth and his saliva to create that typical "white-noise" ambience you have with brass, but he tapped his fingers on the body of the instrument obtaining that typical sound you hear in many performances nowadays. In the process of selection that bought to this release, he probably tried to differentiate the timbre of every sound, so that you have high and low registers mainly divided in different tracks. Boubaker in his working on acoustic research applied to his instrument has an outspoken physical approach that brought me to think he could be an unsounding Mats Gustafsson, I write it cause in some way the majority of the tracks in some way are muscular and he's not playing that much with silence like many others on the portuguese label. I still find one of the most interesting thing of this work is who he's chosen to pan pot and to move this or that sound in aural space, by some means this a peculiarity of this "Lack Of Conversation" since it bring near to some electronic work instead of an acoustic or impro performance. Everything keeps moving from one ear to the other, slowly and fast according to the necessity of every sound event, that's also what make you think in first place to performative music and like it happens quite often you sit down with your headphones on and every sound moves around you as if it was a some ritual fight act. This' one of those kind of releases with that characteristical sound "a la Creative Sources": love it or leave it.

Artist:
FORMICATION
(@)
Title:
Icons for a New Religion
Format:
CD
Label:
Lumberton Trading Company
(@)
Rated:
"Icons for a New Religion" is the new album by Formication after 5 cdr releases on their own Harmful Records. Blending early-Autechre rhythmic obsessions with a thick ritual atmosphere, the Nottingham-based duo create something of fierce originality in their new work. "In the kingdom of the Electronic Eye" is an amazing track where cyclic patterns and whispering voices are worked togheter into the larger, intricate sound matrix.
The album highlight is "Faces of Fire", a piece composed by two tracks: the first part ("The Frictionless Continuum") shows a meandering synthwork over a repetitive rhythmic pounding - the second part ("Introspection") starts with a
Rapoon like hypnotic pattern then develops with some Coil-esque vocals brimming with increased insistence as the track progresses. So, whether you prefer to call it "rhythmic side of ritual ambient" or "magick dance music" (!!!) this record is nothing less than astonishing. After last year's amazing album by Theme, another excellent record from Brighton's Lumberton Trading.
Artist:
BRILLIG
(@)
Title:
Mirror On The Wall
Format:
CD
Label:
Black Rain
(@)
Distributor:
Audioglobe
Rated:
BUY from
After their MCD "The Plagiarist" which was anticipating this full length containing two songs ("Truth or dare" and "The plagiarist"), the Australian combo with MIRROR ON THE WALL reach their third album. Mixing acoustic ballads (we already checked "The plagiarist") with guitar driven songs, the band packed a good album which gathers a lot of elements of alternative 80's rock. If you are aware of bands like The Triffids or Go-Betweens you can have an idea of the atmosphere created by Brillig's ballads. Just mix these with new wave and 90's alternative rock a la Suede, Muse and so on and shake. The trio formed by Matt Swayne, Elizabeth Reid and Denni Meredith succeeded into blending these sounds into a flush of new wave/goth rock with electronic elements (they use a drum machine with 80's sounds, like the Roland Tr-707) where the alternating of female and male vocals help characterizing the sound. They also covered Phil Collins' "In the air tonight" but the band removed its typical ambience filtering it through an early 4AD sound (see Clan Of Xymox). Nice song but I prefer the original's atmosphere. P.s. The CD has also a really nice booklet with all the lyrics and various pics of the band as puppets.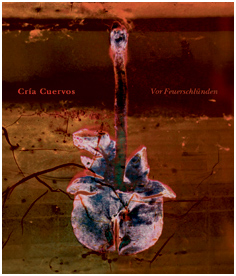 Artist:
CRIA CUERVOS
(@)
Title:
vor feuerschlünden
Format:
CD
Label:
Afe
(@)
Rated:
While I've heard rumors about the repress of his recent collaboration with Bradley, Maggi makes it on Afe and frankly known both the label and the musician it was just a matter of time before it could have happened. Taking for granted Cria Cuervos' music can be easily filed in the "dead serious" category one could have imagined a drone oriented release, this' much more post-industrial/"music concrete" style instead and Maggi puts the emphasis on brain bombing right from the start. "Vor feuerschlünden" slowly grows building up tension from white noise and delayed "natural" (form what I can guess) noises and if sometimes in the past this musician's "modus operandi" made me think to Lopez, here he could be Organum pushed to the extreme consequences. The field recordings he loops making it all become cyclical is retrieved all of a sudden leaving the stillness of an hi-pitched, hi-power wall of noise, sure it can make you think to Merzbow but Maggi is less muscular and more anal if you get the what I mean. While you think the track is gonna be over in a few seconds he stretches the final as the listening was nothing but a path of resistance a la "leave you hopes". Sticking to my impression this Cria Curvosí effort is more Organum-oriented, thereís this post ambiental feel gone bad that's recurring also in the second movement. This time you have a low register drone and an electronic buzzing that creeps from one an ear to the other playing the stereophonic game that gives more and more the impression youíre drowning into an audio-swamp. Thereís an hi-psychedelic feel in the second track (Blutgebell) even more than in the opening chapter, perhaps it has to do with the constant drone that dopes your brain cells with the first half of the suite. But though being blatantly attracted from sobriety and minimalism, Maggi is meticulously planning the heavy trip: the drone "in the middle" from cyclical becomes uniform, monumental and there's a some pitch/colour/effect and creates a break since later some mechanical and hi-pitched layers start moving in the backyard. The atmosphere is heavy as usual, but as Iíve said at the beginning of the review Cria Cuervos music is far from being easy. Not that his previous releases were so hyper-structured or open to a whole world of melody, but lately Maggi is reducing everything to basics erasing superfluous things, by some means it's like the protagonist of that old Roger Corman movie titled "The man with the x-ray eyes", he ends up seeing just skeletons in place of humans.




Artist:
VESTIGIAL
(@)
Title:
Aeon
Format:
3" MiniCD
Label:
New Sun Recordings
Rated:
Vestigial is a dark ambient project hailing from Naples. Here the hypnotic synthlines are playing a destructive counter-part to the cosmic drones crawling in the background. This one falls right beetween Inade's space voids and Tho-So-Aa (and obviously the most spacey Lustmord) and would fit perfectly in the roster of labels like Loki Foundation or Aural Hypnox. Nothing new under the sun (please note that it doesn't mean lack of ideas or creativity) but extremely well composed and executed - a remarkable mastering work and a beautiful artwork make this 3" a truly competitive effort.