Artist:
Fire In The Head
(@)
Title:
The Remedy Has Become The Affliction
Format:
CD
Label:
NCC RECORDS (Noise Control Corporation)
(@)
Distributor:
NCC RECORDS
Rated:
Okay, I admit that the "noise" genre isn't my favorite sonic art form. It takes a special connoisseur of this type of dementia to fully appreciate it. However, when done well, it can be an interesting audial experience. Fire In The Head, (henceforth to be known as F/I/T/H for brevity's sake) put in the effort and do it very well. Currently consisting of Michael Page and Benny Nelson from somewhere in Europe, Germany most likely, the duos create an ominous pastiche of brutal but engaging madness and menace. A lot of "The Remedy Has Become The Affliction" sounds like a nightmare in an underground metro station. Psychotic voices occasionally break through the industrial miasma like crazed homeless people you could imagine living in subterranean city tunnels. Even though the first track seemed to come on a bit too strong with distorted vocals, the majority of this album shows a certain maturity and refinement that F/I/T/H must have developed over a number of previous releases. Don't expect beats or regular rhythmic content on this grinding, grating outing; it's not that kind of "music". There is enough variety in the compositions on "TRHBTA" that for true lovers of esoteric noise, it will stand up to repeated listenings. The use of (heavily processed) vocals and vocal samples is mercifully sparse, excepting the first and last tracks. By the time you get to the last track, you'll be looking for someone to tear it up vocally anyway, so it all works out pretty well. I can't really take into account F/I/T/H's socio-political agenda- as they say "TRHBTA is the carrion we collectively accept and ingest as reality, a dirty needle in the neck of a complacent society and a further descent into the bowels of unmitigated psychosis." I'd prefer to leave it open and let it feed my own inner demons. If you're into well-constructed noise projects, I'd definitely recommend this CD. I think it's limited to 300 copies, so get yours while you can.
image not
available
anymore
Artist:
Mick Harvey
Title:
Motion Picture Music '94-'05
Format:
CD
Label:
Mute
(@)
Rated:
Nick Cave & the Bad Seeds and Birthday Party co-founder Mick Harvey is known by many for his great taste in arrangements and composition, trades that he has been cultivating on his own time for quite a while now and which some of you might have had an opportunity to savor in Andrew Dominik's 2000 film "Chopper", and more recently Paul Goldman's 2002 film "Australian Rules". I personally haven't seen these films yet (although I just added Chopper to my Netflix cue) but a lot of people must have, because Harvey won a Best Original Soundtrack for Film and Television Award from the Australian Recording Industry Association (ARIAS). This CD is Harvey's second film music installment of short pieces, cues, background music and score music and it includes music from the flicks Lighting Fires, Chopper, Sparrow, Rien Ne Vas Plus, Frank Hurley - The Man Who Made History, Rosehill, Go For Gold.
Because the music comes from different scores it is not as easy to file this entire 27 piece CD away under one genre. Overall it is on the atmospheric side, but there are definitely wild differences in moods, ranging from grand, gorgeous and dramatic tension-making and tension-breaking orchestral arrangements (mostly from the Frank Hurley film, which I'd love to see but Netflix doesn't carry) to simple and minimalistic pieces with kalimba and guitar, from Ennio Morricone-inspired western desert image evoking passages to piano parts, subtle string parts, atmospheric post-industrial things or Tom Waits-like parts that might fit in a Tarantino or a Rodriguez picture... As in a movie, a lot of the parts are recurring and will make you feel almost as if you are actually watching a movie. And yes, in case you are wondering Cave does make an appearance as co-writer and singer on the last one of these 27 tunes, a remarkably strange and different piece that sounds almost Eastern European inspired.

Artist:
Nohno
Title:
Metropolis
Format:
CD
Label:
Out to Lunch recordings
Rated:
BUY from
Nohno is UK-based Dean Dennis, also known as Sector and previously member of Clock DVA and The Anti Group Collective. Obviously with that kind of experience it's pretty safe to assume that whatever Dennis will do is going to sound pretty damn good, or, at the least, it is going to be based on the knowledge and taste acquired in over 20 years of music making. However don't expect the Dennis of Sector. Nohno was created as an alternative to those techno sounds and an opportunity to explore a larger variety of sonic combinations, a more IDM album of sorts, if you will. Specifically, "Metropolis", as the title suggests, intends to evoke the multifaceted atmosphere of a big city, its ocean of lights and it's patterns of revolving sounds and throbbing beats. Voices, thick layers of sounds, incessant and driving beats symbolizing the rhythms of the city, ethereal Mills-like piano parts... Think of it as standing in the middle of a busy Tokyo intersection in the middle of a lively Saturday night, looking up to the skyscrapers and the billboard-lit sky, while fast moving cards leave slow-motion yellow and red light rays all around you in all four directions and you experience the symbiotic relationship between lights and darkness, between slow and fast, between outside world chaos and innermost quiet, between swift terrestrial movements and a still sky.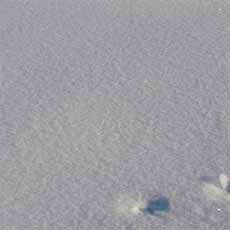 Artist:
SABINE VOGEL
(@)
Title:
Aus dem Fotoalbum eines Pinguins
Format:
CD
Label:
Creative Sources
(@)
Rated:
If Beside The Cage brings forward some typical elements of impro-combos, Sabine Vogel can be better qualified as many solo performers on Creative Sources and on similar labels. Does what I wrote stands for "here's you have you're average anonymous release"? Absolutely no, with those words I simply meant if there's a modus operandi with which you can distinguish the work of a band as much as that of a soloist like in this case. But given that the world is full of contradictions, let's say if we'd not consider this one as an only acoustic/instrument cd, this should be a big mistake since the fifty percent of this whole effort is made out of field recordings. Believe it or not, the fact is that miss Vogel mixed really well some solo performances with some silent/non intrusive field soundscapes and I dare you to recognize the different sections without the liner-notes accompanying every track. The recording is superb and Sabine mixed the different elements so well it all sounds as a unique continuative trip that passes from a soft half choked blowing to a silent audio-scape. This minimal work is brilliantly engineered and conceived well enough to offer a enjoyable listening even in terms of time length.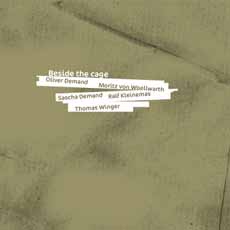 Artist:
BESIDE THE CAGE
Title:
s/t
Format:
CDS (CD Single)
Label:
Creative Sources
(@)
Rated:
With a new bunch of releases coming out, here we've a five piece collective on Creative Sources that includes Oliver Demand and Moritz von Woellwarth on trombone, Sascha Demand on guitars and Thomas Winger plus Ralf Kleinemas on drums. While may expect some explosive noise caustic combo Beside The Cage is really held back in the way the players wait to push their singles notes around in an harmonic manner. Differently form many other releases on the same label they have some sketches of eruption but being just sketched and not shaped "figures" it all sounds as it's disappearing right when you look ahead to see it gets a distinct shape. Believe it or not sometimes it recalled an old band on Ecstatic Peace called Thela (it featured Dean Roberts) as if it would have been more electro-acoustical/improvised. As I told despite the improvisational essence of the work there's a chocked attempt to reach for a "melody " sometimes and that's what makes the whole effort interesting together with its "soloista vs collective" duality or at least that's my opinion. Differently from many others Beside The Cage accomplish the interesting result to sound varied but not confused, the only possible remark is that like many other releases of the sort is a bit too long. Who knows why many artists want to taste the patience of their listeners, but it doesn't change the fact this' record is still interesting.