You have to love a guy who has remix kits for his albums right on his website. I had not heard of Skin Contact, but the music sounds familiar. The list of influences this artists lists (that I agree with) includes: Front 242, X Marks the Pedwalk, The Crystal Method, Juno Reactor, The Future Sound of London, Autechre. The list goes on. You know this stuff. Skin Contact is a group that came about two decades too late. This is the kind of stuff that Wax Trax might have put out back in the day. This disc offers up stripped down instrumental industrial dance music with the occasional obligatory samples interspersed here and there. Perhaps what is most surprising is the cleanness of the sound for a self-released disc, but considering Breidenbach does freelance sound work it makes sense. But it's almost too clean; I tend to like my industrial a bit more gritty. It finally occurred to me what this music would be good for – it isn't really something that would drag me out onto the dance floor. It reminds me a lot of Alien Sex Fiend's soundtrack to Inferno. This would make ideal video game music. Not bad, but it didn't really do much for me. The only exception is the last track, "Over," that is a nice wash of noisy sweeps of sound and what sounds like stretched voices. This disc weighs in at 28 minutes.

It may help to know some of the back story on this collaboration. The press release states that "Saralunden and Kyrre Björkås met 2002 in Riga when Sara was performing at an art exhibition. There was no sound engineer at the show but Kyrre, who was there working as an assistant to an artist from Norway, helped her out. A few hours later they were lovers." It goes on to state that the pair eventually broke up but still wanted to work together. This is one of those discs that defies categorization. This is stripped down duets accompanied by sparse instrumentation. But this is not duets like you would expect. They are duets only in the sense that you have two people singing together. The male and female vocals seem more spoken than sung and weave together nicely. However, it's so sparse that it doesn't really seem to go anywhere. The tracks remain in a state of stasis. For me, the best track is "Murder," which has a nice almost monotone delivery over a samba beat. The disc comes in a slipcase that refuses to yield the disc. This disc weighs in at just 16 minutes.

At times, the background music is similar to Saralunden.Björkås.Mjös "Dubious," (which is also reviewed here) only not so sparse. "Come With Me" has a nice chant-like quality to it. "Oh So Blue" showcases Lunden's melodic voice. The overall feeling is like having someone sing to you in your living room. "Don't You Remember" adds a layer of processing to the voice and burbling electronics in the background that make it sound like something that Hafler Trio would do. "Take Your Chance When You Have It" brings in acoustic guitar, making it sound like something you'd hear at a campfire. There is something in the background that sounds like a cartoon cat being strangled though. It wasn't quite as engaging as the previous tracks. "Erotic Dreams" is almost jazzy with a syncopated synth line through it. About halfway through it breaks into drums and electronic whirs and bleeps that seem to be at a slightly different tempo than the singer. "Tonight" brings back the acoustic guitar, but it gets a bit repetitive toward the end. For me, the standout tracks here are "Oh So Blue" and "Don't You Remember." This disc weighs in at 24 minutes.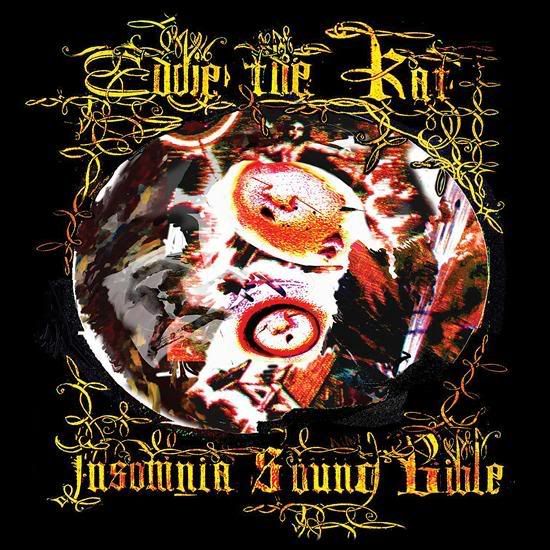 Artist:
Eddie The Rat
(@)
Title:
Insomnia Sound Bible
Format:
CD
Label:
Edgetone Records
(@)
Distributor:
Independent Online Distribution Alliance
Rated:
Multi-instrumentalist and composer Peter Martin started Eddie the Rat as a solo experimental project in 2000 as an outlet for electro-acoustic composition. Over the next year, the project grew into a performing ensemble, usually consisting of a dozen or more musicians at any given time, many from other bands in the San Francisco area. "Insomnia Sound Bible" provides a picture of these collaborations. This is a soundtrack for the somnambulist – sixteen selections prescribed in a single dose – designed to guide the sleepwalker through his restless ordeal. There are very few moments when some sonic vision is not tormenting the senses. The instrumentation is fascinating. Electronic sounds mingle with trumpets, clarinets, violins, cellos, varied drums and percussion instruments – even a triangle! There are certain moments that are extremely dense, in songs such as "Freak Out & Die," and "Lip-synching at Zero Gravity" which sound like an experimental symphony of sorts with a multitude of instruments providing a veritable smorgasbord of sound. Some passages are sparser, such as the three "Ronnie Camaro" tracks and the even more desolate "Where Do You Bleed?" The sound is never muddy, though, and engineer Jon Meyer deserves some serious credit for managing to corral all of these sounds so effectively. True to its name, this collection of songs really does evoke the feeling of wandering about within one's own psyche, the fleeting glimpses of so many disorganized thoughts playing tantalizingly across the mind's eye in a dream-like state from which one cannot escape. Blissfully bizarre!
Coming from the U.S. UCNX are presenting their first full length titled ABSOLUTE ZERO which has been printed into an initial limited edition of 100 copies (but it's available as digital download also) by the English label MOMT Records. The album features five original songs, a cover of Alice In Chains' "Sea of sorrow" as well as three remixes (by Cyanotic, Deadliner and the third by the band itself which give to the main title an Old School e.b.m. mix). This album since the first listening sounded to me like a blast because it mixes electronic industrial power with melody and freshness. With influences of bands like Chemlab, Front Line Assembly or Front 242, UCNX will become for the lovers of the genre a valid alternative to the most known names of the scene. You can check their CDbaby page where you can preview all the tracks as well purchasing the CD.