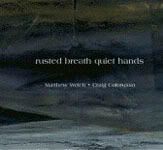 Artist:
Rusted Breath Quiet Hands
(@)
Title:
s/t
Format:
CDS (CD Single)
Label:
MUUD
(@)
Distributor:
MUUD
Rated:
Rusted Breath Quiet Hands is a collaborative effort featuring Brooklyn-based alto saxophonist/composer Matthew Welch (rusted breath) and New England's Craig Colorusso, a performance artist, dancer, sculptor, and guitarist (quiet hands). This self-titled CD – the second release on Colorusso's MUUD label – includes two lengthy, untitled tracks. The first track begins with the sinister sound of Colorusso's guitar coming to life as low moans are wrenches from its strings with a bow. This is soon accompanied by Welch, who improvises a series of long, sustained notes punctuated by the occasional melodic turn. The overall effect is somewhat reminiscent of bagpipes, with the powerful undertone of Colorusso's bowed guitar providing a steady, low-end hum to support Welch's higher, extended tones and chanter-like interludes. It's a very novel and innovative interplay between the two instruments. The second song reverts to a more traditional sound for each instrument. Welch's range on the alto really comes to the fore here, as he paints portraits of sound onto the wide open canvas of Colorusso's slowly repeated, gently articulated guitar arpeggios and harp-like strums. The sax calls gently at times and cries out loud at others, alternately hiding behind and leaping out in front of its companion guitar. This piece is lovely, and evokes the feeling of swinging slowly in a hammock on a warm summer morning. This is an impressive debut with a cleverly onomatopoetic, descriptive name that humbly sums up its components. This disc should appeal very much to fans of organic experimental music.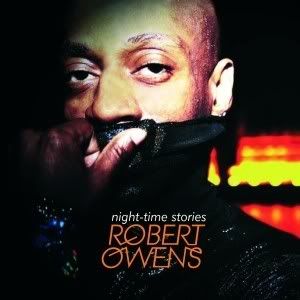 Artist:
Robert Owens
Title:
Night Time Stories
Format:
CD
Label:
Compost Records
(@)
Distributor:
Compost Records
Rated:
Robert Owens' "Night Time Stories" begins with an audio montage of voices intoning the artist's name, and stating "Who?" and "never heard of him." True, it has been over ten years since Owens' last full artist album, but anyone familiar with the Chicago house scene will surely know this talented vocalist, producer, and DJ. 1989's "Tears" remains one of the great house anthems of all time. For the uninitiated, this disc provides a solid taste of Owens' golden voice, which mixes gloriously with the upbeat, lush grooves laid down by Owens and an impressive cast of producers. Standout tracks are abundant, with the Jimpster-produced "Inside My World" giving the disc a quick liftoff into minimalist time-space, with a healthy infusion of silky and soulful vocals. "I'm Chained," produced by Ian Pooley, is deftly layered and designed to unleash one's dancing instincts. The pace of "Never Give Up" is slower than most other tracks on the disc, but the inspiring message and driving beat make this Charles Webster-produced tune one of the more striking efforts. The crown jewel, though, is "Merging" – a nine and a half minute anthem, produced by TJ Kong & Nuno Dos Santos. Hypnotic and powerful, this cut will no doubt return Owens to his rightful place at the forefront of the contemporary house music scene. "Listen," encourages the outro track... "it's all about the music!"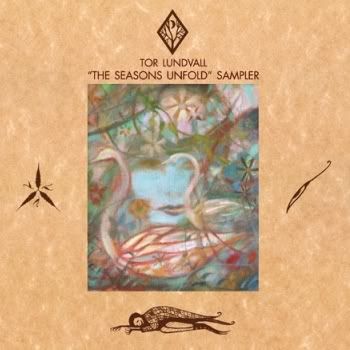 Artist:
Tor Lundvall
(@)
Title:
"The Seasons Unfold" Sampler
Format:
CD EP
Label:
Strange Fortune
(@)
Distributor:
Strange Fortune
Rated:
This four-track teaser presents alternate versions of songs from the upcoming 4-CD box set entitled "The Seasons Unfold." The selections on this sample are rich, contemplative pieces that offer a glimpse into Lundvall's benevolently haunted world. His "ghost ambient" style is only slightly somber and not the least bit frightening. On the contrary, these songs are very mellow and comforting. Whir (Mix #2)' is a short, lovely instrumental featuring gentle piano riffs dancing within a slowly swirling thicket of fuzzy, cascading tones. The second track is an alternate version of "29," with softly intoned vocals and tolling bells that beautifully augment the slowly unfolding melody. "The Backyard" is slightly more upbeat than the others, with a dirge-like verses sharing time with a repeated musical refrain. Another instrumental, "November's Fields," closes out this track with a delicately isolationist touch. This sampler is remarkably gripping, considering its brevity (just over 15 minutes), and yet Strange Fortune is literally giving it away – while supplies last, you can request a free copy with any order you place on their website! I'll be anxiously awaiting the release of the box set.

Artist:
MIKE BROWNINGS INNER WORKINGS
Title:
Trancemissions
Format:
CD
Label:
Pharmafabrik
(@)
Rated:
Mike Browning is a well known name into the death metal scene as he played with bands of the likes of Morbid Angel, Nocturnus, Incubus, Acheron and in his latest one: After Death. Inner Workings is his first solo keyboard project (he uses a Korg Poly61 and a Yamaha SY22) which took life in 2004. The four tracks of TRANCEMISSIONS born from different improvisation sessions and have no overdubs. Mike felt like a voice inside his head who told him to plug his keyboards to the Fostex multi-track recorder and then he started to play like on trance. That strange feeling forced him to do so other three times and this is how these four "alien soundscapes" born. Mike felt like he was channeling an unknown "force" and he decided to let it take the lead. If you listen to "Inner workings", "The edge of the universe", "The weeping of the angels" and "The swirling abyss" you realize that something was really going on and the particular Scott Clark panels you find on the outer and inner cover of the CD help giving to the album an occult atmosphere. Prepare yourself for fifty minutes of synth sounds with no drums and full of obscure moments.
image not
available
anymore
Although there's a label hint regarding the copyrights of the represented audio material, I guess that behind Vagform doesn't hides a real label. It's rather a collective project driven by Krister Petterson, the music-head behind the Swedish Cold-Electropop duo CHINESE THEATRE. The concept of this collection is a quite interesting one and differs from a usual compilation. This 1-CD compilation is filled with 19 possible appearances, but all featured bands present 3 – 4 tracks each. This guarantees a quite good introduction on all of them, since all bands here can be named newcomer acts or at least they haven't seen any higher stages of an unexpected so far. It also needs to be mentioned that all bands differ to each other sound-wise and provide therefore a diverse sound outfit. But one thing all of the featured bands have in common: they all share a rather retro and analogue-driven form of electronic-based music. Things get started with a German project entitled AUDIOSCOPE, at least I must admit that I haven't heard of them before. The presented music on their 4 tracks is a sort of experimental retro-EBM, maybe a bit influenced by the classic work of THE KLINIK. Comes then NORTHERN ELECTRIC, a Swedish Synthpop act heavily inspired by some works of the early Energy-Records acts like ELEGANT MACHINERY, DEAD EYES OPEN or PAGE. Their stuff lacks a bit of originality, while the typically Nordic accent of the singer brings a smile in the face of the listener. PROTOTYP, well, that's already a small name in the scene, likes to re-animate the classic old-school EBM-formula. Somehow their tracks draw some inspiration out of POUPPEE FABRIKK and AMNISTIA, to name a currently on-top artist. Well chosen sounds, good hook- and basslines plus useful male vocals – well, they should soon be able to reach a wider and international-based audience. CHINESE THEATRE of course don't have to be missed here, offering three additional tracks of their cold but smooth melodic Synth-/Electropop. As usual, their dedication to some 80-retro acts is recognizable on every track. As expected, next to PROTOTYP the winner of this comp. ADOLF FILTER out of Gothenburg are another Swedish act which strictly relies on analogue synths and production tools. Somehow they seem to be the Swedish answer here on the entrancing AUDIOSCOPE, their tracks, also featuring some live improvisations, offers a comparable hypnotic mood. Last but not, the Belgian project LIQUID G – yes, move your ass to your good old vinyl and demo tape collection, because Peter van Bogaert is still alive and kicking. And at least his stuff sounds that chaotic like the nearly 20 years before, it seems that the time has stood still for him. A bit more modern with his new side-project MAXX IMPACT for sure, but the mood is similar. So you'll get 19 tracks in all on a filled CD full of old-school and analogue-driven Electro power. A must-have compilation for the veteran and die-hard EBM maniacs, while the kids out of the Hellectro/Trancewhackedgoregalore-camp better keep their fingers away from it.

Track listing:

01 - Audioscope - The Prelude
02 - Audioscope - Shut Up
03 - Audioscope - In All Conscience
04 - Audioscope - 100(1).000 Souls
05 - Northern Electric - The Captain
06 - Northern Electric - The Modern Mannequin
07 - Northern Electric - Fashion
08 - Prototyp - Beyond Belief
09 - Prototyp - Shine
10 - Prototyp - Solitary Confinement
11 - Chinese Theatre - Bit By Bit
12 - Chinese Theatre - Forever And Ever
13 - Chinese Theatre - Minimal Horror
14 - Adolf Filter - Printed Letters
15 - Adolf Filter - Tiny Girl
16 - Adolf Filter - Alla Ord
17 - Maxx Impact - Gangsta
18 - Liquid G - Welcome (Rapture Mix)
19 - Liquid G - They Control It