image not
available
anymore
Artist:
VV.AA.
Title:
Revelation
Format:
CD
Label:
Bugs Crawling Out Of People
(@)
Distributor:
Ad Noiseam
Rated:
Not the freshest release for sure, but better late than never. The Canadian label Bugs Crawling Out Of People can be seen as the legit follow-up out of TIK Recordings, the label and gig organizer which made itself a fine name with the huge "Saturation Bombing"-festivals. Unfortunately there hasn't been too many comparable Noise-festivals in Canada, since TIK has called its quit during 2K4. This "Revelation" is the first official release for Bugs Crawling..., a compilation featuring more than 75 minutes Powernoise/Dark Ambient/Martial-inspired audio warfare complimented by some more but also lesser known acts. PROSPERO, during the last year active via the French Brume Records, opens this compilation with a noisy introduction by forming repetitive and distorted samples to an at least straight-forward moving track. The Belgium project NÖRV, which has lately collaborated with H.I.V.+ offers at least that sort of stuff, in which Belgium can offer some masters, "Icon IV" sounds a bit like DIVE with some pounding metallic snares. PNEUMATIC DETACH a.k.a. Justin Brink offers a lecture in "create-multiple-noisy-drum-patterns" which sound complex – technically one of the best, if not the best appearance here. SEDARKA can win an extra price for their enjoyable effect manipulation on some Noise patterns – what an insane track. Mostly the stuff available on this comp deals with static Noise/Martial stuff (LEGION ULTRA, COLD FLESH COLONY...) – so SCRAP.EDX offer the most straight and speedy arranged track on here with "All Those Fucking Eyes". Canada's ISZOLOSCOPE tends to drift in a comparable style, while offering a rather more subtle and sample-driven intro-phase. Both last tracks got provided by the Dark Ambient-artist NITROUS FLESH, which is a project of James Geist, the musician behind the EBM-related project NECROTEK (official debut "Menschenfeind" out very soon on the Denver-based E.A.R./Vendetta-Music label). Of course, this stuff is quite different to NECROTEK, but still addictive with some slight distortion elements. "Revelation" is a quite entertaining and diverse collected compilation, which should appeal all fans of Powernoise music. There's more to come out on this label...

track listing:

prospero - through the walls
dead man's hill - heretics look downstairs
casual coincidence - merboso
NöRV - ICON VI
pneumatic detach - .ryhim.ninept.
legion ultra - mute (demo version)
sedarka - mucus on ice
bETON bARRAGE - devoured by flies
cold flesh colony - hymn of praise
scrap.edx - all those fucking eyes
iszoloscope - a deep cthulhu terror
asphalt leash - something has gone terribly wrong
nitrous flesh - the return of the dark angels pt 1
nitrous flesh - the return of the dark angels pt 2
image not
available
anymore
Artist:
[:SITD:]
(@)
Title:
Bestie:Mensch
Format:
CD
Label:
Accesssion-Records
(@)
Distributor:
Indigo
Rated:
New full-length for this well-known and internationally renowned German Electro/Industrial trio. Since they've done some remix contributions for some Chart-breaking acts like OOMPH! or ONETWO, it seems to be only a question of time, until [:SITD:] themselves can look on Chart positions. Enough capable stuff is featured for this on this new album, while the harder-minded EBM/Electro-listeners will even find a fair amount of some straighter oriented stuff ("Stammheim", "Kreuzgang V.2", "Propaganda"). Musically not too much news can be reported from this new album, it seems that the earlier years of experiments and the finding of the right sound direction have a bit gone towards to routine. Nothing wrong on this, since the studio work and the arrangements of [:SITD:] can be named as being one of the best and tastefully produced around. What is definitely new is the fact, that also Tom now picks up the microphone for one or another track to offer his vocals. And mostly the result is satisfying, Tom's voice sounds a bit smoother compared to Carsten and it works the best on the rather slow, nearly Synth-/Electropop-like tunes ("Reincarnation", "Displaced" or the engaged dual performance with Carsten on "Herbsterwachen"). I guess it can be realized that [:SITD:] do concentrate the most to polish a bit their outfit, maybe with the side-effect, that their music sounds lesser aggressive than before. But it's still an experience to discover the sinister sounding works with its epic and multi-layered arrangements, "Telepathic" has to be named, for sure one of the favorites out of this album. Lyrics got as usually provided in both languages, German and English, and like the title of the album announces it a bit, [:SITD:] deal with a lot of things related to the human kind and behavior. "Herbsterwachen" can be interpreted to be a reflection of the happenings in the ex-eastern part of Germany during the fall of the GDR-regime, but it can be also seen as a statement against the ongoing inertia of the people for taking all politically decisions without protest. Engaged lyrically content, music and production without failure, [:SITD:] are offering once again an album which defines standards. Their successful way will continue, no doubt.


Artist:
MANMACHINE
(@)
Title:
The Military Death
Format:
CD
Label:
SkullLine
(@)
Distributor:
SkullLine
Rated:
Although album and band name are sounding pretty much dedicated to the EBM/Electro-scene, the solo project of the German musician A. Schwarz hasn't too much to do with this style. MANMACHINE stands for a rather harsh and noisy outfit, variable styles between Powernoise, Experimental and Cold Meat-like Electronica can be discovered. As I could see on some photos, A. Schwarz doesn't seem the be the youngest horse in the SkullLine-stable and has followed the creation of Synth-driven music since the early beginnings. So he has very late decided to record and to release his very own Experimental Electronic-recordings. It shouldn't therefore wonder, that most of the provided instruments seem to have a veteran and analogue-based background. MANMACHINE's tracks are pending at times drastically between the styles, even if you think a song would follow a foreseeable line, the complete track fades over to just another quite different mood. Mostly the music is instrumental arranged, even some sparse and pitched down vocals here and there got integrated. "I Have A Dream", aptly named after the legendary words of M. L. King which got sampled here, comes out like a screaming monster with several live improvised noise elements. Even more static and dark comes "Im Fleische Des Krieges", while "Menschfabrik" creates fat sound layers completed with some subtle distorted rhythm patterns. MANMACHINE's debut surly isn't the hi-end solution of Electronica arrangements, but a quite fair and experimental-minded kind of work. Strictly limited to 100 exemplars and again provided in a special package, as usual for the most releases of the SkullLine-label.


Artist:
DESTROID
(@)
Title:
Loudspeaker
Format:
CD
Label:
Scanner / Dark Dimensions
(@)
Distributor:
Soulfood
Rated:
Daniel Myer (haujobb., ARCHITECT, CLEANER, etc.) returns finally with a new DESTROID-album after the already 4 years old debut release "Future Prophecies" (Out Of Line). It seems that there has been some very unsatisfying happenings with his contract at the German giant, because that debut went totally down under. Signed now to the Scanner-label out of the Dark Dimension label group, he offers with "Loudspeaker" a top-notch quality album which is worthy enough to strengthen his reputation. See, this is the work of an experienced musician, who has already seen and felt the good and bad terms this scene and the music business generally can offer. It shouldn't wonder, that on some tracks some acoustic instruments will get a slot besides the always ruling Electronica as well. I shouldn't forget to mention his partner, Seb Rydell, because with DESTROID Daniel has decided to cooperate with an additional musician. But all who have expected a similar and a bit torn up sounding album like the debut, will be quite astonished, how calm and linear, but still extremely coherent this new DESTROID-album can be, not too much remembers on the debut. "Loudspeaker" offers a decent cross-section of Myer's talent, be it the natural sounding vocal performance or the at times obviously, at times rather subtle placed typically sound experiments. No hectic on here, no aggression, no use of cliches, no curry favor on already discovered genre-typically redundancies – just simply a layered produced album a la Myer. Although this album got straight produced, some pieces will work any better to sink in and offer a rather discouraging content ("Let Me Leave", "Friend Or Foe (The Betrayal)") – it seems a bit that Myer has found the right way to receive some cure through his lyrics and compositions, some content here makes you think. Enough dancefloor-filling stuff is of course available too, "Bird Of Prey", the energetic "Revolution", "Moral" or "As The World Turns" have to be named. It's surely not the harshest and/or darkest work available, but all who've heard and consumed Myer before shouldn't expect this. A great album and a possible contender for the imaginary "album-of-year"-title. Let that contest begin!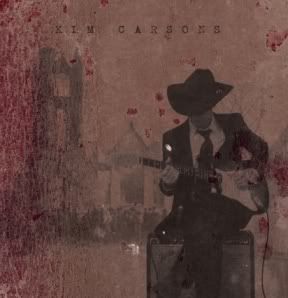 Artist:
KIM CARSONS
Title:
Kim Carsons
Format:
MCD (Mini CD)
Distributor:
HAURUCK! SPQR
Rated:
Limited to 222 copies Kim Carsons' self titled MCD contains four tracks in balance between Nick Cave, Spiritual Front and Clock DVA of the "Advantage" period. The first track, "Betty suicide" opens like Clock DVA's "Eternity In Paris" with Alessandro Manni's whispered and tortured vocals (he's the main one behind Kim Carsons) duetting with a trumpet. Just a minute and the track turns into an upbeat ballad dedicated to a suicide girl. Good opening songs with a nice atmosphere. The second track "1996", instead, is an acoustic one where guitar and piano are the main instruments. This one recalled me a little the Current 93 of the latest period on its first part but few moments and it turns into a dark ballad a la Spiritual Front with a certain cabaret attitude. "Summer snow" follows the same pattern of melancholic darkness and it is the one I appreciated less. "This is Kim" is the most "experimental" of the lot with its Texan sound and the recordings of William Burroughs reading his "The place of dead road". Good recordings and nice songs despite the tendency of turning each idea into a mid tempo ballad. Exclusively distributed by HAURUCK! SPQR...