image not
available
anymore
The Hydra label is really active and they are planning to release the new Penitent CD at the end of May. Karsten Harmre released his previous Penitent albums three years ago when Beyond Productions and Trinity Records printed "Deserted Dreams" and "A Shapeless Beauty" (CD born from a collaboration with Lucian Olteanu of Museum of Transient Lights, Tronul Ascuns and Wide Open Wings). AMONG THE SLEEPLESS is a sort of compilation which gathers three tracks from each of the CDs I mentioned ("Transfiguration", "The Resurrection of Nativity" and " Epitaph For The Lost Ones" from "Deserted Dreams" and "A Shapeless Beauty", " Throne of The Abyss" and " Demon Trubadour" from "A Shapeless Beauty") plus three new tracks. Even if this release is a compilation of tracks the album has a certain musical theme that, for those of you who don't know the previous releases, could be summarized as a blend of dark ambient and neo-classical martial music. The tracks I preferred are the new ones along with the three coming from "A Shapeless Beauty". In any case it's a pity that sometimes the sounds Karsten uses seem 8-bit samples because with quality orchestral sound, his music would be even more dramatic and involving.
Artist:
Alfredo Notarloberti - Martina Mollo
(@)
Title:
Dark Tango Project
Format:
CD EP
Label:
self-released
Rated:
Alfredo Notarloberti is a sort of icon in Naples, Italy. He's THE violin player: he worked with innumerable rock/classical/folk groups and orchestras; in particular he played with almost all the bands in Neapolitan dark/gothic area: during the Obscure Festival in May 2005, he'd been always on stage, for hours, while different bands where changing... . ASHRAM, ARGINE, CORDE OBLIQUE, LUPERCALIA, ANIMA IN FIAMME, just to name a few of his collaborations.
Now he's back with a new bet, DARK TANGO PROJECT, a duo with the pianist Martina Mollo. All instrumental, the CD has the power of being always over the lines, mixing tango influences, classical music, minimal and reflective moments, reaching in "5 letras sobre Marianna y la melancholia" its most profound and intimate apex. "La primera era una mujer muerta" opens with an intense and dramatic crescendo. "Marilenatango" is another beautiful track, ardent and tormented, with a wonderful melody and a pressing piano, giving the impression of life running away, a unbelievable sense of oppression, that something will happen... it would be perfect for a thriller or suspense film. "Fernanda, historia de una fija" is another track I think perfect for a soundtrack, thoughtful and gloomy, while in "Dark Tango" drums and bass complete the arrangement; "Mon revè le 31 Mars", is a piano solo that closes the cd, perfectly suited for a rainy evening, where the piano takes a moment to show what has to say, without the presence of violin. Undoubtedly, a very good work that I hope will be released in future as a full length, another center from Edo Notsrloberti, here excellently joined by Martina Mollo.
Artist:
THE MOON AND THE NIGHTSPIRIT
(@)
Title:
Regö Rejtem
Format:
CD
Label:
Equilibrium Music
(@)
Rated:
This is the second album for the Hungarian band THE MOON AND THE NIGHTSPIRIT, after the debut album "Of Dreams Forgotten and Fables Untold", both released by Equilibrium Music. The title of this new work, "Regö Rejtem" means "I conjure with magic" and explains better than other words the dreamy atmosphere the band evokes. You'll be moved from ordinary life to a fantastic world where elves and faeries live in obscure woods, far away from chaotic and industrial cities you'll re-discovery the conjunction of the elements and the inner fusion between man and Mother Earth. In this research you'll be taken by the hand not only by the sublime music and words, but also you'll be helped by Agnes' paintings included in the booklet, deeply linked to the music, visionary and poetic, creating a unique vision you'll be involved into.
The duo Agnes Toth-Mihaly Szabo creates a mix where folk music express a point of passage among different traditions (medieval, celtic, something I could associate with tzigane or yiddish), giving a colourful and emotional result. The use of violin and percussion, together with harp and woodwinds creates the right background for the superb voice of Agnes. Not the usual monochord ethereal voice, but a lively one that's able to go up and down, chanting both slow melodies and intense ones. Influences from great bands like DEAD CAN DANCE, ALGIZ (the title-track reminds me of this band unfortunately disappeared after the first album), sometimes even BLACKMORE's NIGHT, but the Hungarian duo isn't a clone of anyone, and shows its original vision of global art (poetry, painting and music) with pride. The album comes in DVD-size digipack, with a booklet including paintings and lyrics both in English and Hungarian, and I think is a must for all ethereal/medieval/ambient dark fans, and maybe a new discovery for other listeners tired of electronic or rock, willing to re-discover the real essence of life.
image not
available
anymore
The last Septic – it still seems to me a bad nightmare that the German Dependent label will close the doors during summer. So this is the final chapter of this successful and international renowned compilation series. And as usual, label chief Stefan Herwig has again compiled a colorful and diverse mixture out of different styles, already established acts go hand in hand with some promising newcomer acts. That is and has always been a huge explanation of the success for this series and one or another act nowadays can proudly look back on an appearance on this compilation series from which it has been started. It also has to be said that acts out of the quality Dependent roster here and there get some free space and can provide new or rare recordings. SKINNY PUPPY are opening this series, well for the final edition it was about time to have them on board. MIND.IN.A.BOX are providing with "Stalker" a teaser of their upcoming third full-length release, which will be definitively one of the last Dependent releases – quality Electronica from this Austrian act as usual. SLOK then is an Italian solo effort by Alessandro Russo. His track "Lonely Child (Club Version)" is a danceable Futurepop tune with some obviously retro-80ies influences, it reminds on some Pop/Wave tunes out of those days. EDGE OF DAWN and the uncountable days until their first official debut full-length CD will be out – yes, it has taken a while since the EP "The Flight (Lux)". This album will come soon and I can't eagerly awaiting it, since this fine and unreleased remix of the Australian act TANKT is one of the best tunes here. To name a band project NON PLUS ULTRA is really courageous – I'm not sure, but haven't we had this before? Anyway, this German solo effort can convince with a more than 7 minutes long track providing catchy Futurepop combined with charismatic vocals. ACRETONGUE are another newcomer out of South Africa and I haven't heard of them before. Their slow track features Dark Electro elements with complex arrangements and whispered vocals, definitively an act to keep an eye/ear on. The tone now on this comp get rougher and more straight into the EBM field. The Polish act CONTROLLED COLLAPSE offers with "Selfless" one of the best pieces of the recently long-awaited debut CD "Injection", signed to the Dependent partner label NTP. Two licensed appearances by both Swedish acts NECRO FACILITY and CRYO both signed to the rising Swedish Progress Productions label are filling this genre. While NECRO FACILITY have just released their new and second full-length CD "The Room", it doesn't make sense to have "Does It Hurt" of CRYO on board. It's not that this appearance wouldn't be deserved, but this track was already available on the debut release "Cryogenic" – and CRYO have already offered two new tracks available on the earlier this year released Progress label compilation "Burn/Evolve/Progress 2". With the US act CAUSTIC this releases also offers stuff from the rather noisy side of life. Licensed from the growing Crunch Pot Media label, this solo project of Matt Fanale is the sensation within. The debut album "Unicorns, Kittens, and Shit" has taken several mail order sales lists by storm and can be called as being the most successful Crunch Pod release until now. Here with a remix on "Papscraper" done by the label mate of CERVELLO ELETTRONICO, CAUSTIC has just released his newest effort "Booze Up And Riot" (soon more of this...). Another big player of the scene is KMFDM here with a cover version of DAF's "Der Mussolini" – surprisingly more electronic-minded than I expected. STANDEG is a German project which combines Electronica with guitar sounds. Consisting of Sven and Björn Jünemann, from which I guess they were involved with haujobb. on their first album "Homes And Gardens". IAMX is the project of Chris Corner and he got signed to the new Hamburg-based label Major Records. Experimental Electronica tunes, but always with the sense to create smooth Pop art music – also the promotional help of Hardbeat Promotion has had its effect on the recognition for this act. THE KNIFE then is a mysterious male/female-leaded duo providing a Futurepop tune – well this compilation has seen more spectacular stuff. Last but not least SEABOUND offering an unreleased of their track "Domination", this time remixed by the French cult act DIE FORM. Again – also this new Septic compilation is worth the investment – too bad that it seems to be the last one.

track list

01 Skinny Puppy "Politikil" (Humble Brothers Remix)
02 mind.in.a.box "Stalkers"
03 Slok "Lonely Child" (Club Version)
04 Edge Of Dawn "The Nightmare I Am" (Tankt Remix)
05 Non Plus Ultra "Alice-D" (Club Version)
06 Acretongue "Hollow" (v 2.0)
07 Controlled Collapse "Selfless"
08 Necro Facility "Tuxedo"
09 Cryo "Does It Hurt?"
10 Caustic "Mmm Papscraper, I Love You" (Cervello Elettronica Mix)
11 KMFDM "Der Mussolini"
12 Standeg "Replikant" (2nd Unit)
13 IAMX "Kiss And Swallow" (Moonbootica Remix)
14 The Knife "Girls' Night Out"
14 Seabound "Domination" (Die Form Remix)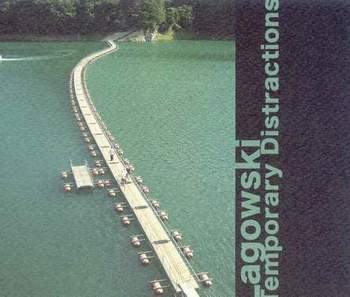 Artist:
LAGOWSKI
(@)
Title:
Temporary Distractions
Format:
CD
Label:
Ars Benevola Mater
(@)
Distributor:
Masterpiece Distribution
Rated:
Andrew Lagowski don't need any introduction because he's active since early 90's. He releases his music with different monikers such as Lagowski, S.E.T.I. and Legion and I'm pretty sure you already heard of one of them. His latest album as Lagowski has been released by Ars Benevola Mater and it is titled TEMPORARY DISTRACTIONS. The CD contains ten tracks which float between ambient, electronics and i.d.m. By reading the titles, the tracks don't seem to follow a particular theme. Maybe the "distractions" are like electronic canvas where Andrew exercised different ways of dealing with the electronic subject. Listening to TEMPORARY DISTRACTIONS is like entering a gallery where you can stop in front of your preferred painting and lose your senses by following the electronic waves of the ambient tracks, the upbeat rhythms of tracks like "Wm29a" or the experimentations of "Random how".