Artist:
PANTHEON LEGIO MUSICA
(@)
Title:
Per Aspera ad Astra
Format:
CD
Label:
Thonar Records
(@)
Distributor:
Masterpiece Distribution
Rated:
After reviewing almost a year ago "Sic Itur Ad Astra" (here www.chaindlk.com/reviews/index.php?id=3687), which was a sort of advance copy of PER ASPERA AD ASTRA, I was waiting for Hydra to release it. Unfortunately that label seems to have stopped printing new releases but Pantheon Legio Musica were lucky enough to find a new label for their debut album. Thonar Records is releasing it on March the 15th (the day Julius Caesar died) and the definitive edition has all the tracks of the preview plus some others. The sixteen tracks of PER ASPERA AD ASTRA ideally link industrial/neo-folk music to the greatness of Roman Empire by creating atmospheres which make you fantasize about great battles, ancients heroes and pagan Gods. Pantheon Legio Musica are able to give to their music a solemn atmosphere full of pathos, rumbling rhythms and melody. The instrumental tracks are perfect to paint battle scenarios, while the ones sung by K.M. Roho make you think about bacchanalia and everyday life. I can only confirm my old review and finally also you will be able to enjoy this great record.
image not
available
anymore
Tympanik Audio's "Emerging Organisms: Hidden Forms Compilation Series Volume One" is a very interesting two disc compilation that beats Nine Inch Nails's "Ghosts" to the punch with its brand of ambient/industrial soundscapes from artists such as Rekt, Flint Glass, Lucidstatic, and Nebulo. The compilation offers a mixture of traditional ambient compositions, clanking industrialized rhythmic tracks, and instrumental EBM and IDM pieces. The nice thing about this compilation is that while it is comprised of contributions from different artists, the collection as a whole has the cohesiveness and flow of an album put together by a single artist. What is most impressive about this compilation, aside from its nice packaging, is the fact that it sounds surprisingly fresh and new, which is a major accomplishment given that so much of the "new" EBM and IDM being put out are bland and uninspired throwbacks to :Wumpscut: and Leaether Strip circa 1998. Instead, the contributions on this compilation infuse these two dying genres with hints of classical, musique concrete, and electro jazz, which is why the young Tympanik Audio has been able to build a reputation as a leader of innovative electronic music. In sum, if you are looking for some good instrumental EBM and IDM that thinks outside of the box, then Tympanik Audio's "Emerging Organisms" compilation is the record for you.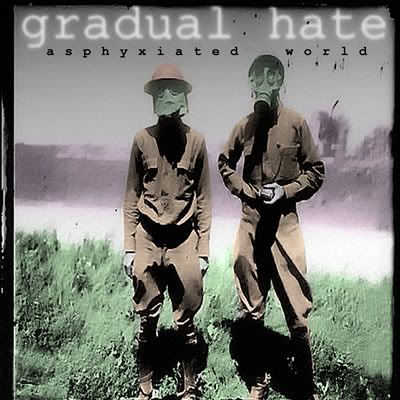 Artist:
Gradual Hate
(@)
Title:
Asphyxiated World
Format:
CD
Label:
Hypervoxx / Telegrammetry
(@)
Distributor:
CD Baby
Rated:
Another surprise released by the Miami-based Hypervoxx label, GRADUAL HATE, a Spanish Dark Electro/EBM-duo, are surely that sort of a newcomer, on which no one would think of to release a debut CD. Even those bands out of Spain I normally talk to seem to be quite surprised, while this isn't at all meant negative. As GRADUAL HATE like to prove on nearly all of their tracks on "Asphyxiated World", the possibility to release a debut through this hard-working Miami-based label is well deserved. At least it is one of the best releases of the Hypervoxx label so far. Musically always straight and dancefloor-oriented, GRADUAL HATE's version of Dark Electro music takes rather influences out of prominent acts out of the mid-90s, acts like early FUNKER VOGT or EVILS TOY come to mind. On some tracks they also like to integrate some guitar riffs as an underlying effect in their tracks ("Dancing On Ruins", "Gradual Hate"). They also don't seem to trust that much their programming abilities on some EBM-like bass lines, because mostly all of their tracks are dominated through opulent layer and pad sounds – this of course offers them more a Dark Electro instead of a pure EBM status. Regarding the vocals, well, they are sort of genre-typical, mostly distorted and raging, while the recording quality of them could need some improvement. But that's maybe the only one constant point of criticism, because musically they do their best to keep their audience entertained and the masses in motion. A lot of floor-filling stuff is available here and GRADUAL HATE have their best moments on the tracks "Elektro Radio Sex-Station" and "Weakness Man" which both can totally convince through its integrated catchy inserts. Although GRADUAL HATE "play" with that often used sort of militaristic attitude to strengthen their manifesto, and if you're able to accept that they surely aren't the end-solution of a musically sensation, this tremendous debut album has enough ear-catching food on board to grow to a constant secret tip in the scene. Good work, keep it on!
image not
available
anymore
Artist:
VV.AA.
Title:
Weatherhead 3
Format:
2 x CD (double CD)
Label:
Hypervoxx/Telegrammetry
(@)
Distributor:
CD Baby
Rated:
Well, I'm quite late on this and I hope that the guys of the Miami Vice don't get me for this. The Hypervoxx label, a division of the FL-based Telegrammetry, returns with this long awaited release, a new part of the "Weatherhead" series. Since the last year has been a very difficult especially in the private life of label chief B. A. LaRed, a release like this DCD compilation offers hope, that things will be running smoother in 2K8. Yes, this time the "Weatherhead" compilation has grown to a DCD set and the staff around B. A. had to do some hard decisions, since more than 110 projects/bands have reacted on the call and have sent in stuff for consideration to take part. So at least you'll get a quite quality oriented sort of a newcomer-compilation with only a few familiar acts but dozens of talented unknown names. Some of the Telegrammetry/Hypervoxx-recording artists of course are included and all of them are doing their very best to offer new and exclusive stuff. Greece-based AKRON continue with their cinematic instrumental music on their new track "X-Revenge". STAHLSCHLAG, based very near in my home area, continue their drastically Rhythm/Noise installments with a new tune. "Acute Netzzerstörung" (is this title correct printed???) comes out quite in vein of the current acts out of the ProNoize roster and this seems to be intentional. E-THIK is another act worth to mention here, their "Machtuefall" (again the question: is this a typo?) is rather more dedicated to classic forms of EBM instead of productions out of the nowadays Hellectro rush, plus the male vocals offer decent distortion effects. Although a parade example out of the often criticized Hellectro camp, the best appearance available on CD1 got provided by MORDACIOUS. Somehow SO it has to be sound if you like to take a step into this genre – well worked out synth bass lines and textures, a constant good rhythm work – this new MORDACIOUS track entitled "Death In Denial" beats almost everything of Mr. Mordacious' previous compositions. CYANIDE REGIME, out of Miami and sorted under a comparable musically roof, give with "Vanquisher" an unfortunately already discovered, but still a quite valuable appearance. BLC Productions own act STIGMATA NL gives out another hellish teaser of their up and coming debut album out in the coming months – musically relations with MORDACIOUS are recognizable. Another rough and noisy tune got provided by ESA (didn't they release an album on Hive Records?) and accomplishes the first out of two CD's.
CD 2 starts with another unreleased remix work on one of the latest DIVERJE smasher tracks, "Smell The Blood", this time remixed by MORDACIOUS. The new HYPERVOXX-recording act GRADUAL HATE, a duo out of Spain, is also featured with their track "New Highway And Asolation". This one is taken from their debut "Asphyxiated World" – so let's agree to rate it like this: well-done and valuable to take part on this comp, yes, but nevertheless one of their weaker tracks compared to some of their tunes on their album – soon, very soon more about them! Sweden's TWZ, recently signed to the Hungarian-based Advoxya-Records label, give out an alternative version of their new track "The Grid", originally available on their up and coming new album "Evolution". As a trademark of them, their synth textures used as manipulated bass lines still offers them a sort of special niche in the scene. But the best track of this whole compilation got provided by an also to me quite unknown act named SCHISM TRACE. Reminds strongly on a mixture of old X MARKS THE PEDWALK ("Abortion") mixed with older FLA, excellent programmings, good sounding vocal manipulation and an addictive melodic content makes "The Failure" to nothing what the title may announces. BRAINCLAW are counting surely to be one of the better known acts available on this comp and their rich experience sound- and production-wise is recognizable in every second of their exclusive remix on "Feed The Machine". Addictive hook lines as usual, just another great work of this BLC-recording male/female duo. Germany's [ORGANIC_CAGE] are surely one of the big up and coming artists for the rhythmically Powernoise genre. "Program Interrupt" though isn't a favorite of this act, but a great example how this solo project treats his machinery.
A stylistically wide-ranging collection of newbies and established acts are featured on here, and so this new "Weatherhead" compilation reminds a bit on some BLC compilations out of the "Interbreeding" series. Quite good comp if you're on the hunt for some new talents and so worth to spend some bucks on!

Track list:

1 Akron - X Revenge
2 Stahlshlag - Acute Netzzerstorung
3 E-thik - Machtuefall
4 Twinsine - Revolution
5 Andromeda 5 - Fleisch Und Blut
6 Mordacious - Death in Denial
7 Spit Static - Break It Off
8 Sino Re-build Projects - to Die
9 Acc:xess & Grammatik Inkorekt - Fyebs
10 Cyanide Regime - Vanquisher
11 Stigmata Nl - Satanus Malificarum
12 Esa - Tand

13 Diverje - Stitched (Mordacious Rmx)
14 Gradual Hate - New Highway & Asolation
15 Evlent Chapter - Tivoli
16 Total Pain Kollapz - Are You Scared?
17 Synaptic Defect - Punish Me
18 Ferrum Dei - Ascendency of the False Prophet
19 Stainless.4571 - Trip to Madness
20 Twz - the Grid
21 Schism Trace - the Failure
22 Brainclaw - Feed the Machine (Rmx)
23 Organic Cage - Programm Interrupt
24 Suburban Prototype - Luna (Wax Rmx)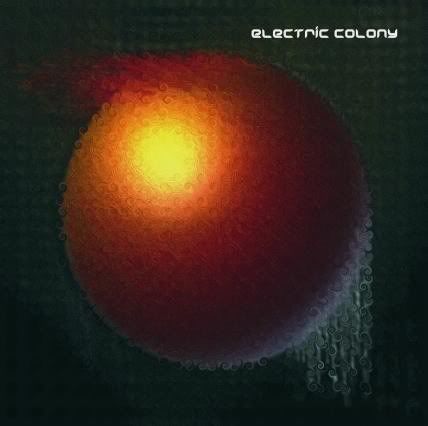 Artist:
Electric Colony
Title:
s/t
Format:
CD
Distributor:
Indie Pool
Rated:
Electric Colony is Kris Summers, a guitarist and composer based in Toronto, Canada. His self-titled debut CD is a very strong effort, and showcases his talents as a studio engineer alongside his inspired playing. The references listed in his press kit include Wire, New Order, and My Bloody Valentine, and I hear shades of all of these. There are also inklings of Curve, New Model Army and the Jesus and Mary Chain present here. The songs are mostly very heavy on rhythms, driven by deftly sequenced rapid-fire beats and beastly guitar riffs, though some tracks feature a more subdued approach. The only problem is that the vocals are sometimes overly processed or buried just a little too deeply in the mix. This is unfortunate, as Summers' voice sounds great on "Descent"/"Descent II," which are somewhat reminiscent of Joy Division, and later on "No Mercy Shown." Some tracks ride the line between industrial rock and heavy metal. "Hazmat" and "Ellipse" are both in this category, featuring high-powered, raging guitar riffs. The dirge-like vocals give them a somewhat more industrial feel, but the guitars would likely make Riki Rachtman smile. "Nearly There" is a very nicely constructed track that sounds very much like a New Order instrumental. This is a very fine start for Electric Colony – Mr. Summers has created a diverse array of sounds and styles that do justice to the artists that inspired him.