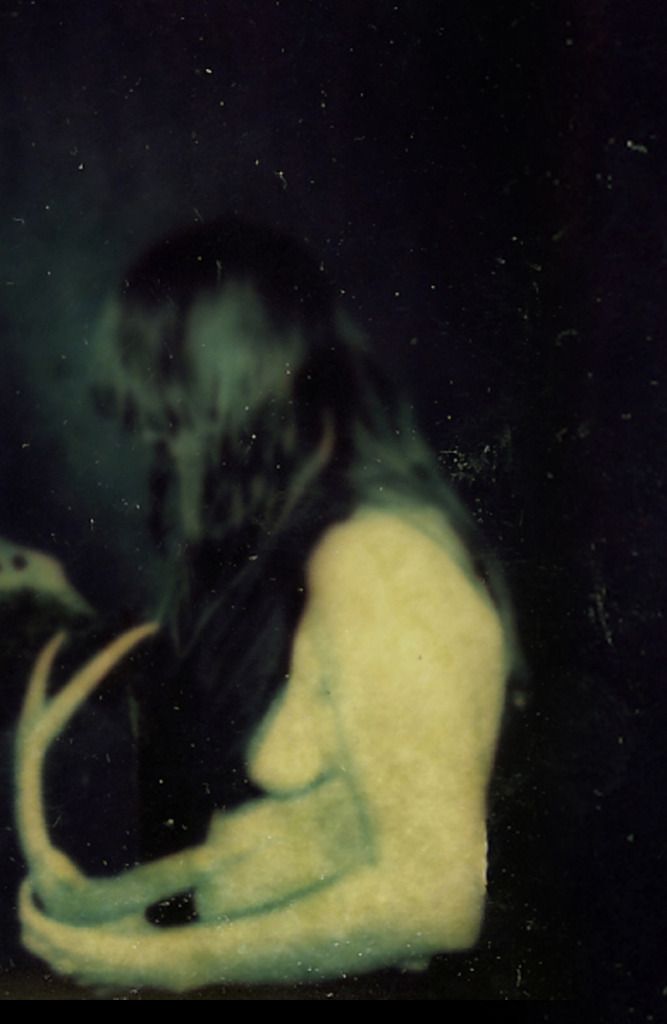 Artist:
Paintings for Animals
(@)
Title:
Thee Body ov Worship
Format:
Tape
Label:
House of Alchemy
(@)
Rated:
Paintings for Animals is a solo-project of Pær Sv, a sweet noise drone magician operating up here in the Pacific Northwest. He is the originator of the Seattle Occultural Music Festival. He's got the usual prodigious pyrochastic flow commonly found amongst noise musicians. On Thee Body ov Worship, out on House of Alchemy, he has manufactured 40 minutes of interstellar drift, split between the two halves of the cassette. Like Uroboros Thee Body ov Worship works well as a locked groove time warp, the two lengthy compositions, 'Moon Psalm' and 'Sun Psalm' chase each other across the sky, feedbacking into each other, dovetailing...

Like the best kosmische music, Thee Body ov Worship gives a euphoric sense of weightlessness. But this void is neither cold nor dead, it is like floating in navy blue ink full of stars. I couldn't get enough of this one, spinning it over and over, after my roommate and i conjured the plateau of leng out of thin air. I was in a pleasant lull, Thee Body ov Worship unspooling around me like a Persian Tiger. It reminds me a lot of an album by Jefre Cantu-Ledesma that came out a few years ago, Floating Weeds, that i used to listen to a lot as i was raking leaves. People that like Brian Eno's 'Discreet Music', wish that Lustmord would cheer up just a little bit , or Natural Snow Building's monumental effigies will dig this. They only made 75 of these, so don't miss it.

It looks like House of Alchemy is putting out a mad array of quality goods, i will be keeping an eye out.
image not
available
anymore
Artist:
JOHN FOXX AND THE MATHS
Title:
The Shape Of Things
Format:
CD
Label:
Metamatic Records
Rated:
"The Shape Of Things" is the follow up to "Interplay", which was the first John Foxx And The Maths album. The project born from the collaboration of Foxx with electronic composer and synthesizer collector, Benge (Ben Edwards), who is best known for his 2008 album "Twenty Systems". Composed just using analog synths the Maths isn't an archeological project as for John Foxx is like to be back to "the place of the murder", because he already used those keyboards on his early days (I saw a photo where he program one of those with notes of patches he did decades ago) and it's like he went back to find a new creative vein. "Interplay" already showed how well the duo interaction worked and if that album was sounding bright and energetic with some epic moments (like "Destination"), "The Shape Of Things" is like it's the darker sister album. Containing short instrumentals (like the opening "Spirus" or "Psytron" and "Astoria", to name few) which set an intimate atmosphere that sounds a little experimental, the first song "Rear-View Mirror" seems to come from "The Garden" or "Metamatic" albums. Foxx and Benge sure know how to create a gem alternating arpeggios to catchy melodic lines. "Talk" has a menacing bass sound and a fragmented rhythm line and John sounds like in trance. "September Town" is a nice mid tempo with bright atmospheres and prepares to the low frequencies of "Unrecognised", a passionate mid tempo a bit melancholic. "Modreno" is another experimental instrumental and after that the sound explodes with "Falling Away", another mid tempo where Foxx plays interludes of distorted guitar which work as counterpart to his calm vocals. Bright atmospheres are back with "Vapor Trails" and I find that the alternation of dark/bright/experimental sounds is working great and none of all the fourteen tracks of the album is a rip off. The CD contains also two bonus tracks: another version of "Talk (Beneath Your Dreams)" featuring techno producer Matthew Dear (now the track sounds even more dark with those 4/4 beats and drone sounds) and "Where You End And I Begin". Featuring Tara Busch, electronic composer also endorsed by Moog, the track is a nice dreamy upbeat tempo with Tara on vocals. "The Shape Of Things" is a great album and convinced me even more than "Interplay". It will be out on March 23rd, take a note!
This immersive release by this Belgian band (in the beginning a male/female duo before Leen Smets aka Yasnaia's departure), actually made up of Sandy Nijs aka Magthea and Herman Klapholz (better known as Ah Cama-Sotz), which can be reasonably counted among the legends or the masters of ritual music is the reissue of the not re-issued part of an intriguing project, commissioned by Antwerp Zoo Aquarium on the occasion of its 150th anniversary, as the original version was a split release, co-signed by another great name of the Belgian experimental music scene, Vidna Obmana, whose "half" has already been reissued by Hypnos a decade ago which unfortunately didn't comprise the precious contribution by Hybryds. Thanks to Polish label Zohar, this interesting work, which differs from other Hybrys' releases even if filing it under new age just beacause it's environmental somehow appears to me a misleading twist, surfaces from the abyss of forgetfulness with his tentacular sonic charm, intensified by some samples from underwater realm, including the notorious dolphin ultrasonics, given by the dolphinarium staff. Listeners are going to be surrounded by crossbreed of ritual drones, sonic crafts and tricks and hydrophonics in particular when human imprint sounds totally absorbed by sealife's emanations, so that it's able to evoke that appeased apprehension which sometimes accompanies explorations in unknown worlds which are normally inaccessible to people and excite the sometimes forgotten charm of discovery: this intriguing absorption looks highlighted in tracks like "L'Ivresse Des Grandes Profondeurs" where soft vocal tunes by Yasnaia coalesce with the cries of dolpinhs, "Archeozoicum" and "In the Wake of the Great Sea-serpent" where the guessed combination of powerful electronic bunches of frequencies and didgeridoos manages to catch listener's attention and the highly hypnotical textures of "Into The Ultrasonic Depths" emphasize the illusion of gradual diving, who becomes more and more enthralling in the final explorations, amidst "Whom Waling For The Whales" towers above other tracks for the bizarre interaction between those wonderful colossal creatures and a lovely phrasing on saxophone. The final track "Coda" can be considered an imaginary collaboration between Hybryds and two performers of the Aquarium, Ivo and Dolly, who stage a sort of duo on the texturing of the Belgian band, who managed to record their heartbeat and other underwater impulses to add some dynamics to their permormance. Reissuing this soundtrack was a right and proper act.
Artist:
Nite Jewel
Title:
One Second of Love
Format:
CD
Label:
Secretly Canadian
(@)
Distributor:
SC Distribution
Rated:
On One Second Of Love by Nite Jewel, the project of Ramona Gonzalez from L.A., we find the singer emerging from the fog-machine obfuscation of her previous record, 2009's Good Evening. In the ensuing clarity, she pries back her rib cage, to reveal her day-glo chrome ventricles.

Nite Jewel, like other recent 80s re-creationists like Zola Jesus or Portland's Vice/Device, romanticizes the early days of MTV, days of roller-rinks and hot pink futurism, but where
Zola Jesus is calling upon early Cocteau Twins or Siouxsie and the Banshees, Ramona Gonzalez is summon the phantoms of Prince, Madonna, or Grandmaster Flash. Funkier than the rest, less cold too, One Second Of Love shows Nite Jewel to be a romantic: it's music for getting ready for a night out, 'This Story', or dancing next to a floor-length mirror in a shadowy night-club, 'In The Dark'. Gonzalez is a talented producer - working with longtime collaborator producer Cole MGN, who has also worked with Ariel Pink's Haunted Graffiti - she has a knack for picking the right synth setting at the right moment, with crisp tasty beats, expertly placed in the stereo spectrum, they show her hip-hop tendencies. It keeps the record moving along, engaging and textured, it doesn't get boring, it RACES to its end, it is STREAMING towards the future.

One Second Of Love stands up well to scrutiny, Gonzalez has a warm pleasant voice with emotionally stirring lyrics, and her beats and synths are crisp and clearer than what would've come out in 1983. At first i was irritated by the stylized funk, but i gave it a chance, spinning it again and again, while washing dishes or reading or staring out the window. Nite Jewel didn't reveal her facets until i paused to listen, digging in with with a pair of headphones, listening to her older records, which i hadn't heard in a while, stopping to consider the context. The strength of the revisionist is that they can call upon the greatest strengths of whatever genre they're working in. Nite Jewel pulls out the romance and optimism and glamour that was buried in records from Hall and Oates or Michael Jackson; the sleek sexiness, the bright colors, the decadence, while the superficiality and greed get parsed out in the sieve.

Ramona Gonzalez is growing and getting more confident as an artist. One Second Of Love will mainly appeal to old goths and fan of the new New Wave, like Fever Ray, The Knife, or underground Witch Haus screwheads. This wave of sonic archaeologists are re-imaging the past, creating an alternate History to conjure a Present they can bear. They are striving for romance and passion and excitement, a sense of adventure, of purpose and direction. They are taking stock of what has come before, and deciding which way to go from here.
Artist:
Glitterbug
(@)
Title:
Egress EP
Format:
CD
Label:
False
(@)
Rated:
An egress is the act of coming or going out of a place. On Glitterbug's Egress EP, the seventh release from German producer/sound artist Till Rohmann, the four original tracks evoke images of departure, of emptiness, venturing out into the unknown.

Egress is a work for string ensemble and electronics; it is at times soothing, at times foreboding. The strings give a sense of tension, like an old Orson Welles shadow noir. Many comparisons have been made to film music to describe Egress. If this were to score a movie, it would be by Ridley Scott or maybe Tarkovsky; it implies the void, the cold emptiness of outer space.

Egress starts out minimally on 'Vacuity': the sound of wind, flittering dusty percussion dancing around yr head, before bell tones emerge from the depths, with a tintinnabulum dream logic of their own that sounds like being underwater. The strings kick in about 3/4 of the way through 'Vacuity' and linger for the rest of the album; there is a sense that SOMETHING'S GOING ON, but its not clear what. Its like the haunted visitors in Solaris, hidden behind closed doors, leaving you guessing. 'Span' sounds like a mid '70s Klaus Schulze outtak, with its rich colorful amniotic synth pads, a moment of optimist, the euphoria of leaving, before settling into the paranoid dripping dread of 'Appraise', all sustained string dissonance and insectile flourishes bouncing willy-nilly around the stereo field. 'Stagger', the last of the album's four originals, sounds like finding a pulsating brain at the center of a meteor belt, or perhaps stepping into the rusting carcass of a mechanical beast, before discovering that it still lives.

The remixes of 'Span' and 'Vacuity' by Tilman Ehrhorn and The Sight Below are less cold and introspective than the original source material, and will probably get more mileage on the dancefloors. The Sight Below's 11-minute re-imagining of Vacuity's windy desolation into a club friendly mnml tech-house voyage is a real treat and an album high-light, bearing Rafael Anton Irisarri's usual hallmark of excellence and the smoothest, roundest bass tones conceivable.

Egress gives us something to dream about while we wait for Glitterbug's newest full-length, Cancerboy, is due in May, and its a pleasant lull for the late winter months. Fans of out of body experiences and Lustmord will dig this, and anybody with ears can hear the stunning production quality. The strings add a nice human, emotional touch, and give it a real sense of class, of sophistication. Till Rohmann recommends giving this a spin on a decent hi-fi or a good pair of headphones, and i would have to agree. Go big or go home, this music works best when it is appreciated. I look forward to hearing more from this talented artist.