image not
available
anymore
Artist:
VV.AA
Title:
Hoera! Een Hex voor thuis!
Format:
12"
Label:
Enfant Terrible
(@)
Rated:
Compiled gathering tracks by bands who took part to the Hex nights (the nights that Enfant Terrible organize since 2004 at the OCCII in Amsterdam), HOERA! EEN HEX VOOR THUIS! (released under the new Enfant Terrbile sub-label Hex Grammofoonplaten) is a fantastic compilation with twelve tracks/bands that will please your needs of pure raw electro/experimental/wave/post punk music. Most of the names included here are unknown to me (I only knew and appreciated Sixteens, Wermut and Agent Side Grinder) but their tracks make me want for more because songs like the opening "Lovesick" (by Vanishing) or the fantastic "Blind" (by Frustation, a band which recalled me late 70's N.Y. sound of the No New York movement mixed with post punk), the punk attitude mixed with electronic bleeps of "Lydon on tv" (by Laurence Wasser), the raw pop electronic punk of "Ice double nice" (by Kania Tieffer) and the closing electronic experimental sound of "Ehrliche Juristen" (by Punk Soul Loving Bill, a band that sounds like a mix of Der Plan and early D.A.F.) are bringing fresh air renewing the spirit of the fathers of the genre. Don't miss it...
image not
available
anymore
Artist:
DELIBERATE
Title:
Basic Demographics
Format:
12"
Label:
Signatura Recordings
(@)
Rated:
Deliberate is a female/male duo coming from Brighton and BASIC DEMOGRAPHICS is their first E.P. The 12" contains four tracks of good synthpop and the two sides of the platter sound different and present two different sides of the band's sound. The A side has "Kensington heights" and "Gavin has some problems", two really good tunes which recalled me the best Soft Cell tracks for the type of sound and because how they are able to create that particular "ordinary life's disasters" atmosphere transmuted into pop songs. Wives who lose their loved ones because of pornography or young guys who close themselves at home because they are obsessed by the vigilance of their place are the themes of the songs. Side B contains "She could be persuaded" and "Volunteer". This side sounds a little different from A side because of the drum sounds (the difference you can have from a Roland TR606 and a 909. The first one was sounding a little more like a plastic box while the latter was a little more "powerful") and because of "Volunteer" (which is a instrumental one which sounds only nice and not indispensable) and also because on this side I can't feel the same particular atmosphere of the first one. It isn't bad but, you know, when you are used to something beautiful, something good isn't enough... :)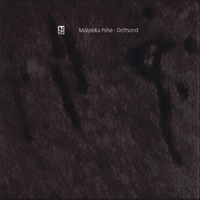 Artist:
MOLJEBKA PVLSE
Title:
Driftsond
Format:
CD
Label:
Gears of Sand
Rated:
Those into droning ambient, both dark and ethereal, should be well acquainted with Mathias Josefson's creature by now, given the amazing quality of his releases on Cold Meat Industry, Eibon, Segerhuva, Fin de Siècle, Mystery Sea etc. This new full-length work is released on high-quality, you-wouldn't-tell-it's-a cdr by Ben Fleury Steiner's Gears of Sand imprint, which makes perfect sense, as both artists have deeply investigated the potential of guitar-generated soundscapes. Unlike many of MP's recent releases, which incorporated lots of manipulated field recordings and even voices, this is a pure guitar drone work. Think of vast drones and tones of resonating strings, probably played with an ebow and filtered with an array of pedals. As simple as that, but less is more in this case, as the four tracks have a constant intensity and quality which is often lacking in releases of this genre. Fans of the most abstract, less "rock" (ahem!) side of Fear Falls Burning, Troum, etc. should go & grab a copy of this for sure.
image not
available
anymore
Les Klebs are a French improv/electroacoustic quintet featuring Xavier Charles (clarinet), David Chiesa (double bass), Jean Pallandre (phonography), Marc Pichelin (analog synth) and Laurent Sassi ("diffusion and spatialization", which is not a boutade this time-it IS there). The single-track, 37'43" cd begins with a dense pulp of sustained tones, glassy synth frequencies, wailing winds and sputtered field recordings, and goes on with this formula, an everchanging mix of radical improv (the one you'd expect from the Creative Sources catalogue, which some of the performers have often graced), barely controlled electronics and odd concrète sources, from frogs to cascades of tweeting birds to a cuckoo clock (!). The interplay is always tight and inventive, resulting in one of the best leftfield improv records I've listened to in the last few months; same goes for the crisp and detailed audio quality. The cd is released in Ouie/Dire "Phonographic envelopes" series, coming in an A5 PVC pocket with a bizarre comic book, which should appeal to fans of art brut. In the often yawn-inducing, uneventful niche of electroacoustic improvisation, this is a keeper.
image not
available
anymore
Artist:
THOMAS NÍLA ET SON ORCHESTRE
(@)
Title:
!Vanity Is A Sin!
Format:
CD
Label:
Punch Records
(@)
Distributor:
Masterpiece Distribution
Rated:
Already known for their soundtracks of "The doctor" and "The wolves..." indie movies, Thomas Nola Et Son Orchestra with VANITY IS A SIN bring to the audience more of their dark cabaret extravaganza. If some tracks sound like an electronic and more bizarre version of early Nick Cave, some others sound like eerie folk songs. Sometimes too theatrical, the songs need their lyrics to be fully appreciated as the band's approach to music is based on dramatic transposition of life. Personally I appreciated most of the tracks (even if sometimes I needed a break) but I really liked the two experimental soundtracks contained into the Extra section of the CD (you can find seven mp3s and all the lyrics of the album): "The Edison elephant" and the following "John Singleton Copley" are able to create an incredible B-movie atmosphere which recalled me the best Hammer movies of the '70s. The live tracks "Henry Pelham", "The Crumbs are the Cure" and "Bei Mir Bist Du Schön - Reprise" are partially creating the weird semi psychedelic sound of the album but they sound more focused and less "alcoholic".