image not
available
anymore
Artist:
Liar's Rosebush
(@)
Title:
Circle the Squares
Format:
CD
Label:
Hive records
(@)
Distributor:
Storming the Base / Metropolis
Rated:
The gray industrial urban landscapes of Newark NJ must be what inspires Hive records' owner David Pittman to pick this extremely talented and great sounding breakcore-industrial bands without ever missing a beat, pun intended. Seriously, Hive records is one of the few record labels that to me represent a guarantee of quality. When I get a Hive record I already know it's good, the question is just how good and good in what way... which of the shades of this widely-eclectic genre will it live under?
Canadian Matt Rosen's Liar's Rosebush's long anticipated solo debut is no exception. "Circle the Squares" is an incredibly mature debut. The 12 tunes crawl towards you quietly, with echoes of dark-ambient music, nerve-wracking atmospheric sounds and ill-fate-anticipating drones before unleashing the full sonic assault of the distorted and sliced-n-diced breakbeats featured in the following pieces that make this album. The full extent of the assault is further intensified by cut-up and re-pitched chords of a super heavily distorted and compressed electric guitars. Eventually, and every once in a while, the listener can take a breather again as the music loosens its grip to let some more rays of atmospheric sounds and even small non-distorted guitar parts ("Like a Nicotine Halo") shine through. Liar's Rosebush direction is still taking shape, I believe, but obviously Mr Rosen in inspired by bands that know how to bring haunting melodies and atmospheric moods into the formula. Except for the intro of a piece like "AAA", this is not really a Nine Inch Nails sounding record, but it does borrow some aspects of their formula in that way. Rosen understands as well as Reznor does that tension and release is the name of the game and that the quieter and moody this part is, the more brutal and visceral that part will sound. Differently than Trent, Matt seems to be more inspired by the warpy british ambient scene when it comes to his more subdued compositions (or part thereof).
If you absolutely must have some references, think of it as a mixture of Squarepusher, Flugschadel, Noize Punishment, Ambassador 21, Venetian Snares, Duran Duran Duran, Autechre, Cenotype and Uglyhead and but don't let those names be a limiting factor. Rosen is very personal in his approach and obviously his musical skills as an instrumentalist (and not just a laptop programmer) have heavily influenced the making of this record in ways that only instruments can do. Very interesting record. I am already looking forward to the next one.
Artist:
HOH
(@)
Title:
We Can Work It Out
Format:
MCD (Mini CD)
Label:
Zang: Records
(@)
Rated:
Active since early 2000s Hoh a.k.a. Helge Olav Øksendal is releasing for Zang Records a new MCD after his latest album "Bestemor" published the last year. Unfortunately for me, this is the first time I have the chance to try his music and it's really difficult to understand his music having two original compositions and four remixes of those two. Anyway, the CD opens with "Lovebreak", a track which starts slowly like a dripping water tap and slowly it's rhythmically enriched sounding like a dub i.d.m. track. After a couple of minutes the track reveals itself adding a nice nervous bass line which subsequently is coupled by the performance of an agitated vocalist. The Dj Woo and the QRT remixes give to that track a break-beat and an electro experimental treatment. The second original track is the main one "Wecan work it out". The track is twelve minutes long and it starts with a calm synth loop. After a while rhymth and a nice female vocal are added and some other little synth layers are added. The tracks plays with these elements for its whole length without being changed that much. Is like HOH wanted to create a melodic moment suspended in time. The ".P remix" of the tracks de-construct it by slowing it and adding distortion little by little until there's nothing left of the melody. After three minutes (on the middle of it) a sort of industrial scenario made of a looped synth pattern plus some other throbbing sounds has take a hold and it sounds like Godzilla stomping on a birth cake. Nice one. The closing track is a radio edit which represent the essence of the track. A better one, because it's less dispersive.
After releasing the demo "In Vulva Infernum", the mysterious duo behind Menace Ruine started to play gigs around Canada. The Montreal band soon caught the attention of the Canadian label Alien 8 which already released other bands which had metal influences on their sound. The first album by Menace Ruine contains seven tracks and despite some black metal influences (see the vocals on the opening "Process of bestialization") and some obsessive percussive parts, the band is capable of creating a convincing mix of dissonant melodies, despair and tension which find its top on "Kill the egregore". On this one we have a razor like sound which seems to come from the sewer where a guitar which sounds like an Farfisa organ duet with a rumbling percussive tambourine and a female chant. "They who enter caves" has a similar scheme but the male vocals are less original because follow the black metal rule of having bleeding sore throats on vocals. If you don't consider that, CULT OF RUINS will sound different to your ears and you'll appreciate the mud which will drip from your speakers...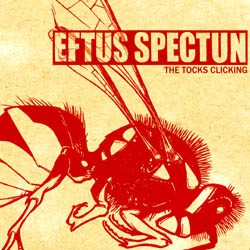 Artist:
EFTUS SPECTUN
Title:
The Tocks Clicking
Format:
CD
Label:
Public Eyesore
(@)
Rated:
If I start by saying this' a strange release nobody will be surprise since we're talking about Public Eyesore. Eftus Spectun are the result of a weird mix of influences not so far from a less technical answer to Sleepy Time Gorilla Museum, they're just softer, much more swinged and less crippled whatever it means. Can you imagine Teenage Jesus and the Jerks, 8-Eyed Spy, Mr Bungle, Beefheart and James Chance on novocaine jamming in the same band? If you can, then you probably have a sort of idea of what you're gonna experience during this collection of short songs. 8-Eyed Spy more than Contorsions since unfortunately for Eftus Spectun even if they're talented musicians and they're damn odd, they're not as flipped out and not even that nihilistic. By the way, don't think this combo is that linear for they've added some really dark, quasi dark ambient tracks to this already unconventional collection of sketches and what follows is a consequential scary atmosphere. Dark-post-no-wave work? More than this that's why I've said these people is ideally comparable to Sleepy Time Gorilla Museum, for example take "The moth and the oval vase" and "Spekled Nesbit" it's not always obscure music, sometimes I can guess there's the shadow of Zappa (... Faith No More?) gone deformed and in some way: "fusion". I think now you've everything you need to start painting a picture of this weird weird english band.



Artist:
LYSERGENE
Title:
Critical Mass
Format:
CD
Label:
Aesthetic Death
(@)
Rated:
After publishing the Dead Beat Project, Aesthetic Death is releasing another solo album by a member of Esoteric. This time we have Gordon Bicknell, Esoteric's guitarist, who under the Lysergene moniker is bringing us a good album titled CRITICAL MASS. The album has nine tracks which are in balance from ambient industrial, industrial e.b.m. and 70's cosmic ambience. The album opens with the main track and just after one minute of tense ambient sounds it literally explodes proposing a multitude of sounds: on the background we have light industrial percussions, upfront we have a drum machine which duets with distorted horns and synth layers which gone mad. An intricate web of sounds which only apparently is chaotic. "Twisted and evil" is less chaotic and it's a sort of continuum to the opening one. It starts like an ambient track just to turn into a rhythmic tribal electronic dance. "Monolith" is pure industrial e.b.m. while "L.s.d." starts like an ambient track just to turn into a cinematic electronic tune. "Neon flow" and "Network tv" are ideally linked to "Monolith" bringing more instrumental industrial e.b.m. to the menu. With "The groke" the album changes and we have a sort of industrial version of Sunn o))) just to turn again on a more ambient industrial e.b.m. ambience on "The becoming". "Shock treatment" closes the album with a blast, proposing a mix of all the above. If you love cinematic tense atmospheres, ambient industrial CRITICAL MASS and 70's electronic as well as kraut rock, try this one...