Artist:
Girls On Film
(@)
Title:
Get Close To Me EP
Format:
CD EP
Label:
Native Sun Records
Rated:
So lovely and tenderly, the fab four beauties, Rio, Kazhmir, Metro and Machine, released an ep with five nicely club pop cuts, a follow-up from their critical acclaimed selling album "Danceteria". Rio's intrguing delightful delicious vocals is enlightened with deep emotions blending rich elegance with the music. Thick synth layers and bass combined by giving it a perfect combination. The poppy arrangements warm its emotional weather. Simply amazing, catchy, and good all around. Infectious synth-pop grooves includes the tracks "Distressed", the dark "The Devil's Lies" is deliciously dangerous about a man betrayed his woman by lying. And "The Shakes" have that finger snapping and hip shaking groove. "Close To Me EP" is driven by pulsating danceable new wave pop. Lyrics empowering and music punctuated with energy to make you get up and dance while the colorful strobelights rolling around on the ceiling and walls . Girls On Film have style, class, sassy, and the right female sex appeal to move the people by making them dance. These four gorgeous divas had already paid their dues by getting known and respect by performing with promotions and advertising and the help by clubs and fans and word of mouth. Need I say more?
Artist:
Roger Mills
Title:
Antipodesia
Format:
CD
Label:
UnCatalogued Music Production
Rated:
The album Antipodesia contains dimly lit soundscapes of earthly and alien origin, many of which are being serenaded or illuminated by Mills' seductive trumpet off in the distance. Intermixed are manipulated samples of a variety of sonic impulses and instrumental performances, most of which are driven by groove-oriented beats and percussion.
The use of voice is dispersed on occasion, as are loop-style programmed sounds amidst live recordings. The melodies are often simple, which becomes effective and evocative over the course of the album. "Brightlands Avenue" is an example of what can result from a captured improvisation that is later touched up and through composed like a soundtrack to a scene in a film.
Many of these scapes strike a balance between natural and surreal environments, acoustic and electronic soundworlds, and often times include layered field recordings from disparate lands. "Zagreb" is a nice example that incorporates industrial or transportation sounds juxtaposed with a drifting and lyrical, Dvorak- style melody. The closing epic, "Sawtooth" commences with a droning pad with granulated noise particles that weave in and out of the foreground. When Mills' trumpeting reappears it is one of the most thought-provoking and interesting moments on the disc.
For those into audiovisual aesthetics, there is a fine booklet included in the liner sleeve which contains some photography that one might imagine themselves inside while listening to the music. Recommended to fans of abstracted world music, manipulated world instruments mixed with groove, and those on the lighter and hemp-friendly side of Miles Davis' electric period.


Artist:
Kevin Shields
(@)
Title:
The Death Of Patience
Format:
CD
Label:
Entropic Tarot
(@)
Distributor:
Deathbomb Arc
Rated:
Ok - you're not hallucinating and this is NOT the new solo record by the genius, but an ear-shredding blast of uncompromising noise as I haven't heard in a while. Eva Aguilla is the one and only person beyond all this - and she surely knows how to deal with pedals and painful frequencies - but sometimes she stops the carnage adding some psychotic moments with treated instruments (can't say which instruments though). All the tracks are well composed (don't laugh ...) and your attention is kept focused by some slightly changes in the loops between the walls of white noise. "Catholic Guilt" and "Nothing's Never Ending" are loopy and somehow hypnotic. I'm not into such violent stuff anymore but this one stands above many of the records I've heard of the same genere. Judging from pictures on her myspace (http://www.myspace.com/kkevinsshields) her live performances must be really something. This cd is a joint effort between three cult labels: Entropic Tarot (http://www.entropictarot.com/), Deathbomb Arc (http://deathbombarc.com/) and Emr Records (http://www.emr-records.com/).
Artist:
ROBE
Title:
the third cinder
Format:
CD
Label:
Snip-Snip records
(@)
Rated:
Some months ago while on the web I've come into Robe's myspace page and I've been positively impressed both by their sound and by the most of their song structures. This release came out on Snip-Snip that's David Reed's own label and let's say there's a sort of connection: actually Robe' sound, from what I've heard so far, in most of the cases is darker and heavier if compared to the music of Reed, but here it all has become more "foggy" and confirms the impression I've had they like to dissolve the drones in a magmatic scenario. It all makes me think to the movies of John Carpenter or David Lynch, but at the same time differently from many of their previous releases "the third cinder" paints a more abstract portrait of this band from Columbus. A simple selection of sounds and mainly drones surfacing and disappearing in suspension as shadows sucked in the mist, if some of the first noises may give the impression they've been influenced by some of the early experimental industrial masters (I was thinking to Death in June when leaving folk back home), I guarantee later the environment develops into a bad dream gone worse. Beside the peculiarity of having this deep cinematic feel, Robe have an interesting approach to dark ambient and post-industrial music that I don't find in that many bands of the genre. If you've never heard anything of this band from Indiana, remember they're quite heterogeneous thus you have releases where they've heavy guitars revealing Justin Broadrick/Final reminiscences and other recordings you could easily file under dark ambient. "The third cinder" is probably one of their most ethereal work but there's no doubt from what I've heard it doesn't betray Robe's identity and offer a good way to be introduced to the sound of this band.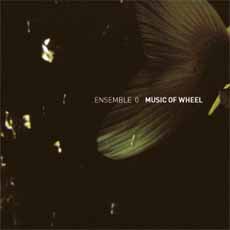 Artist:
ENSEMBLE 0
(@)
Title:
Music of wheel
Format:
CD
Rated:
I've just come back from the cinema and this' the second work I review where piano is central or at least primary for the evolution of the narrative plot, but at the same time it's not played like that of a soloist. I'm sure Ensemble 0 will crucify me for this first consideration I've written but for most of the tracks It do mke sense, this is contemporary music to the bone but differently from many others they haven't left emotions back home, so take for granted they're really suggestive beside being interesting or "simply" brain stroking. Piano, cello, glockenspiel, toys a little bit of trombone and the guitar of Sylvain Chauveau (shame on me since this' the only musician I already knew) which rears its silent accent to make you feel its ethereal presence that's probably what you're gonna perceive if what you expect is a "normal" guitar. The fifth element of the band is silence, but differently from many quartets jamming in the contemporary area, this french people follows a straight tempo line, be it hidden or manifest usually they move faster then most of the quartets playing this game, it makes the soup even more tasty. This consideration focused on their relation with tempo is interesting since I already liked the of most of these extemporary compositions but this in someway shows one o the most Interesting peculiarities of the quartet beside the fact you can discern the influence but they still have their personality. Funny, from the early seconds of the cd I was thinking it would have been a journey a la Bablicon meets Rachels, but in the blink of an eye they disincarnated the song living some elements to counterpoint the silence with a few chords. This last thing in general represent their modus operandi together with the fact in most of the compositions they parsimoniously leave no more than one or two instruments duel with pauses. Interesting and in some way really suggestive.