Artist:
Maschine Brennt
Title:
Frisq EP
Format:
Download Only (MP3 + Lossless)
Label:
Ukonx Recordings
Rated:
Joacim Thenander is a veteran of the electro scene. In the late '80s he was a member of industrial synth band Systema The Affliction and then on early 90's he was a member of the duo Cultivated Bimbo, band that did several albums for Energy Records. At the same time, Maschine Brennt born but during the 90s only few tracks have been written, because Joacim was busy with other more commercial projects. Starting from 2014, Joacim rebooted Maschine Brennt by releasing since now, five digital releases and a CD album for Razgrom Music. The latest release is a digital EP released by Ukonx Recordingsand titled "Frisq". Containing three new tracks and one remix of the main one mad by Deemphasis, project of the label boss Stéphane Bastien. By listening to the tracks it doesn't take much time to understand that Joacim loves Kraftwerk and sometimes by using certain melodic progressions, is like he's paying his personal tribute to history. Saying this it doesn't mean that his music is uninspired, because since the opening main title, he's able to catch immediately the attention, thanks to booming drums, catchy melodies, great synth sounds, etc. This guys for sure knows how to make dance his fans and he's using all the things he learned in all these years of experience in the field. Also "Shoewq" and "V.A.B." are a winner, because the complex rhythm layers which mix electro, i.d.m. and a bit of techno is able to make you focus on this without the use of catchy melodies or refrains. Only few sounds along with the rhythms layers are enough to define a melody to follow. This ins't an easy task when you have to deal with decades of electronic music but I'm pleased that at the end of the EP I want to listen to it again! The EP is closed by the Deemphasis Remix of "Frisq". For this version, Stéphane simplified a bit the rhythm section and created an ambient background as counterpart of the robotic elements. It sounds cool by sounding different and this is also a good result for a remix! Check it here https://ukonx.bandcamp.com/album/frisq-ep
Artist:
Rothenberg / Hein / Tammen
Title:
Bird Saw Buchla
Format:
Download Only (MP3 + Lossless)
Label:
Clang
There's a purist streak to the way these three musicians have brought their own instruments- primilarly clarinet, guitar and a 70's vintage Buchla music easel- to bear as equal thirds of this almost-hour-long collection of improvised works that sit on the border of avantgarde jazz and experimental electronic soundscaping. Sometimes toying with their own instruments, for example playing a guitar using saw motors rubbing the strings, at times it sounds like three decidedly introspective noise-makers whose simultaneous audability is more coincidence than design; at other points, there's a clearer sense of musical responsiveness between the performers.

"Then Cry All Birds And Fishes" is a prime example of the latter, an expertly moderated nine-minute work of slow tension and build. In pieces like "Now In Sad Autumn" there's strength in contrasts, the clarinet expressing the titular seasonal rustic melancholy but offset against bleeps, whirrs and scratches that map out a different path. One of the most interesting bits of soundscaping comes in final track "A Solitary Bird", which at first glance appears to be a found sound cliché that reveals itself to be imitation bird noises constructed from oscillations that gradually devolve and lose their disguise while the Buchla steps out a sort of proto-techno pattern.

I'm very fond of the tonal qualities of clarinets, but even I have to admit that it perhaps over-dominates here at times. In mixing terms I might have liked to hear some of the rumblier electronic noises brought to the forefront, but they're often crushed- obviously doing interesting stuff that's buried underneath the bassier tones of a clarinet that does sometimes does everything except stop. There is some respite though, "Cold Pale Eyes Pour Tears" a successful example of what occurs when the balance shifts.

There are some deeply intriguing ideas at play here and it's very well executed, certainly a release worth scratching beyond the surface of.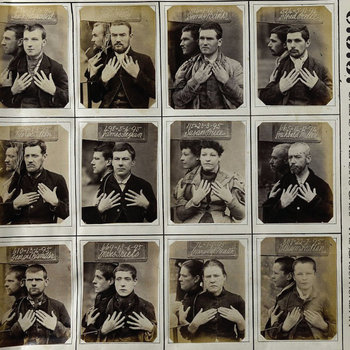 Artist:
C.3.3.
(@)
Title:
Ballard Of Reading Gaol - The Cacophonietta
Format:
CD
Label:
Cold Spring
(@)
Rated:
C.3.3. is a personal project from Paul Jamrozy, co-founder of TEST DEPT, and this release is centered upon Her Majesty's Prison Reading and based upon the history of the location and the Oscar Wilde's poem which gives the name to the project. So the center of this release are the spoken words of "Ballad of Reading Gaol" which introduces the listener to the four movement of this release which is intended as a commentary also the present situation in UK, and the poem talks about the situation of a prisoner.
The first one, "Blood And Wine", is a rather sad track based on a synth stings upon a really slow and doomy beat while the second one, "Iron Town", is more reminiscent of his past as it's based on the circular form of TEST DEPT with metallic beats and samples of the prologue with an overall noisy framework. The droning background of "Gallows Tree" set the emotional elements of the return of the spoken words which reveals the actor's ability of Jamrozy. "The Devilís Own Brigade" is the more elaborated movements as it includes beats, samples to evolve in a quiet drone which introduces the sad ending words. "Pit Of Shame" is a coda which reworks "Blood and Wine" in a more atmospheric way. Two bonus track, "Acousticon (Segregation Mix)" which alternates noisy moments to more ambient ones and "Panoptix (Vermin Mix)" which is more centered upon the rhythmic element.
It's an interesting release which tries to include the message into a musical frame which has to express the feeling of someone closed in an unfair situation. Obviously, without the words a large part of the work is missed but it's the sign that the musical part is not a filler. It's really worth a listen.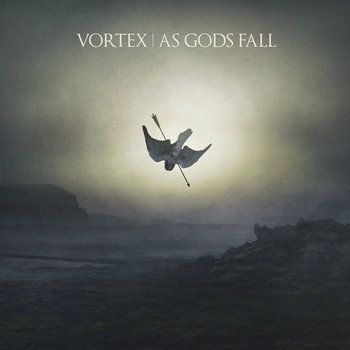 Artist:
Vortex
Title:
As Gods Fall
Format:
CD
Label:
Cyclic Law
(@)
Rated:
This release from the project by Marcus Stiglegger is the final part of a trilogy based on the Nordic mythology of the Edda used as metaphor for a world out of balance. This release features a bunch of guest which is a vital element of this release as they put other elements to the main framework which is essentially ritual dark ambient.
The first track, "Awakening", opens this release with a sort of harmonic chart introducing an almost martial second part and the blend of the two elements is rather evocative. "Awareness" is instead quite an instrumental neo folk track with the melodic line of the violin underlined by the rhythmic element. "War Is Coming" is a long track using a guitar line to incorporate metal element to the final result while "The Slain" is a quiet ambient track until the folk rhythmic element slowly emerges. The almost drone metal initial part of "Odhinn's Wrath" introduces a furious part based on drums and loops. "Hel On Earth" is a quiet ritual track with the use of harmonic chant and resonances upon a deep drone while "Valhalla" is a folk dance track upon a cinematic soundscape which emerges fully in the final part of the track. The ambient background of "The Priestess" is used for the female spoken words and "A New World" quietly closes this release with this lines of guitar and a final lullaby based on a glockenspiel.
The second CD is a collection of remixes which expose hidden elements of the tracks rather than be oriented towards dancehall and is a good companion for fans, even if it's somehow unrelated with the main CD.
"As Gods Fall…" is a remarkable release mostly because the great variety of influences which span from folk to metal is fused in a reasonably cohesive whole that maintain the listener's attention with apparently no efforts. Truly recommended.
Artist:
Gabriela Friedli Trio with Daniel Studer and Dieter Ulrich
Title:
Areas
Format:
CD
Label:
Leo Records
Recorded in two days in late 2015 but only released this year, "Areas" is the live-in-the-studio sound of an avantgarde jazz trio brimming in both confidence and mutual trust. While Friedli's piano work takes centre stage and the artist credit, it's the interplay between her keys, Studer's bass and Ulrich's drums (and occasionally bugle) that make this a rich and complex performance.

While tracks like opener "Largo", "Bova Blaua" and "Masse" flow in waves, shifting between pause and mania and back a few times, other works like "Hul Hound" and "Um Su" are more consistently down-tempo and sombre affairs.

The artist photo in the CD inlay has two of them with straight faces and the other smiling, and that's really quite appropriate for the tone of the release, which is predominantly earnest and straight-faced portraiture but not without a bit of playfulness, for example in the curt back-and-forth of "Minuten". Both "Miedra" and "Fil Da Ramosa" flirt with steady, more straight-flowing classic jazz grooves but then pull away- rather far- from them.

It is, for want of avoiding contradiction, a fairly conventional-sounding avantgarde jazz work, with the sonic qualities and production values all high-quality but uninventive, with a very natural sound. It exudes quality throughout and if you like your jazz experimental and dynamic, but also quite straight-faced, then this is a premium product worth checking out.