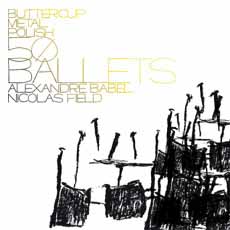 Artist:
FIELD, BABEL
Title:
50 ballets
Format:
CD
Label:
Creative Sources
(@)
Rated:
Drums and percussion plus drums and percussion equals... a percussive recording and you don't have to be a genius to imagine the result, but wait, it's hard to believe how good this record sounds if you haven't given it the careful listening it requires. I've no doubt this' one of the best Creative Sources releases I've heard so far: I love rhythm session but I'm also aware of the fact many percussive duos coming from the impro-jazz area are boring as fuck, well this pair is beautifully assorted and I really enjoyed their way of improvising, the how they play the waiting game and how they go straight to the next intersection. I've several "solo percussion" releases in my collection and have heard some more, this one is more "old school" if compared to the free-rock style of drummers like David Shea, but it's also considerably different from that of Han Bennik, I think this drumming duo has its strong personality and that's the most fascinating part of it. When dealing with an all percussive recording the risk is to get bored in a split second but Field's and Babel's journey bring them through many changes of intensity, dynamics and timber. Their approach to drumming tecniques is elegant but what makes this release more interesting then many other similar works is the attention the duo pays to the track construction: they pass from quiet parts or smoothly played solutions to "free-jazz-rock" eruptions but they work in a really complementary way so to avoid sounding simply chaotic. The recording and the spatialization of the drums helps a lot since as I've said they're able to produce an incredible variety of sounds and sometimes you really feel like you're standing in the middle of the room where the improvisative dialogue happened. Nice.




Artist:
ATTRITION
(@)
Title:
3 Arms & A Dead Cert
Format:
CD
Label:
Two Gods
(@)
Distributor:
Voiceprint
Rated:
Originally released in 1996 by Hyperium (Project took care of the U.S. edition) 3 ARMS & A DEAD CERT has been one of the most successful album for Attrition and for sure it is one that re-defined their sound. Thanks to the collaboration of Franck Dematties of the Paris Opera on viola (check the closing "Prelude" to be pleased by the sound of his instrument), the twelve tracks of the album are sounding particular thanks to different "oppositions": first we have the chants of Julia Waller which are balanced by the deep whispered vocals provided by Martin (this style remembered me a little Adi Newton of the second Clock Dva period started with "Advantage"), then we have the upbeat electronic textures of drums and synth lines which are balanced by the romantic but at the same time sad tunes, performed by the viola. The opposition of dark atmospheres and upbeat rhythms are making of this album a good one where you can find a strong electronic background along with some ambient dark experimentations (see the piano/vocals/viola/samples mix on the cinematic "Predicament"). A really good album which now see the light again with a remastered version available worldwide.
Artist:
MEAT BEAT MANIFESTO
Title:
Autoimmune
Format:
CD
Label:
Planet Mu
(@)
Rated:
After the success of 2005 "At The Center", Jack Dangers is back with a new album titled AUTOIMMUNE, released by Planet Mu on CD and double vinyl. The ten tracks base their sound on four things: exaltation of bass frequencies, grime bass lines, dub ambience and distortion. The album opens with "Hold the mic!" which features reggae muffin like vocals of Daddy Sandy. Reverb, picked strings, tight rhythm and upfront bass lines are the key elements of this one. "Children of earth" slow down the rhythm a little bit but it always pushes hard on the the intricate web of rhythms pedal by duetting with the fat and distorted bass. "House of unique stink" (which features Dubloner) sounds more like an upbeat ambient house track with subsequent dubstep rhythms and vocals. "Live and direct" is a live track which is focused on rhythm craziness and reverbered bass. "Less" and "Lonely soldier" are a good mix of fluctuating atmospheres and bass distortions with tight rhythms and vocal samples. "Spanish vocoder" and "Return to bass" follow the same scheme but being more distorted than ambient. "Guns'n'lovers" could be a good hypnotic dancefloor killer with its liquefied guitar/synth lines and distorted drum. The album closes with a distorted dub killer titled "Hellfire".
ENRAPTURED SERENE MESMERISM is the second Arkane album which has been released six years after "Arcane Elitism" published back then by Fossil Dungeon. This new work contains eight tracks which sound like movements of an opera. Based on the female vocal ability of ArcanumX and on Drg's strings orchestration (with the participation of Stephen Svanholm/Sibelian and Arcanstra M. for some recitative parts), the album create a convincing dark opus. Sounding like mermaids' hypnotic chants, the tracks are composed by few elements (few orchestral parts plus the female vocal performances) but the bravura of the musicians is here evident (because isn't simple at all of being able to catch people's attention which such few minimal elements) and make them succeed into the creation of a magical atmosphere. There's also a recurrent theme which we find since the opening main track that is a sort of link that lead us through the different movements. From Greece, Arkane are here to let you lose your senses by enrapturing your soul with witch like abilities...
image not
available
anymore
Artist:
Liar's Rosebush
(@)
Title:
Circle the Squares
Format:
CD
Label:
Hive records
(@)
Distributor:
Storming the Base / Metropolis
Rated:
The gray industrial urban landscapes of Newark NJ must be what inspires Hive records' owner David Pittman to pick this extremely talented and great sounding breakcore-industrial bands without ever missing a beat, pun intended. Seriously, Hive records is one of the few record labels that to me represent a guarantee of quality. When I get a Hive record I already know it's good, the question is just how good and good in what way... which of the shades of this widely-eclectic genre will it live under?
Canadian Matt Rosen's Liar's Rosebush's long anticipated solo debut is no exception. "Circle the Squares" is an incredibly mature debut. The 12 tunes crawl towards you quietly, with echoes of dark-ambient music, nerve-wracking atmospheric sounds and ill-fate-anticipating drones before unleashing the full sonic assault of the distorted and sliced-n-diced breakbeats featured in the following pieces that make this album. The full extent of the assault is further intensified by cut-up and re-pitched chords of a super heavily distorted and compressed electric guitars. Eventually, and every once in a while, the listener can take a breather again as the music loosens its grip to let some more rays of atmospheric sounds and even small non-distorted guitar parts ("Like a Nicotine Halo") shine through. Liar's Rosebush direction is still taking shape, I believe, but obviously Mr Rosen in inspired by bands that know how to bring haunting melodies and atmospheric moods into the formula. Except for the intro of a piece like "AAA", this is not really a Nine Inch Nails sounding record, but it does borrow some aspects of their formula in that way. Rosen understands as well as Reznor does that tension and release is the name of the game and that the quieter and moody this part is, the more brutal and visceral that part will sound. Differently than Trent, Matt seems to be more inspired by the warpy british ambient scene when it comes to his more subdued compositions (or part thereof).
If you absolutely must have some references, think of it as a mixture of Squarepusher, Flugschadel, Noize Punishment, Ambassador 21, Venetian Snares, Duran Duran Duran, Autechre, Cenotype and Uglyhead and but don't let those names be a limiting factor. Rosen is very personal in his approach and obviously his musical skills as an instrumentalist (and not just a laptop programmer) have heavily influenced the making of this record in ways that only instruments can do. Very interesting record. I am already looking forward to the next one.