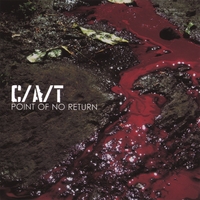 Artist:
C/A/T
(@)
Title:
Point Of No Return
Format:
CD
Label:
Crunch Pod Media
(@)
Distributor:
CD Baby
Rated:
New album out for C/A/T, one of the leading acts out of the Crunch Pod Media label roster. It is also the project of label owner Ben Arp and his female better half Malice. Both do receive assistance in the studio and live on stage by the second female Kat. As a trademark for Crunch Pod label act, also C/A/T is heavily dedicated to the rhythmically Powernoise-genre, "Music To Piss You Off" isn't only a track of C/A/T, it's also the label slogan. The main difference between US-based acts and their European colleagues may can be seen in the fact that the US-acts offer a wider musically horizon. It isn't at all the same redundant formula to combine EBM bass lines with distorted rhythm loops and a repetitive voice sample. You shouldn't be too much surprised by C/A/T's efforts to break through genre boundaries by incorporating Trance/Techno-elements ("Parasite" or "State Of Decay"). Another positive point is the fact that Ben has decided to include more than ever before vocals – rather seldom in this genre, no matter if it sounds like a Johan-Van-Roy-like growling. With respect to the music, you also shouldn't expect any "relaxing-at-sunshine-beach"-lyrics, C/A/T's efforts are straight and smashing formulated. Best tracks? Well, this depends a bit on some personal preferences, but both mighty arranged "Denied" and "Malice" are hammering out sweat and provide hardcore-dancefloor-action. Make sure also to check out the hidden bonus track available here at song position 14. Mastered by Jan L. of X-FUSION, this new album and the uncountable release parties and live performances during the last months should be efforts enough to provide one of the best-selling releases for Crunch Pod. Let's hope that C/A/T continue soon to take also more acceptance on the European market. A new EP providing remix works to "Point Of No Return" is already in the pipeline.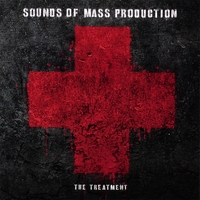 Artist:
SMP (Sounds Of Mass Production)
(@)
Title:
The Treatment
Format:
CD
Label:
Music Ration Entertainment
(@)
Distributor:
CD Baby
Rated:
Already the 6th full-length album for this veteran act, Jason Bazinet a.k.a. SMP has always worked hard to stay on top of the US-Coldwave-scene. SMP has to be counted to be a part of the long defunct North-East-Coalition (NEC), a united collective of Industrial acts which has been created more than 12 years ago by acts out of and around Seattle. Among others acts like AND CHRIST WEPT, KILL SWITCH...KLICK or NOXIOUS EMOTION have been prominent members of this movement which has had the intention to help each other out by organizing gigs or with promotion or production efforts. While most of these bands have stopped all activities, Jason is still right on target and offers 11 new tracks with a typically Coldwave-like content. Gritty guitar riffs, mighty drums, some Electronica-elements, angry lyrics provided by a mostly energetic vocal performance – well, and at times also the jump to test the audience with some Industrial-Rap-tunes. "Metropolis" is one of these rather Rap-like tunes which describes lyrically the crime and drug situations in a ghetto-like city, available here besides the original in a remix interpretation by BOUNTE. More stuff to entertain some masses with a huge club-compatibility can be named with "I Waste You" or "Corporate Freak", a track which doesn't act sparse with social criticism. It seems generally that several themes out of the American Way of Life' get targeted by Jason, "Tombstone", already released in advance on the "A Murderous Mix"-compilation, is just another example for this. With the track "Who Is Who" Jason also created a Rockabilly-like cover version which got originally composed by the CA-based Punk-act THE ADOLESCENTS – this one should work extremely well at gigs. Recorded and produced by Wade Alin of CHRIST ANALOGUE (...by the way: how long do we have to wait for a new CA-recording???), "The Treatment" is an entertaining album from track 1 to 11. Although heavily following all facets of the typically Coldwave-mood created already more than 10 years before, diversity is in here and Jason can prove once again his talent. Good stuff!!!


image not
available
anymore
Artist:
VV.AA.
Title:
elffriede/soundrawing
Format:
CD
Label:
Transacoustic Research
(@)
Rated:
I've just reviewed a couple of releases of this Austrian label, but I can truly say I love it, one was their "hearing" compilation and the other was a vocal based electronic release assembled by that Jörg Piringer featured here among the sound artists appearing on this sampler, last and most important this label put out the Vegetable Orchestra which itself deserve endless respect. While usually I'm quite skeptic concerning samplers I was so well impressed by the first collection put out by these dudes, I was quite curious and yes, my expectations haven't been deluded at all since this work is damn good. This collection features a good number of electronic musicians to which the visual artist Elffriede asked expressly to compose music inspired by her funny childish, comics-alike drawings. Taken for granted the process of interpretation is quite subjective and also the fact that the Elffriede's works are quite weird the compilation is homogeneous in a damn good way. The surprise is that this cd coming out in a 7" shaped packaging is filled of musicians I dunno except for Piringer, Murmer and Phil Niblock (sorry if I forget some other "big" name) but the ninety percent of the sketches/tracks are high quality material. The fact is that the abstract, nocturnal electronics feel is a constant thread joining the most of the songs plus the majority of the songs deal with what can be filed as "sound art". The last thing clearly explains why you have such an over-abundance of unconventional frequencies, field/electro-acoustic recordings well married with electronics and just a small dose of conventional or rhythmical tracks. As I pointed out at the beginning of the review, this' a quite homogeneous compilation be it for the inspiration coming for the drawing or for the fact we live in massified alternative and experimental scene... well... I can't say why, but what really matters as in the majority of sampler is that the whole cd offers both an interesting and pleasant listening. Sorry for being so boring but again Transacoustic Research gives sense to the adjective "experimental" and considering the incredible amount of cheap garbage passed as "research" or "experimental music" these days it gets five points more.

image not
available
anymore
Artist:
AURAL HOLOGRAMS
Title:
Vol. 1
Format:
CD
Label:
Aural Hypnox
Rated:
Aural Holograms is the name of a series of works that, at least in this first chapter, are due to Aural Hypnox/Aeoga/Halo Manash/Dolorian mastermind Antti Haapapuro, joined by J. Saivo, J. Hietaniemi and J. Tuomi. As with all AH releases, there seems to be a heavy ritualistic/exoteric background which the liner notes, however detailed, can only hint at. The album features three lengthy (and I mean it - almost 74 minutes in total) tracks of drones created, from what I can guess, with Tibetan bowls and other resonating metal instruments, a reed organ, possibly voices/breath and unidentified sound effects. It is surely the most stripped-down and minimal work in the AH catalogue, without any standard "dark ambient" element, and its legitimate place would be somewhere between Harry Bertoia, Phil Corner's "Metal Meditations" and buddhist ritual music. "Before the Great Stone" still bears some resemblance of recognizable notes, dissolving in a liquid ambience, which leads to the deeper drones of "The Day of Opening the Tomb", where the metallic vibrations reach the organic feel of a gigantic breathing creature. The third and final track, "Beyond the Black Deep", is a huge, slowly uncoiling piece of more than 30 minutes, where the Aural Holograms drones reach their full resonating power - listen to it at medium to high volume and you'll find yourself bathed in a thick, vibrating amniotic well. As usual, words don't do justice to the overall experience - this is a massive album that not everybody will be willing to experience, but that ranks among the most impressive minimal recordings that I've listened to. I am still convinced that the whole Aural Hypnox milieu is not getting the attention and exposure it deserves, but they probably don't care, and they'd be right. As long as they continue releasing these amazing works, it is not that important.
image not
available
anymore
Artist:
MARHAUG/ASHEIM
Title:
Grand Mutation
Format:
CD
Label:
Touch
Rated:
The Spire series on Touch (www.spire.org.uk) has already given space to an impressive number of creative and unorthodox performers (from Z'EV to field recording master Toshiya Tsunoda) working with church organs, with often amazing results. This full-length by Norwegian performers Lasse Marhaug (electronics) and Nils Henrik Asheim (organ) is possibly the most daring and successful of the whole lot, and immediately ranks among the best fringe recordings of 2007. The two, collaborating since the 2004 All Ears festival, met again in 2006 to improvise in Oslo Cathedral, and recorded one hour worth of material, which was then structured into five pieces and mixed down by Marhaug last January. Both must have been in a state of grace, because the interplay and the power of these 56'35" are incredible. In "Bordunal", a suspended drone fills the air, with floating high frequencies and ebbing low tones. If you close your eyes, you can almost imagine it as smoke or fog layers. Then, Asheim starts emitting higher wails, like whale calls, soon pierced by Marhaug's noise bursts; then, the latter's interventions drown everything in an electric storm. "Phoneuma" is equally varied, with airy, slowly modulated tones made thicker by electronic throbs, then ground by darker frequencies and mechanical loops, up to an epic crescendo; Asheim eventually breaks loose accumulating exhilarating clusters, and Marhaug tries to fight back, tooth and nail, with his devices. At the end, you start feeling dizzy. "Magnaton" is a short touch&go piece where abrupt organ notes battle with the screeching chaos of the oscillators, and such a tempest is followed by the two quietest tracks, "Philomela" and "Claveolina". The former is a static quicksand puddle of low-end tones and sinewaves, streaked by Asheim with menacing higher tones. Any intemperance is finally quenched in the lulling drones of "Claveolina", closing the often physical ambience of "Grand Mutation" with a dreamy catalepsy.