image not
available
anymore
Artist:
VV.AA.
Title:
Dark Future
Format:
CD
Label:
Dark Past Communications
(@)
Rated:
This is the debut release for the new US-based label Dark Past Communications, which will soon return with debut releases of their represented artists. Musically almost all acts turn into the Synth-/Futurepop-genre, at times with some tendencies into EBM or Goth. 10 tracks are available here provided by 7 different acts, the already known act LEVEL 2.0, plus SINCOGNITO and ANGEL CRISIS can provide two tracks out of their repertoire. I miss a bit some details on each band with contacts, links and credits, but unfortunately there isn't a real cover available. However, the already mentioned LEVEL 2.0 opens this comp with their new track "Far Away". They are a bit longer active in this business and this can be well recognized through more maturity in their textures. There's experience behind their compositions, even if the male vocals are sounding a bit too rough to fulfill the perfect Futurepop-kind. SINCOGNITO follow and they offer female-leaded vocals to known and mostly already discovered sounds. "Ever Mary" is a decent mid-tempo tune, while the second of their tracks, "Obsession (Save Your Love)" ends in a fiasco, because of the misplaced female singer, which totally gets out of tone. BLACKMAIL MUSIC follow and have to fight with that often heard failure of not offering a capable singer - unfortunately also TED CIKOWSKI lacks of the same problem, while I tend to rate the music as being acceptable. Nevertheless both acts could need some polishing and help on the production. ANGEL CRISIS then are the third act with a double-play and the mood provided through their tracks turns into grief. Maybe the renowned act PRIDE AND FALL have had a depressive influence on them, while they can't nearly rival with the Norwegian giant. Although offering cliche-filled lyrics, they've got some useful ideas, while also they could be any better with some experienced help on the production and also the vocals. Coming then to the winner of this compilation, the already known project PULSE STATE with "Innocence". A debut release is slated for 2008 and this act has already caught some attention thanks the placement at several forums and communities. Refreshing sounds, catchy bass and synth lines, good male vocals – well, this "Innocence" is an innocent reference for all featured artists here – some of the above mentioned can learn from it. Since both acts, LEVEL 2.0 and PULSE STATE, can look back on some more experience in any kind, the label Dark Past concentrates to offer dedicated US-based acts a new home to publish a professionally pressed CD. Some of the featured acts here have to be rated critically, nevertheless there seems to be some promising potential for this label. Wait and see what will come...

TRACKLISTING
01. Level 2.0 - Far Away
02. Sincognito - Ever Mary
03. Blackmail Music - Die With You
04. Angel Crisis - Fallen Angel
05. Pulse State - Innocence (United Mix)
06. Softcore - External
07. Ted Cikowski - Servitude
08. Level 2.0 - Intercept
09. Sincognito - Obsession (Save Your Love)
10. Angel Crisis - In My Dreams


image not
available
anymore
Artist:
SECONDS IN FORMALDEHYDE
Title:
II
Format:
CD
Label:
Gears of Sand
Rated:
Seconds in Formaldehyde is the captivating and quite appropriate alias of German guitarist Martin Fuhs, also runner of the Waterscape label. "II" was released some time ago by Gears of Sand, and once again, as noted regarding Moljebka Pvlse, this makes perfect sense - SiF being a guitar-based drone project, much like most of Ben-Fleury Steiner's music. "With the Pure Will to Move a Mountain" starts off with waves of vast melodic drones, ebbing and flowing and putting you in a state of suspension, suddenly broken by "He Slowly Lifted His Hands with Decay", which adds layers of slo-mo distorted riffs and wailing drone-solos (if there is such a thing). Then things settle to quiet again with the lengthy "And I Dissolved into Small Particles of Dust", which lulls you for more than 20 minutes with loops and peaceful ebow textures, before waking you one more time with some lacerating feedback. SiF combines the ecstatic string-generated tapestries of Fear Falls Burning, Troum, Stefano Pilia, Moljebka Pvlse etc. with heavier, doomy passages, à la "Earth 2", or Light of Shipwreck to stay in the GoS roster. Very nice stuff by a promising project, just one step away from producing truly breathtaking material.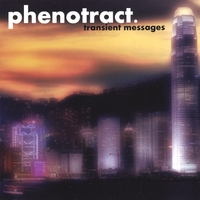 Artist:
PHENOTRACT
(@)
Title:
Transient Messages
Format:
CD
Label:
Souvenir Records
(@)
Rated:
BUY from
Phenotract's second full length album TRANSIENT MESSAGES brings to the attention of electronic music lovers eleven tracks which are deeply influenced by modern synthpop, techno, ambient as well as 80's electro. A good example of song with well merged ingredients is the third of the track list ("In another life"): it has a pounding rhythm (almost techno), sounds that to me seem digital and an 80's flavor, talking about the vocals. This particular mix works well and also the refrain is a convincing one. The following one "A million colors", mix ambient (see the long intro), melancholic atmospheres and dreamy vocals. On half of the tracks Eric Shans (the main person behind Phenotract) is helped on vocals by Niabi Caldwell, who gives an help to the dreamy atmospheres thanks to her mellow voice. If I have to find a weak point I have to point out the length of the tracks (the shorter one is 5' long) and the sounds equalization which is too high on mid and high frequencies (is this due to digital sounds?). A nice album which would be a great one with a different production ("Heightened" would gain points with powerful sounds). You can check the songs excerpts at http://www.cdbaby.com/cd/phenotract2.
Artist:
JANOSCH MOLDAU
(@)
Title:
Follow Me + Not With The Son
Format:
CDS (CD Single)
Label:
Janosch Moldau Records
Rated:
FOLLOW ME and NOT WITH THE SON are two new Janosch Moldau singles which are coming from his forthcoming album titled "Motel songs". The six tracks of the singles (four songs and two remixes) are confirming the good impression I had when I listened to his first album. Janosch has a good taste about melancholic atmospheres and electronic arrangement. "Not with the son" is as good as Depeche Mode's "Home" and if the album will have also some upbeat songs, it will be a good one for sure. The only thing that I don't think was a good move is to issue two singles of the length of about 14' each, because people generally don't tend to buy short singles if they don't see the video on MTV or something like that.
image not
available
anymore
Artist:
FABRIKC
Title:
Impulsgeber
Format:
CD
Label:
ProNoize / Dark Dimensions
(@)
Distributor:
Broken Silence
Rated:
Hailing out of Hannover/Germany, the Powernoise/Industrial-musician Thorsten Berger a.k.a. FABRIKC returns with his second full-length album. Again released by the German ProNoize-label out of the Dark Dimension label group, Thorsten could already earn several laurels thanks to the unexpected success of his debut "Gleichstrom". "Impulsgeber" is that sort of a hard and rhythmically Powernoise-releases featuring a minimal EBM-like impact, which has become that famous, also thanks the roster of the ProNoize-label. Music which works at best at the clubs, while some of Thorsten's works are accessible for a consumption at your home entertainment. FABRIKC also likes to integrate some remarkable voice-samples taken out of diverse and very different quells, which at least helps one or another of his tracks to gain a message. Whatever he has to complain against "Chinese Food"??? Hard to name out favorites, since almost all pieces provide a straight-forward moving attitude, which guarantees a hard dancefloor activity – so this seems to be a matter of personal preferences. "Klangaktiviert" comes up with some nice "screaming" metallic sounds penetrated through a big hall reverberation effect, while "Schalltod" deals with a nearly anarchic noise collage, until the beats lead the scenario. With the track "Absolvo Te (In Memoriam Francisca)", placed at the last position of this album, Thorsten also offer a rather calm, but still dark piece with a personal background. 3 remix works created by his appreciated label comrades NOISUF-X, XOTOX and S.A.M. accomplishing this album, which is a must-have item for the dedicated listener.