Artist:
MAN'S LAST GREAT INVENTION
Title:
None
Format:
CDS (CD Single)
Label:
Eh?
(@)
Rated:
It took me a while to review, but it was worth the wait, infact a good record is still a good record after a while..sometimes that's not the way it is, you're right, above all when coming down to genres like electronics which really linked to the sound... but this really far from electronics. Man's Last Great Invention share much more with psychedelia than many other bands using drones and feedbacks, do to the lo-fi nature of this recording and to the really good quality of the music they reminded me a lot of an underrated band from the not so recent K records catalogue, I'm talking about Yume Bitsu (..hey after having wrote their name I've discovered I've just one of their 4 releases, shame on me). The band was somehow Kranky oriented but more minimal, more punky and if you ask me these characteristics are quite similar to MLGI, in someway the fact they're on this subsidiary label of Public Eyesore can confirm my opinion, but I repeat: the comparison to such a good band as Yume Bitsu is much than deserved. The package in someway follows the recording and is quite minimal but equally as good and after drone music had become in someway quite popular they've gained enough point to go and break your money-pig to give em some money. Differently from other releases on Eh? Label, this one is not "anal" and hyper-cerebral but is much more accessible... maybe it will lead also some inveterate freaks into some new kinds of psychedelia. While the recording is rough but expressive the only possible remark is that concerning the division of this whole session in tracks, ok, they probably did it to help the listener have some rest during this trippy listening, but this' nothing but a long session and also well done, therefore there's no need to cut it... if the dear 2008-listener can't take the time to listen to a long session, well he or she can go fuck himself (freak power!...or "grind finale"! But I'm fed up with people complaining about long records).
Artist:
Scarlet Slipping
(@)
Title:
Hound
Format:
CD
Label:
Shinto
(@)
Rated:
Scarlet Slipping new debut is a haunting and creepy dark album. Fantastic beautiful and ethereal that will torment the mind and soul to keep you awake in the darkness. One of the most best gothic album release in 2008. Dawn Wagner, a talented young woman who is behind the project will take you on a hellish ride on a road that's narrow and then a twisted dead end where death occurs. The synths layers on the tracks are dynamically soft. Each track maintains a slow beat accept one, but the melodies are the highlight of the cd. All 12 tracks sets the perfect pace for the album. I considered "Hound" to be a dramatic theme for a motion picture soundtrack. It sets a mood and create an intense dark atmosphere. A suspense thriller and horror combination. The way Dawn sings is ghostly enchanting with emotions by telling a story. This young female performer is original. No other artist come to mind when one listen to this album. And that's a good thing. For the record, melancholic and sadness interlocks, which describes at its best.

The track "Paralyzed" will heave up a cold chilling feel in your spine. My most favorite track "Slow Death" is a suicide song. A cello that's synthesized is played slowly with feeling. So beautifully enchanting and enticing and hypnotized, which is great to listen to while taking a walk through the cemetary. The lovely "Firefly" sounds like a carousel song. I can picture it being played in an animation film. Through the music, perfect vocal harmonies, well-versed lyricism, the listener is taken to the depths of darkness of Scarlet Slipping on a dark journey experience. All Goths must purchase this cd.

Tracklistings:
1. Forward, You, Me
2. Paralyzed
3. Transend Now To Nebula
4. Light Invades
5. Shock & Glow
6. Hound
7. Slow Death
8. Firefly
9. Sleeping Ghosts
10.House of Stone
11. Breathe
12. Death Melody
image not
available
anymore
Artist:
BOY FROM BRAZIL
Title:
L'Amour, le Sexe, la Drogue, la Mort
Format:
12"
Label:
Pale Music
Distributor:
Neuton
Rated:
Personal project of the German-Palestinian artist, rock musician, transformist, art curator, journalist and part-time actor Razi Barakat, Boy From Brazil is bringing to the lovers of electro a cool 12" that unfortunately contains only the main track and a remix of it reworked by Plastique De Rêve. The original tune is a crawling mid tempo based on a simple synth bass line/vocals duet with the adding of few guitar/piano/pads lines which enrich the arrangement. The theatrical vocals of Razi catch the attention and make sound the song fresh and sexy. The remix version is more intriguing and mysterious and it's also more dance floor oriented. Check it... P.s. You can also check the song's video at Boy From Brazil's myspace page http://www.myspace.com/boyfrombrazil
image not
available
anymore
Artist:
NEONMAN
(@)
Title:
Knights Of Error
Format:
CD
Label:
Pale Music
Rated:
After a year from the release of their debut album Neonman are back with a new one titled KNIGHTS OF ERROR. The new album has very few electronic sounds and it has been recorded completely live in Kreuzberg, Berlin with the production of Cornelius Rapp, who worked with artists such as Peaches, Mocky, Gonzales and Planning To Rock. Listening to the eleven tracks it was a surprise to find also ska ("Poor 'n' drinking" or "Special friends"), indie rock and '77 UK punk influences (like on "Straight 'n' narrow"). Opening with "Quinine & Juniper", a song that will recall you the style of bands like Franz Ferdinand (band that is also influenced by the UK '80s indie music), the album span through different influences and styles presenting songs that aren't made especially for the dance floor. If you liked their old style there are also tracks like the funky punk shaped "July 7th", "Clash of cultures", "Peep show" or the closing "Too quick, too much" (they recall me the Gang Of Four and !!! and they are the ones I liked most because of their dissonant melodies) but there's also space for ballads with "Boat of glory" and "Nightclubbing". If you want me to point out a song that can easily find its way to the clubs, check the closing "Too quick, too much" first. That is a great one!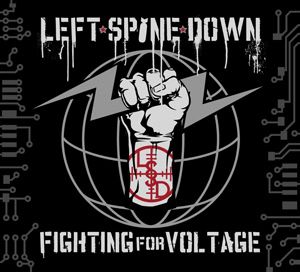 Artist:
LEFT SPINE DOWN
Title:
Fighting For Voltage
Format:
CD
Label:
Synthetic Entertainment
(@)
Rated:
Many bands took L.S.D. as a name acronym and this time it stands for Left Spine Down. They are a Canadian band and they have Jeremy Inkel of Front Line Assembly and Noise Unit and Denyss McKnight previously of The Black Halos on their line-up. FIGHTING FOR VOLTAGE is their first full length containing sixteen tracks that are in balance from cyber punk rock and metal industrial. Having melodies that sometimes recalled me the good Offspring tracks the band turned them into a voice/guitars/drums driven high energetic formula that goes at least at 140 bpm. For the whole album there isn't a lack of adrenalin, the melodies are quite simple and the songs work well. Take KMFDM or Skinny Puppy, remove from their sound the dark curtain, keep the speed pedal pushed down and you'll have an idea of Left Spine Down (practically a sort of cyber version of Misfits). They sing of the decay of human race and if you put in a row "U can't stop the bomb", "Last daze" and "Prozac nation" you'll remember them for your next car compilation. The album closes with an interesting 23 minutes industrial/synth outro. Not only good for M.T.V....