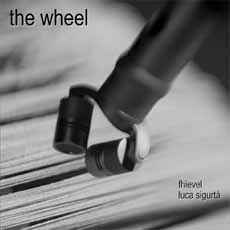 Artist:
FHIEVEL, SIGURTA'
(@)
Title:
the wheel
Format:
CD
Label:
Creative Sources
(@)
Rated:
This duo from Biella joins a couple of complementary musicians involved in sound art and experimental music, as you can easily guess from the inside notes of this cd, they're also involved in sonorizations. You may remember them for their past participation to the Pocket Progressive experience where Claudio Rocchetti was the third part of the triumvirate, you will find some similarities but in general the project is a little bit different. While generally Sigurtà tends to be more rough and Fhievel is probably the one of the few purest "minimal electronics" exponents hailing from Italy, during the composition of this work they converged trying to resuscitate the voice of the old machines they found inside the factory "Fabbrica della ruota" of Prey and simultaneously they accomplished the result to give it all an oniric dimension. The target has been hit and the outcome is brilliant since for the whole recording you've the impression the audio work is part of a soundtrack and in some way their modus operandi related to the process of sonirization is quite classic. The sound definition is wonderful and natural reverbs paint the audio trip of a spectral atmosphere, the sharpness of some sounds (Fhievel?) ties the knot with some grey, dronical cluds (Sigurtà?), they didn't pierce silence but they've been flirting with it constantly which means there's no "tension building" or "waiting game", but it's enveloped all around most of the sounds "happening" during the trip. Considering this whole recording concerns "the factory and its voice – sounds and textures of the textile industry" it's not heavy at all, it has been probably designed to be accessible to a big range of people therefore forget those hyper-intellectualized works by this or that "sound artist wonna be". "Simple" doesn't mean "naïve" and I'm still quite surprised by the great sound effect they managed to create for what concerns sound definition, sure you've to considered you won't hear all the machine "speaking" at the same time as an Orchestra (Russolo can feel safe wherever he rests) but every ghost is there to remember when the worker will die we'll hear his voice thru that of the machine he's been working with for a whole life... "part animal, part machine" for the last time..forever.
Artist:
ANIMALTEK
(@)
Title:
Ferocia Anima EP
Format:
12"
Label:
Treibstoff
(@)
Distributor:
Kompakt
Rated:
Already active years ago as B.R.A.Z.I.L., the duo formed by Oleg Slepak and Shay Raban (a.k.a. Dj Earthian) reunited after Oleg's experience into jazz music production and Shay djing in N.Y. Animaltek have at their active a couple of 12" and FEROCIA ANIMA is their second on Treibstoff. Containing three tracks FEROCIA ANIMA in my humble opinion is a great platter which balance minimal techno intuitions, electro rhythms and dark ambience. The opening "Ferocia anima" is a mid tempo mysterious minimal tune where the duo succeeded into blending bleeps and noises on an obsessive structure. The following, "Mongolian skies" is more house oriented and its dreamy atmosphere fits well the chosen title. The B-side has "Discontinued" an eight minute hypnotic minimal techno tune with multi layered melodies. Animaltek are preparing their debut album, meanwhile check this out.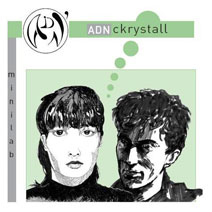 Artist:
ADN' CKRYSTALL
Title:
Minilab
Format:
12"
Label:
Anna Logue Records
(@)
Rated:
Oh boy... this record does sounds weird! ADN' Ckrystall is a French project headed by Érick Moncollin (aka Dr. Strange). Active since the mid 70's, with the ADN' Ckrystall moniker he self produced only a record (printed in only a 300 copies run), in 1982, titled "Jazz' Mad" and a 7" in 1984 (both the releases plus a 1987 E.P. have been reissued on a double CD on 2004 by Metawave Classix). Marc at Anna Logue Records always been fascinated by the analogue weird pop improvisations of the "Jazz' mad" album and asked to Érick if he willed to produce something new as ADN' Ckrystall in the spirit of that album. He agreed and produced the tracks that you can find on this album + 7". He took his two Kawai Synthesizer-100Fs, Korg KR-33, CRB'1969 Diamond 742, Roland Juno-60, Roland JX-3P, MXR phaser 100, Boss Flanger BF-2 and SDE200 Delay and started to improvise. After spending some nights playing his old gear (they needed to warm up as well as Érick needed to "connect" his spirit to them) he did exactly what Marc asked for: a "Jazz' Mad" sister album. If you never had the chance to listen to songs like "Cocaina vitamina", well prepare yourself to pop experimentations, weird analogue synth sounds, bossa-nova rhythms coming from the outer space and three particular pop songs with vocals: "Win-Chick", "Only your Windows" and "Gigolo Gigolette".
Artist:
POEME ELECTRONIQUE
Title:
The Echoes Fade
Format:
7"
Label:
Anna Logue Records
(@)
Rated:
Poeme Electronique were an English band active on early 80's. Although their mysterious electronic neo-romantic style was contemporary to Visage, unfortunately they never had the chance to record other than a 7". Containing "Echoes fade" and "Voices" on the B-side, the single has two characteristic and charismatic female singers Sharon and Julie. Anna Logue thanks to the investigative work of J. Lange succeeded into tracking down one of the band members who actually is working as composer at BBC. Due to the renovated attention toward the band, he decided to dig into his archives and found some recordings of the original single. The new Anna Logue Records edition has both the songs of the single with a new mix and renowned vocals (yes, they recorded new vocals using the original recordings of the instruments) which sound more powerful compared to the original ones. Poeme Electronique satisfied by this single decided to get back on track and to work on some old tapes they have and to publish an album anytime soon as well as releasing a double 12" edition of the original single. If you are into Visage or early Human League you can't miss this one. Beware, there are only 400 copies available!
Focused on upbeat electronic rhythmic ambient music with Mid-oriental percussions/rhythms/vocals, BLUE BEAM is the newest Geomatic's album. Duo formed in 1996 in Holland didn't produced much, in fact their debut album "Control Agents" has been released in 2001 on Triumvirate label. Active also in the soundtracks business, Geomatic are good at crafting rich electronic sound sculptures which are accessible on a multi-level approach: they can be enjoyed for the convolving ambient/rhythmical as well as used as a sort of meditation soundtrack where the listener is like suspended, surrounded by minimal sound changes. Somewhat BLUE BEAN recalled me some atmospheres of the latest OTX album "A World In Red", maybe for its incredible sound (Geomatic made Kevin Metcalfe of Bowie, Orbital, U2 fame doing the mastering and the result is really crisp). Anyway, if you are into Muslimgauze, This Mour Omina or into the less industrial Ant Zen stuff, this is an album you can check. P.s. On the second session of the CD you can find three mp3 mixes of three album tracks reworked by Lagowsky, Ex_Tension and Ah Cama-Sotz.