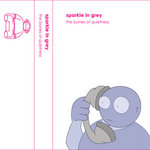 Artist:
Sparkle in Grey
(@)
Title:
The Bones of Quietness
Format:
CD
Label:
self-released
Rated:
Almost ten years after the publication of "A Quiet Place", which was a remarkable release even in its flaws, Sparkle in Grey try to remove its most evident character: the tendency to accumulate and the search of a romantic moment in an overall experimental framework. This was evident even in the covers by Matteo Uggeri whose drawings seems from a kid's publication to a distract sight. So "The Bones of Quietness" is "A Quiet Place" removed of all the catchy element and exposing the skeleton of the release.
"Bones of a Footprint" is mostly mode out of field recordings with only the distant sound of the violin and the cymbals to remind the original track, "L'impronta", while the "The Bones of a Goose" has no field recordings to expose the traditional musical elements of their sounds and "A Quiet Pig" removes the danceable melodies which was the main elements of "A Quiet Place". In its apparent stillness "Teachers Bones" hasn't even a second more than necessary and removes the kids songs which was the emotional center of "Teacher Song"- "Pim Bones in Delay" borders psychedelic rock while "An Unperfect Delusion Song" closes this release with the most suspended side of their sound shortened in time to escape and evolves in a quiet field recording which accompany the listener towards real life.
Removing even the first signs of rhetoric or romanticism to their music and focusing on even the small details of their sound, Sparkle in Grey have now another starting point for their music. Truly recommended.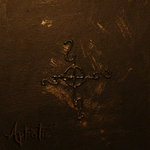 Artist:
Cut The Light
Title:
Aphotic
Format:
CD
Label:
Black Mara
(@)
Rated:
"Aphotic" is the debut album of Cut The Light, a project from Crimea whose dark ambient is mostly based on processed field recording aiming to create a somehow uncomfortable environment. Some tracks are very long and use this element to enhance the attention on sound details as the musical framework is based on stillness.
The first track, "I", starts as a noisy drone which is the background that ties together the other samples until the second part of the track based on samples of orchestral music, or so they sounds, reveals a sort of narrative behind a overall meditative structure. The field recordings of "II" are the base from the crescendo of a sharp drone which ends when it's time to focus the attention to the evocative noises of the final part of the track. After two long track, "III" is the first example of the second side of this release: short tracks divided in two or more sections where the focus is on the evocativeness of the samples. "IV" is a short interlude and introduction to "V" where a sort of slow melody slowly emerges from the static background. "VI" is the most static and canonic track of the album. "VII" reveals how can be reversed the canonical form: a static background based on drone and a moving foreground based on samples, exploiting the field recordings to create a repetitive pattern and focusing the movement on the underlying soundscape. "VIII" starts with a quiet and almost static background and ends with a sharp crescendo. "IX" closes this release with a short crescendo of a drone.
It's unusual that a debut album reveals a rather formed personality untied to his influences, so this is one of finest release of the genre that could be heard this year. Not for everyone but it's worth a listen.
The talented Norwegian musician Hans Kjorstad (starting his musical path when he played the violin at the age of 7 in Fron in Gudbrandsdalen, a small Norwegian village, that has a lively folk music scene) recently established his personal imprint Motvind - as a sister company to the Motvind Festival - by releasing the debut album by Miman, a trio he founded together with Egil Kalman (playing double bass and synthesizer) and Andreas Røysum (playing guitar and a clarinet). According to the notes (...and we have no reason to not trust them!), these three folks recorded "Ulme" with the support of Magnus Nergaard over three days in March 2017 during which they improvised in front of a fireplace (as you can guess by the title of the first song "Omkring Ilden", meaning "around the fire") in a cabin in the woods north of Oslo. Wood and fire are important elements of the set, as it seems the musicians constantly gave voice to them by means of scratches, hits, creaking noises, which don't disturb the delicate melodies on which they pop out like fairy entities or maybe like those mushrooms in the sylvan undergrowth of the nice cover artwork. Such an aural organization, combining flakes of electronics and acoustics leaning on a ground of references to Norwegian, British and Indian traditional sonorities, is particularly clear on "De Vises Club", the more extended track of the album, but it's clear on the other tracks - where they often change the way by which they assemble sounds - as well, covering a wide range going from quite abstract and almost not-musical improvisations ("Torre", "Skarvor") and bluesy moments ("VÄgen Ut") to the pastoral delicate transcendence of "Walden" - a reference to the masterpiece by Thoreau? I recommend to enjoy it while driving over lovely natural sets, as I did while driving around the pre-Apennine areas close to Bologna if you like driving without fearing twists and turns! - and the lovely reverie of the closing "Plaums Draum".
Artist:
Foamek
Title:
Radar Ruins
Format:
Download Only (MP3 + Lossless)
Label:
Youngbloods
Foamek's "Radar Ruins" is a well-executed throwback to the gentler and more chin-stroking side of 90's dance music, revisiting sunkissed late-90's balearic chillout-meets-trance and some slightly deeper instrumental techno, pumped through slightly lo-fi channels.

The fusion of old-skool breakbeat patterns, long melodic pads and electronic squeaks in "Marshhide" strongly recalls early Future Sound Of London material, while "Heart Won't Die" and "Prysm" recall mid-afternoon dancing on the beach vibes.

"Swing" has a bit of a French-style acid bounce to it that recalls Laurent Garnier or even Mr Oizo, while the bonus VIP version takes things in a more main-room direction. "Moving On" brings a more trip-hop flavour but still firmly cushioned and padded with mellow jungle noises and warm pads that put things in the territory of early Woob releases.

Opening track "Ingenue" is the most modern-sounding, in a slightly twisted way, as it involves the heaviest use of lo-fi effects and some interesting glitch-percussion work that demonstrate from the off that this isn't 'authentic' retro but a reworking with a fair bit of its own imagination.

Doing for 90's music what synthwave does for fans of the 80's, I lapped this up. Being almost excluslvely instrumental it lacks a unique selling point that will give it really broad appeal, but if like me your collection of 'proper' trance and classic chillout material is sounding a bit overplayed, this will certainly pad it out nicely.
The conclusion of Frits Wentink's trilogy of EP's under the extremely reviewer-friendly name of "Two Bar House Music & Chord Stuff" is a pack of four classic-style house tracks circa 125bpm, with light stepping beats and claps and lovely melodic synth work, FX and little vocal snippets- never a full vocal- wandering confidently and warmly over the top.

Numbered rather than named, each track does have its own character. "Theme 9" is bright and quite energetic, with some nice sharp-cut cymbal work. "Theme 10" is more stripped back, focussing on a bouncy little synth bassline and some rather cheesy, cheap-sounding (but strangely not in a bad way) organ keys. "Theme 11" has a touch of the funk and a bit of a Lenny D vibe, before "Theme 12" loops back to "Theme 9"'s vibe but less vocal, with shades of Todd Edwards.

A really nice bundle of feel-good house stuff that does exactly what it says on the packaging.