THE BRIDGESHADOWS IS A 3 PIECE BAND THAT HAILS FROM CHICAGO AND PENNSYLVANIA. IT IS A E PIECE BAND THAT IS TRUELY GOING TO MAKE IT ON THE DANSE FLOOR CHARTS. WE OPEN WITH TRACK ONE ~ FEEDBACK, A GOTHIC ELECTRONIC MELODY THAT MOVES LIKE WAVES ON THE WATER SETTING THE SCENERY FOR WHAT IS TO COME. BETHANY IS THE LEAD VOCALIST AND JONATHAN AND KL PROVIDE THE GUITAR. JONATHAN AND BETHANY SING, " GIVE ME SOME FEEDBACK " AS ELECTORNIC BEATS PROVIDE THE BACKGROUND TO THIS DARK ANTHEM SYNTHPHONY. THIS SONG WAS A PERSONAL FAVOURITE ON THE WHOLE ALBUM. WE MOVE ON TO TRACK THREE ~ COLD DAY IN HELL WHICH REMINDED ME OF A NICE EXAMPLE OF GOOD ETHEREAL MEETS PURE ENERGY. BETHANY SINGS, " IT'S A COLD DAY IN HELL ." A TRUE ANTHEM OF THE DAMNED AND A FEAR OF IT ALL." THIS SONG ROCKS HARD AND GOT ME MOVING IN MY SEAT AND LIVE WHEN I SAW THEM AT THE NITE LIGHT CAFE. MOVING STEADILY WE GO TO TRACK FIVE ~ WATERS RUN DEEP, A VERY TYPO-NEGATIVY TRACK THAT FLOWS LIKE THE WATER THEY SING OF. BETHANY AND JONATHAN SING, " LET THE RAIN FALL" IN THE GREAT PASSION AND EMOTION. TRACK SIX~ PRAY FOR RAIN IS ANOTHER TRACK THAT WAS BEAUTIFUL AND INSPIRING TO ME. A VERY METAPHORICAL WITTY TRACK THAT POSSIBLY WILL BE A DANSE FLOOR HIT, IF IT GETS THE RECOGNITION IT DULLY DESERVES. BETHANY SINGS, " ' DAY TO DAY I TRY IN VAIN, NOTHING DNE CAN CURE THIS PAIN, EXHAUSTED BY THE SAME REFRAIN, IN TH IS DROUGHT I PRAY, II PRAY FOR RAIN. JONATHAN SINGS DARKLY IN THE BACKGROUND, I PRAY FOR RAIN, LIKE A DARK ANGEL IN ACCOMPAINMENT. THE REST OF THE ALBUM HAS PROMISING TRACKS AND ALL IN ALL I TRUELY LIKED THIS BAND ESPECIALLY LIVE, CHECK OUT http://www.myspace.com/bridge_shadows, YOU WILL NEVER BE DRY BUT SATURATED WITIH HOPE FOR THIS NEW DARK FUTURE. ~ 4 STARS ~ MICHELLE TUSSO
image not
available
anymore
Artist:
EMPTY
(@)
Title:
Aeon Xpand
Format:
CD EP
Label:
Aphotic Audio
(@)
Distributor:
DSBP
Rated:
The Australian Dark Electro duo EMPTY returns with a new EP, which seems to be the remix twin to their successful debut EP "Open Aeon", released 2 years ago. Meanwhile Aaron Potter and Daniel Brunet have joined and reached the membership of the still active Australian Crash Frequency collective and this collaboration has offered more contacts and recognition to them. Asides some more live performances, the appearance of some collective comrades like PROCESS VOID and IN-TRANZIT, both providing remix works has happened through this. To all fans awaiting curiously a full-length album of EMPTY, well, "Aeon Xpand" can't offer anything like this. With "Castrated" there's only one new track, all other 7 tracks are remix contributions – although "Castrated" is an awesome Dark Electro smasher, which kicks ass. Very near to the patterns like older DISMANTLED and FRONT LINE ASSEMBLY, "Castrated" in its Original Version comes out surprising straight oriented. 2 additional remix works of this track by ZINTEK and IN-TRANZIT are available and support this great new track excellent. The other remix works by DISHARMONY, PASK (both on "Alone"), JVL 7 ("Scarred"), PROCESS VOID and SEARAD (both on "Torn") are taking their originals out of the two years old "Open Aeon" EP and can all offer additional and valuable elements to them. Especially the remix of PASK on "Alone" combines the layered Dark Electro sound of the creators with some crispy Powernoise drum patterns – this one caught already full attention on the "Arable Farmland 3" compilation. "Aeon Xpand is overall a nice addition to "Open Aeon" and with more coming new tracks in a similar quality of "Castrated", you can be assured that another Dark Electro giant will be able to rival the throne of the current wave with BRAIN LEISURE, NCE, OBJECT or NORDSCHLACHT. Check this out!


Artist:
Neurotech
Title:
Transhuman
Format:
Download Only (MP3 only)
Label:
self-released
Distributor:
Deadknife Records
Rated:
This is a quite interesting Electro/Metal-Crossover release hailing out of the small European country Slovenia. Leader and initiator is a guy named Wulf and he has meanwhile hired 3 additional band members, which support and complimenting his vision of a Industrial-Metal sound outfit. "Transhuman" is a 5-track self-produced debut EP and currently only available as a free download from the MySpace account of this act. They're also collaborating with the highly productive Deadknife Records net label, which can now look on nearly 150 real underground-minded net releases and a strong MySpace community fan base. Striking on "Transhuman" is the fact, that NEUROTECH have an open mind to integrate Electronica elements nearly to the same amount asides the expected guitar riffs and the growling vocals. And those Electronica elements aren't some cheap Techno synths bored placed in the mix, they rather count on real Electro-minded arrangements and compositions. As a possible comparison I tend to name the Swedish act Red Cell (Progress Productions) as a reference, just as long they had guitars in their mix. "Transhuman" is an excellent first teaser and surprisingly coherent produced and mixed plus it features an awesome artwork. As I said, this EP is a free of costs download, but there are existing plans to offer a physical CD or CDR copy for the retro audience.
Please copy and paste this link: http://download.yousendit.com/B266F6D106C7F824 , add it into your browser, download it and enjoy a well-done output for this music genre. A label deal and some more recognition is deserved.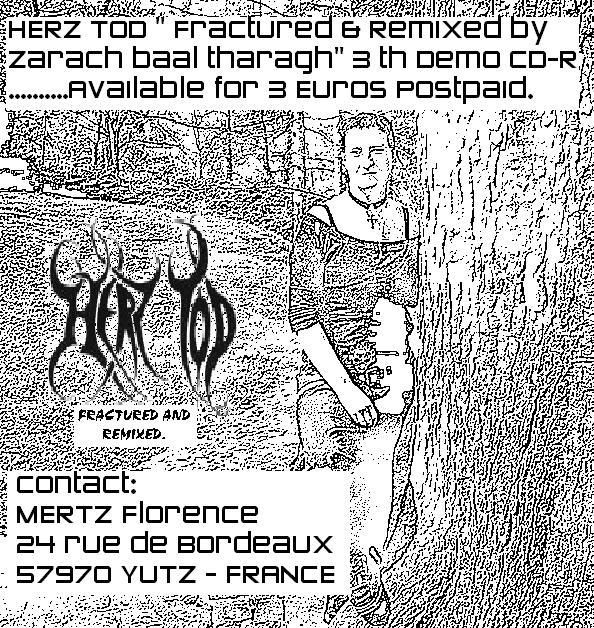 Artist:
Herz Tod
Title:
Fractured and Remixed
Format:
CD
Label:
Smell the Stench
(@)
Rated:
This is a review of Herz Tod's Demo III, which was Fractured and Remixed by Zarach Baal Tharagh (ZBT). ZBT is also known for his project, Stigma Diabolicum. This is Herz Tod's third release under Smell the Stench Records, and ZBT's eleventh--this is also ZBT's second Fractured and Remixed release. Both of these artists hail from Lorraine, France. There are seventeen tracks on this release, most of which are a minute long.

The sounds of Fractured and Remixed are both warped and crispa difficult polarity to establish. There is just enough ambience, and just enough activity, to cause the listener queasiness--much like floating down a calm river and having a nightmare of drowning at the same time. I originally chose this release for review because it was listed as "ambient." This is ambient, but it is ambient that demands attention.

ZBT's Fractured and Remixed version of Herz Tod's Demo III is ambient music for people with Attention Deficit Hyperactive Disorder (ADHD). As often seen in people with ADHD, the content is always interesting and keeps the listeners on their toes, but the tracks also end abruptlywith the listener still on their toes. These tracks are definitely fractured, but not enough to detract from the quality or dynamic of the sound.
Artist:
Za Frūmi
Title:
Legends act 4 - Orders
Format:
CD
Label:
Waerloga Records
(@)
Rated:
It took almost four years between "Legends act 2 - Vampires" and "Legends act 3 - Cults". "Legends act 4 - Orders" is released on the same day as act 3 and it gives you even more in depth and varied music. Both albums are creating a smorgasbord of a total (11 on each) 22 delicious songs and the ones on this album impress me even more than on act 3 and that says a lot as I loved that album.

This release is a revelation. Za Frûmi is of the highest artistry. Fully in control of this difficult material, Za Frûmi has the technical equipment to let the music speak without impediment.

It is obvious how passionately the duo are with their music and how much of perfectionist´s they are. With this amazing album, Za Frûmi fully takes the plunge into the heady mix of musical traditions. Calling it"haunting" and "atmospheric" barely scratches even the initial surface of the album's power.

Za Frûmi evokes emotional esoteric and mystical life from nothingness. Deeply rooted in several historical traditions raging from (as far as I guess) Western European middle age, Eastern European folk and even Middle eastern intonations and incantations, Simon Kölle's voice draws the music up from a somber state, giving birth to an almost emotional drama.

The song titles are names of secret Orders in the world of Za Frûmi, a world the band seem to build up more and more which in itself is kind of unique, references to Latin, choirs, and other touches that make the album sound like it was recorded in an immense ancient cathedral. Or maybe in great mystical halls of the orders themselves.

While the elements being drawn on are certainly of an older range, the results owe as much to the technologies of arrangement, mixing, sound effects and production and a consciously cinematic feeling as much as they do antique pasts. Similarly, the feeling is not simply European but worldwide, with Kölle´s glossolalia intentionally reaching beyond easy understanding.

The overall feeling is of an great dark ancient religious service come to life with all kinds of dark soundscapes, strange instruments and some electronic , has stunning results.

If you already know Za Frûmi you must buy this CD. If you don´t know its music, try to imagine the best among fantasy film soundtracks such as LOTR with a varied instrumentation and with even more depth than the soundtracks. With the help of this magnificent album you create the"film" with your imagination.

I go so far to say "Legends act 4 - Orders" is the album of the year 2008 (so far).

This recording gives new hope to the continuance of Za Frûmi´s rich legacy.