Artist:
OXYD
(@)
Title:
Larva
Format:
CD
Label:
Aliens Production
(@)
Distributor:
DSBP
Rated:
There's once again magic in the air! Whoever else than the both DISHARMONY-protagonists Lord Sauron and Ryby will be able to offer such another new epic sound experience pretty much in the already discovered line, but still quite diverse? I guess the main difference between DISHARMONY and this side-project can be explained, that OXYD is more Ambient-driven and a pure instrumental work. Some relations to the main project are of course recognizable, especially after the intense last DISHARMONY-album "Malignant Shields". DISHARMONY is colder-minded, rather KLINIKal when a play with terms is allowed. OXYD sounds more classically inspired and it allows different cultural influences to take place in some niches. It shouldn't wonder you if you can hear some quite unusual and organic instruments like pipes or brasses as additional elements. "Traveller" is sort of this work by offering a DISHARMONY-like sequencer line while several multi-layered sounds at times with an oriental touch are joining the scenario. That's fantastic cinematic music, timeless and addictive! Some voice-samples here and there get some inserts too ("Transformations", "From The Inside"), while I wouldn't call them essential. "Transmission" surprises with a straight, FLA-like bass line performance which is quite unusual for this Slovakian duo and compared to all of the other featured tracks an exception. "Suspiria" with its broken rhythm patterns reminds then rather on DISHARMONY, until "Carbon" brings this album back on track. "The Frozen Moon", maybe asides "Traveller" the favorite on this album, can be named as being one of the most melodic pieces – again the multiple layered bass line and synth pad work is outstanding and light-years above the average Electro/Industrial band! It is an Aliens Production release, it is from Slovakia, it is the side-project of the DISHARMONY-musicians – aren't this 3 reasons enough for you to buy it? A MUST-HAVE!
image not
available
anymore
Artist:
VV.AA.
Title:
Electro Arc Compilation Vol. 3
Format:
CD
Label:
Electro Arc
(@)
Distributor:
Nur Medien GmbH
Rated:
Third chapter of this Germany-based compilation series again compiled by Intrendent and ready to save a decent X-mas celebration. There's one problem I've got with this comp, because it features my own music project with an appearance. I of course can't review my own music efforts and it should be understandable if I leave a mantle of silence on it. However, it is also my "job" to write a review on this release and I hope that all of the featured artists have a sense of support for this. As usual for the "Electro-Arc" series, this third volume comes out musically quite diverse by discovering several styles and tendencies. It once again concentrates to collect only a few better known artists and several underground acts. The UK-based ATTRITION are sort of veterans and active since more than 20 years. Their track is a straight Tech-Dance piece accomplished with several voice samples. Also the Belgian-based project IC 434 aka Geert De Wilde is one of the better known and rather old-school EBM-like acts here. He offers with a Re-Take of the track "Ferghana" a first new audio sign of life, which will hopefully soon continue with a new full-length album. Oh, and Belgium has to be named here, because this compilation got compiled with the intention to collect the most appearances hailing out of this small European country – maybe to check and see, what the heirs of legends like FRONT 242, SIGNAL AOUT 42, NEON JUDGEMENT and others are capable to offer. I don't know from where TRANSTECH are hailing, however, their track is another straight and danceable tune with some decent vocoder effects. DHARMATA 101 then stands for the international guests, because they are hailing out of the United States. Stylistically they're sitting in between the chairs be offering a mixture out of Industrial, Electronica and Goth-elements. Their track "Outline (Of My Shadow)" is a quite good composition featuring a fair amount of acoustic guitars, Metal-guitar riffs and decent Electronic textures, while the natural sounding vocals need some more spins to earn acceptance. DEVOTED SYMBOLS then switch back to harder EBM a bit comparable with some up-to-date productions of SUICIDE COMMANDO. Also RECON are pretty much dedicated to EBM, but rather in a minimal style, while the vocals – as simple as the lyrics are – reminding hard on Claus Kruse of the German act PLASTIC NOISE EXPERIENCE. It follows with HYBRIDS (Daft Records, ant-zen) another better known act by offering a live recording, which turns this comp into a more experimental field. The best appearance got provided by the German duo NORDSCHLACHT, which we had recently presented with the release of their highly recommended debut "Silence, Beauty And Cruelty" (Klangdynamik Records). "Facts" is multi-layered Dark Electro in perfect conditions, danceable, but still with the sense to offer opulent synth pads. Another good thing on this track – it isn't available on their debut! SOLANACEAE TAU then offers a Goth-inspired work with mighty guitars and a female vocal performance, while BODY POLITICS offer a metallic live old-school EBM performance. Both last appearances on this comp got provided by the Belgian musician Peter Bonne with his both projects LINEAR MOVEMENTS and TWILIGHT RITUAL, which is again an excursion into some 80-like Italo-Pop/Wave-music culture. I may was expecting a more detailed presentation on some up and coming talents of the Belgian EBM-scene – in case there is one – where the fuck are IONIC VISION or DARKMEN for example? However, this compilation collects a lot of new talents and some older heroes as well, while the predecessor rather Dark Electro-inspired volume 2 of this series is still the favorite.

1. Attrition – The head of Gabriel (Pablo sonic terrorist mix)
2. Synaptic Defect – Devouring Hate (Electro d'Arc Mix)
3. IC 434 – Ferghana (Re-Take)
4. Transtech – Satellite
5. dharmata 101 – Outline (Of My Shadows)
6. Devoted Symbols – Hush
7. Recon – Rise of the dead
8. Hybryds – Babel (Live Paris)
9. Nostromo 7 – Longing
10. Nordschlacht – Facts
11. Solanaceae Tau – Riots lullaby
12. Body Politics – Lust (Live)
13. Linear Movement – To Another Soul
14. Twilight Ritual – Delay

Artist:
I, Synthesist
(@)
Title:
Art Of Survival
Format:
CD
Distributor:
A Different Drum
Rated:
Ah, another striking synth-pop record by I, Synthesist. This time the one man electronic act, Chris Ianuzzi, composed and mixed ambient and experimental tracks. Very handy with craftsmanship and scientific basis with science and technology. This New Yorker have the ability to combine both. A super genius this guy is. The title of the album is natural phenomenon and represents the whole conception of the record. Wonderfully a combination of 80's and modern synth-pop. So inspiring and interesting. This sophomore release has the potential to keep the the listener's ears open, even Chris voice fit perfectly right with the songs. I like the way he sings. Reminded me of Talking Heads frontman David Byrne. Whether he's singing in a sense of humor or seriousness form, I find his singing abstract, but unique. Synth melodies catchy, creating a dreamy and a mysterious atmosphere that will draw you in. The final track "The Overlook", which closes the album is a 20 minute ambient soundscape instrumental piece that will go great to a sci-fi movie or a science or space documentary. The "Art Of Survival" is surely another surefooted winner that glows with just enough charm and melodic magic and dancefloor beats to keep your feet tapping and dancing. I, Synthesist has achieved successfully producing an outstanding progressive electro record. Each song takes on its own personality with distinctive lyrics, which steadily varies in a different mood. Delightfully overwhelming and impressive!

Tracklistings:

1. Art Of Survival
2. Telepathy
3. Don't Belong
4. Time Machine
5. Anthems
6. Moon Song
7. Paradise
8. Blue Jets
9. Pieces
10. Waterfall
11. The Overlook
Artist:
BAIN WOLFKIND
(@)
Title:
Wasteland
Format:
MCD (Mini CD)
Label:
Hau Ruck!
(@)
Distributor:
Tesco Germany
Rated:
Coming from Australia just like Nick Cave and his fellow mates whom traveled the world with him as Boys Next Door first and The Birthday Party then, Bain Wolfkind, after his first album "Music For Lovers & Gangsters" and the following 7" "Confidential Report", released back in 2005 and 2006, bring to the audience a new four track MCD titled WASTELAND. Just like the title suggest, the new tracks have a certain sour taste that take their inspiration from film noir imaginary. Titles like "Butcher's daughter", "Bury me in a shallow grave", "Hang me high from that tree" and "The rivers runnin' dry" don't leave too much space to imagination and the acoustic/voice minimal approach help creating that suspended atmosphere made of despair, lost souls and sinners. Into only 11 minutes Bain Wolfkind is able to create his own aural world where crimes are the minimum you can wait for. If you loved early Nick Cave and you don't have found your faith yet (like he did), try these tracks.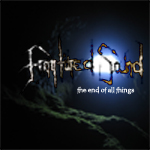 Artist:
FRAQTURED:SOUND
(@)
Title:
The End Of All Things
Format:
CD
Label:
self-released
Rated:
After sneaking around in various areas, the Oregon-based Electro/Industrial-project FRAQTURED:SOUND has made itself a good name in his local area through several supporting gigs with acts like NO LONGER HUMAN or DIR:/TD. Some current mutual events with a scene-player like GOD MODULE are just another prove for the development behind this act and the still to be discovered talent. Consisting of Chris Norris, FRAQTURED:SOUND offers a new 12-track full-length album heavily inspired by Dark and Splatter-Electro themes, in some way comparable with older SKINNY PUPPY, VELVET ACID CHRIST, PLACEBO EFFECT or OBJECT. Although completely self-produced, this comparison also fits with Chris' kind to manipulate his vocal performance, which comes out in a similar way. Definitely not the still rushing "switch-synth-on-and spread-the-Trance-oontz-oontz-formula" another time, this album likes to rediscover and to play with the pearls of the above mentioned acts. "The End Of All Things" presents 10 original compositions plus 2 remix works conducted by the both musicians of NO LONGER HUMAN, another up and coming talent (check back the BLC Productions compilation Interbreeding IX: Kuru for a quite remarkable work...). Some stuff can really bring some action into your legs, "Connection Broken" or "Waiting" have to be named, while the highlights are the tracks featuring the rather cold and layered textures, like "Compatable" and "Inner/Twine". This album offers a decent quality and can grow after some spins to an underestimating secret tip. Give it some rotations, it is worth to get heard!