image not
available
anymore
Artist:
Black Heaven
(@)
Title:
Kunstwerk
Format:
CD
Label:
Scanner / Dark Dimensions
(@)
Distributor:
Soulfood
Rated:
This is a new release by this German one-man project, which has been active and brought out some releases before through the German label Trisol. Now signed and published by Scanner of the Dark Dimensions label group, BLACK HEAVEN is leaded by Martin Schindler and with this album he likes to present us his very own view on Electro/Industrial music. The lyrics are completely in German and deal with a lot social-critically things, politics, globalism and, and, and. My deepest bow that at least somebody is able to address the things which have to be said in German without falling into embarrassment. This "Kunstwerk" (work of art) is lyrically one of the strongest releases in years. Musically Martin likes to present a subtle kind of Synth- and Futurepop, on some tunes pending near to Electro/Industrial, but the music generally doesn't live from some fantastic-sounding effects – it seems he knows well about the weave of his lyrics. Of course his voice sounds clear, natural and undistorted, however else you would be able to understand the rich lyrics when he'd insist to yell through some distortion effects? I tend to compare his voice in a same register to Tom Shear of A23, also musically there can be surely found some relations to the world-wide known Accession/Metropolis-recording artist. Although – and that's a good point as well – the music isn't afraid to integrate here and there some acoustic elements like guitar ("Schwarzes Loch", "Zentrum") or piano sounds ("Zweite Sonne"). Also a must: check out the marvelous ballad "Dieser Weg" - definitely the highlight here! 14 tracks are available here on "Schindler's list" (ha-ha), composed and arranged under the moniker "Kunstwerk" - Martin couldn't find any better name for this work, applause!
image not
available
anymore
Artist:
Cold Cluster / Gerstein
(@)
Title:
Bipolar / Wring The Wrist
Format:
CD
Label:
Purity
(@)
Rated:
Cold Cluster (former aka Kluster Cold) cd represents a style of new school synth-pop and other electronic genres. This is one of their best and finest up to date ever produced album recorded which pair with the Gerstein's tracks you can find after the Scenic Overlook cover of Cold Cluster's "Explanation". All eighteen tracks dominant skillfully with synthesizers and a drum machine. Very inspiring and brilliantly original grating and overwhelming at a longer length, it clocks at 68 minutes. So remarkably consistent from start to finish. As vocals concern, imagine the late great Ian Curtis doing synth-pop music. This is what Gerstein sounds like on his eight tracks. Tense and defining, but also with a intimate impression and passsionate feel. "Bipolar/Wring The Wrist" is definitely is a superb unique listening experience and will get you hook! It plunges into intelligence, fascination, and catchy melodies. A solid portrayal of the band's captivating music personality strong cuts from the cd including "Obsession", "Explanation", "She Never looked backwards", '"The End of The Summer, "Akaline Tears" plus Gerstein's "Tender" and "Love Alarm". Best record for the summer and fall with anticipation and the production with clean, rich and glossy. Very highly recommended.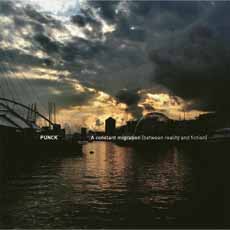 Artist:
PUNCK
Title:
A Constant Migration (Between Reality and Fiction)
Format:
CD
Label:
Creative Sources
Rated:
I truly feel awful for reviewing Punck's last year full length only now, also because it's been in constant rotation (...) in my stereo for all these months. Life problems and taking one's time eventually lead to these disasters... "A Constant Migration" is surely the best and most mature release of Adriano Zanni's as of yet - following the wake of his previous "Nowhere Campfire Tapes", but taking his soundscapes to a higher level (and that was a good album, mind it). I suppose that playing live sets has contributed to refine his tecniques and give a smoother, more organic feel to his compositions. As usual, Zanni uses "laptop, field recordings, found sound and sampling", and the result can be compared to the works of Seth Nehil, jgrznich, Dave Lloyd and mnortham. Highly refined concrete music where natural and electronic sounds are stretched and layered into drones, or scattered around as in an improvised session (which could explain why this has been released on Creative Sources). Zanni's audio-trip stands out from similar ones for the warmer, more emotional (existentialist, I wrote about his previous cd) approach to soundmaking, here leading to the breathtaking closure of "Hagakure [II, 105]", a powerful high-end drone streaked by bowed strings. This cd was mastered by Hue (Sparkle in Grey), which totally makes sense: take it as a comrade to "Un'estate senza pioggia", at least in terms of attitude.
image not
available
anymore
Artist:
NETHERWORLD
Title:
Kall - The Abyss Where Dreams Fall
Format:
CD
Label:
Mondes Elliptiques
Rated:
If "Mørketid", which I've just reviewed, shows that Alessandro Tedeschi is willing to try new paths, "Kall - The Abyss Where Dreams Fall", released by the quality Angle sub-label Mondes Elliptiques, plunges us back to his known mental swamps, and I personally welcome the experience. Featuring four tracks clocking in at 53 minutes, the disc, packaged in a superb white cardboard cover, is quintessential Netherworld anguish: crawling drones, grinding metallic loops, sparse noises and cavernous pulses, disquieting whispers and moans... Under this aspect, there's nothing different from what we already knew from his previous releases (except a superior sound quality), but I think that those were very mature and successful from the very start, so repetition is not an issue with me. This is a top-notch "dark ambient" album if, by this tag, you mean the solipsistic inner soundscapes of Lull and early Thomas Köner, rather than the Lustmord school or more bombastic CMI-style stuff. Netherworld uses only a handful of selected elements, and his strength lies in how he combines them - his "breathing" mix of near-silences and grinding bursts which does make this a scary trip, even if you're more than used to audio horrors. Excellent disc, guaranteed to be one of my favourite this year.
image not
available
anymore
Artist:
NETHERWORLD
Title:
Mørketid
Format:
CD
Label:
Glacial Movements
Rated:
Released simultaneously with "Kall - The Abyss Where Dreams Fall" (on Mondes Elliptiques), "Mørketid" is not the disc I expected, under many aspects. Over the last few years, Alessandro Tedeschi/Netherworld has created some of the bleakest drones around, legitimately reviving the term "isolationism" and starting to build a solid reputation with a few limited releases on Umbra and T'alem. The name he's chosen for his own label, "Glacial Movement", was perfect to define his style. But right from its beginning, this self-released work is a surprising detour, or possibly the sign of new inputs that will be gradually absorbed in his soundscapes. To be short, the whole disc is bathed in melody, and is largely loop-based (instead of featuring vast bottomless drones). The glacial theme is still there (the liner notes explain that the title refers to "a certain period in the year when the Arctic winter cold encases everything and the sun doesn't rise over the horizon"), but the atmosphere is melancholic and peaceful rather than one of ghastly desolation. Now and then, Maurizio Bianchi in his most serene mood came to my mind, along with vague similarities with some Eno or Basinski. Short melodic fragments are looped building expanding cyclic pieces, sometimes accompanied by spoken samples (one more difference - human traces!), and occasionally clouded by darker drones and metallic rumblings, as in the title track and the final "Virgin Lands". After the initial shock, I found myself liking this album quite a bit, though being no die-hard fan of melodic ambient. I am now looking forward to seeing if Tedeschi will cultivate his more humane side as opposed to the more abstract and desperate one, or try to merge both - which could lead to awesome results.