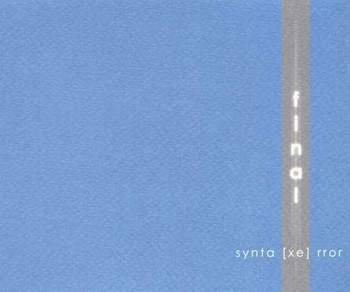 Artist:
SYNTA[XE]RROR
(@)
Title:
Final
Format:
CD
Label:
Ars Benevola Mater
(@)
Distributor:
Masterpiece Distribution
Rated:
Always in balance between disturbing dark ambient suites and i.d.m. influences, the Poland musical project Synta[xe]rror presents on its newest release eleven tracks that will please the lovers of electro industrial cross over. If the opening track "Murderer" someway recalled me the atmosphere of the Clock DVA of the latest period, "Breslau 1st step", "Breslau 2nd step" or "We have create" are, instead, linked to the sound proposed by labels like Ant Zen because of the blend of industrial distorted solutions based on rhythm patterns and ambient textures. The tracks create a good tension and even if for my tastes sometimes they are too long ("...Europe is not the same" has a length of 9 minutes) I never skipped one of them because of the sensation that there was something going on: like some dark creature that's growing while you are listening.
image not
available
anymore
Artist:
CONTROLLED COLLAPSE
(@)
Title:
Injection
Format:
CD
Label:
Noise Terror Productions / Dependent
(@)
Distributor:
Alive!
Rated:
Somehow this long awaited debut release of the Polish act CONTROLLED COLLAPSE is a kind of "lost child" in between the NTP family, since it got already announced to be out during summer 2K6. But due to some unexpected "technical problems" the release got deleted until now. Unfortunately the situation with this strategic partner of the German Dependent label seems still to be unclear, this release of course features more or less well with the trademark and the intention of NTP: to give talented Dark Electro/EBM acts a new platform asides the highly renowned Dependent label roster under the control of the skilful hands of Johan Van Roy (SUICIDE COMMANDO). CONTROLLED COLLAPSE is musically a one-man act consisting of Kr-Lik, but he gets some additional live synth help through Milena and Tomtylor. Like with the label comrade of DIOXYDE, the notorious "SC-shuffle" is also richly present in the music of CONTROLLED COLLAPSE, while it would be wrong to reduce this act only on this repetitive formula. It seems a bit that Kr-Lik thinks a lot on his musically outcome, the chosen sounds and the rhythmically structures are definitively not taken from the first found preset sounds. Also his rhythmically work seems to be thought-after, at times using more, at times using lesser distortion effects – but at all no jump into the Powernoise genre. Another remarkable point is his work on his vocals, clear and natural sounding ("Liar") goes hand in hand with a rough and distorted ("Insane Asylum") performance. Tracks like "Liar", "Insane Asylum" or "Inject (Syringe Edit)" should work excellent to cause some movement on the dancefloors, while here also enough mid-tempo tracks ("Dreams", "Memory Of The Past"), which offer a satisfying listening on your home entertainment. And to make Kr-Lik's already gained internationally attention complete, he could also invite two guests in Darrin Huss (PSYCHE) and Wendy Yanko (FLESH FIELD) providing some vocals and lyrics. This is a constant good Dark Electro album, not the innovation of the year for sure – but decent enough to grab your attention.
image not
available
anymore
Artist:
Cervello Elettronico
Title:
Negate The Instigator
Format:
CD
Label:
Crunch Pod Media
(@)
Distributor:
CDBaby
Rated:
Another official debut release for the CA-based Crunch Pod Media label and with the NYC-based CERVELLO ELETTRONICO a not unknown name. Leaded by David Christian (aka SNARF) this act works already since years in the underground. Self-released and hard-to-get EP's, uncountable live supporting gigs for renowned names like TERRORFAKT or MAUFACTURA, a gig in Germany on a Planet-Myer-Day, or some well-done remix works (again TERRORFAKT for example...) are reference for internationally recognition of this hard-working act. Globally said, David likes to combine classic Electro/Industrial bass lines, broken and interrupted voice samples with newer Electronica elements and rhythmically Powernoise – although this release behaves different compared to a typically genre release. David seems to manage hard on all tracks here not to sound like a repetitive and minimal Powernoise musician, also an overwhelming use of distortion and overdrive effects can't be heard – he simply tries not to offer the harshest and roughest release around. His tracks are far away from sounding minimal, they rather offer depth and maturity. Plus he seems to be a specialist by using of low-fi and bit rate reduction effects – as it can be heard pretty much in bass lines as well as in rhythm patterns. Intelligent constructed and tracked down, this release – like the last ENDIF release – stands highly above the average. Hard to figure out some smashing favorites, because all tracks offer uncountable ideas and well-produced authentic sounds, so that all pieces can satisfy. Take a good pair of headphones and listen to this album in one turn. You won't get bored also after the 20th spin. A must-have release for all genre listeners, as well as for open-minded Electro/Industrial lovers.
Artist:
VV.AA.
Title:
The Virus Has Spread / A Tribute to Atari Teenage Riot
Format:
CD
Label:
D-Trash records
(@)
Rated:
Carl Crack, Nic Endo, Hanin Elias and Alec Empire, better known as the German DIY-spirited multi-national multi-gender band Atari Teenage Riot, have pretty much created the genre most commonly referred to as digital hardcore, and, although labeling their niche genre can still turn out to be increasingly difficult and unpopular, their legacy of ultra-politicized heavily-distorted electronic/d'n'b punk/HC carries on throughout the decades. Proof of this is that six years after ATR's end, the genre is still alive and kicking (literally!) and 16 bands converged in 2007 to put this tribute CD together under the one label that probably best represents the movement, the genre and the attitude itself: Canadian D-Trash records. Rabbit Junk, Howard Roark, Zymotic, Unitus, Ctrler, Hansel, 64 Revolt, Nocore, DHC Meinhof, The Secret Life of Teenage Girls, Phallus Uber Alles, Evestus, Hercklekot, Cyanotic, The Phoeron and of course Schizoid crowd the line-up of "The Virus Has Spread" and will hopefully contribute to the wide-spreading of the ATR virus of knowledge and anger. I applaud the tribute and the spirit behind it. ATR were so ahead of time with their anthems that hopefully people will start listening to ATR's lyrics sometimes soon and start fighting back already... The time to fight has been right for a while!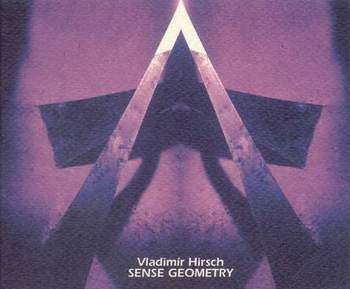 Artist:
VLADIMIR HIRSCH
(@)
Title:
Sense Geometry
Format:
CD
Label:
Ars Benevola Mater
(@)
Distributor:
Masterpiece Distribution
Rated:
Active also with Aghia Trias, Zygote and Skrol, Czech composer Vladimir Hirsch presents a new mix of a previous work titled SENSE GEOMETRY which had been originally recorded between 1998 and 1999. The composition of the ten tracks is based on fictive, geometric symbolism of certain mechanisms of the human psyche. Vladimir calls this musical form of mathematical theory "fractal musical geometry". We already know that music and mathematic are deeply linked as music is a way of disposing sounds into a space dominate by time. Also the music score is divided using mathematic fraction (4/4, 3/4, etc.). Musically the tracks are tense orchestral suites where the rhythm has an important role as along with piano and strings industrial noises are used to improve the tension created. It's also useful to notice that the whole CD is based on percussion. The piano, where used, the metallic samples, the drum and the different sound sources are creating a sort of marching soundtrack which ideally paint geometric sound forms. It's nice to notice, also, that Vladimir didn't forget to use also melody even if this isn't his main purpose. If you love disturbing atmospheres, modern classical music and also neo classical industrial sounds, this is a good release. P.s. Try it also if you don't know any of this genres but you love old horror movies soundtracks!