Artist:
LIMBO
Title:
Early Works
Format:
2 x CD (double CD)
Label:
Spittle Records
(@)
Distributor:
Good Fellas
Rated:
After two years in the working D.Loop made it and thanks also to the revived Spittle Records (they originally released the "In limbo" MLP back in the 80s) Limbo fans are able to listen to songs that only few had the chance to listen to. EARLY WORKS (1984-1987) gathers the very first songs recorded by the Tuscan combo for their first demotape (self released back in 1984), for the "In limbo" MLP plus early compilations participations and a bunch of unreleased tracks. The two CD pack comes in a deluxe package that reproduces a gatefold double album package with inner covers and all. Using original graphics as well as the color version of the painting they originally used for their first tape, the release contains also interesting liner notes both in Italian and English language. The whole recordings have been remastered and the result is really good: clean and powerful. The sound has no flaws and it gives you the opportunity to check the early goth electronic tunes of the band. The Virgin Prunes inspired vocals, the powerful bass guitar, the raw synths, everything is there to be discovered or revived into your memory. Personally these are the Limbo's recordings I prefer, because they were sounding like a post punk electronic band on the wild. You can check some tracks and purchasing the CD directly from the band through their myspace page at http://www.myspace.com/limboit
image not
available
anymore
Artist:
SEVEN OCTAVES
(@)
Title:
Simple Work
Format:
CD
Label:
KMT Records
(@)
Rated:
Despite the cover (which didn't give me the idea of the music) Seven Octaves' album SIMPLE WORK amazed me thanks to its freshness and to its particular mix of techno and 70s electronic music. If you are old enough to remember or if you are a young electronic music freak who likes to dig into the shelves of old dusty record stores (if there are any left), you'll remember those records that mixed jazz, classical and ambient music, everything performed with analog synthesizers. Well, Seven Octaves (a.k.a. Kenny MacKenzie) has the same attitude of those records but he adds also nowadays techno sounds/rhythms and a little experimentation (like on "Phone thing") with melodies that sometimes could sound naive but that express a joy of playing that will affect you. His jazz pianist activity is also showing its influence on his style and on tracks like "Tussle in B minor" or the opening "A minor is such a lovely key" you'll find yourself asking: "are these modern remixes of old Goblin's tunes?".
image not
available
anymore
Artist:
LATEXXX TEENS
Title:
Death Club Entertainment
Format:
CD
Label:
Decadance Records
(@)
Distributor:
Nova
Rated:
I must be honest, Latexxx Teens didn't raise my sympathy as I'm quite disinterested into bands that on their photo shots look like bad guys in disguise and make-up but I tried to close my eyes and to focus on the music of their first album DEATH CLUB ENTERTAINMENT. Well, the result isn't that bad as their mixture of metal with electro e.b.m. influences (they sound like a sort of Marylin Manson coming from Germany even if they are Italian) is catchy and powerful. In my opinion their perfect audience are the goth metal kids with melodic needs and Latexxx Teens did a good job by finding many catchy tunes and they also did a good job with the sound production. I hate to talk about music industry categorizations but... I'm not part of their target.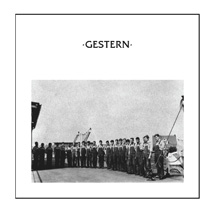 Artist:
SONNENBRANDT
Title:
Gerstern
Format:
CD
Label:
Anna Logue Records
(@)
Rated:
Co-produced by Anna Logue Records, Kernkrach/Hertzschrittmacher and NLW GESTERN is the first Sonnenbrandt full length which has been released on vinyl as well as on CD (and on this format you have four bonus remixes). Active since 2003 the band is formed by three members: Stefan Bornhorst (THE SILICON SCIENTIST, Dreams Encoded, The Convent – synthesisers, programming, vocoder), Jojo Brandt (Voll Wirksam, Liquid Dreams, The Convent – synthesisers, programming, guitars, lyrics, vocals) and his wife Sonja Sonne' Brandt (lyrics, vocals). They play minimal electro pop with both joyful and dark veins. Analog synths, guitar and female vocals are the band's weapons and they do their best to electrify your room with melodic tunes. The opening "Herz aus geld" is an irresistible German '80s pop tune with upbeat rhythms. Most tunes play around this formula adding sometimes female/male duets where bleeping synths duet with retro drum machine sounds and clean guitar riffs (a little new wave I might add). Tracks like "Was tun" use stops and go and a great choir while it was a surprise to find a surf guitar on "Hollywood". Sonnenbrandt music is definitely pop but it has many shades. This album contains a lot of potential hit singles: one of them is a nice version of Lio's '80s hit "Amoreux solitaires" but I think that their original tunes are far way better.
What have here is a bizarre cdr by Marina Hardy and following the wacky trajectory of this label, it presents a collection of tracks to say it all: "out of ordinary". Honestly I've just appreciated a few of them like the ethereal episode of "Apple sauce pudding", or the opening "M kay" where she may remind you of Madame P for those who know her, but I still find it hard to feel really comfortable in a cd where you pass from a the reinterpretation of a russian traditional to an ethereal track, from a western ballad not so far from early Calexico to (nice) melodic harp (?) driven track that probably would have find place on a record of Cynthia Dall. There are bands and project doing this 360° meting pot even more intensely but this release is really well done, maybe just a bit too heterogeneous to the extent it may sound confused. But I have to admit in general Marina Hardy is really able to build "fake instant classics" seen from this perspective this' probably one of the records that reminded me more about Marc Ribot and his "Book of heads" days on Tzadik. As I've said this musician has an incredible heterogeneous writing skill I just think she's to focus a bit more the global idea of the record but she still manage to be interesting.