image not
available
anymore
Artist:
RUKKANOR
Title:
Despartica Face Two
Format:
CD
Label:
Rage In Eden
(@)
Rated:
Robert Marciniak is a really active guy: he runs with Marcin the Rage In Eden label / distribution, always with Marcin he did an album under the Across The Rubicon moniker plus during the latest year and half he did a couple of Rukkanor releases ("Despartica face one" and the Rukkanor/Cold Fusion collaboration "Silk road"). His latest Rukkanor's release is this DESPARTICA FACE TWO. As for the first part, DESPARTICA's lyrics are excerpts of classic 19th and 20th century poetry (William Butler Yeats, Emily Dickinson, William Blake, Emily Bronte, etc.) but this time the music differs a lot from the the last year's release. If on "Despartica face one" martial industrial was the main style, on DESPARTICA FACE TWO Robert surprised everyone by changing almost totally the sound palette as 80's electronic with a bit of e.b.m. has been his main influence. Try to imagine a martial bumping version of Visage, with the same decadent/romantic atmosphere(check the vocal/piano duet of "When you are old") but with a little bit more aggressive attitude: just like an industrial version of early John Foxx. The clean vocals of Robert (only on "The dead" he treated them) balance really well the music, creating an interesting contrast. This is one of the best albums of this year's fall!
image not
available
anymore
Artist:
NADIA SOHAEI
(@)
Title:
Talking To Myself
Format:
CD
Label:
Decadance Records
(@)
Distributor:
Nova
Rated:
Actually this is the CD I preferred of the new lot of Decadance Records' new releases. Classical pianist and mezzo soprano singer, Nadia Sohaei collaborated in the mid 90's with Trans-X and then started to compose soundtracks under her name and then with the Thai-Essence moniker. The solo project and TALKING TO MYSELF started to take form with the help of Nik Wejedal who joined her in 2007. Mixing orchestral arrangements, synthpop melodies and bumping rhythms Nadia Sohaei is able to convince electro pop lovers thanks to her vocal abilities and also thanks to the personal mixture of decadent atmospheres and electronic catchy sounds. Mid tempo seducing atmospheres and danceable tunes alternates creating a nice mix. Blinking an eye to the lovers of modern synthpop with electro e.b.m. influences (see Ashbury Heights) Nadia Sohaei adds to the palette her classical past experiences and a touch of drama that help spicing up the formula.
image not
available
anymore
Artist:
KANNONAU
Title:
Initium
Format:
CD
Label:
Misty Circles
Rated:
Alternating post punk impetuosity, a bit of neo-folk, a bit of new wave, a light martial/tribal touch with a heavy sprinkle of dark atmospheres, Kannonau packed their first official full-length INITIUM with eleven tracks. Listening to the tracks it's evident to a smart ass like me the impetuosity I named earlier but punk music taught that geniality and honesty is the best way to express yourself and music should born from the union of the both. Following this lesson the three members of Kannonau did their best and succeeded into giving a vibrant touch to their songs. The theatrical singing highlight their poetical English/Italian lyrics and the music create a good suspended atmosphere in balance between rock (the use of traditional rock instruments) and industrial culture solutions (the choice of creating twisted and dark atmosphere with everything you have).
image not
available
anymore
This isn't my cup of tea because This Void Inside play a genre I'm not interested into but I know that they could raise a certain interest within the goth audience so if you are into Him you could find DUST quite interesting. This Void Inside mix metal riffs, synth melodies and catchy refrains with easiness and taste. Tracks like "Send me a sign" or the ballad "Time will tell" are good for the average MTV audience. The tracks tend to repeat a consolidated scheme but there's a good balance of different kind of atmospheres.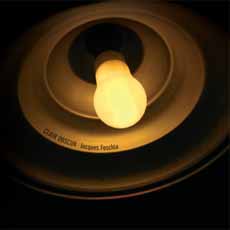 Artist:
JAQUES FOSCHIA
Title:
clair obscur
Format:
2 x CD (double CD)
Label:
Creative Sources
(@)
Rated:
This' the first solo double cd I review from the Cretive Sources-area and it's quite interesting since for many musicians from this odd-music hemisphere their cd on this label is like some kind of nice and well packaged "business card" ready for every listener-reviewer to be reminded. As you probably know every Creative Sources' artist put the money and takes part to the production of the work, sometimes the outcome is a good business card, sometimes it's a bad one. This one is good, quite classic in many ways, let's say "ordinary" in the way it sounds odd and "un-ordinary", even thought it would be too damn reductive to stop our conclusions here. Jaques Foschia (funny name, in Italy "foschia" stands for "thin fog") plays clarinets and combines both bass and eb one in a really interesting way, it reminded me a bunch of good solo works like those done by Kyle Bruckmann, Scott Rosemberg, Peter Brotzmann (mm... even if not as in "your face") and Anthony Braxton but none of them in particular, at last this work is refined and has its own physiognomy. He combined a collection of studio tracks for what looks like the real full-length and an entire disc containing two live sessions, the sound definition of which is not less effective then the studio tracks. His studio work is quite characteristic of this improvisative area therefore if you're into Birgit Uhler, Axel Dorner, or in the likes, well I'm sure you love "Clair obscure" for the global sound and the waiting games that are the peculiarity that gave this label a clear distinction (and sometimes a bit of predictability) for what concerns the sound matter. Even while acting live you have hissed sounds fragmented sketches and above all some well developed executions were according to my persona opinion Foschia shows his finest traits and I'm referring to the last part of the first live session.