Artist:
Marbert Rocel
(@)
Title:
Speed Emotions
Format:
CD
Label:
Compost Records
(@)
Distributor:
Compost Records
Rated:
Compost Records is a label usually known for quality artists and interesting Euro "Nu-jazz" releases. Koop, Jazzanova, Truby Trio, Kyoto Jazz Massive, Fauna Flash, Beanfield, etc. all have been part of Compost's staple of artists. Marbert Rocel's SPEED EMOTIONS could be categorized in the post trip-hop lounge vein with a hint of jazz, easily fitting in the Compost genre. Unfortunately, there are aspects about the album that make it sound like a demo than a polished product. There are other aspects that make it avant enough to overlook some of the flaws. The band (from Germany, not France as you might surmise by the name) consists of Marcel Aue (producing, DJing and mixing), Robert Krause (producing, DJing and artwork) and Antje Seifarth (Vocals). On this album, it is female vocalist Seifarth that really shines- a cross between Dani Siciliano and Former Morcheeba singer Skye Edwards with a dash of low key Beth Gibbons. The recording is being touted as Compost's "next big thing". I m not completely sold on that.

So exactly what are my issues with SPEED EMOTION? Well, the major problem is the mix is WAY too bottom-heavy. I had to totally re-EQ my system for this disc, and that is something I rarely every have to do. The overkill on the lower frequencies turned the mix to mush in some parts. Not good. Antje's voice still manages to cut through, as languorous as it is, which for this type of laid-back project works well.

First track, "Seven Stars" builds up a rhythm groove with echoey sonic elements over a few organ chords for over a minute and a half before the vocal melody comes in. Okay, I can go with that, but after one verse, it winds down again with some superfluous glitchy electronics and then spends another minute building up the beat again! There's a bit more vocal oomph on the second verse with Antje's voice doubled in harmony, and then it spends the last half a minute dying down again. Hmmmm... there's a construction error here – nothing to grab on to. It plays like a remix, and not a great way to open an album, in my opinion.

After the opener it's a mixed bag of experimental hits and misses. Arrangements are peppered with a lot of aural tidbits here and there, some of which work very nicely, and others that seem superfluous.

"Cornflake Boy" (no relation to the Tori Amos "Cornflake Girl") is a bit of a simple uptempo stomper with a decent enough vocal hook and jazz guitar rhythm accents, but it still sounds like a demo, especially with such an abrupt end. The jazzier "Eleanor Birdbath" has a funkier guitar, padded with electric piano over a solid rhythm. I don't know if these guys are strictly loopists, but the guitar work here (and elsewhere as well) is rather nice. Strictly instrumental. Not a standout, but passably pleasing. Another instrumental, "Purple Bass", is probably the heaviest thing on the album, kind of dark and different mood for the band. On further tracks, I appreciated some of the synth treatments, retro as they were, as they varied the tone and temperament of the music. Often the arrangements seem minimal, but there is usually something going on in the background. A minus is that some on the tracks seem to carry on a little too long without going anywhere.

As a whole, SPEED EMOTIONS is a puzzler, flirting with commercial melodies, and then veering off into left field arrangements. The overall mood just doesn't gel consistently. ("Red Shoes" is just too sappily happy for my tastes.) I can easily see some tracks from this album played in cafes across Europe, or on chill and nu-jazz radio. If anything, I'd buy the CD just for Antje's vocals, and you might find yourself warming to some of the shifting, and in some cases, shifty tonalities and abrupt endings more than I did. (The band has a MySpace site if you want a preview). I probably would have rated it higher if had been better produced. Not as dark a musical offering as most readers of Chain D.L.K. are used to, but it does have its moody moments. If they stay together long enough for a second, there is potential for magic.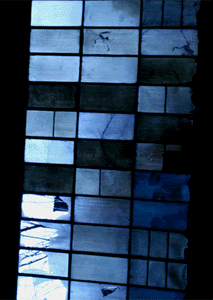 Artist:
Flutwacht
(@)
Title:
Breath
Format:
CD
Label:
Master of the Slave Records
(@)
Distributor:
The Tourette Tapes
Rated:
Flutwacht's Breath is the 25th full-length release of this German-based project. Breath is released by Mask of the Slave Records and The Tourette Tapes. Breath is built of 8 tracks that approximate between 5 and 15 minutes each.

Flutwacht's Breath is dark, droning ambience at it's best: subdued sounds with limited progression to the inattentive ear; but the album ever-advances, and an inattentive listener would quickly find him/herself in a heightened sense of anxiety. The worlds created here are ripe, vast, and somehow predatory.

Each track represented on Flutwacht's Breath is ominous and dissonant. The songs are composed of ongoing drones, with sometimes faint metallic scrapings, feint whispers, or mechanized pulsings. I find my pulse steadily rising with each passing moment, and any amount of attention I have tried to divert elsewhere falls right back into this unsettling work of music.

image not
available
anymore
Artist:
DEIXIS
Title:
Nomads Soul & Mannequins Romance
Format:
12"
Label:
AW Recordings
(@)
Distributor:
Clone Records
Rated:
Already presented by AW Recordings on their "Viewpoints" CD compilation, Deixis is bringing to the lovers of old Detroit techno, three new tunes for their debut on the label. Already active with their own label Abstract Forms, Deixis gladly produced this 12" (available also on a 200 copies limited colored print) for Arne Weinberg, who, in trade remixed the opening track "The hour of the soul" (track that you can find after the original version on the A side of the record). Arne version sounds more robotic compared to the original one, it has also a bit of Japanese atmospheres and it sounds more hypnotic. On the B-side we find "Droids of desire" (a mysterious and nice tune based on percussive sounds and synth pads with some droids sound effects here and there). Also "Mannequins romance" sounds more intriguing compared to the A-side track, maybe more night sounding thanks to its mid tempo and to the light rhythmic section used.
image not
available
anymore
Artist:
PAUL MAC
Title:
Options
Format:
12"
Label:
AW Recordings
(@)
Distributor:
Clone Records
Rated:
Paul Mac is a well known name into the techno scene and this is his first time on AW Recordings. OPTIONS is a three tracks 12" (available also on a 200 copies limited colored print) where Paul gives his best by crafting three techno hypnotic tunes where repetitions and minimal changes give to the listener the opportunity to dive into a different world, where the sound geometry paints new adventures in time. Of the lot I appreciated most the B-side where "Lo-fi images" and "Dropped in" with their upbeat tempo and their mix of long synth pad lines and crazy like arpeggios made me lose the conception of reality...
image not
available
anymore
Artist:
DER FEUERKREINER
(@)
Title:
Unsere Zeit
Format:
CD
Label:
Neuropa Records
(@)
Rated:
Released by Neuropa on a nice six panel digipack, UNSERE ZEIT is the newest Der Feuerkreiner album. The Italian male/female duo on this CD present nine new compositions where industrial arrangements meet militaristic tambourines, neo-classical atmospheres and a new-folk attitude. Proposing melancholic tunes inspired by European romantic songs of the previous century (with echoes of Marlene Dietrich's classic songs) the duo mix minimal atmospheres where melodic songs find their counterpart into tracks like "Wissen is macht" (where the romantic / melancholic concept finds its limit thanks to distorted vocals and industrial percussions), the following "Die erde und der krieg" (where the female chant is surrounded by percussions and strings), the dark spoken word of "Bitte" or the semi industrial e.b.m. Arrangements of "Gerechtigkeit!". UNSERE ZEIT is an eclectic album that needs a couple of spins to be appreciated but it has good intuitions.