image not
available
anymore
Artist:
VV.AA.
Title:
A Compilation 3
Format:
2 x CD (double CD)
Label:
Black Rain
(@)
Rated:
New year and new low price double compilation of Black Rain, NoiTekk, Ars Musica Difundere, Funk Welten and Fire Zone rosters. Presenting a total of 28 bands/tracks (with many anticipations coming from the upcoming releases) the CDs span from the particular goth electro folk of Dandelion Wine followed by the romantic wave of Rise And Fall Of A Decade (Black Rain is reissuing the remaining albums of the band), the new folk of Novalis Deux, the goth e.b.m. of Killing Ophelia, the metal goth of The Pussybats and Jesus & The Gurus just to relax the atmosphere with Reliquary and the Nordic melodies of Narsilion. Wave folk is here presented by Onix Eyes while Brillig are here with "Escher", picked from their MCD "The plagiarist" (already reviewed here). Atomic Neon with their classic goth present "Mein kleid" while Die Perlen (reviewed here recently) revive the atmosphere with their electro punk with a track coming from their latest album. Aslan Faction are here with "Bring on the dying" coming from the forthcoming re-release of their "Blunt force trauma" album and OTX close the first CD with a cinematic electronic ambient track coming from the album "A world in red". The second CD, the one dedicated to electro/e.b.m. sounds, opens with the energetic distorted electro of Jabberwock just to follow with the upbeat e.b.m. of Derma-Tek. C-Drone's "Morituri te salutant" make the audience have a sneak peak on their forthcoming album with a convincing (but not innovative) bouncing e.b.m. track where distortion and melodies are well balanced (it isn't the usual "Sturm und drang" approach). IWR are here with "Ketamine sedation" coming from their latest album here reviewed months ago. Distorted Memory's "Disciples of the watch" is a classic e.b.m. mid tempo while Prospective's "Deadly sins" combine romantic goth female vocals with punching e.b.m. sounds. Dym's "Autonomy of the will" is coming from their upcoming album and make us know that distorted upbeat e.b.m. is still in the make. Tyske Ludder present "Thetanen" from their good "Scientific technology" MCD (this is the kind of e.b.m. that I like). Feindflug new track "Ersatzteil" is coming from their new album and it didn't differ that much from their usual martial e.b.m. Dawn Of Ashes bring me memories of the old Velvet Acid Christ sound with their "Torture device" while FGFC820 with "Killing fields (battle of nations mix)" are making us have an appetizer from their next album but I had enough of dancey distorted e.b.m. so I skip to Vigilante's "Fire" coming from their latest album already reviewed here. The Panic Lift's "Failsafe" is coming from their next album but it sounds like thousand other hellektro tracks so I let Xentrifuge close the second CD with "Light extinguished" which unfortunately sounds just like the previous track.
Artist:
CAR CRASH SET
Title:
Join the Car Crash Set
Format:
12"
Label:
Anna Logue Records
(@)
Rated:
Formed in New Zealand at the end of 1981 Car Crash Set were a trio formed by David Bulog, Nigel Russell (both at synthesizers and song writing) and guitarist/producer Trevor Reekie. They produced locally during the 1983/86 period a 12" titled "Two Songs" (including "Outsider" and "Fall from Grace") and participated to the compilation album titled "We'll do our best" with their track "Toys". Their mixture of electropop and new wave make me think of a mixture of New Order and late Human League (but New Order influence is massive on songs like "Heart of stone", "Another day" or "Fall From Grace"). Their sound made with Tr 606/808 drum machines and other Roland gear (Jupiter-4, MC-4, System 100m modular, System 104 sequencer as well the Korg MS20) coupled with a crispy guitar sound make their music sound still fresh. This album brings to light the songs I already mentioned plus four demos and it also prepares the audience for a band comeback as David and Nigel are working at new tunes using always the old Roland gear!
Artist:
Za Frūmi
(@)
Title:
Barrow Wights
Format:
CD
Label:
Tom Bombadil's Collectors
(@)
Rated:
Barrow Wights offers listeners a chance to experience the epic first four years of the world of Za Frûmi.

In a visually immersive, specifically designed BOOK (25 pages, A6) the beautiful CD lay like a treasure in the end of it. For you who read other reviews by me you already know I love Za Frûmi as a band and as artists. They are among the best in the genre of dark ambient and fantasy music. I don´t need to repeat that in this review and bore you with endless praise.

This stunning Za Frûmi sampler is released by new Portugal based label (very promising!) Tom Bombadill´s Collectors and is limited to 1000 numbered copies. The disc covers songs from the debut album "Za Shum Ushatar Uglakh" (not my old favorite song but what the hell!) and the second album called "Tach - chapter 2" from the "Za Frûmi saga". Also songs from "Legends act 1", "Legends act 2 - Vampires" and two interesting unreleased songs made during the first four years in the bands 8 year history.

The world of the supernatural has been well represented by Za Frûmi´s wildly imaginative work. To incorporate it with the work of Tolkien and use parts of the Za Frûmi stories to dive into the Barrow Wights is just pure genius.

When you step back and appreciate "Barrow Wights" as a whole, you recognize that Za Frûmi and Tom Bombadill´s Collectors have provided everything that you could ever want in a sampler.

It has a magical element of fantasy in its instrumentation; it has loyal and memorable themes for every aspect of the story, and it builds up to one hell of a tumultuously satisfying climax. In its vast complexity of layers, themes, orchestration and as a collector's item this album is a magical jewel. A must for the fans and people who want to get to own tracks that are now sold out.

I am a proud owner of the album!
It´s a great gift too. But... I am keeping my copy myself.
Artist:
Marbert Rocel
(@)
Title:
Speed Emotions
Format:
CD
Label:
Compost Records
(@)
Distributor:
Compost Records
Rated:
Compost Records is a label usually known for quality artists and interesting Euro "Nu-jazz" releases. Koop, Jazzanova, Truby Trio, Kyoto Jazz Massive, Fauna Flash, Beanfield, etc. all have been part of Compost's staple of artists. Marbert Rocel's SPEED EMOTIONS could be categorized in the post trip-hop lounge vein with a hint of jazz, easily fitting in the Compost genre. Unfortunately, there are aspects about the album that make it sound like a demo than a polished product. There are other aspects that make it avant enough to overlook some of the flaws. The band (from Germany, not France as you might surmise by the name) consists of Marcel Aue (producing, DJing and mixing), Robert Krause (producing, DJing and artwork) and Antje Seifarth (Vocals). On this album, it is female vocalist Seifarth that really shines- a cross between Dani Siciliano and Former Morcheeba singer Skye Edwards with a dash of low key Beth Gibbons. The recording is being touted as Compost's "next big thing". I m not completely sold on that.

So exactly what are my issues with SPEED EMOTION? Well, the major problem is the mix is WAY too bottom-heavy. I had to totally re-EQ my system for this disc, and that is something I rarely every have to do. The overkill on the lower frequencies turned the mix to mush in some parts. Not good. Antje's voice still manages to cut through, as languorous as it is, which for this type of laid-back project works well.

First track, "Seven Stars" builds up a rhythm groove with echoey sonic elements over a few organ chords for over a minute and a half before the vocal melody comes in. Okay, I can go with that, but after one verse, it winds down again with some superfluous glitchy electronics and then spends another minute building up the beat again! There's a bit more vocal oomph on the second verse with Antje's voice doubled in harmony, and then it spends the last half a minute dying down again. Hmmmm... there's a construction error here – nothing to grab on to. It plays like a remix, and not a great way to open an album, in my opinion.

After the opener it's a mixed bag of experimental hits and misses. Arrangements are peppered with a lot of aural tidbits here and there, some of which work very nicely, and others that seem superfluous.

"Cornflake Boy" (no relation to the Tori Amos "Cornflake Girl") is a bit of a simple uptempo stomper with a decent enough vocal hook and jazz guitar rhythm accents, but it still sounds like a demo, especially with such an abrupt end. The jazzier "Eleanor Birdbath" has a funkier guitar, padded with electric piano over a solid rhythm. I don't know if these guys are strictly loopists, but the guitar work here (and elsewhere as well) is rather nice. Strictly instrumental. Not a standout, but passably pleasing. Another instrumental, "Purple Bass", is probably the heaviest thing on the album, kind of dark and different mood for the band. On further tracks, I appreciated some of the synth treatments, retro as they were, as they varied the tone and temperament of the music. Often the arrangements seem minimal, but there is usually something going on in the background. A minus is that some on the tracks seem to carry on a little too long without going anywhere.

As a whole, SPEED EMOTIONS is a puzzler, flirting with commercial melodies, and then veering off into left field arrangements. The overall mood just doesn't gel consistently. ("Red Shoes" is just too sappily happy for my tastes.) I can easily see some tracks from this album played in cafes across Europe, or on chill and nu-jazz radio. If anything, I'd buy the CD just for Antje's vocals, and you might find yourself warming to some of the shifting, and in some cases, shifty tonalities and abrupt endings more than I did. (The band has a MySpace site if you want a preview). I probably would have rated it higher if had been better produced. Not as dark a musical offering as most readers of Chain D.L.K. are used to, but it does have its moody moments. If they stay together long enough for a second, there is potential for magic.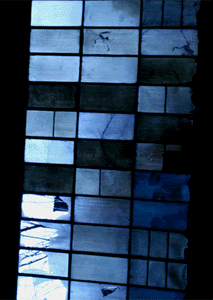 Artist:
Flutwacht
(@)
Title:
Breath
Format:
CD
Label:
Master of the Slave Records
(@)
Distributor:
The Tourette Tapes
Rated:
Flutwacht's Breath is the 25th full-length release of this German-based project. Breath is released by Mask of the Slave Records and The Tourette Tapes. Breath is built of 8 tracks that approximate between 5 and 15 minutes each.

Flutwacht's Breath is dark, droning ambience at it's best: subdued sounds with limited progression to the inattentive ear; but the album ever-advances, and an inattentive listener would quickly find him/herself in a heightened sense of anxiety. The worlds created here are ripe, vast, and somehow predatory.

Each track represented on Flutwacht's Breath is ominous and dissonant. The songs are composed of ongoing drones, with sometimes faint metallic scrapings, feint whispers, or mechanized pulsings. I find my pulse steadily rising with each passing moment, and any amount of attention I have tried to divert elsewhere falls right back into this unsettling work of music.