image not
available
anymore
Artist:
HAMILTON YARNS
(@)
Title:
search for the underwater town
Format:
2 x CD (double CD)
Label:
Hark Recorrdings
(@)
Rated:
Honestly be it the fact it was a promo or the naive painting on the cover, I had no great expectation from this double cd, but hell knows if I was wrong!. I've been listening both of the cds repeatedly many times and I think this' a great work. I wish none will be offended by the following comparison but I use it just to help you making a picture of Hamilton Yarn's music, this bands really reminded of the musical approach of Bablicon, some new/old folk bands from England and last Current 93 gone more solar. As you may have guessed we're talking about melodic folk music in a broad sense but it's enriched of neo psychedelia, popular music, field recordings and the tracklist gives you the impression it has been designed to create a narration, thus we could define it "story telling music". This may sound as "art brut" and it's not absolutely erroneous but I think everything seems to be really intentional on this cd, so you have well done recordings, rough field-sounds but all has been mixed with a great taste. They should be a seven piece from what I could get from their website and they play a large variety of instruments like piano, violin, cornet, flute, clarinet, harmonium, etc...and they also use vocals in a really folk/popular manner. Both of the cds offer an equal amount of melody and soft acoustic sound works, most of the music have a childish dreamlike atmosphere if it's not something you can lull your children with it's really close to it. Obviously from what I wrote you may imagine this could sound as a soundtrack for cartoons or for kids oriented movies and this' what I find really lovely of this double cd: it's simple, but its a simplicity not so easily obtainable infact if you pay attention to the arrangements of the majority of the tracks you can't but notice they're really well pondered and combined with a great writing skill. "Pastoral folk" they say and I agree with reviewers who labelled them this way, even if it could be a bit reductive for the multiplicity of things they put together. Thumbs up to the pastoral folksters.
image not
available
anymore
Artist:
ADN' CRYSTALL
Title:
Cod-Adn
Format:
CD & Vinyl
Label:
Clogsontronics
(@)
Rated:
The new release by Clogsontronics is a particular one, because sees ADN' Crystall recording three new tracks and the label printing new material after the reissue of two of their '80s releases (the Ensemble Pittoresque and the Storung albums). As for the other releases Clogsontronics decided to present COD-ADN in a vinyl plus CD format. This time for a 15' total we have a 33 rmp 7" and a 3" CD containing "Just a Coda", "Mini Romance" and "Rhino". The deluxe package contains also an A1 poster that celebrates the 30 years of ADN' Crystall. The art of the huge poster has been drawn by Erick Moncollin himself and it represents a good visive counterpart to his particular synth analogue with no midi use music. If you had the chance to check his old stuff like the "Jazz' mad" album, I can say that these three tracks are less dreamy and kinda more energetic and more "pop" but a kind of dark weird one. The songs paint particular hallucinogenic situations on the normal day life: a guy who see a face of a rhino instead of his wife's or like the two lovers relationship, on "Mini romance", where he loves her only because everything is gonna change. Limited to 450 copies the E.P. is on sale now! Check some excerpt at the label's website.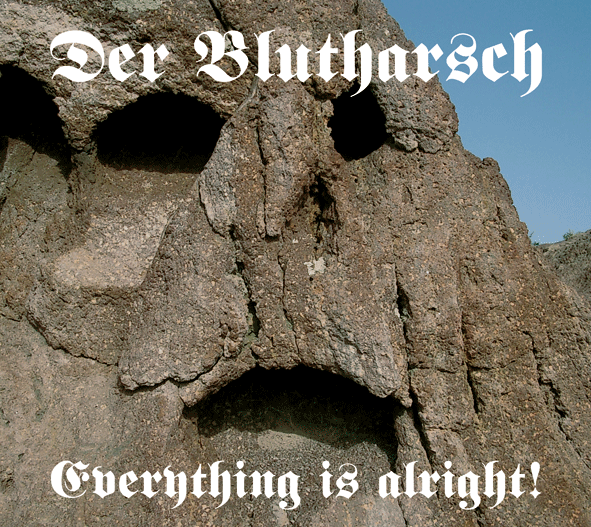 Artist:
DER BLUTHARSCH
Title:
Everything Is Alright
Format:
CD
Label:
HauRuck!
(@)
Distributor:
Tesco Distribution
Rated:
EVERYTHING IS ALRIGHT is the natural continuation of the "Fire danger season" release and it starts from where the old one left gathering compilation and limited vinyl releases tracks originally issued from 2002 and adding a couple of new songs: I think that the third and the ninth (a nice 30" 70's inspired creepy synth tune) tracks are new ones. Der Blutharsch has the peculiarity to have all untitled tracks so it is very hard to track down the informations about the original releases containing them. At this purpose the website Discogs is helping a lot by giving the informations we need. Anyway, considering that the album starts from 2002, at that time Der Blutharsch started to change the sound as on 2003 we have the "Time is thee enemy!" album which is the first to have a rock approach to military rhythms/atmospheres. Track 1 from the Reutoff vs Der Blutharsch Kreuzung Drei split CD. Track 2 from the Der Blutharsch/Nový Svet Cafe Mentone split 7". Track 4 from the Der Blutharsch/Zetazeroalfa split 7". Track 5 from the Yellow Leaf 7". Track 6 from the Time Is Thee Enemy 7". Tracks 7 & 8 from Farewell Tour 7". Tracks 10 is a cover of Death In June's "The Odin Hour" from Take Care And Control. Track 11 from the Vittoriale 7". Track 12 is a cover of a song from The Moon Lay Hidden Beneath A Cloud's The Smell Of Blood But Victory. Track 13 from the Looking For Europe compilation CD. Track 14 from the Der Blutharsch/Sottofasciasemplice split 7". Track 15 is a remix of :wumpscut:'s "Schäbiger Lump" from his Schädlingsbox 2xCD. Track 16 is a remix of :wumpscut:'s "Adonai, My Lord" from his Body Census Box 2xCD Box. Track 17 from is by Pacific 231 Vs Der Blutharsch and its titled "Heuristic Occlusions (Armoured Assault / Vino Nobile Mix)" and it's coming from the Danza De La Muerte - R.I.P. Syntactic compilation 2xCD. Even if the release is a compilation it isn't only intended for collectors as if you liked the latest band's releases, EVERYTHING IS ALRIGHT contains good tracks on the same vein but if you are a fan this is a must have release, because it gathers many treasures.
Artist:
NO
Title:
Vuoto - A Work About Cosmic Vacuum
Format:
CD
Label:
Farmacia 901
(@)
Rated:
Farmacia 901 is a new small label born to support electronic synthetic sounds born from improvisations which tend to create concrete music suites. First release of the label (that sees also on its roster Erik Ursich, already active on Punch Records) is VUOTO - A WORK ABOUT COSMIC VACUMM by No (personal project of Farmacia 901's founder Fabio Perletta). Composing astral sidereal sounds that are linked to an ancestral dimension, No on this first album mix long synthetic drones and bleeps that create a reverbs of a not-existent universe where everything fluctuate. Listening to "Intermediate mass balck hole in globular clusters" or the following "Gigantic quantum vacuum fluctuation (quark-antiquark collision)... genesis" is like swimming into the primordial liquid looking for our cosmic self. Inspired by Karlheinz Stockhausen, La Monte Young, Morton Subotnick, John Cage e dalla Kosmische Musik di Tangerine Dream, Cluster and Holger Czukay, No's brain music will mesmerize you. Try "The encke minima and enchke division in saturn's a-ring" for first. The album is presented into a limited 100 copies run CD-r with a satin package and printed cover.
image not
available
anymore
Artist:
VAE VICTUS / Durch Heer und Kraft
Title:
Fortes Fortune Adiuvat!
Format:
CD
Label:
SkullLine
(@)
Distributor:
SkullLine
Rated:
The release onslaught of the German SkullLine label wins on speed and offers more and more curious acts rather dedicated to some more Experimental-minded music efforts. This full-length album is a split-release by two quite musically different acts, the US-one man act VAE VICTUS and the Hungarian DURCH HEER UND KRAFT. VAE VICTUS seems to be the more drastically outfit, providing a mixture of a static and noisy Military-inspired Industrial sound combined with Ambient and filled with dozens of war, sirens and propaganda movie samples. A little communistic vein is surely integrated as well, tracks like "The Fall Of Capitalism / The Party Of Lenin" or the pure Mao Tse Tung-propaganda tracks "Chairman Mao Is The Red Sun In Our Hearts" tend obviously into this direction. I would advise to read some Blogs of this act presented on their MySpace web account. Quite interesting for dedicated fans. DURCH HEER UND KRAFT are Military-inspired too, which they often celebrate through typical marching snare drum inserts, but generally their musically outfit turns rather into Neo-Folk/Classic music. Some tracks are new interpretations and do follow some traditional Folk tunes ("Krieg und Friede") and to my surprise they offer some speech-like vocals on some tracks too. Both bands have here and there some interesting stuff to offer, but a strictly dedication of the listener to some Military-music is helpful. Extremely limited edition, as usual for SkullLine, this one is restricted to only 50 exemplars.