Artist:
TWINS NATALIA
Title:
When We Were Young
Format:
7"
Label:
Anna Logue Records
(@)
Rated:
The passion that Marc and his friends who work at Anna Logue Records releases is true and this 7" is the real proof. Basically, Twins Natalia is a collaboration between Steve Lippert and Marc Schaffer from Anna Logue and three members from Poeme Electronique (you should have read recently my review of their single). Marc wrote the melodic lines, Steve did the main structure while Dave Hewson arranged and added more melodies. Sharon Abbott wrote the lyrics of both the tracks "When We Were Young" and "Kleiner Satellit" and with Julie Ruler sung the songs with their characteristic beautiful touch. This is a perfect electropop single with analog sounds, a bit of melancholy and catchy tunes.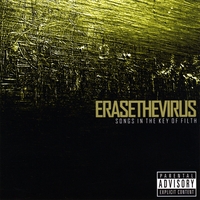 ErasetheVirus is the Industrial Metal project of Californians Chris Navasatis (Vocals), Ben Bordelon (Programming and synthesizers), Alex Slay (Drums), Tim Huston (Guitar), Chris Hardy (Guitar), and Darren Nelson (Synthesizers). ErasetheVirus is self described as shock-metal and a "sick and twisted mind bloom."

ErasetheVirus's Songs in the Key of Filth is a time machine to the late 90s alternative/metal/industrial movement with sounds reminiscent of Marilyn Manson, Nine Inch Nails, and that Powerman 5000/Rob Zombie team-up, all in the most distorted sense possible. The vocals guitars, and percussion are all dead on for the experience, and the synthesizers/programming provide for lively intros and interludes that make the experience worth hearing.

Songs in the Key of Filth is a heavy, aggressive, high-octane industrial rock experience; one that brings me back to the angst-ridden days of my youth. Listening to this album really inspires the hidden want in me to vandalize or break something. It is obvious that ErasetheVirus is really trying to go somewhere big, and from the sounds presented here, they have a chance. Songs in the Key of Filth will not be the album to make ErasetheVirus famous, but it is a testament to their recording abilities.

Artist:
Stray
Title:
Abuse By Proxy
Format:
CD
Label:
alfa-matrix
Distributor:
alfa- matrix
Rated:
We begin with Erica D's other project called " Stray " . The album is called " Abuse by Proxy" This is a free flowing electronic masterpiece that flows like the waves of the ocean to draw you in and put you back on shore when you have saturated yourself with its brilliance. We begin with Track one ~ " Kindred Soul which is a pretty, electronic piece that really grabs at your soul and is a piece that can be played on repeat. Erica sings, " You are beautiful as I define, flawless and perfect in my mind. " I really liked this piece for it's wit and its true sentiment it stood for. We Progress to Track three ~ " Fade into You." which is a ethereal, peaceful track that raises the senses and curves the stimuli. Erica sings, " Fade into You " This track does not contain lyrics on the album sleeve but proved to be the most memorable piece to me and truly is now a favourite. Track five ~ "Intoxicate" really woke me up from my ethereal rest. This track is uplifting and pure electronic genius. It could possibly be a danse floor hit and one that will take our music charts by storm. Erica sings, "You won't let me fall repeatedly." I got up to danse in my tracks right when I heard the beat. Next is Track six ~ that just could be a soundscape soundtrack to a movie. It is hypnotic and moving and leads us to a climax of pure energy. Classic Track eight is " Does it really matter?" which is a big hit on this album and I have heard it all over, especially on other peoples myspace music profiles. I really like Erica's voice and I believe these are lyrics to be remembered by and repeated to the one that hurt us. Erica sings, " Does it really matter anymore." " You never cared, you never will, cease to love and seas of hate, I bear the cross of years of pain. " This song kicks ass and truly everyone can relate to this. As i listened to the rest of the album , I got the impression of listening to this along the shore of a dark ocean, being alone and being nostalgic about past loves and the like. This album is worth owning in your cd collection for the true Unter Null fan and the true experimental, soundscape artist connoisseur. Stray into stray and find yourself ~ 4 stars ~ Michelle Russo
image not
available
anymore
Artist:
MARTIN BAUMGARTNER
Title:
Shoot's Huft
Format:
CD
Label:
For4Ears
Rated:
This first solo cd by Martin Baumgartner (nnnj) is not really something I would have expected on For4Ears, despite Müller's evident taste for unconventional and demanding sounds. Composed and recorded over a 2-year period, "Shoot's Huft" features three tracks with a similar structure: they start with clattering electroacoustics, at times accompanied by some kind of tuning bleeps (track 1), then boom, they burst into fierce diginoise that would've fitted the Mego catalogue some years ago. The distortion gets at times more structured in square-waves sequences or loops, gives way to ethereal ambient passages, then returns to sweep everything away. There's a loose structure that I guess derives from improvised sessions, but I could be wrong - anyway, the erratic flow is both positive and negative throughout, as it prevents the tracks from being too predictable (straight-on noise can be so boring) but also detracts a bit from aggressive power and cohesiveness.
image not
available
anymore
Artist:
MIYA MASAOKA
Title:
While I was walking
Format:
CD
Label:
Solitary B
(@)
Rated:
Four works written by Miya Masaoka and performed by three choirs and nine soloists, it all vividly reminds me of an old work composed ages ago by Ennio Morricone, it was a work for chorus based on a poetry written by Pier Paolo Pasolini and titled "Sciopero" (On strike), I'm quite sure he also reused some excerpts of it in a part of a soundtrack of who knows which movie by Dario Argento. The texture is really different, in someway in the modus componendi of Masaoka reminds really well (even if her name and her favourite instruments are Japanese) she's culturally grown in the U.S. and as far as I concern I wish nobody will blame me if I say some parts of this piece are really "american". It doesn't necessarily imply she's a minimalist, or she's been influenced by this or that contemporary composer but you can bet beside being filed under contemporary classic music she's using those long notes, those quasi-frozen dissonance games that are quite a trademark for many american composers. This one has been recorded in a reverbed church or some similar place and if you add she's been probably influenced by her Japanese origin, it gives all some gentle but also dramatic "siren singing" atmosphere (I'm sure Ulysses will fall in the trap this time!). The four parts of this work are quite varied thought giving an homogeneous shape to "While I was walking", she's been really able to alternate circular parts and long segments. Despite its contemporary classic essence the whole composition is really really filmic and I wouldn't be surprised to hear it as a soundtrack for this or that tragedy. We're all in debt with Greeks for our sense of drama, and this composition is nothing but one of the many proof of it.