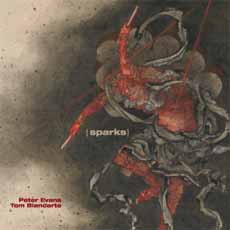 Artist:
SPARKS
Title:
s/t
Format:
CD
Label:
Creative Sources
(@)
Rated:
Holy shit "hardcore lives" used to sing Freddy from Madball... and this duo hailing from New York city resume the same concept in the opening track and if you can't trust my word than you will be convinced by the piccolo trumpet of Peter Evans and by the "chainsaw-like" bowing of Blancarte. Be it the recording or the emphasis with which they're playing ( like if they've been in the middle of a brawl) but you can't even compare this way of performing with the average "hey I'm a dynamical improviser" way of playing. I think the difference sometimes is still in the purity of the spirits and even when the duo is calming down the atmosphere you perceive there's a subtle tension, I think when Sparks play less neurotic parts really bring to mind a nervous boxer on the edge to explode. Some may define it Brotzmaneque music (he's played with them so find your easy conclusions... ) and maybe that's partially true, but the combination is great: Evans sometimes makes me think he's possessed by some voodoo demon and Blancarte is a good shaman for he drives the ceremony right where possession over the redline. I think the world is still full of good musicians and decent improvisers but even playing something that we can also label as "standard improvising" this duo is able to fly ten feet higher than the ninety percent line-ups playing this style and the funny thing is that they're doing it without even using a drum kit that could be one of the easiest solution for a project like that in order to have those beloved loud explosions. I've read they've also been teaming up with Bennink which makes me wonder how could it sound like with him banging the drum but from this recording you don't think they need any additional player believe me. Loud music for loud people or I'd better speak about intensity?..mm..maybe, infact I'm sure they can be much more softer, but it's New York city speaking: Cro Mags, Suicide, Cop Shoot Cop, Taxi Driver... am I allowed to expect something like that?. "Free jazz in your face".





Artist:
LARYTTA
Title:
Difficult Fun
Format:
CD
Label:
Creaked Records
(@)
Distributor:
Cargo Records
Rated:
Formed in 2004 by two Swiss guys called Guy Meldem and Christian Pahud, Larytta already produced some particular songs, also included on this album, like "Ya ya ya" or "The money" (included on their first self titled 12"). Those songs increased the interest regarding their first album and Larytta didn't delude the expectations. The thirteen tracks of the album have many influences which go from the 60's (see "Love love odyssey" and "Filthy Jim", songs that sound just like coming from a Beach Boys album of the "Good vibrations" period), tribal music (many songs have percussions and tribal rhythms), hip hop (see the main vocals on "Baunch amp" and "Is this cheese"), techno (see the rhythmic/melodic bleeping section of "Spoiled kids"), just fun (don't tell me that "Souvenir de Chine" is a serious one with those trembling silly synth melodies), funk ("The city walls" has a bumping bass line along with catchy vocal duets), Brasilian folk ("Tout mes amis" sounds like a particular samba tune). The whole album is permeated by a certain dancey atmosphere and for sure you'll find more than a catchy tune but you have to be musically open minded to fully appreciate this. If you are into Metronomy try also Larytta...
Artist:
Integral
(@)
Title:
Rise
Format:
CD
Label:
Tympanik Audio
(@)
Rated:
On "Rise" the German duo Integral develop a very balanced mixture of ambient and IDM that is both touching and unsettling at the same time. What is really great about the album is that Integral are not afraid to let the ambience drive the tracks, as opposed to a lot of IDM that goes to a bit too overboard with the complex multi time signature beats. And indeed the strength of Integral is its tasteful use IDM beats and effects, as opposed to artists like Otto von Schirach whose music sounds like a rhythmic mess of break beats and bodily noises. For me the standout track on "Rise" is "Doors" which utilizes screeching sounds to create a beautifully evocative effect that I must admit lifted me from the doldrums. All I can say is that it is one of those rare tracks that makes the hair on your arms stand straight up. Similarly, "Back Here Alone" is another beautifully done track that shifts from violent bursts of power to simplistic moments of silence. These two tracks are only a few of the highlights of what is an extremely solid album from start to finish. When listen to "Rise" you get the feeling that this is going to be one of those albums that ages very well and will probably sound as fresh in five or ten years as it does now. Additionally, it's probably one of the best uses of crustacean on a album cover that we will probably see for a while.
Artist:
Endif
(@)
Title:
Carbon
Format:
CD
Label:
Tympanik Audio
(@)
Rated:
From the outset Endif's latest release "Carbon" is a hard hitting onslaught of industrial powered electronica. The musical alter-ego of Jason Hollis, Endif is one of the newest additions to the ever increasing Tympanik Audio family, whose releases are no stranger to my reviewing. While Tympanik Audio specializes in dark electronic music, each of its artists approach the aesthetic in different ways. Endif, like its label mate Pneumatic Detach ventures into harder rhythmic territories utilizing heavily distorted beats supplemented by various electronic effects. However, Endif departs from Pneumatic Detach in its incorporation of more traditional synth leads found in mainstream European electronica. This is evident on the tracks "Churl" and "Between Two Worlds." This mixture of influences makes the album much more accessible on the first listen, as opposed to more noise laden albums that need time to grow on you. However, make no mistake, Endif is not some wishy washy techno act, as it is rather abrasive at times which is clearly apparent on such tracks as "Peeling the Layers" which booms, crashes, and hits like a munitions factory and "The Answer" which is a disorienting onslaught of noise that I must admit made feel rather queasy as it blasted on my headphones. If you were a fan of Metropolis Records in its late 90's early 2000's glory, then Endif's Carbon is for you as it offers a much more fluid and updated version of the dark electronic sound popularized by that label.


image not
available
anymore
Artist:
MULLER, MARIEN
Title:
superimpose
Format:
CD
Label:
Creative Sources
(@)
Rated:
Berlin based duo playing the free impro salsa, it's on Creative Sources and it belongs to the category of this label devoted to jazz but just the way a Creative Sources performer can mean/play it. Beside that, consider, as pointed out many times by many improvisers/musicians both coming from the latin area and from the north European scene, improvised music coming from the mittle-upper Europe is more fragmented, choked to the extent it may sound aphasic to an untrained ear. But we're not untrained and according to our opinion "superimpose" is not aphasic at all, nay it arrives to sound really physical at times, I mean they barely articulate what could be the scrawl of a free-jazz attempt. As many other improvisers on this label they're not afraid to eliminate every trace of melody and emotion from the crime scene. What's left is the picture of an intransigent radical performance which have dynamic ups and downs where the duo passes from strangulated notes to autistic nervous playing. The good thing about their "modus improvvisandi" is these two gentleman sometimes focus on a phrase and start exploring it's significance just as much as they need to give it a "meaning", the bad thing in the other hand is that while refusing every compromise with traditional playing they surrender to some ordinary free-improvising solutions. They are really intense when they catch the right train, but the risk as usual is to sound really ordinary in they rebelling to traditional music, but what happens when the "norm" is not the norm anymore? I think that's the most interesting question. They offer a great range of sounds which is a great result considering we're talking about a duo and during this live recording they avoid the use of any additive effect which I'm sure will attract all of the fans of the pure acoustic sound out there.