Artist:
I: SCINTILLA
Title:
OPTICS
Format:
CD
Distributor:
alfra matrix
Rated:
I: SCINTILLA is the name of this band and the album is " Optics. I: SCINTILLA is making headlines all over and on tour now as supporting band for the Cruxshadows, that alone is a majoy accomplishment in itself. We open with track one " Cursive Eye " which is a real dancy track to start. With open with Brittney singing, " Kneel here you're not scared to die, beg those dogs will lick and drink you dry, kneel at the pretty cursive lie, beg so you will not be scared to die." This is a real kick in the eye, sharp and to the point and in your face. If you don't already start dancing you get a electric jolt to start you up. A sure fire hit this track is becoming and a great way to open the show which I saw last night which was profound, this band is on their way to bigger and better things. Next is track two, " Toy Solider" which is a favourite of mind already as well as countless others. So much power, energy and awareness this track bring to us. Brittany sings to us, " Boy of the surge, compliance won't make you a man, now you have deciphered the secret written in the sand." This song hails pure electronic greatness along with a siren singing and calling out the old gods to rise and serenade her. I have put this track on repeat now and can't stop refraining it. Track after track has the the element of surprise behind each door you open. Every track lends a trick and leaves a treat. Track seven " Machine Vision " stuck out from the rest. Brittney sings to us, " a nuance detected, burnt hallow overthrown, myth of light projected can't erase your own shadow" Very creative powerful words that have rhyme, are sublime and have perrfect time and eseence. I paused to dance to this track and can see it popping up on the dansefloors all around. All and all I entered the world of optics cloudy and came out with clearer vision. 4 stars ~ Michelle Russo
Artist:
THE CRUXSHADOWS
Title:
Immortal
Format:
CDS (CD Single)
Distributor:
Dancing Ferret
Rated:
The new single is called " Immortal" a new single by The Cruxshadows. The band that has over 15 albums out and 3 one one singles in a row. Quite a remarkable accomplishments and certainly not the easiest of tasks but if anyone can show major success it is this band. The also are climbiing the billboard charts in second placej ust right behind Madonna. The Cruxshadows are on tour now and are taking the world by storm as they always do. They are premiering their new single " Immortal ", which is a five track cd that is dramatic, dark and dancy. " Track one is " Immortal which is already a danse floor hit all across the charts and the world. It is a beautiful power driven track with the best of lyrics. Rogue gets the floor rolling with opening words, " Are hearts immortal?, what you give to love will never die." This track is a complete symphony and ode to our strength and endurance of our existance. It even has a chant of hails and boasts, it calls to us and gets deep into our brain and forever rests there. A true masterpiece and a well deserved no one hit. We move onto track three " Ariadne" which is sad track that is very moving and leaves chills down your spine. Beautiful symphonic tones that compliment the mood of Rogue's sweet dark voice. Rogue sings, " Now you define what you believe, what your life has fail to grant you, live to claim and claim to live." Very witty words that have become instant anthem words across the waves and all over the states. This band strives for perfection and words to live by and live up to it. This band is all about messages and getting them through like a beam of light shining right at you to be seen, heard and chosen. The last track five is " Exile " which is a very slow dirge thats creeps in and out on ya and it encompasses you and engulfs you with its confessions and laments. It glides across the room like a ghost trying to tell it's tale, getting your attention with it's invocations and drawing you in and not letting go. Background vocals sing in ethereal reprrise and Rogue sings to us, " God are you sleeping, God are you dreaming are you crying for my life, falling angels in exile ." The highlight of the ending is the piercing violin that ends this calling to the higher one in a tragic flash. All and all this single was riveting and lives up to it's credibility. 4 stars You might become Immortal and forever be locked into life after listening to this!
image not
available
anymore
Artist:
TRANSMISSION
Title:
Sublimity
Format:
CD
Label:
Malicious Damage Records
(@)
Rated:
It has been a surprise to me to receive a packet from Malicious Damage. I knew the label to be the personal Killing Joke label they founded for their debut 10" "Nervous system" and I wasn't aware they were active with non Killing Joke releases as well. The first CD of the packet is Transmission's second full length album SUBLIMITY and it will be available for purchase on October 27th. Anyway... Transmission is a quartet formed by past and now members of Killing Joke (Youth and Paul Ferguson), Simon Tong (already active with Verve and Gorillaz and with The Good, the Bad & the Queen always with Damon Albarn) and Tim Bran (who plays with Subsonar and The Orb). With such experience of all the band members it could be difficult to think about what they created for Transmission and since the first track titled "Albion" the band is able to make you forgive all their previous experiences because this is sounding like any of them. The nine tracks of the album are in balance from post punk and psychedelia and the sound produced fluctuates back and forth bringing to your ears echoes of vocal lines as well as powerful guitar riffs. Youth plays bass guitar but he's also on production so you know that you can expect a powerful sound with pumping bass frequencies. Most of the tracks gave me the impression to be structured like post rock suites where improvisation played a good part on the composition process. Vocals are mostly used as choirs to strengthen the sound and to add a catchy melody but there are also song structured ones like "Opium head" (the whispered vocals blast into the main refrain creating a good effect) or "Confusion". If distortion and fluctuating sounds are your cup of tea and you aren't afraid of a little of rock approach into your post punk meal, then you can check out the latest Transmission's album. While you wait for its release you can listen to some old songs at their myspace page.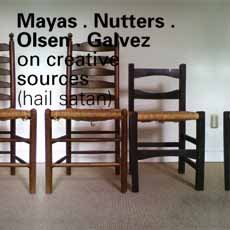 Artist:
OLSEN, TAROCHER, MAYAS, NUTTERS
Title:
(hail satan)
Format:
CD
Label:
Creative Sources
(@)
Rated:
Good, there's no trace of Satanism here thus if you were wishing to hear this portuguese label deranging toward dark ambient, black metal or esoterism...well you'd better leave your expectations back home. Much more than to pentagrams and upside down crosses these musicians are probably devoted to irony and in someway this could be reflected by their music too, infact if you give a listen to nine tracks of this work you'll notice while their music is dead serious the atmosphere is never too heavy immersed in that hyper-intellectualizations that makes half of the work coming out from this circuit heavier than death. To clear up your doubts I'll say immediately the scenario is that of electro-acoustic improvisation in someway it's quite similar to many works from the same area, but the recording is damn good and they apply an interesting use of some sounds like hisses or percussive part. From their improvisational style I'd say they have a foot in the grave of jazz and thumbs up for it but also to the fact they've been alternating tracks quite smartly so you won't get bored by this or that silence for they play, for jazz' sake!. It's good to hear they kept fun not just in the title but also in the way they interact and that's why their music is not the heir of a frigid idea above all in the most animated tracks. But before closing this review I wonna show you what an unreliable reviewer I'm (c'mon who can you trust nowadays?..."disappointed a few people" like John Lydon...you can bet it!) the best song of the record is "pitch IV" which is the result of two dark minutes deeply immersed into contemporary classic music that creates an intense odd atmosphere that builds up some anxiety.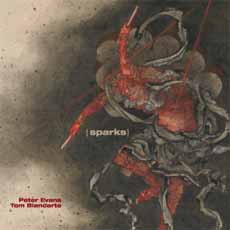 Artist:
SPARKS
Title:
s/t
Format:
CD
Label:
Creative Sources
(@)
Rated:
Holy shit "hardcore lives" used to sing Freddy from Madball... and this duo hailing from New York city resume the same concept in the opening track and if you can't trust my word than you will be convinced by the piccolo trumpet of Peter Evans and by the "chainsaw-like" bowing of Blancarte. Be it the recording or the emphasis with which they're playing ( like if they've been in the middle of a brawl) but you can't even compare this way of performing with the average "hey I'm a dynamical improviser" way of playing. I think the difference sometimes is still in the purity of the spirits and even when the duo is calming down the atmosphere you perceive there's a subtle tension, I think when Sparks play less neurotic parts really bring to mind a nervous boxer on the edge to explode. Some may define it Brotzmaneque music (he's played with them so find your easy conclusions... ) and maybe that's partially true, but the combination is great: Evans sometimes makes me think he's possessed by some voodoo demon and Blancarte is a good shaman for he drives the ceremony right where possession over the redline. I think the world is still full of good musicians and decent improvisers but even playing something that we can also label as "standard improvising" this duo is able to fly ten feet higher than the ninety percent line-ups playing this style and the funny thing is that they're doing it without even using a drum kit that could be one of the easiest solution for a project like that in order to have those beloved loud explosions. I've read they've also been teaming up with Bennink which makes me wonder how could it sound like with him banging the drum but from this recording you don't think they need any additional player believe me. Loud music for loud people or I'd better speak about intensity?..mm..maybe, infact I'm sure they can be much more softer, but it's New York city speaking: Cro Mags, Suicide, Cop Shoot Cop, Taxi Driver... am I allowed to expect something like that?. "Free jazz in your face".