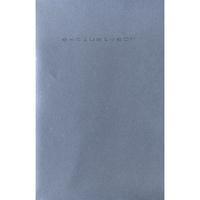 Artist:
ExclusiveOr
Title:
ExclusiveOr (s/t)
Format:
CD
Label:
Quiet Design Records
Distributor:
Quiet Design, CDBaby
Rated:
If you have long felt the absence of vintage synth noise improv in your mp3 collection, the self-titled debut effort from NYC-based duo exclusiveOr can finally fill your specialized needs. Combining all manners of clicks, pops, rumbles, and pure, loveable sine tones, Jeff Snyder and Sam Pluta have created a 50-minute alien sound world that, in its best moments, captures their flesh-and-blood vitality behind the controls. Consider the trajectory of the first half of the album. Each successive track, played without pause, simultaneously builds and disintegrates into the next, before emerging into the unexpected icy beauty contained within 01110010 (colloquially known as "Track 5"). With crystalline harmonies juxtaposed against implosive bursts, its nebulous emotionality stands as the high point of the album.

If a release like this could ever chart, Track 7 would be the lead single. As far as nerdy synthesized noise goes, it rocks hard. If there's one disappointment, however, it's in the ninth and last piece; especially after the controlled insanity of the two tracks before it, no. 9 sounds a bit too much like an equipment test, exhibiting neither the gifted on-the-fly structuring nor creative interplay showcased by the duo everywhere else on the album.

That aside, Pluta and Snyder have crafted an impressive testament to the virtues of electronic sound. Even though their material is created from the emblematic sounds of a 1966 Buchla and 1977 Serge synth, the end result is anything but anachronistic. The detritus of every decades-old circuit lies at the base of the music, and it's captured at a low-dynamic clarity that allows it to be absolutely integral to mood and texture of the album. Listen closely. -Trevor Hunter/mv



Artist:
Scarlet Slipping
(@)
Title:
Tradgedy In The Lions Den
Format:
CD
Label:
Shinto
(@)
Rated:
This is one of essential disc that's been archived. The early sound of Scarlet Slipping by Dawn Wagner with the collboration of Trance To The Sun member, Askelon Sain, began in 1995. Nine tracks that's worth a listen from start to finish. Lyrically emotional, death dyfying, bloody and horror. My kind of album I enjoyed listening to over and over again and again. "The Hallway" starts the disc off pure and innocent. "Snow White" have a cold feel. "My Friend" is a quiet low-key piece of work. Then Dawn starts to get real troublesome in "Masterpiece", but in a friendly way. She's everything you want her to be, only in a horrific hysterical twisted way. The track "Blood (v.1)" and "The Lie" gets heavily death defying and sinister. A totally chaos by ending up dead. Dawn will mess with your head and after she get you, she goes for the kill. A mastermind of a thinking tricky woman. She'll laugh when the victim is in her trap like in "The Lie". The track "Unclean" have an industrial feel. A rollercoaster ride to hell. Imagine walking into an old house or mansion and hear ghostly voices talking, screaming and echoing, this happens in "Greta Five". Final track "Alabaster Rose" is a beautiful brilliant composition. The similar sound and voice arrangement in the line of The Machine In The Garden. Another favorite gothic band I love and admired. Scarlet Slipping "Tradgedy In The Lions Den" will take you on a horrific fun-filled ride through scenes of horror and bloody mayhem. A nightmarish dream you'll never forget, if you live to tell.
Artist:
LES FRAGMENTS DE LA NUIT
(@)
Title:
Musique du Crépuscule
Format:
CD
Label:
Equilibrium Music
(@)
Rated:
Created in 2005 by Michel Villar (piano) and Ombeline Chardes (violin), score composers for film, Les Fragments de la Nuit were created in order to play their pieces on stage. At this purpose they formed a quintet made up of three violins, a cello and a piano. MUSIQUE DU CREPUSCULE is their first album and contains 16 beautiful cinematic tracks. The band's style is someway classical and modern at the same time and their music uses often minimal repetitive structures like Philip Glass does. Minimal but not for this reason without a complex musical structure. The violins play always different parts and the atmosphere created is really effective. Another peculiar thing is how the voice is used: the female vocals don't sing lyrics. It produces melodic sounds as well as the other instruments. Romantic, moving, mysterious and convincing, this album will please many lovers of dark music as well as lovers of movie soundtracks.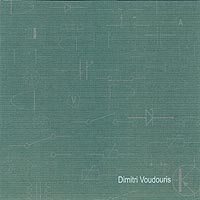 Artist:
DIMITRI VOUDOURIS
(@)
Title:
NPFAI.1/PALMOS/NPFAI.3/PRAXIS
Format:
CD
Label:
Pogus
(@)
Rated:
Another great work on Pogus, this time it's Dimitri Voudouris' turn, he's a composer hailing from Greece and this collection features four pieces of his music composed between 2002 and 2004. Even if that's to be taken with a grain of salt the sound of this release in someways joins Un Caddie and Chris Brown But let's see exactly what I mean speaking about the singular tracks. NPFAI.1 takes some traditional African instruments like kalimbas is decomposed with the use of computer assisted processing that despite the work of layering you may notice and of which he speaks in the line notes of the booklet you're not gonna have a wall of sound but a thin, silent work instead. In NPFAI.3 (which stands for New Possibilities For African Instruments) the central instrument in the process is the marimba: a prepared marimba and he reported also how he has changed the pitch of the instruments and why. While the atmosphere is not that far from the opening track, this one I less silent and deals much more with tradition in someway maybe just for the fact Voudouris intentionally reinterpret it immerging himself into a sort of Jungian search of archetypes. In describing Palmos the composer speaks about the discovery of a sound environment that is alien and familiar at the same time and it makes sense above all if you reflect on the fact he's the same person that mentioned Jung. Who better than Current 93, but above all Nurse With Wound, vivified Jungian conceptions in music? Well, imagine this Greek composer as the academic and more abstract answer to that anarchic abstraction and keep in mind the use of African instruments bring the sound back to the origin of our culture. In Polmos we floeat in that nowhere-land where past and present get mixed up in a chaotic limbo, but in this work everything is not magmatic and quasi industrial, weird to write it but it's true, but c'mon! that's the real point, sacred and profane sometimes can be so fucking close. According to what I've read this composer: "bases his technical and theoretical compositional approach in research of cognitive psycho-acoustic behavioral patterns in humans and the behavior of sound in relationship to continued environmental changes. His socio-cultural interests have led him to research the survival of music in the 21st century and the impact that media and technology have on the composer." It all makes it even more interesting, but the fact alone this came out on Pogus it's enough to think ckassify it as "intriguing".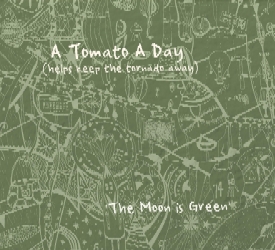 Artist:
A TOMATO DAY
Title:
The Moon is Green
Format:
CD
Label:
Public Eyesore
(@)
Rated:
After having heard this cd several times I've gone beyond my prejudices concerning Public Eysore producing this folk singer, actually when I received the cd I was like: "hey, they've put out experimental materials, psychedelic music and more... but... a folk singer?!". Hard for me to say if this guy is just some psyched freak or just another heir of Will Oldham or Neil Young, the fact is that the songs are ok and the Oldham comparison could also be quite confusing, since the most of the songs are quite easy listening for being American folk music and coming from the alternative scene. Brian Poloncic's trembling voice and crystalline acoustic guitar have been enriched with some synthesizer, cello and a bass guitar: really simple, right, but also well arranged. Being an ep you don't have the time to get bored and as I've already said some songs like "moonshine" have some popular hooks where you need them, plus the recording is good which helps for such a release. Forget the most of the other numbers of Public Eyesore's catalogue sicne this quite different, in the economy of the label's rooster it could represent what Mike Judge and Old Smoke represented for Revelation back when Shelter, Bold, Burn and Quicksand were still kicking. Usually I don't get mad for materials like that and I don't believe it won't change your life, but I still think this sounds much better than many recordings like that which are over produced, puffed up and sells probably more that mr. Poloncic. A Tomato Day sounds sincere which is enough for me to appreciate a folk oriented work in 2008.