Artist:
Anders manga
Title:
X's and the Eyes
Format:
CD
Label:
Vampture records
Distributor:
Released in ITunes-CdBaby-Amazon
An horror addicted artist, his songs and world, see videos, are totally devoted to horror icons. And that's good for me. The first track invades space with New Wave synth envelopes and a New Wave voice, the track giving the title of the work, X's and the Eyes is more "brutal" and in my opinion effective. The electronic pattern and sounds played are not the newest but for sure they achieve the best result. Reading among lines Anders takes a relevant parts in USA horror community and he sings for them focusing icons and symbols of "Vampires community". There will be Blood, numb5 track, continues the path of New Wave but the seventh increase pressure and sound aggression, my favorite track of the album. Fade to Black is another track that speed up the Wave path with loops and electronic noisy percussion. The last chapter is a ballade about war, occupation and the meaning of the terms: enemy.
Artist:
MONO INC.
(@)
Title:
Pain,Love & Poetry
Format:
CD
Label:
NoCut
Distributor:
Twilight Distribution
Rated:
My favourite tracks of this work: Sleeping my day away and Planet Shame. Mono Inc. works with great passion and emphasis in the domain of the romantic/dark content. The lead vocals, Martin Engler, plays some rules of the great NOMI, and the deepness of his voice fits perfectly the content of his poetry. The themes they like : love, torment, torture of feelings and sleep put the band in the same territory defined by romanticism but also surrealism. The image of Mono Inc. is rich and well designed, every pixel is under control and their skills and live performance are powerful. I surely think that those tracks are ready to be used in horror movies about vampires bloody and dramatic loves stories. Last note: the synths pads are really nice and are one of the back bones of the tracks.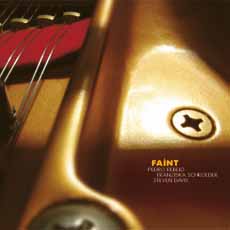 Artist:
DAVIS, REBELO, SCHROEDERFAINT
(@)
Title:
faint
Format:
2 x CD (double CD)
Label:
Creative Sources
(@)
Rated:
This cd starts moving really slowly and silently presenting some soft improvisative puzzle game, but after the hesitant introduction it evolves almost immediately into a modern free-impro with many jazz/contemporary music reminiscences. That was a quite obvious thing to be said I know, but consider the piano is quite central in the economy of this double cd, in some sketches we can even dare to say it's the main color, don't worry we've no demonic player a la Petrucciani but Rebelo has a big weight in the majority of the track here contained. Hard for me to say if all this double cd accomplish the hardly reachable result to be "hella catchy" from the very beginning to the last track, but thanks to the great amount of material despite the strong character of the trio, you'll slowly find they've been quite varied sacrificing their musical ego for the common cause. Regardless of what I wrote before, here the piano is the driver, there at the driver's place seats the saxophone, here they've been really soft, there they've been pushing the keys of their instruments. Ok you always have that barely pronounced strangulated sounds that turned into Creative Sources' own trademark but what surprised me the most is how Steve Davis have been able to keep far away from banging the drum: if we cannot speak about a Taku Sagimoto approach to the drums, he's by the way one of the most silent drummer I've ever heard in my whole life. This Faint first cd doesn't betray the average sound that characterized Creative Sources so far but it would be too reductive to cut it short here. According to my opinion is the second cd the one that presents the majority of the best materials, I think on the second cd they've been able to go deeper into their combination, electro-acoustic on the second cd has become nothing but a color with which they've been decorating the tracks. In between visible and invisible structure in the filling the blank process, where pause gain the same importance of played chords, there you'll find lot of the intensity of these three performers. In many tracks they've been playing the piano pretty unconventionally, it all reminded me of one of those prepared pianos a la Cage just a bit more trapped into a patient improvisation where every note is left alone just when it's the proper time to go. Nice cd above all in its most relaxed tracks.




Artist:
Quetev Meriri
(@)
Title:
debut album
Format:
CD
Label:
GushPunka
Rated:
Quetev Meririri work is really brilliant and complex, the dimension of sound creation they worked in is deeply rich, analog and performed with great attention and passion. They follow the vibes of traditional-oriental gloom and hazy acid-folk. It is easy to ear Yddish music among the drones performed with guitars and voices. A rich sound texture and a very good recording quality is the key that
Quetev Meriri uses to probe the mysterious side of Mediterrenean culture, the word Quetev is ancient Aramaic and means "Poisoned Arrow", but it is also the name of a demon, who dominant the noon hours. This work has a mood very dark but elegant not ominous or radical, it is an avantgarde/experimental piece looking at a the past: all the tracks have the name of radical Jewish Philosophers (Rosa Luxemburg, Walter Benjamin...).
The band is composed by Yehu Yaron, a well known bassist in Israel, composer and writer, involved in many projects even as a solo artist. Shai Lowestein is the she-noise-guitar artist of the band responsibles of the aggressive shadow made out with his guitar set up, very nice. Haim Rachmani, composer of Hebrew poet's poems, sing and noise-vocalist thru different tools. This debut album is for sure something very interesting and it opens a world of sounds and experiment unusual and deeply linked with past.
image not
available
anymore
Here we are with a new Malicious Damage releases. This time we have a double CD compilation which is the second volume of THE CLOCK MACHINE TURNS YOU ON series. Each CD contains 16 tracks mixed by Alex Parterson/The Orb. He got involved with the label and Killing Joke since the early years as he started as a roadie for KJ and then during the years the label released his collaborations under the name of Transit Kings, Rootmasters and High Frequency Bandwidth as well releasing the Orb stuff. For the first CD Alex followed a scheme that started with punk ("Turn to red" and "Are you receiving" from the first Killing Joke single, a Sex Pistols cover of "Bodies" he recorded with his band Bloodsport back in 1979 and never released and a track from Headcount) mixing it with the post punk ambient of Transmission then with the Orb track "Ba'albek" he started to switch to dub (but first passing from Vertical Smile's "Explode", an energetic mix of electronic and punk with a bass sequencer a la D.A.F.) with Analogue Mindfield, Beatundercontrol, Transit Kings, Teledubgnosis then ambient and acoustic guitar tracks (Canola Tenderfoot, Bob Meyer) then a cinematic Transit King track ("The last lighthouse keeper" contains samples of a documentary or a film that tells the story of a lighthouse keeper who spends everything to go back to the place he born and to die there keeping his family tradition alive). The second CD starts with the Caned & Able hip hop just to turn on the reggae machine with Analogue Mindfield and ambient dub/rock with Necessary Intergalactic Cooperation. Shriekback with "Bittersweet" are here with a nice ballad based on vocals, synth pad, piano and light drum sounds. With The Sun Paulo we have a mix of rock, ambient, house. Transmission are here with "Albion", a track from their newest release I reviewed a week ago. After that we have a range of dub, rock, ambient and ethnic sounds with Smartyr, Belka & Strelka and Rootmasters. Then The Orb presents a pop electronic ambient song with female vocals titled "Sail". Funk soul is in with High Frequency Bandwidth then we have acoustic pop with Nina Walsh. The CD ends with a mix of dub, soul, pop with Belka & Strelka, Shriekback, Caned & Able. Beatundercontrol closes the compilation with a nice melancholic orchestral instrumental titled "Departure". This is a good catalog of what the label has to offer but if you, like me, don't like that much dub, rock and pop you might end liking half of the offer.