image not
available
anymore
Artist:
LATEXXX TEENS
Title:
Death Club Entertainment
Format:
CD
Label:
Decadance Records
(@)
Distributor:
Nova
Rated:
I must be honest, Latexxx Teens didn't raise my sympathy as I'm quite disinterested into bands that on their photo shots look like bad guys in disguise and make-up but I tried to close my eyes and to focus on the music of their first album DEATH CLUB ENTERTAINMENT. Well, the result isn't that bad as their mixture of metal with electro e.b.m. influences (they sound like a sort of Marylin Manson coming from Germany even if they are Italian) is catchy and powerful. In my opinion their perfect audience are the goth metal kids with melodic needs and Latexxx Teens did a good job by finding many catchy tunes and they also did a good job with the sound production. I hate to talk about music industry categorizations but... I'm not part of their target.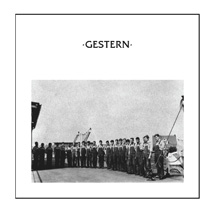 Artist:
SONNENBRANDT
Title:
Gerstern
Format:
CD
Label:
Anna Logue Records
(@)
Rated:
Co-produced by Anna Logue Records, Kernkrach/Hertzschrittmacher and NLW GESTERN is the first Sonnenbrandt full length which has been released on vinyl as well as on CD (and on this format you have four bonus remixes). Active since 2003 the band is formed by three members: Stefan Bornhorst (THE SILICON SCIENTIST, Dreams Encoded, The Convent – synthesisers, programming, vocoder), Jojo Brandt (Voll Wirksam, Liquid Dreams, The Convent – synthesisers, programming, guitars, lyrics, vocals) and his wife Sonja Sonne' Brandt (lyrics, vocals). They play minimal electro pop with both joyful and dark veins. Analog synths, guitar and female vocals are the band's weapons and they do their best to electrify your room with melodic tunes. The opening "Herz aus geld" is an irresistible German '80s pop tune with upbeat rhythms. Most tunes play around this formula adding sometimes female/male duets where bleeping synths duet with retro drum machine sounds and clean guitar riffs (a little new wave I might add). Tracks like "Was tun" use stops and go and a great choir while it was a surprise to find a surf guitar on "Hollywood". Sonnenbrandt music is definitely pop but it has many shades. This album contains a lot of potential hit singles: one of them is a nice version of Lio's '80s hit "Amoreux solitaires" but I think that their original tunes are far way better.
What have here is a bizarre cdr by Marina Hardy and following the wacky trajectory of this label, it presents a collection of tracks to say it all: "out of ordinary". Honestly I've just appreciated a few of them like the ethereal episode of "Apple sauce pudding", or the opening "M kay" where she may remind you of Madame P for those who know her, but I still find it hard to feel really comfortable in a cd where you pass from a the reinterpretation of a russian traditional to an ethereal track, from a western ballad not so far from early Calexico to (nice) melodic harp (?) driven track that probably would have find place on a record of Cynthia Dall. There are bands and project doing this 360° meting pot even more intensely but this release is really well done, maybe just a bit too heterogeneous to the extent it may sound confused. But I have to admit in general Marina Hardy is really able to build "fake instant classics" seen from this perspective this' probably one of the records that reminded me more about Marc Ribot and his "Book of heads" days on Tzadik. As I've said this musician has an incredible heterogeneous writing skill I just think she's to focus a bit more the global idea of the record but she still manage to be interesting.




image not
available
anymore
Named after the mythological seven headed monster as well as the secret terrorist organization of the Marvel Comics, Hydra is an English band that born from the ashes of Third Door From The Left and Birth Complex. Their first full length is titled WORSHIP YOUR DISEASES and it contains twelve good industrial post punk tracks. Try to imagine a post punk band with anarchic influences and substitute guitar and bass and drums with synths, samples, a drum machine and metal percussions and you'll have pretty much the idea of how Hydra sound. The trio has a good taste for melody and don't feel the need to hide the vocals under tons of effects, because lyrics are part of what they are (see also the choice of covering a Crass song titled "The sound of free speech"). Did you love Play Dead, Portion Control, Discarge and Skinny Puppy? Well, Hydra could satisfy your senses with their mix of aggressive, melodic and percussive industrial sound. I liked them and I highly suggest you to check some of their tunes here http://www.myspace.com/slainofthehydra.
Still from Omaha and Lincoln like Gama Goat we've another kind of freaks, this time we deal much more with something close to dark ambient even if it would be really reductive above all if considered something close to post-black metal music with which this cd has nothing to share. This is psychedelic crepuscular ambient music the roots of which are so damn planted into kraut-rock that Herzog should bring Kinsky back from the grave and start shooting again the follow-up of Aguirre. Holy shit, Nurse With Wounds, Faust and Popol Vuh would be moved if they're seeing how they made it into the heart of this present generation of "art brut" experimental artists. No hyper intellectualized shit, just a trip for the mere taste of getting lost, America is on its knees today we're again so close to the nightmare of Wall-street that the ghost of some suicidal investor of the crack of 29 is probably waiting for his nephews to reach him wherever he's in his afterlife. The world is trembling in fear these days, dark days "are not coming" they're already here and this music without being too depressive or too dark-wave is still misty, slow, overwhelming and narcotic. We're the descendents of the Pink Floyd generation and this' the logical step into nowhere, this nightly drones and these grey colours won't probably add anything to your collection but without being a copycat of this or that artist these guy assembled an interesting release above all during the closing episodes.