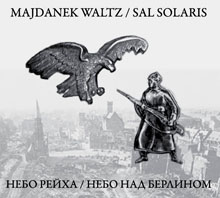 Artist:
MAJDANEK WALTZ / SAL SOLARIS
(@)
Title:
The Sky Of Reich / The Sky Over Berlin
Format:
CD
Label:
Kult Front
Rated:
THE SKY OVER REICH/THE SKY OVER BERLIN is a reissue of one Majdanek Waltz MCD released two years ago with the add of four Sal Solaris' tracks (one of them have been previously released on a 10"). The split album continues the theme that Madjanek Waltz started on their MCD "Cranes": the war between East and West Germany troops. The tracks want to underline the absurdity of a war which involved people coming from the same country. "Democracy", "The Sky Of Reich", "We" and "City" blend folk atmospheres with industrial sounds and theatrical/neo-classical/martial intuitions. The first three tracks see the band using spoken word, snare drums, strings, acoustic guitar, industrial noises and samples just to create a convincing atmosphere of despair (effect that it's even more emphasized on the fourth track thanks to a distorted guitar which create an industrial grinding sound). Sal Solaris on "The Sky Above Berlin", "Trembling", "Suspence (In Danger)" and "Start" chose a more experimental/cinematic approach using reversed sounds and guitar feedbacks. Their approach is less theatrical and more ambient industrial and their aim seem to be the creation of industrial suites where noise layers are mixed with strings and samples. A more extreme approach to sound compared to Majdanek Waltz that made me prefer the first ones but an approach which undoubtedly is able to create a good tense atmosphere.
image not
available
anymore
Artist:
Straftanz
(@)
Title:
Forward Ever, Backward Never!
Format:
CD
Label:
Scanner / Dark Dimensions
(@)
Distributor:
Soulfood
Rated:
"Straftanz vor – zurück – voran", well, what no one seriously would have expected has become truth, the German collective STRAFTANZ has returned after their always and everywhere consumed self-titled club smasher. For sure the biggest club hit in 2007 of one of the survivors of the Depending label demise, they had earlier this year another well hitting club burner with an released EP featuring the track "Tanzt kaputt, was Euch kaputt macht." For the floor addicts surely the revelation of the year, for some others a quite nerve-breaking project – STRAFTANZ polarizes surely. If "Straftanz" and the follow-up EP wouldn't ever became such a huge success, the existence and ongoing future of this project would be quite questionable. However, STRAFTANZ are back with a 12-track album to proof that there is more behind the hype. Musically and production-wise we can resume, that STRAFTANZ are making their way to get a constant size in the German Electro/Industrial-scene. Behind this 12 tracks you'll get several more cub-related tracks ("Out Of Time", Praise The Panic"), the funny "Die Säge" or "Gummimann" are causing a smile on the face of the listener. Of course both mentioned hits do not have to missed here, too. Some attractive collaborations with names like Myk Jung or Carsten Jacek of [:SITD:] are proving once more that behind the guys of STRAFTANZ are professionals wide above a normal newcomer act – but this also proofs the demand behind them. This isn't a low costs production, "Forward Ever, Backward Never!" celebrates the status of a modern sounding Electro/EBM/Industrial production of the current times, although this album won't impress the old-school EBM elite. Quite well-done and acceptable with a smile for some cheek-in-mouth-lyrics, whoever said, that Goths don't have humor?
image not
available
anymore
Artist:
S.A.M.
(@)
Title:
Destruction Unit
Format:
CD
Label:
ProNoize / Dark Dimensions
(@)
Distributor:
Broken Silence
Rated:
The German brother duo of SAM has been surely the biggest surprise of the ProNoize label during the last year. Their unexpected success with their self-titled debut and the still good call after them at the DJ's made it possible that Joel and Daniel Meyer have reached a higher attention level internationally. "Destruction Unit" is their second album and picks up globally the chosen path of the debut. This album once again clocks over 70 minutes and smashes 12 original and 5 additional remix contributions into the arena. Once again a mouthwatering mixture between TBM, Tekkno, Industrial and Noise for the Hard-Tec-addicts, since the brothers Meyer (...without any relationship to Daniel Myer of DESTROID, by the way...) attract some tortured bodies with an ultimately speedy onslaught. "Pushing the masses to the dancefloors", that could be an additional sub-title for "Destruction Unit" and this even gets accomplished with the chosen remix contributors like C/A/T, SOMAN, REAPER, MODULATE and XOTOX. And comparable to their debut, the only point of criticism is once again the fact, that also "Destruction Unit" lacks of a musically more demanding piece. 70 minutes + of 4/4-on-the-floor harsh and snatching Industrial dance music can be strenuous, if you decide to sit still while trying to pick up the details of their arrangements. Sitting still? Huh? Nah, that's quite impossible – but also the sense of this release. New food for some mad dance moves, this "Destruction Unit" destroys any moment of silence.
image not
available
anymore
Artist:
VV.AA.
(@)
Title:
Entwined -
Format:
Download Only (MP3 only)
Label:
Heresy & Dark Mourning Promotions
(@)
Rated:
This is a free downloadable compilation compiled by the both UK-based label/promotion agencies Heresy and Dark Mourning Promotions. Both are working still hard in the pure British underground to promote and support Industrial-minded bands with multiple actions. While Heresy acts like a booking agency and shares country-wide contacts to clubs and organizes small tours for interested bands, Dark Mourning follows the idea to expand interest of the audience with a constant online promotion by using as much as possible the availability of communities like MySpace.
25 mostly undiscovered acts got united and are offering each one representative track out of their archives. Of course the musically dimension is wide-ranged and diverse, every thinkable style between pure Goth-Rock, multiple forms of Metal, Ambient and Experimental up to Electro/Futurepop and EBM gets featured here. It has to be said in advance that not all participating acts here offer music styles, which get normally covered by our online resource, for example all pure Metal-forms, while some others tend to play styles far away of my musically tastes. Therefore I'll pick out only those causing some interest, any other ratings on acts providing foreign music styles wouldn't be a fair deal.
The British duo BLIND BEFORE DAWN can already look back on several years of activity and they've released already 3 own produced albums in the past. Their featured track "Strangers" got remixed by REZUMAKI and plays well in the melodic Futurepop-genre, although it can't offer anything new. A lot of Metal acts, be it Speed-, Death-, or Black-Metal offered by names like DE LA GRAVES, DEATH SHROUD or FIRE LAKE got thrown here in the arena, but, as I said, I better keep fingers and ears away from them. The Industrial/Powernoise act SCHULTZ comes out like the long awaited rain in the desert and sweeps away the dust provided by the uncountable Metal-heads before – well done rhythmically Powernoise-Industrial and I'll look forward to their collaboration with the US-based Soviet Media Control label. Somewhere in between we have some decent Goth-Rock ballads offering some well done female vocals and melodic string- and piano-arrangements (HER BLACKENED ROSE). There has been too some more Electro/Industrial-minded appearances by IRA-K ORGANISATION and LOUIS GUIDONE (the track name is program: "Uber Cyber Total Bullshit"), but those still need some practice in the basement studios until they'll be able to satisfy. Things are changing drastically with PSILOPSYB and their Hardcore-/Trance-Industrial massacre entitled "Amongst Orbs & Fairies". No matter, if this killer runs more than 9 minutes, it is definitely the revelation of this comp! The German project TANAROS (I guess they are from Germany) try to impress with a rather Harsh-EBM-like track, not bad, though not on top of the standard stuff. Also VALIUM ERA are concentrating to offer the harsh Hellectro-formula with a simple musically structure and a repetitive voice sample "Guns Don't Kill People, People Kill People" – it is that sort of penetrating catchy, that the plan to set fire under the feet of the dancefloor addicts can succeed!
The opinions on the quality of the provided tracks may tend to differ, but that doesn't wonder too much, since 99 % of the included acts are totally newcomers to their representative scenes. Plus the featured diversity of multiple styles on this free downloadable compilation makes it impossible, to enjoy all participants. But there's in no way to argue against the efforts of both British promotion agencies. Support them, download this one, because it's free and you'll may discover one or another pearl.

Beautiful Dark - Alone in the Dark
Blind Before Dawn - Strangers (Rezumaki Remix)
Briar Rose - Hairy Eyeball
De La Graves - Angelita3
Death Shroud - Blacken the Sky
Dyonisis - Reaching
Fields of Iaru - Great Bark of Khepri
FireLake - Ghost City
Her Blackened Rose - On Another's Sorrow
Immundus - The Grieving Widow
Ira-k Organisation - La Maledicion
Jack's Hammer - Wicker Man
Louis Guidone - Über Cyber Total Bullshit (Entwined Edit)
Parasite - Twist the Knife
Psilopsyb - Amongst Orbs & Fairies
Schultz - Nekrophilia
Screams of Cold Winter - Nothing Left
Shallow Intentions - Bleeding Years
SILIZIUM - Love Also Means Forgiveness
Spekulus - Fragile
Tanaros - Failed
The Neurophobics – Necro
The Wired - Time Travel
Valium Era - Guns Don't Kill
Violet Vortex - Not

image not
available
anymore
Artist:
Xotox
(@)
Title:
Hyperactive
Format:
CD
Label:
Vendetta Music
(@)
Distributor:
KGD Media
Rated:
After having stopped all business relations with their own sub-division E.A.R. and the rather old-school EBM-like music orientation, the Denver-based label Vendetta-Music nowadays concentrates to offer the still up-to-date Hard-Tech/Industrial/rhythmically Powernoise formula. For this they could arrange a fine license deal with the German Dark Dimensions label group and are now able to offer a sort of "Best of"-album providing by one of the leaders of this genre, the German one-man project XOTOX. Exclusively licensed for the North-American market, "Hyperactive" offers 17 tracks, which compiles the most important tracks and club hits of Andreas David taken from his long out-of-print albums like "Die Unruhe" or "PSI". World-wide renowned club smasher tracks like "Eisenkiller", "Mechanische Unruhe", "Nasse Wände", "Industrial Madness" or "Winterblut" are featured here and should be able to appeal all fans in America. Important to mention is also the fact, that this album offers two unreleased tracks named "Offizium" and "Degeneration", which makes this release quite attractive also for the European die-hard fans to invest some extra bugs for an import. Also featured is a remix by NOISUF-X on "Lass Mich" with some speeding Techno-bass lines. As expected for this compilation, this one features the typically Harsh-Industrial-Tech oriented side of Andreas, the kind which finally brought him success and attention. But you won't find any hints of the rather subtle elements taken from his last studio album "In Den Zehn Morgen", which of course remains Andreas' best and most valuable work so far. However, "Hyperactive" offers a satisfying overview on all important tracks of XOTOX, while you shouldn't at all miss the last album too.