image not
available
anymore
Artist:
BIONIC ANGEL
Title:
Digital Violence
Format:
CD
Label:
Schawarzdorn production
(@)
Distributor:
Twilight
Rated:
A project from Germany that wanna be very clear and straight, there is not misconception in their art and their love for goth elements is not disturbing or provocative. I appreciate this kind of approach especially when to many people/band scream loud in the same way. Bionic Angel's music also is well defined and above all well recorded, the synth ( so 80ies so lovely ;) ) aren't destroyed by other instruments and the melodic patterns move very well. I gotta say that is hard to find a track not well managed or hard to hear. For sure I will appreciate more BA if the next work will try to experiment more in this area they know so well anyway. It is only a question to get deep in the secrets of Electro Goth without the fear to be misunderstood. Anyway this "Digital Violence" is pleasurable well done and easy to listen and that's not a mistake but in my opinion a very good feature of this work. My favorite track: TRANSIT TO HELL but BITCH LIKE YOU has a very strong and well carved voice/intention.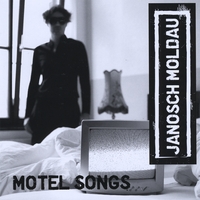 Artist:
JANOSCH MOLDAU
Title:
Motel Songs
Format:
CD
Label:
Janosch Moldau Records
(@)
Rated:
BUY from
Three years after the first album "Redeemer", Janosch Moldau is back with MOTEL SONGS. Highly anticipated one year before by the singles "Not with the son" and "Follow me", MOTEL SONGS is revealing itself as a very solid album. It contains eleven songs melodically catching that are able to balance melancholy and sensuality. Using mostly electronic instruments with a bit of guitar arpeggios/riffs (see also how distorted guitars are used to create a background humming sound on many tracks) and piano, the songs paint an intimate picture of Janosch. The Depeche Mode fans will be pleased to listen to this album as Janosch is able to create an atmosphere similar to their most anguished tunes. MOTEL SONGS contains all mid tempo ballads which tend to create a certain mournful atmosphere. Probably the personal themes of the songs convinced Janosch to focus the album on that sound but this doesn't invalidate the album because it sounds great anyway. You can check all the songs at this CD baby page http://cdbaby.com/cd/moldau2.
image not
available
anymore
Artist:
HUMAN GREED
(@)
Title:
Black Hill: Midnight At The Blighted Star
Format:
CD
Label:
Lumberton Trading
(@)
Rated:
Human Greed born in 1998 as musical outfit of Scottish writer Michael Begg. He was soon joined by Deryk Thomas, the visual artist whose burning bunnies became an iconic reference point for Michael Gira's Swans White Light/Love of Life period. BLACK HILL is their third album after 2001 "Consolation" (released for ex-Banshee Steven Severin's RE:Group) and 2006 "Pilgrim: New World Homestead" (released for Begg's label Omnempathy). This new full length contains fifteen tracks that are difficult to file under a specified musical genre because they tend to create an atmosphere rather than looking for a melody (even if here and there some melodies are used). On the booklet you find this note that it could be a good description of the album's atmospheres: "Sometimes, its like the silver coin of the moon is tossed, like alms for the poor, across the cold, midnight sky". Human Greed are creating night music where treated field recordings, vocals (here as guests you find Julia Kent, Fabrizio Modonese Palumbo, Clodagh Simonds and David Tibet) and instruments, make you feel like being living a nightmare while you are sleeping out in the wild. Sounds hit or seduce you without caring if you're enjoining it or not... check if you're ready for it at www.myspace.com/humangreed...
image not
available
anymore
Artist:
DATAFREQ VS DANELLATRON
Title:
Monumental
Format:
10"
Label:
Bomb Shelter Records
Rated:
Two years and half after his debut album Datafreq is back with a limited four tracks 10" E.P. titled MONUMENTAL. This vinyl, released under the moniker of Datafreq Vs Danellatron, sees on vocals Danella Hocevar. She's been a vocalist since the end of the '80s with An April March and then with Redhotred until 2001. Recently she started to collaborate with Roger Lavallee (vocalist/guitarist for The Curtain Society). The E.P. contains two original tracks (the cool upbeat synth electro main track and the mid tempo nice "Love's tainted love") plus a Minimal Dansepop Remix of "The Only Place I Go" (already contained on the double vinyl compilation "Rückwärts Im Uhrzeigersinn" released by Das Drehmoment Records and here sung by Danella) and a cover version of Trooper`s classic canadian rock anthem "Boys In The bright White Sportscar" (here it has been reworked as a cool synthpop dancey tune). Check some of the at Datafreq's myspace. For orders you can check the Das Drehmoment shop at www.das-drehmoment.net/Shop.
image not
available
anymore
Artist:
BAIN WOLFKIND
(@)
Title:
The Swamp Angel
Format:
CD
Label:
HauRuck!
(@)
Distributor:
Tesco Distribution
Rated:
Inspired by the New York waterfront street gang of the mid nineteenth century (one of the most successful waterfront gangs of the period, the Swamp Angels dominated the dockyards of New York Harbor from the 1850s into the post-Civil War era), THE SWAMP ANGEL is the second full length by Bain Wolfkind. With this one he brings to the lovers of bastard blues-rock a great album: its atmospheres are so dark tha it will be appreciated also by the neo-folk audience. The slow ballads and the mid tempo rumbling r'n'r songs seem coming from the sewer because of the reverb used on the whole mix. Try to imagine a slowed down mix of Cramps, The Jon Spencer Blues Explosion and Crime And City Solution and you'll have an idea of how THE SWAMP ANGEL sounds. During the '80s/'90s I've been also a Crypt Records lover and I'm used to these sounds but Bain Wolfkind added a certain noir atmosphere that you won't find into Oblivians or Devil Dogs. If you like it raw and slow and you aren't afraid of finding yourself diggin' your own graveyard into a swamp land (... admit, this is a good image, isn't it?) try this album!