Artist:
BAIN WOLFKIND
(@)
Title:
Wasteland
Format:
MCD (Mini CD)
Label:
Hau Ruck!
(@)
Distributor:
Tesco Germany
Rated:
Coming from Australia just like Nick Cave and his fellow mates whom traveled the world with him as Boys Next Door first and The Birthday Party then, Bain Wolfkind, after his first album "Music For Lovers & Gangsters" and the following 7" "Confidential Report", released back in 2005 and 2006, bring to the audience a new four track MCD titled WASTELAND. Just like the title suggest, the new tracks have a certain sour taste that take their inspiration from film noir imaginary. Titles like "Butcher's daughter", "Bury me in a shallow grave", "Hang me high from that tree" and "The rivers runnin' dry" don't leave too much space to imagination and the acoustic/voice minimal approach help creating that suspended atmosphere made of despair, lost souls and sinners. Into only 11 minutes Bain Wolfkind is able to create his own aural world where crimes are the minimum you can wait for. If you loved early Nick Cave and you don't have found your faith yet (like he did), try these tracks.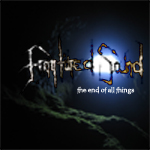 Artist:
FRAQTURED:SOUND
(@)
Title:
The End Of All Things
Format:
CD
Label:
self-released
Rated:
After sneaking around in various areas, the Oregon-based Electro/Industrial-project FRAQTURED:SOUND has made itself a good name in his local area through several supporting gigs with acts like NO LONGER HUMAN or DIR:/TD. Some current mutual events with a scene-player like GOD MODULE are just another prove for the development behind this act and the still to be discovered talent. Consisting of Chris Norris, FRAQTURED:SOUND offers a new 12-track full-length album heavily inspired by Dark and Splatter-Electro themes, in some way comparable with older SKINNY PUPPY, VELVET ACID CHRIST, PLACEBO EFFECT or OBJECT. Although completely self-produced, this comparison also fits with Chris' kind to manipulate his vocal performance, which comes out in a similar way. Definitely not the still rushing "switch-synth-on-and spread-the-Trance-oontz-oontz-formula" another time, this album likes to rediscover and to play with the pearls of the above mentioned acts. "The End Of All Things" presents 10 original compositions plus 2 remix works conducted by the both musicians of NO LONGER HUMAN, another up and coming talent (check back the BLC Productions compilation Interbreeding IX: Kuru for a quite remarkable work...). Some stuff can really bring some action into your legs, "Connection Broken" or "Waiting" have to be named, while the highlights are the tracks featuring the rather cold and layered textures, like "Compatable" and "Inner/Twine". This album offers a decent quality and can grow after some spins to an underestimating secret tip. Give it some rotations, it is worth to get heard!
image not
available
anymore
Artist:
ATTRITION
(@)
Title:
This Death House
Format:
CD
Label:
Two Gods
(@)
Distributor:
Voiceprint
Rated:
BUY from
THIS DEATH HOUSE has been the very first release by Attrition. Released back in 1982 as a tape by Adventures In Reality and reissued during the years on tape as well as on vinyl, the two tracks album has been remastered and released on CD with a worldwide distribution for the first time. Released as the first volume of the "Incidental musics" by Martin Bowes own label Two Gods, THIS DEATH HOUSE born from an improvisations session which saw the band's members creating two long suites inspired by horror movies. I don't know what influenced them but they incidentally created a sort of predecessor of dark ambient by creating noises, drones manipulating analog equipment. Sounding really minimal "Crawling" and "Dead of night" will bring you back to the origin of a certain kind of industrial sound thanks to their cold and menacing atmospheres. A document of early tape culture brought back for the lovers of the genre and for whom want to know where everything started...
image not
available
anymore
Artist:
VV.AA.
Title:
Trumpett Sounds
Format:
12"
Label:
Enfant Terrible
(@)
Rated:
Here we are with a new (the last) album of Trumpett label material. This time the people at Enfant Terrible dug into the label's archives and out from the dust found thirteen tracks by Dr. Pho, The Actor, Doxa Sinistra, A. van Garde, Ende Shneafliet, André de Koning and Erkamp & Popma. The Actor, have three tracks covered on this compilation (tracks which haven't been previously reissued) and someway they are the most "pop" sounding ones (if you consider mainly the first two songs "Picture 210" and "Modern Air", because "Seit wir uns kennen..." have darker atmospheres and a minimal sound) as the other bands sound more experimental. Take the obsessive "Air Zaïre" by Ende Shneafliet, for example. It sounds like a experimental electro goth song with distant distorted vocals. Really evocative and mysterious. Also "Genetic Surgery" by André de Koning is a good example of eerie instrumental electronic and along with the other gems makes of this album a must have for every electronic music lover. P.s. You have to act really fast, because the label has already sold out their 512 copies, so you have to check with their distributors. Check here www.enfant-terrible.nl/sales.htm
Neurotron is a German duo based in Guestrow. Initially their sound was really hard grooving Detroit techno, influenced by artists like Plastikman, UR, Cybotron, Stacey Pullen and Aphex Twin. Later they begun to use laptops and combined them with the hardware of a studio and their sound started to change into something more influenced by ambient and trance. Their newest E.P. "Persistence of memories" is a good example of nice trance/techno music which could interest the lovers of the genre. If we want to move a criticism we could say that each track is based on an idea but there isn't a proper development of the original structure. Being based on a minimal approach to sound this could be a problem for getting a wider audience. Nice but not thrilling. P.s. This is a download only release