Artist:
DER BLAUE REITER
Title:
Silencis
Format:
CD
Label:
Caustic Records
(@)
Distributor:
Masterpiece Distribution
Rated:
Named after a group of Munich artists active during the first decades of 20th century (some of them were Vasilij Kandinskij, Franz Marc, August Macke, Alexej von Jawlensky and Marianne von Werefkin), Der Blaue Reiter (meaning "the blue knight") are releasing for Caustic Records their second full length album titled SILENCIS. The Spanish duo formed by Lady Nott and Sathorys Elenorth (active also with Narsilion) with this new album are presenting twelve new tracks divided into four different chapters titled respectively: "En sentir la tristor al cor", "Enfosquits els ulls de la mort", "Ordre i caos" and "Perdicio... l'espurna d'un trist record". Mixing quotes from classical interludes by Henry Purcell, Chopin and Antonio Vivaldi with martial atmospheres/rhythms, Der Blaue Reiter succeed into painting a personal vision of the decay of the world. They pass from energetic tracks with snare drums and vocals ("Eyes of the lost") to neo-classical/dark ambient suites like the following "Death and decadence". Rich orchestrations and classical minimalism (with some industrial ambient ambience) duet with ease creating a multifaceted canvas where the duo express their melancholy and their sadness. Songs, suites, industrial influences, everything is good to obtain an atmosphere of dreamy suspension where happiness is an old dusty memory.
Artist:
PINK INDUSTRY
Title:
Low Technology + Forty Five
Format:
CD
Label:
Isegrimm Records
(@)
Distributor:
Tesco Distribution
Rated:
Born on early '80s, Pink Industry were the natural continuation of the musical process started by Jayne Casey with Big In Japan (on this band there was also Holly Johnson who formed Frankie Goes To Hollywood which had their worldwide success "Relax" on 1983) first and Pink Military then. The name changed from Pink Military to Pink Industry when Jayne stopped working with Nicky Hillon and Ambrose Reynolds took his place as her musical counterpart. The CD I have in my hands is the first release that reissue the first E.P. "Forty five" and the first album "Low technology" in its integrity (on "Forty five" there's missing its version of "Don't let go") since their first issue on 1981 and 1982. During the last couple of decades we had only a two compilations ("Retrospective" on Parade Amoureuse in 1989 and "New Naked Technology" on the Brazilian Museum Obscuro in 1995) but they were kind of hard to find then, imagine now... Anyway, Isegrimm contacted Ambrose and he, in 2005, remastered the original recordings you find here along with seven bonus tracks (of which three of them released here for the first time as the rest were also available on the previous compilations). If you never listened to Pink Industry try to imagine a sort of electro wave experimental kind of musical background with drum machine and effected bass guitar (most of the time a flanger was used) with a female vocal performance full of pathos and personality (no guitars involved!). If tracks like "'47'", "Final cry" or "Remove the stain" have a strong experimental background, songs like "Don't let go", "Enjoy the pain" or "Savage" are melodic hits that time won't be able to delete: try to imagine a funky aggressive effected bass guitar coupling a minimal drum machine sound and the vocal dramatic performances of an inspired girl. Pink Industry were able to channel melancholy and drama into three minute songs shaping them once like a fist in your face and then as a tear in the snow (you won't forget the piano/bass/vocal performance on "Is this the end" or "Send them away" because it's so minimal/simple and unforgettable at the same time). If you love electro wave with an early industrial approach I suggest you to get this release. Isegrimm should reissue also the other Pink Industry albums so support them by purchasing this one, don't download it, ok?
Artist:
Anders manga
Title:
X's and the Eyes
Format:
CD
Label:
Vampture records
Distributor:
Released in ITunes-CdBaby-Amazon
An horror addicted artist, his songs and world, see videos, are totally devoted to horror icons. And that's good for me. The first track invades space with New Wave synth envelopes and a New Wave voice, the track giving the title of the work, X's and the Eyes is more "brutal" and in my opinion effective. The electronic pattern and sounds played are not the newest but for sure they achieve the best result. Reading among lines Anders takes a relevant parts in USA horror community and he sings for them focusing icons and symbols of "Vampires community". There will be Blood, numb5 track, continues the path of New Wave but the seventh increase pressure and sound aggression, my favorite track of the album. Fade to Black is another track that speed up the Wave path with loops and electronic noisy percussion. The last chapter is a ballade about war, occupation and the meaning of the terms: enemy.
Artist:
MONO INC.
(@)
Title:
Pain,Love & Poetry
Format:
CD
Label:
NoCut
Distributor:
Twilight Distribution
Rated:
My favourite tracks of this work: Sleeping my day away and Planet Shame. Mono Inc. works with great passion and emphasis in the domain of the romantic/dark content. The lead vocals, Martin Engler, plays some rules of the great NOMI, and the deepness of his voice fits perfectly the content of his poetry. The themes they like : love, torment, torture of feelings and sleep put the band in the same territory defined by romanticism but also surrealism. The image of Mono Inc. is rich and well designed, every pixel is under control and their skills and live performance are powerful. I surely think that those tracks are ready to be used in horror movies about vampires bloody and dramatic loves stories. Last note: the synths pads are really nice and are one of the back bones of the tracks.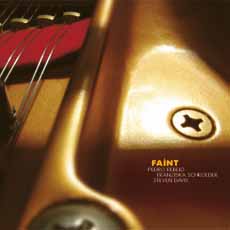 Artist:
DAVIS, REBELO, SCHROEDERFAINT
(@)
Title:
faint
Format:
2 x CD (double CD)
Label:
Creative Sources
(@)
Rated:
This cd starts moving really slowly and silently presenting some soft improvisative puzzle game, but after the hesitant introduction it evolves almost immediately into a modern free-impro with many jazz/contemporary music reminiscences. That was a quite obvious thing to be said I know, but consider the piano is quite central in the economy of this double cd, in some sketches we can even dare to say it's the main color, don't worry we've no demonic player a la Petrucciani but Rebelo has a big weight in the majority of the track here contained. Hard for me to say if all this double cd accomplish the hardly reachable result to be "hella catchy" from the very beginning to the last track, but thanks to the great amount of material despite the strong character of the trio, you'll slowly find they've been quite varied sacrificing their musical ego for the common cause. Regardless of what I wrote before, here the piano is the driver, there at the driver's place seats the saxophone, here they've been really soft, there they've been pushing the keys of their instruments. Ok you always have that barely pronounced strangulated sounds that turned into Creative Sources' own trademark but what surprised me the most is how Steve Davis have been able to keep far away from banging the drum: if we cannot speak about a Taku Sagimoto approach to the drums, he's by the way one of the most silent drummer I've ever heard in my whole life. This Faint first cd doesn't betray the average sound that characterized Creative Sources so far but it would be too reductive to cut it short here. According to my opinion is the second cd the one that presents the majority of the best materials, I think on the second cd they've been able to go deeper into their combination, electro-acoustic on the second cd has become nothing but a color with which they've been decorating the tracks. In between visible and invisible structure in the filling the blank process, where pause gain the same importance of played chords, there you'll find lot of the intensity of these three performers. In many tracks they've been playing the piano pretty unconventionally, it all reminded me of one of those prepared pianos a la Cage just a bit more trapped into a patient improvisation where every note is left alone just when it's the proper time to go. Nice cd above all in its most relaxed tracks.