Artist:
BRANDKOMMANDO
Title:
Pax Vobiscum
Format:
CD
Label:
Beast Of Prey
(@)
Rated:
The intent of the new album by Brandkommando is clear starting from a picture where you can read on a sign "Bush is the international terrorist". The eight untitled tracks try to translate this terror into sound and if you usually listen to music using an headphone, well... take it off!!! Brandkommando digital distortion creates sonic terror by blending pure noise to samples and to treated vocals. There's no way out and the excess is the way to go. I'd lie by telling that this is pure chaos which only tends to create pain and suffering into the listener because there's also a certain alternation of chaotic and calm but still tense moments (the one I preferred) but you have to love the genre to get the message.
Artist:
POST SCRIPTVM
(@)
Title:
Raspad
Format:
CD
Label:
Tesco
(@)
Distributor:
Tesco Organization
Rated:
I usually tend to describe the sound of a CD as well as I try to fold out the emotions I felt during the listening session. This time I must admit that it's hard to explain the tense industrial atmosphere created by Post Scriptvm. Their music is based on clanging sounds mixed with dark ambient drones but the final result and it's atmosphere it's hard to being described. First of all the experience of listening the opening ten minutes of "Crepusculum" is a particular one, because its cyclic structure is mesmerizing. The duo is able to create an "organized chaos" which builds an incredible tension. Tracks like "Purge echelon" are able to create the noise of a demonic factory thanks to the metallic percussions, the humming samples and other undefinable sounds. The grinding sound is destructive but the tracks runs smoothly and this is particular for a recording of this kind. This is one of the few cases when post industrial music is really working and sounds like the soundtrack of de-evolution!
image not
available
anymore
Artist:
ORGAN EYE
Title:
Organ Eye
Format:
CD
Label:
Staubgold
(@)
Distributor:
Wide Records
Rated:
Born in 2005 from the people involved with Osso Exotico and Minit because of a live concert, Organ Eye found their definitive organic with the successive help of Patricia Machás (also a member of Osso Exotico). Their first homonymous album contains two long untitled experimental suites which seem composed in trance. This "brain music" ideally link the experimental field with Krautrock thanks to the lysergic approach to sounds. The suites form an unique mutating work of the length of 45 minutes which like a snake who changes his skin, slowly crawls between the sounds. On the background the organ loops create a sort of liquid background while casual beaten objects duet with feedbacks. The tension and the noise level increase and when the organ become the main sound it seems agonizing, spreading its sound like blood. The second suite is based on the same approach but the sounds change a little (there are more bass sounds and the organ remember me the 70's improvisations). I appreciated the attitude but I wasn't that much on the same frequency...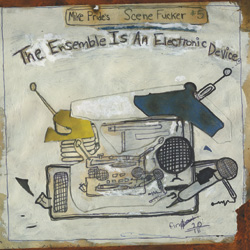 Artist:
MIKE MPRIDE
Title:
The Ensemble Is An Electric Device
Format:
CD
Label:
Public Eyesore
(@)
Rated:
Right after having reviewed The Mighty Vitamins, here's another boundless freak commando dealing with free-form improvised music. It looks like Public Eyesore is firmly headed in this musical direction or at least that's the impression after a couple of releases I've heard recently, but never take anything for granted with them. Like Mighty Vitamins Mike Pride and his band have this old fashioned sound and like the afore mentioned band the live recording helps a lot to make it all vintage but the final result is considerably diverse. "The Ensemble Is An Electric Device" is much more focussed on electro-acoustic music but not "neat" like Civil War, AMM or Gruppo Di Nuova Consonanza: it's much more jazzy and certainly more intentionally chaotic. Mike Pride is a percussionist and like many other percussionists leading a band (think to Gino Robair for example) he gives a strong "percussive" and "noisy" intonation to the CD. It's weird how the Viola of Jessica Pavone and somewhere else the lap-steel guitar of Gerald Menke in by some means keep the whole structure together while saxophones conspire to make it sink in dissonance. Contrary to what you may think, while Mike pride free-percussionism/drumming here and there speaks loud, in other portions of this work he's playing is nearly "silent". Even if what I'm gonna write may appear a nonsense I've the idea Pride's ensemble improvise with a well-built american "inflection" that is somehow different from the sometimes "cold" hyper intellectual improvisational attitude of european musicians (and even if somebody thinks that's an heresy I think it has to do with the afro-american root of U.S. modern music). Last and most important: the whole work is packed in in a single track lasting for more than 34 minutes, the idea of the song never loses its integrity but at the same time you have ups and downs like in the ninety per cent of impros. This listening could be "unorganised/free-form" (which is far from meaning chaotic) an physical if compared to those recordings on Creative Sources but that if you're into free-form music and into impro you should give them a try .


image not
available
anymore
Artist:
AUTOPSIA
(@)
Title:
The Berlin Requiem
Format:
CD
Label:
Old Europa Cafe
(@)
Distributor:
Audioglobe
Rated:
It's ten years that Autopsia weren't releasing an album with new tracks. In 2002 and 2005 they released "Colonia" for Staalplaat and "Le Chant De La Nuit" for their own Illuminating Technologies (see the review I did back then) but they were both compilations. THE BERLIN REQUIEM, instead, contains six new tracks composed by Autopsia and Dammerung Orchestra (we already see them on the "Kristallmacht" album, released by Hypnobeat on 1993) which ideally blend the style of the band of those days with their characteristic classical recordings of the beginnings. In this way we have long dissonant piano orchestral suites and piano orchestral suites with electronic arrangements (like on "Funeral music III"). The only exception is the sixth and final track "Sounds for remembering death" which is a ten minutes track made of hissing sounds, distant choirs and a final part with organ and piano. The effect created by the whole CD is of despair and we could call it classical isolationism. THE BERLIN REQUIEM is taking inspiration from Bertold Brecht poem of the same name. Here it is:

Give praise to the night and darkness that close in around you.
Crowd together and look up at the sky,
and see that the days has already slipped away from you.

Give praise from the bottom of your heart that heaven has a bad memory
and no longer knows either your names or your faces,
and that nobody knows that you are still around

Praise the grass and the beasts that live and die beside you.
See how they, too live and, like you, must also die.

Give praise for the cold, the darkness and corruption.
Look up: you do not matter and you can die without worrying about a thing.