image not
available
anymore
That's an arrogant term for a band name, the two guys behind THE WORLD DOMINATION seem to be pretty much convinced about their upcoming internationally success. I guess there can't be doubts on this, since the promotion machinery seems to work fine so far. This German duo plays a sort of Alternative/Electro-Glam-Rock music and therefore only a very few elements in their music are fitting with our magazine preferences. Definitely too much Mainstream-oriented, their efforts here may work with a mass-compatible video clip for the ringtone-infected youth. Not at all my glass of beer, and I'm unable to find any better entrance to their tunes musically in someway comparable to NOTHERN LITE, but not in the same quality league. Well, no rating out of the reasons that this is a foreign genre for me.
Artist:
Natural Frequencies
Title:
Ornamental Journey
Format:
CD
Label:
Ozella Music
(@)
Rated:
BUY from
or BUY from
A single listening to Ornamental Journey gives the initial impression of yet one more tedious Nature/Space/Synth CD (at first seeing "New Age" pop up in the Genres category for this release in iTunes almost made me throw up a little inside my mouth), but in truth there is a lot more than meets the ear -- way more.

This masterwork, by Germany-based composer/producer and DJ Andreas Leifeld, is the mellowest of mellow listens, yet it somehow counters that with deft composition, nicely recorded acoustic textures, and appropriate, subtle programming. Leifeld manages to strike such a nearly impossible balance between minimal repetition and complex depth that it takes many listenings to pick up all the clues. Most of the pieces' titles take on an exotic, vaguely third-world "nature" theme, which unfortunately gives the tracks a false impression of innocuousness. Track two, the eight-minute-long "Snake," has the first hint of profound stillness that can settle over you and open up all your senses and personal remembrances, if you let it. On track four, "Hurikea," there is a recitation in Japanese by a low, droning female voice, which, because there is no accompanying translation, gives one a strong whiff of ethnic tourism. (This is entirely forgivable, however, since this is not musical colonialism on the egregious level of, say, a Paul Simon or a David Byrne.) In a similar sense, "Desert" blends chimy percussion, saxophone and synth artfully with only a hint of stereotype. "Mouse & Elephant" aims at weaving a beast fable through surreal accoustic guitar strums, and "Muted City" paints a sad urban landscape with some Chick Corea-esque piano for taste.

On the whole Ornamental Journey is a very "composerish" work, and a lot of mid-twentieth-century Classical Minimalism has gone into the chord changes and song structures, so this is by no means mere knob-twaddling fluff, easy as it is to listen to. That said, it pretty much skirts the soundtrack realm, but what a damn fine movie this would be to watch.
image not
available
anymore
Artist:
Ashtech
(@)
Title:
Walking Target
Format:
CD
Label:
Interchill
(@)
Rated:
"Walking Target" is the new album by artist Ashtech and producer Gaudi, two UK transplants originally from Italy who have made the UK their home and their sound. The Ashtech sound is a fluid electro-dub melange of deep bass lines, long reverbs, funk guitars, reggae beats and Jamaican MCing that screams London all throughout. 13 tracks of trance-inducing, upper-body-swinging, chill-party-going deep dub where occasional MC's lines will wake your ass up from your hazy dream of strobe lights and dark dancefloors to keep it bouncy and keep up the motion. You can hear influences of Nick Manasseh, Jeremy The Equalizer, Prodigy, Bill Laswell, Surya, Almamegretta (whom he collaborates with steadily). Labels such as On-U Sound, Asphodel, Different Drummer, Select Cuts, Echo Beach would have been perfect for this release, but Interchill was quick at securing Ashtech to their roster. This album is the real deal. It certainly doesn't sound like two Italians making music (at first I didn't even know they were from Italy and I would have put my money on London for sure). If they are on a quest to evolve into an authentic London imprint, then they are certainly there.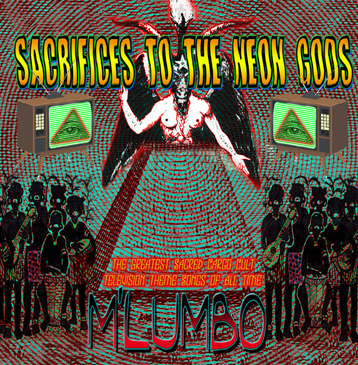 Artist:
M'lumbo
(@)
Title:
Sacrifices to the Neon Gods
Format:
CD
Label:
Mulatta records
Distributor:
City Hall records
Rated:
If you are in the mood for some crazy-ass music, then M'Lumbo is the band to turn to. This six piece NY based collective of musicians (who travels with two filmmakers and a sound guy) is renown for playing some of the most "out there" music out there, and they keep doing so since the late 80es.
Exotic, psychedelic, post-modern, avantgarde, esoteric, experimental and so on and so forth are all adjectives that only do half justice to the orgy of sound, visions and moods that M'Lumbo stirs up with their records and their live performances (which needless to say, you should try to make whenever they happen).

"Sacrifices to the Neon God" is their 6th full length CD release (which follow three tapes in the earlier days) and is basically a live-performance-mash-up of TV/cinema themes (performed by the band, not triggered from a sample library) from every era, studio or network, captured on the stages of The Knitting Factory, St. Ann's Cathedral and a studio. M'Lumbo could potentially appeal to fans of John Zorn and half of the records he puts out on his label Tzadik, Negativland, Le Forbici di Manitu', Miles Davis' craziest works, Tom Waits and many many more... It's practically impossible to define M'Lumbo by virtue of comparison or to file them under one category or music. Their style is a combination of so many things and they do it encompassing everything from weird and unusual to pop culture, from plagiarism to improvisational, from free-form jazz to rock and funk, from world music to pop music and everything in between. I dare you to listen to them and find the definitive label.
image not
available
anymore
Artist:
AETHERE
(@)
Title:
The Long & Dark Tea - Time of the Soul
Format:
CD
Label:
Rage In Eden Records
(@)
Rated:
Here we are, with the second release by War Office Propaganda after their name switch into Rage In Eden (they already used that name for their distribution/shop). The name changed but the catalog number is always under the WOP moniker. Anyway... Aethere is the musical project created by a guy called Emanuele Ratti, who's coming from Milan/Italy. He already released a couple of limited CD-Rs and a promo CD distributed by War Office but this newest one is his first proper distributed and promoted album. Before writing this review I read some of Emanuele's websites content and I became aware of his nihilistic/depressed/suicidal attitude. Lately (also because of Marco Corbelli's suicide) I'm always sorry when I see this kind of attitude into people and even more when it is a young guy. Aethere attitude don't interfere into the creation of a good album and on the six movements of "The Long & Dark Tea - Time of the Soul" the particular blend of '70s electronic mixed with dark ambient with a pinch of doom (see the vocals on track 4 and 5). The atmosphere created is always tense and Emanuele is good at creating a convincing alternation of calm moments which blast into a dark electronic mayhem made of sibilant synth sounds, reverbered percussions and growling vocals. Doom atmospheres are converted into electronic cosmic movements with industrial elements.